In July 2021 we are holding our exclusive Sportquest Holidays 2 Day Halibut Championships on the Lofoten Islands in Norway. The event is on the radar for all avid Sea Anglers, ready to try their luck at Norway's most prolific Halibut destination. Although the event doesn't take place for another year, the fishing community is already alight with anticipation.
Our friends over at Saltwater Boat Angling have just run a beautiful 4-page spread on the 2021 event, along with prize information, the competition and stories from previous Sea Fishing trips to Norway. Our huge monster Halibut (weighing in at 462lb!) caught at the resort where the competition is taking place takes centre stage as the excitement begins to rise.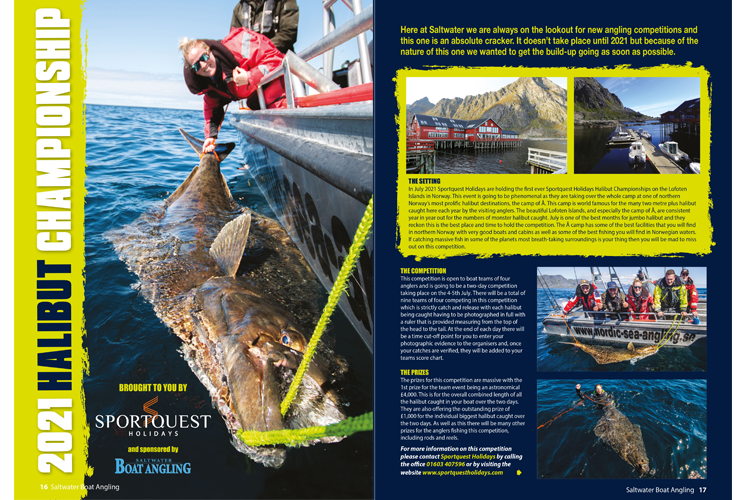 Two-page spread showcasing the upcoming 2021 Halibut Championship in Norway
Saltwater Boat Angling
Saltwater Boat Angling is an exciting monthly publication available across the UK and Ireland and run by dedicated and experienced anglers with wide media and publishing experience. Each month they deliver quality content with a new angle on fishing from boats, it's really all about our mutual obsession, fishing. They illustrate, reflect and explore the essence of angling experiences from across the country. We strongly suggest you give this excellent publication a look. You can find more information regarding their subscription and prices here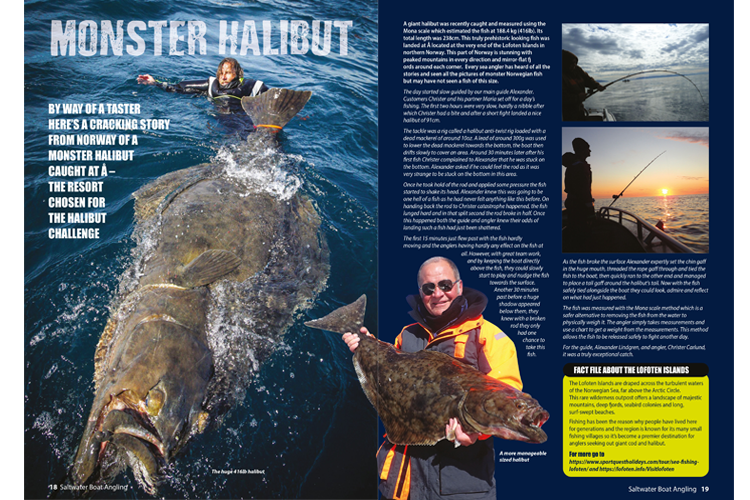 The Monster Halibut caught in Norway in July 2019
Will any of the teams travelling to Norway for the 2021 championship catch a Halibut close to this size? We will have to wait and see. All we know for sure is that it's going to be a fantastic competition. Filled with excitement, fun and a whole lot of Halibut Fishing.
Stay Connected
Make sure you Subscribe to our Newsletter to be kept up-to-date with all the latest news from Sportquest Holidays. We also suggest you take a look over on our YouTube page where we have a host of amazing fishing videos, including the release of the Monster Halibut above. If that wasn't enough Sea fishing for you, we also run a fantastic Sea Fishing Community over on Facebook with thousands of friendly, like-minded Sea anglers who love to share their stories, catches, tips and tricks.
Tight lines,
Sportquest Holidays