Now that I am back from my most recent Hosted sea fishing trip, I thought I would share with you my review of this new destination and I know many of you have been waiting to hear my thoughts on the accommodation and more importantly the fishing, so here it is.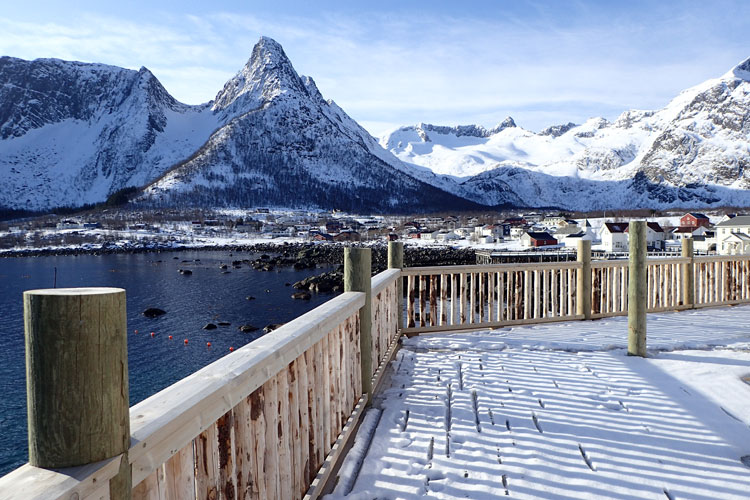 Some of the finest views I have seen in Norway
Back in August 2016 I heard a story from one of our customers that he had been fishing Mefjord for a few years and how good the whole set up was. That was enough for me and I soon found myself making contact with the owners and striking up a great relationship with them.
After many weeks of organising the setup of this new holiday on our website we soon set about softly advertising them and before long we had our first set of anglers travelling there. Throughout the whole week of their trip I was in contact with the owner making sure our first group had a great time and the news was great.
On their return I soon called them to see what they thought and it scored very highly and they even managed to land some cracking fish along the way. This then led me to start thinking of running my own hosted trip to this destination as I strongly believe that having personal experience of the places we advertise helps people to get a real picture of where they are thinking of travelling to.
So the dates were set for 12th April 2017 – 19th April 2017 as the owners assured me that the Cod fishing at that time of year is some of the best in that part of Norway.
I soon had a lovely group of guys booked on the trip, some old friends and some new but all in all they were a great bunch of guys who got on very well. I also decided to take one of our other guides with me, Mathew Rickard, so he could see for himself where he would be running the trips in the future.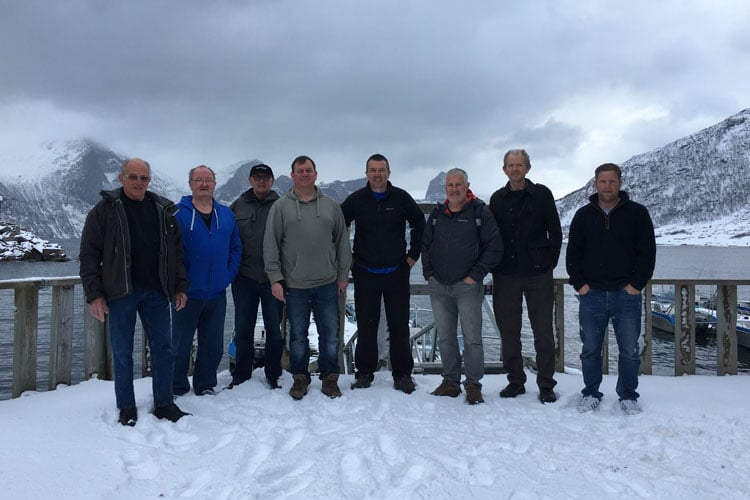 The group of anglers on the 2017 Hosted Mefjord trip
Time soon flew passed and before we knew it, it was time to head out there. The Skrei Cod we were targeting is something that I have fished for many times before with some success, so armed with some pretty big lures and many pirks we made the journey to Mefjord.
After two flights, a small transfer and a quick stop in the local supermarket we soon found ourselves being dropped off right outside our accommodation. As there were 8 of us we had reserved the Northern Lights apartment, which was built in 2016 and believe me when I say they are stunning cabins with some of the best views I have seen in Norway.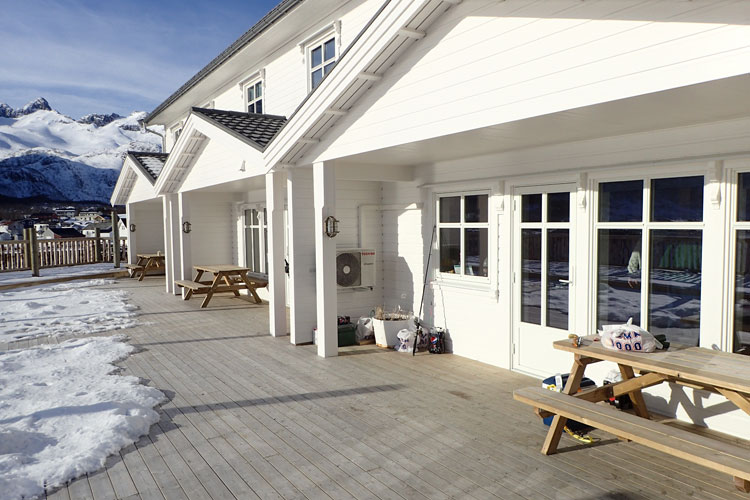 The Northern Lights Apartments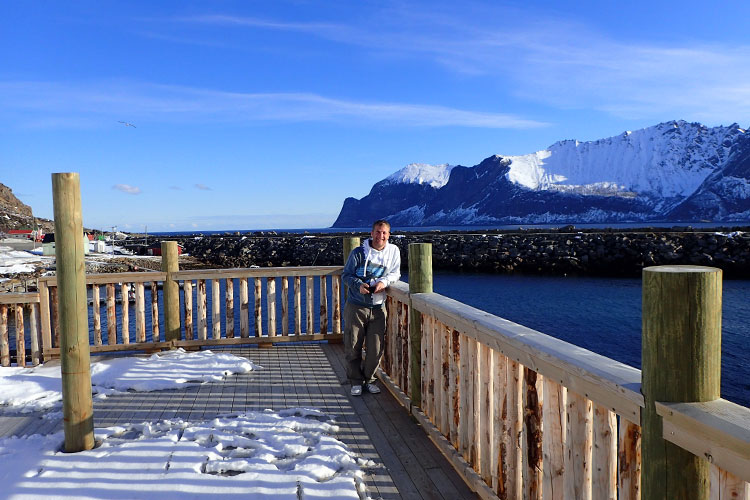 The view out to the open Ocean was stunning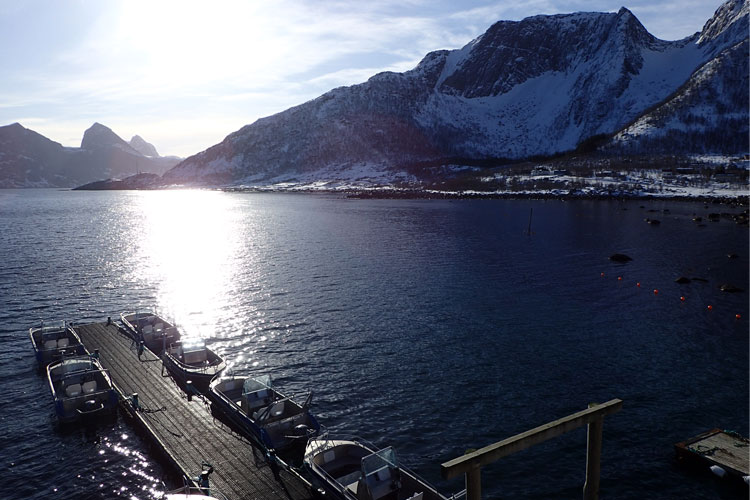 Boats were kept very close to the Cabins
All the suitcases unloaded and taken to the cabin, Michael the destination manager arranged for Mathew and myself to have a quick briefing on the boats, where the filleting room was and also more importantly where was fishing well. Michael is one of the best and most helpful people I have met and nothing is to much for him so if you are over there and get stuck and need something then Michael will do everything in his power to make it happen.
Both Mathew and myself had done many hours of searching for any information about the fishing at this destination, studying sea charts of the surrounding waters and asking lots of questions so we roughly had a game plan before we got there. I cant stress this enough that when you are going to new places you must do some research as the fish there are not going to just climb up your lines, the more effort you put in the more rewards you are likely to get.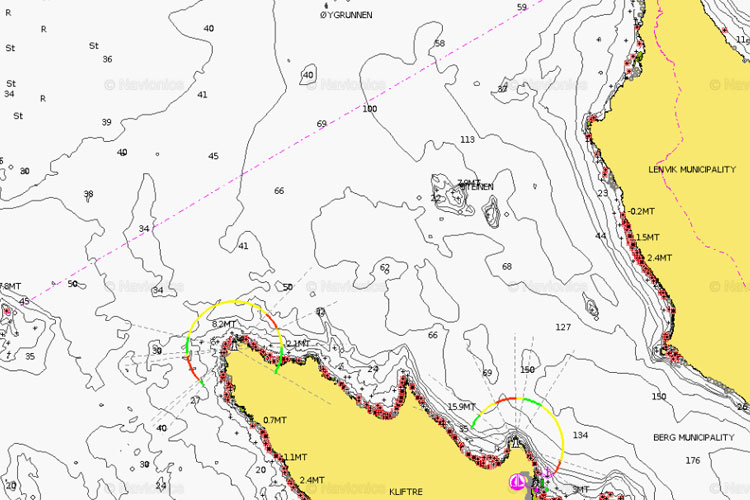 The kind of charts you need to research areas you are fishing
As this was going to be mainly a Skrei Cod trip, given the time of the year, we gathered the guys around for a quick chat on how to fish and what to fish with. If you have never done this type of fishing, Skrei Fishing, I will try and make it clear on how to approach this style of fishing. Firstly: You MUST have depth marked braid. The next part is a personal thing and that is the lure you are going to use. I love using big shads, the bigger the better in my opinion, colour I personally think, doesn't make to much difference its simply the size that's important. The last piece of advice is to make sure all your swivels, leaders, split rings and especially hooks are up to the job, this is not Cod fishing as you know it, you will be dragging Cod from 10LB – 80LB up from a depth all day and it takes its toll on your tackle so please go well equipped as you do not want to lose a possible record fish.
So that's the tackle dealt with, now how to fish for them. The skipper will be driving around finding shoals of Cod and calling out depths, it is important that you listen and fish at these depths. You could be fishing in an overall depth of 80mtrs and the Cod could be as high up as 50mtrs and it is so important that you fish at the tops of these shoals to target the real big ones, if you are not bothered on what you catch then drop straight into the shoal and before long your arms will be hanging off from 10 – 20LB Cod. If you are after that big fish, which means not so many fish, then it is so important to fish the right depth, I cannot stress that enough.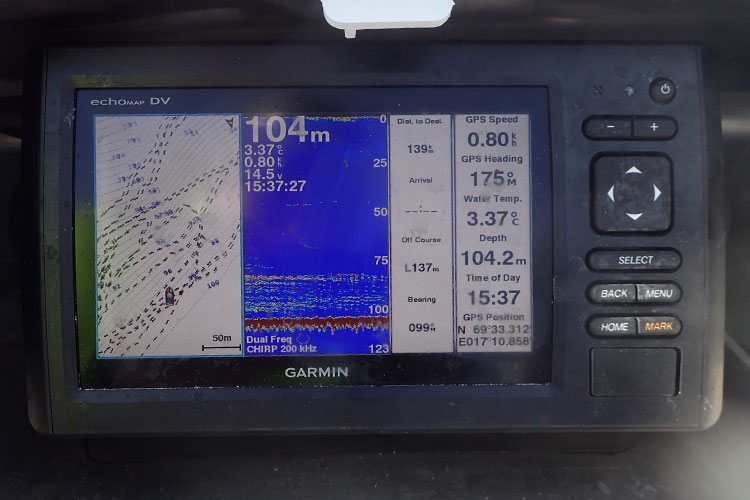 It is so important to fish the right depth.Looking at this, what depth would you fish at?
With the tackle and methods dealt with it was time for a quick kip to be ready for our first days fishing, that's if the wind dies down.
FISHING DAY 1:
Alarm clocks were set for 7am and I can assure you that people were up well before their alarms went off as they were like children at Christmas. Unfortunately we got some news that everybody was dreading, the wind had not eased and was blowing in a certain direction where it made it impossible to reach the Cod grounds, but not all was lost as it was due to ease at lunchtime so a new plan was hatched to get everything sorted and ready for the off at around 2pm.
After a couple of hours we were loading all matter of tackle on the boats and off we set in to some fairly big swells, but nothing to bad. The Skrei Cod fishing grounds at Mefjord are unbelievably close to the camp and with only a 20-minute steam in big swells we soon found the shoals we were after.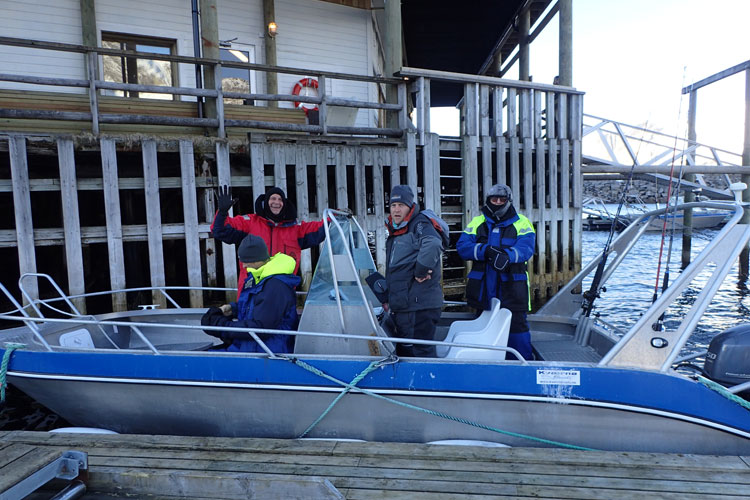 The anglers super keen to get at these Cod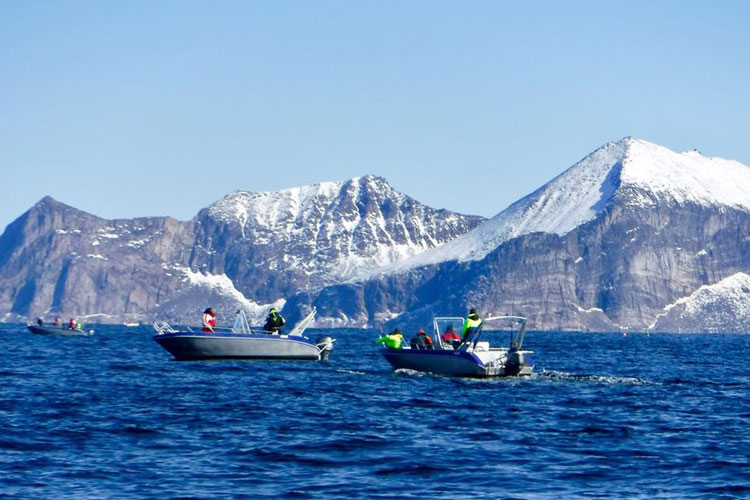 Look how close the fishing grounds are to land
I wont go in to too much detail, but the fishing was great and everybody managed to catch their very first Skrei Cod, nothing massive in Norway terms but fish to 35Lb.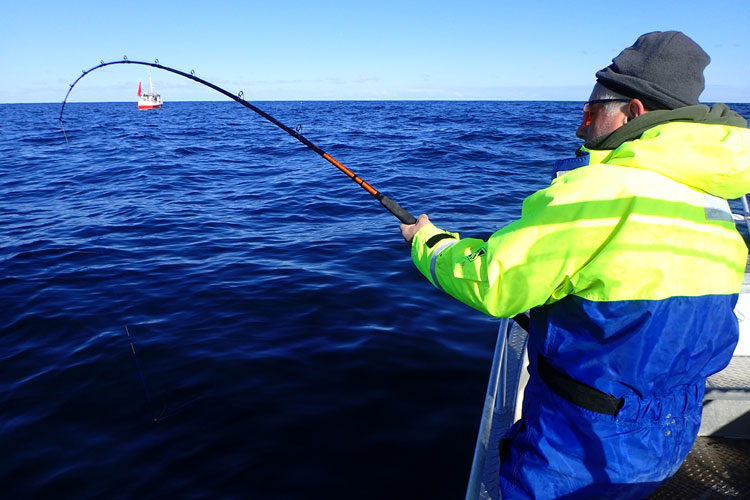 Clinton well bent in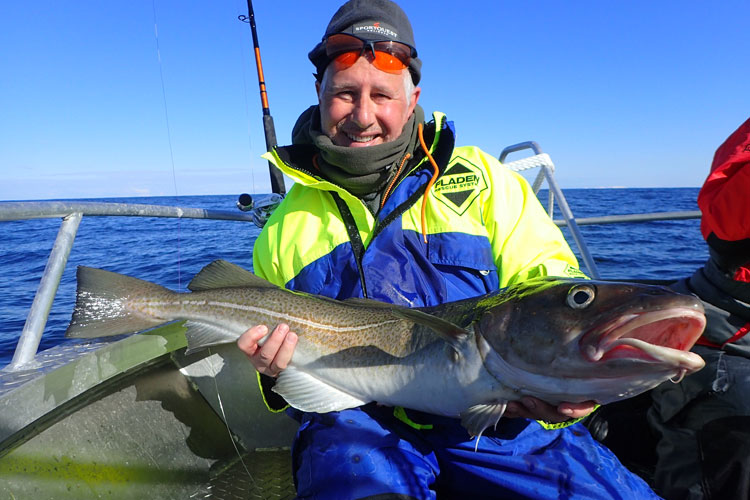 A hard fighting male Skrei Cod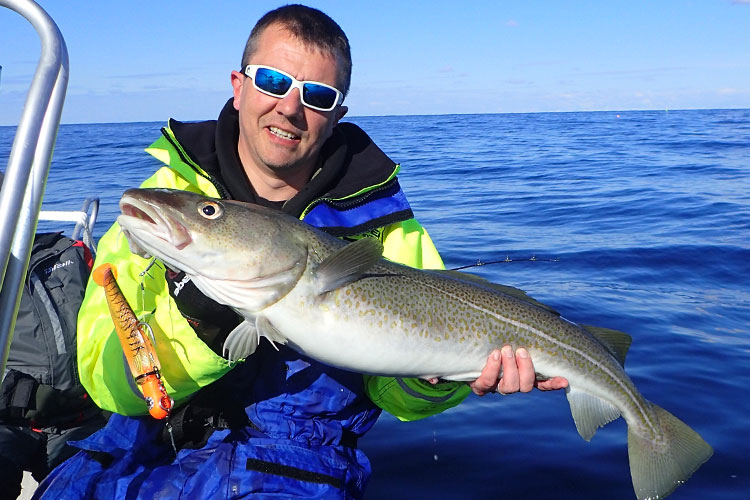 This size of Cod were everywhere!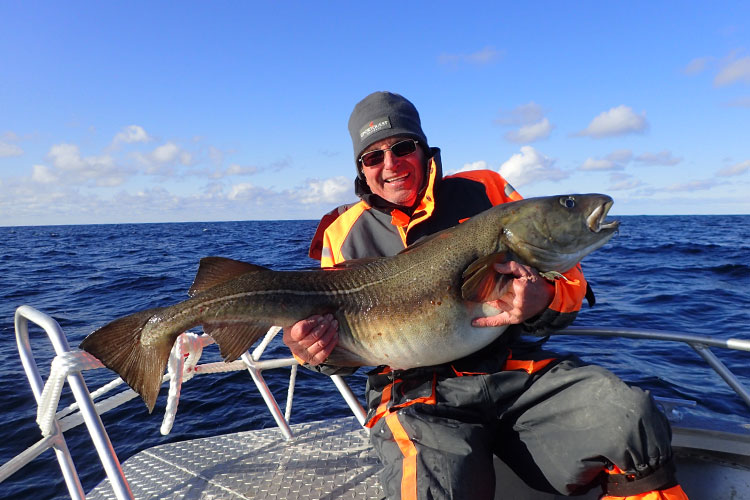 Thats a better one Colin at just over 35LB things were looking good
FISHING DAY 2:
The weather on this day was so much better and the swell had nearly disappeared, so we set off at around 10am as the tides were better later in the day. With two boats full of keen anglers loaded with food and drink we set off to find the shoals of Skrei Cod.
The tide wasn't great to start with, we did find the fish, but they were just not taking the lures. This all changed at around 2pm when we started to receive positive takes and before long we were all bent in to fish. Colin a good friend of mine was the first to break the 50Lb barrier then another Sportquest regular, Clinton managed to boat a superb Cod in the high 40lb bracket. What a way to start the trip, these Cod were playing ball.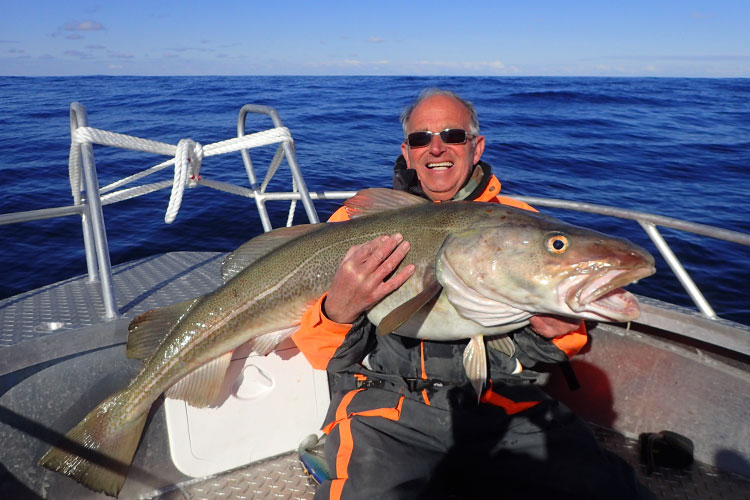 Colin with his 53LB Cod, not a personal best for him but still huge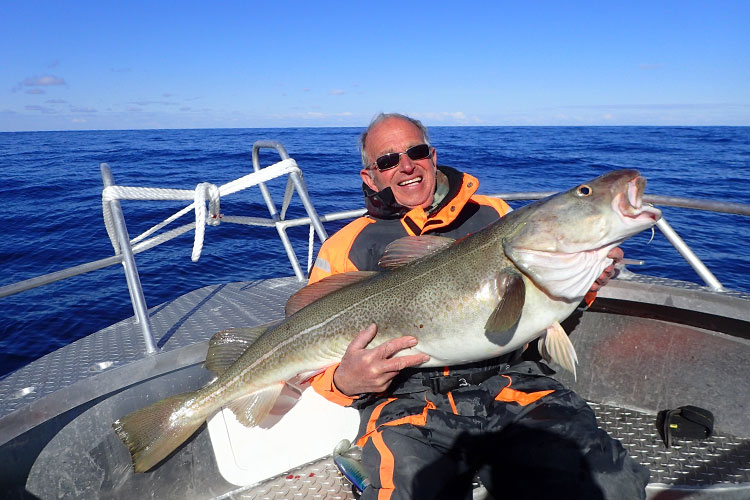 This day was looking very promising for something a little special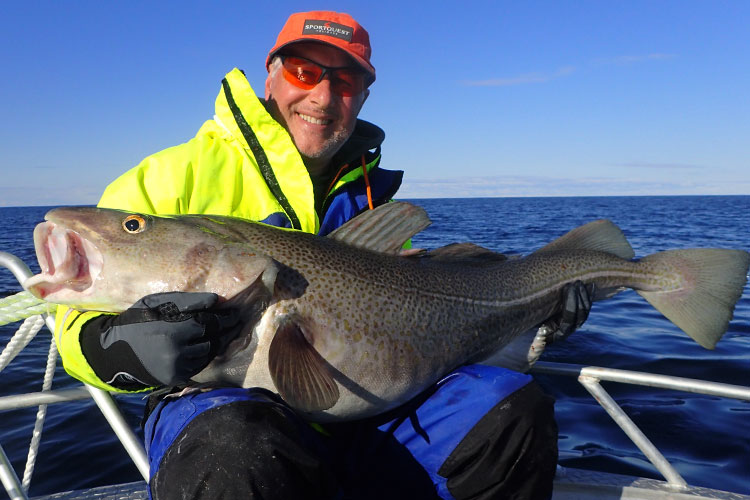 Clinton with a 40LBer
The other boat was near by and by the sounds of the laughter and shouting coming from their boat, things were going good for them also.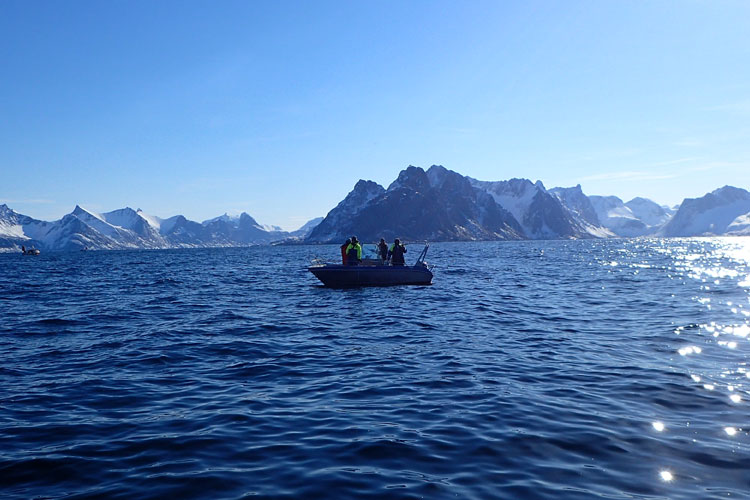 The other Sportquest boat are having a ball 
Once the tide started to slow the fishing slowed and the bites were more spread out. The other boat came over to see how we were doing and to say that they were heading back in, then all of a sudden my rod bent in to the water and a fish was taking lots of line, was this Cod going to beat my personal best of 86LB's….. it certainly felt like a better one and after a good scrap up popped a huge fish. We all quickly dropped everything to make sure this fish was landed and after a couple of seconds we carefully lifted her aboard. It looked big and with it weighed we all were over the moon as she pulled the scales round to 73LB or 33.1KG I was made up and after a few pics we sent her on her way. What an amazing place this is turning out to be.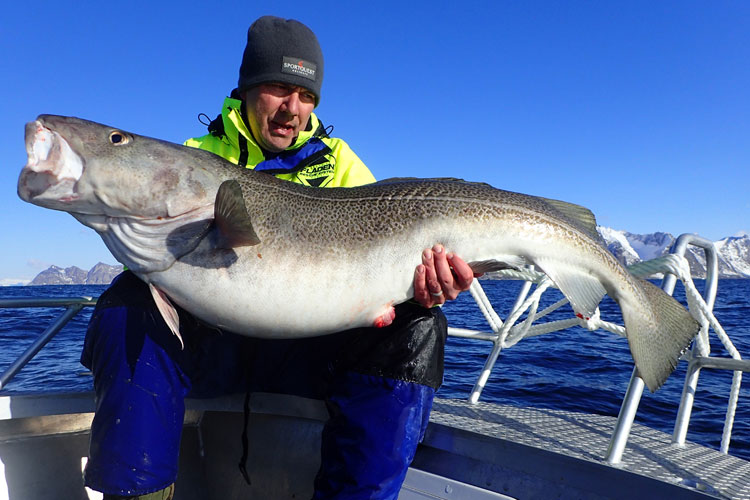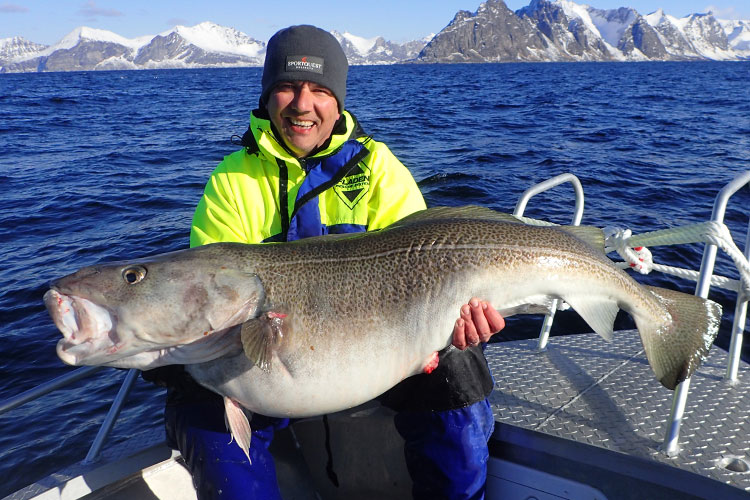 What a huge fish, at 73LB I was blown away with this place
The other boat said after that fish they would stay out fishing and the next thing I knew, Mathew was shouting over to me that one of his guys had a good fish. We all decided to move the boat close to theirs to see the guy play this fish and also get a different angle for some pictures.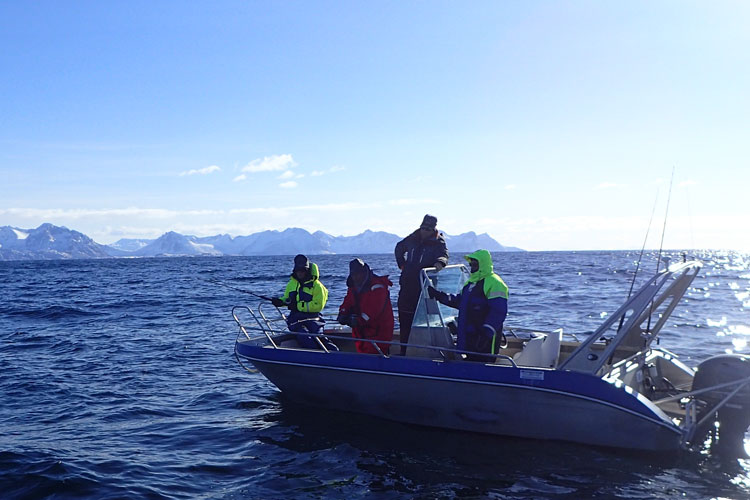 Come on Andy its tiny!
Maybe its not that small after all…..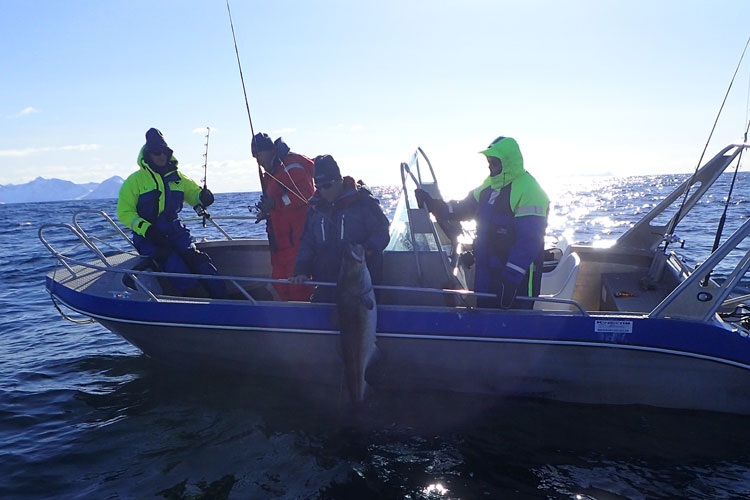 Guide Mathew lifting this huge Cod aboard
When we pulled up to their boat I could see that it looked like a good fish as the tip of his rod was in the water still taking line. After a good scrap Andy boated his personal best Cod of 55LB which smashed his previous biggest cod by 40LB….. Well done Andy and with the photos done the male Cod shot off to carry on with his life.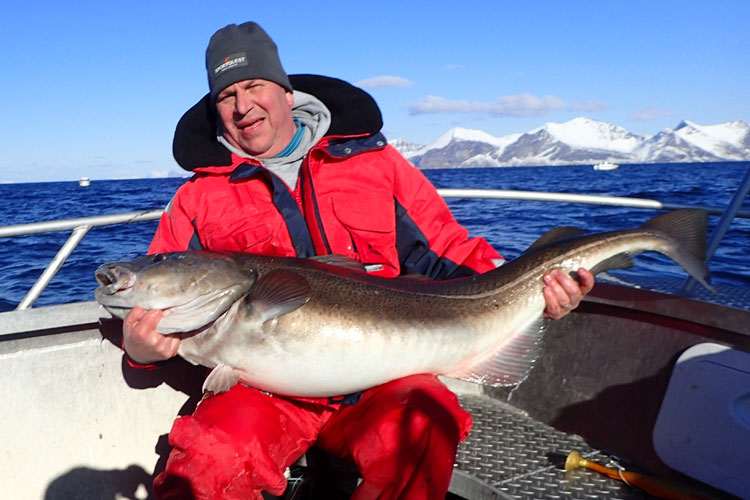 Andy's new PB at 55LB smashing his old PB by nearly 40LB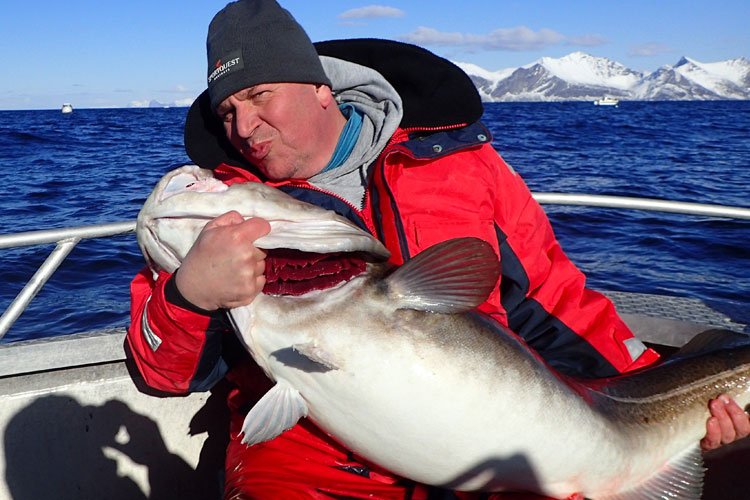 I think you will agree he looks pretty pleased
Well that was that for the day and we all headed back for some well-deserved beers and food
FISHING DAY 3:
After yesterdays exploits of the huge Cod expectations were very high. We headed out to the same grounds as yesterday and straight away found shoals and shoals of Cod but they were very tight to the bottom meaning they were not yet feeding. We still fished hard for the first 3 hours for little reward, then I noticed on the fish finder that the fish started to spread out in the water which meant they were feeding. Not long after this we all started to get smashed by the Cod and with big Cod hitting the surface all round me and the guys spirits were lifted and smiles started to creep back on their faces.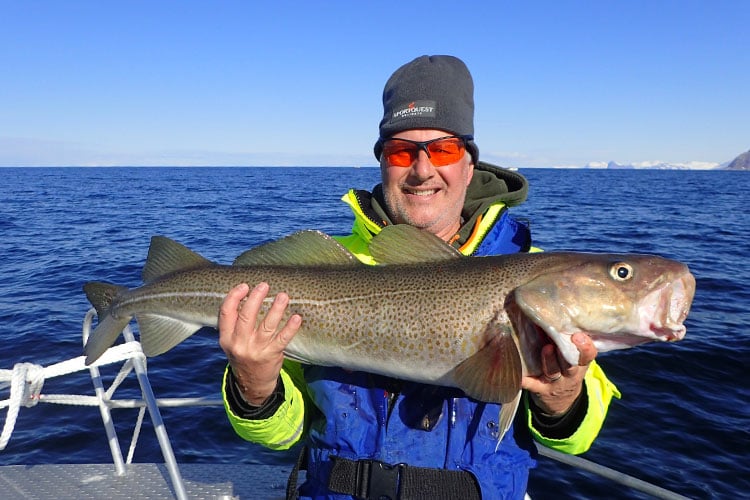 That is one slinky looking Cod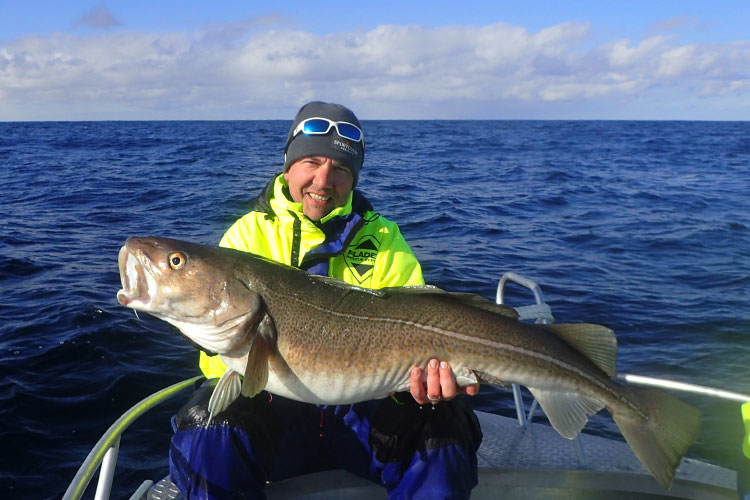 A typical sized Skrei Cod of about 30LB
A super charged Male Cod
Over the next 3 – 4 hours we managed to catch so many Cod that I lost count and with the average size being around 25LB the guys were very tired when I called out that we should head back and the only reason why we had to head back was that I could see some bad weather heading our way.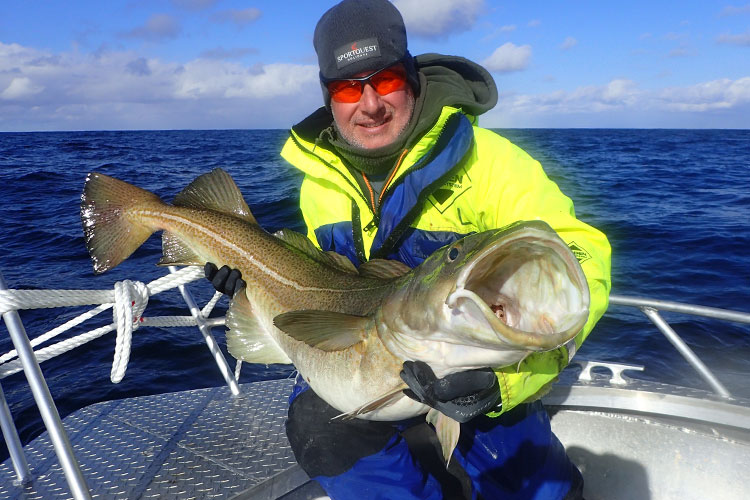 Thats what we came for
Ian taking in the scenery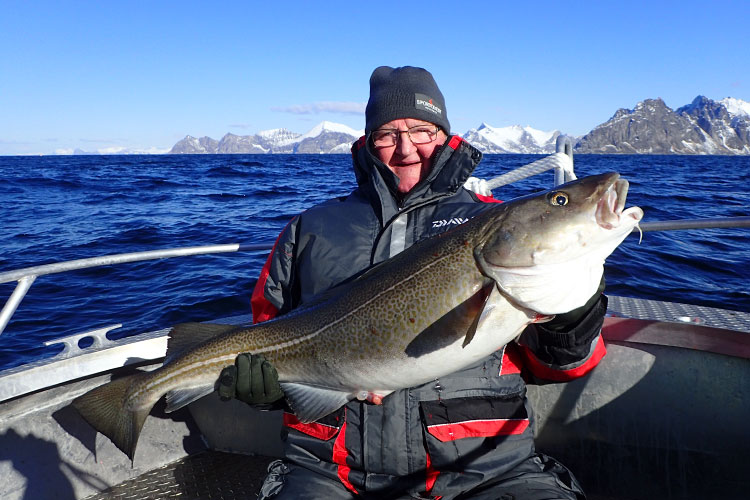 Well done Ian what a cracker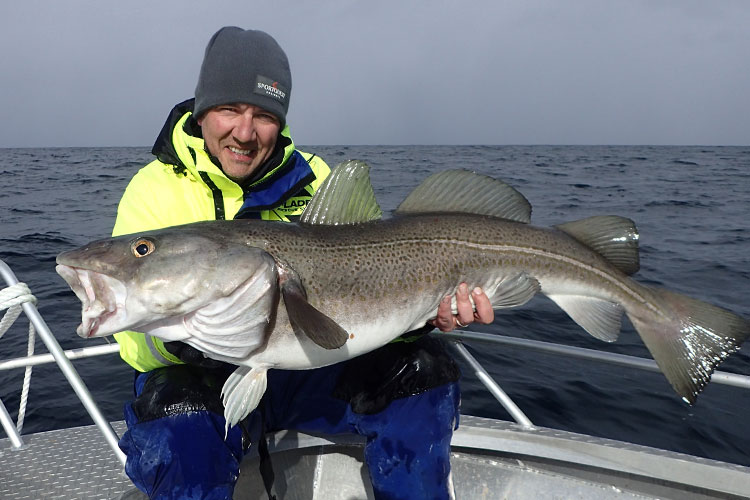 Not massive but I love this picture, very moody and the Cod's fins are all up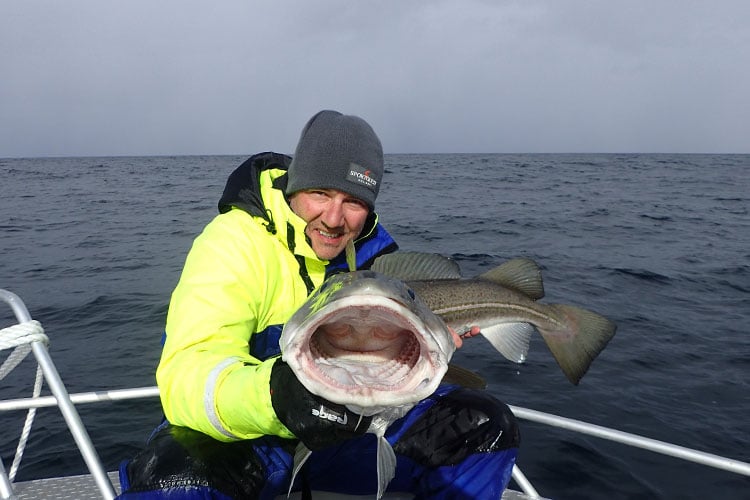 See why I will only use large shads!
FISHING DAY 4:
The only problem with fishing in April this far north in Norway is you do run the risk of losing a day or two to the bad weather but when you do get out the fishing more than makes up for it. Today we were limited to fishing in the mouth of the fjord as the swell outside in the ocean was a little too big for us.
With a new plan hatched we decided to fish for what ever took our pirks. We started off fishing around 3minutes from the camp on a pinnacle that rose to around 15mtrs with a depth of 70mtrs on the deep side. This mark was covered in small Coalfish with the odd 10LB Cod. That's pretty much how the rest of the day panned out and with the weather getting worse we had to call an end to the day.
FISHING DAY 5:
With the wind still bad we were forced to fish the fjord all day, which turned out to be a great decision. We first started fishing for Halibut, but I soon realised that the tide was not the best so I opted to leave the other boat and go in search of some Cod. After driving around for half hour I soon found what I was looking for and after some slower driving we found a huge shoal of Cod located right against the road in the fjord.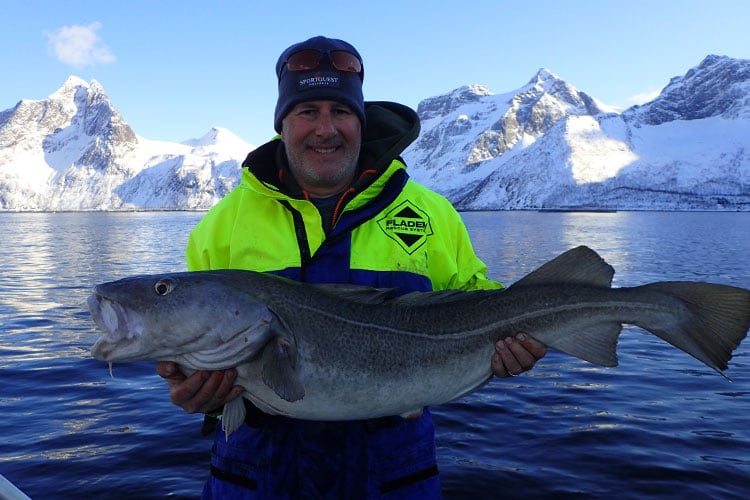 The fjord fishing was an excellent option to the open ocean fishing
Over the next couple of hours we managed some pretty good fishing with top fish of 30LB and loads of other species such as Redfish, Haddock and proper Ling and a Wolfish even made an appearance.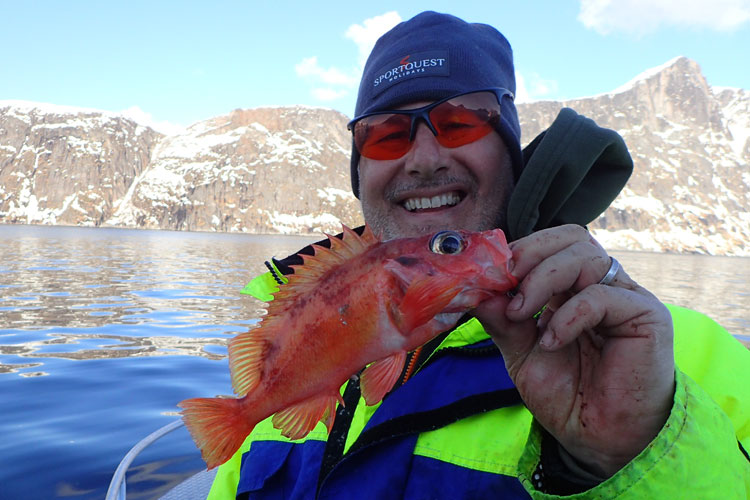 Sorry Clinton, I had to put it in
Knowing that the wind would be very bad the next day we decided to stick at the fishing as long as we could today as tomorrow may well be written off completely. So after many laughs and lots of fish we headed back for some well-earned rest.
FISHING DAY 6:
NO FISHING……!!
As predicted today was a right off which to be honest the guys really didn't mind about as it gave them plenty of time to pack, clean all their gear down and just take in the whole experience of being in Norway.
So that was that, the fishing in general was first class and with it being my first ever trip to this destination I personally think it was a good experience. I have learnt many things about the fishing, which I will put in to practise next time but to catch Cod to over 70LB on our first hosted trip things look very good for this destination.
With regards to the accommodation, we stayed in the brand new Northern Lights apartment, which sleeps 8 people. This cabin is stunning and plenty of room for everyone, I will mention that the showers are the best I have ever had (many of the guys talked about the showers). The cooking facilities were excellent and the cabin even came with a kettle which is a bit of a rarity in Norway.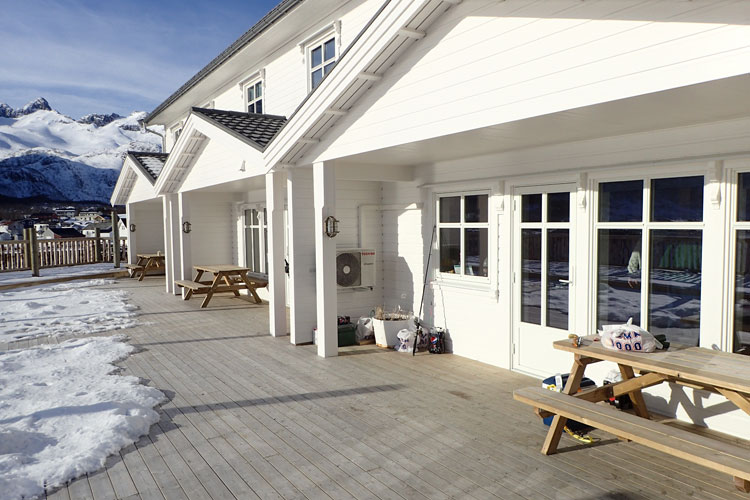 These Northern Lights Apartments are stunning
The facilities onsite are first class: The tackle shop is stocked with everything you need, flotation suits are high quality and so are the rods and reels.
The onsite restaurant/bar is the place we spent most evenings as it is always nice to have a beer and a social with other anglers from around the world and even some nights they have live music which is highly entertaining.
The filleting room is probably one of the best I have seen in Norway, its huge and you will always find a place to fillet your fish. They have a large walk in fast freezer to freeze your fish down and they even supply you with poly boxes for your fish.
I personally think that this camp in Norway has got it right, they are very much focused on making your stay the best it can be and if you have any queries or need anything they will bend over backwards to help you out.
I would just like to say a massive thank you to the group of guys who joined me on this years Hosted Mefjord trip and hopefully you enjoyed my company as much as I enjoyed yours.
Also a huge thank you to Michael the camp manager for making our stay so enjoyable.
We at Sportquest have sat down today and discussed a return trip with myself for the same dates next year. We will be releasing these dates over the next couple of days but if you would like to show some interest then call me on 01603 407596
Hope you have found this of some use and if you want any more info on Mefjord then call me on 01603 407596
Until next time, tight lines
Paul