If any of our customers are heading out to Havoysund this year or in 2021, then they need to take a look at this blog… We really haven't seen the waters of Norway produce fish at the rate Havoysund is going. I will hand you over to Douglas for his weekly round-up:
The last two days here in Havöysund have been very hot and extremely successful. After a wonderful day last Monday hunting down Redfish, everyone at the camp was not hesitant to make another Halibut drift on Tuesday when the water was flat calm again. So 06:00 on Tuesday we set course for the mark we fished earlier in the week, everyone at the camp was bursting with excitement and we were all expectant of what the day would have to offer. Once in place, we started fishing on a small spot that delivered big fish last time at high tide, which we timed perfectly on the way down, but after a couple of drifts and only landed 3 Halibut in the first half-hour with the largest being 120cm between the boats, we decided that we were going down to the spit which we knew held extreme amounts of fish.
We ran down to our real hotspot, lowered our bait fish and started spin fishing, we quickly saw that the sandeels remained in the area so we could quickly conclude that the Halibut would also be there. It took again just a couple of minutes before bite six started and fish were hooked to the right and left of the boats, during the first period the bigger fish were on the feed and we landed many fish over 140 centimeters.
In the guide boat we started really strong when Terry got to put his circle hook in a really good fish. It tore away line from Terry's reel and after he let the fish run with the bait fish, he set the hook perfectly and we immediately saw that there was good weight in the rod, the fish carried away on a couple of really good rushes and offered a good fight. After a while we landed Terry's new PB of 151cm and it was magical for Terry to step over the 150cm hurdle.
When the fish was tailed and ready for the photo, we apparently had a left bait fish left in the water on a rod that I had cranked up 20 meters above the bottom to make sure that we would be safe during the shooting, but of course, it was not safe and when it started to creak well in the roll and we realized that it was a fish that had taken the 3 Kg large bait fish…
We let the 151cm fish chill a bit and we were ready to hook the fish, we were almost completely sure that it would be a really good fish that has caught on to the very large bait fish, but after cranking the circle hook, we noticed quite quickly that it was actually not as good weight in the rod as we had expected?
However, a fish that struggled well and Roland had to fight with it while I shot Terry with his dream fish which then got to swim back nicely. When I turned my focus to Roland and landed the fish that took the big bait, it turned out to be a really fired up 131 cm Halibut who wanted a proper dinner. We had boat 4 with two guys from Lithuania who managed to get into a sweaty situation when the two managed to hook in 3 Halibut !? we were close to the boat and shouted wildly between the boats, but when everyone gets to witness 2 guys stand with 3 rods bent in half, we burst out laughing, the fishing was just so good.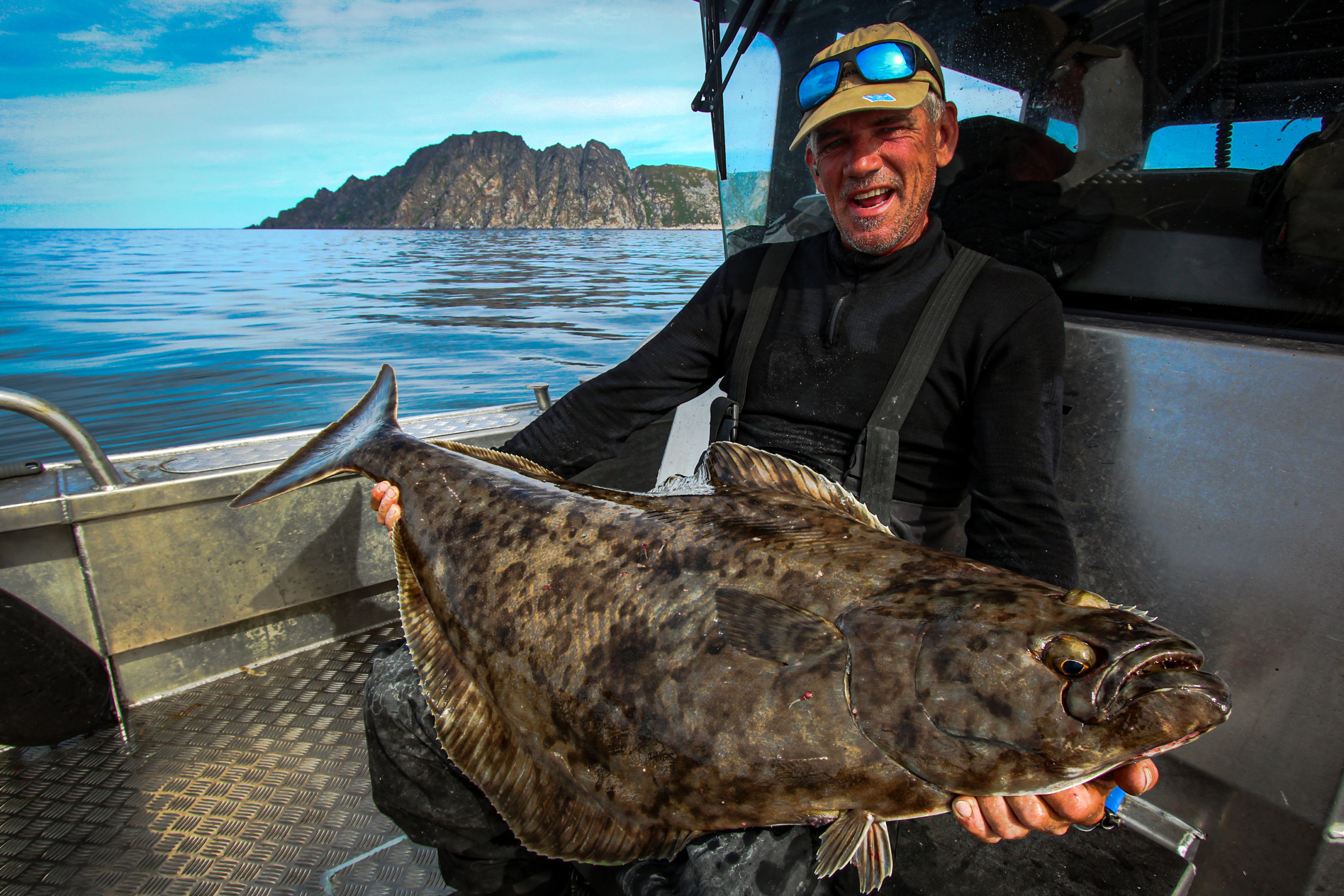 Something else happened that day, the guys in boat 8 succeeded with something completely sick in the Halibut context and it was to have a 5 bite? and also manages to land all five! The fishing continued to be completely crazy all day and so many fish were landed between 140-150 that I actually have no idea how many there were, but the spin fishing for halibut again proved to be absolutely insanely effective to catch fish.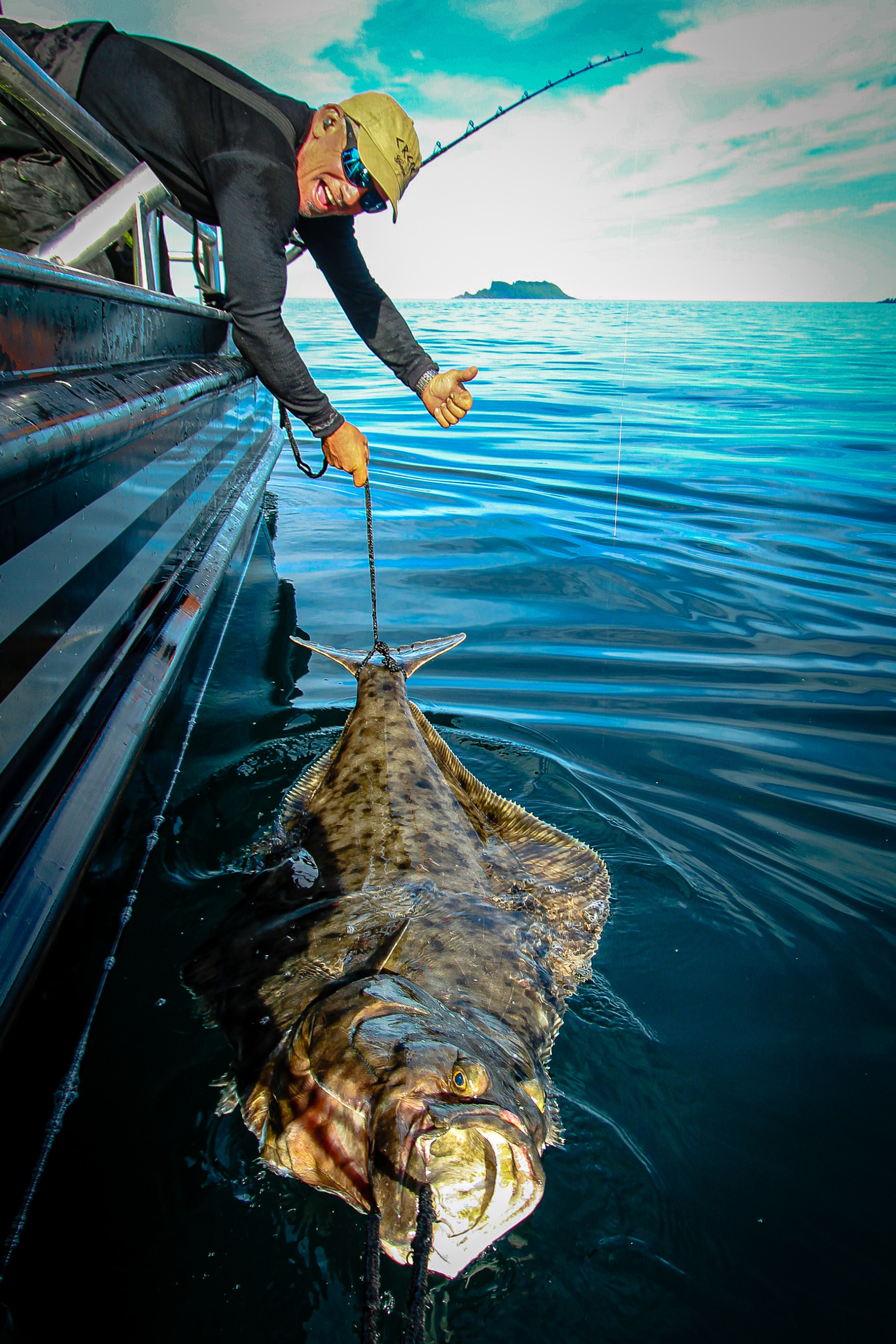 Yesterday there was a slightly different distribution of fishing at the camp, 2 Danish boats wanted to try the Redfish fishing when they were over a nice mark on Monday, they had a really nice session and managed to pull up a PB for the year weighing 6.5 kilos and also land many other fine Reds with, among others, another fine fish of 4.5 kilos. Terry and Roland in the guide boat wanted to take it easy so we went out a little later and fished for some plaice, we hooked up with afew with a top of about 1.5 kilos.
I thank all the guests for an absolutely fantastic week and congratulations to all the fantastic fish during the week! Definitely a week I will never forget. Now it will be a week without guests here in Havöysund, but as soon as the next group arrives in a week's time and we get out, I will keep you updated!
Tight Lines // Douglas Dahlberg
Contact us
Looking to experience this destination for yourself? Give us a call anytime on 01603 407596 and we can discuss any open weeks at the time of you contacting. You can also have a look at all of our Sea Fishing Holidays here to get a head start.
Tight lines,
Paul