Its now day 1 of the second week of my Hosted trip to Soroya and the 8 guys have been treated to some fantastic weather and a nice warm up on the ocean today. We were a little slow to start this morning as the guys were sorting flotation suits out and then we had to shovel about a foot of snow out of the boats. But eventually we managed to get on the water for around 9am, a little later than I like as I find the fishing for these huge Cod is by far better in the morning.
So off we set in search of some hungry fish. On the guys first days fishing we like to catch them lots of fish and not spend to much time searching for the big ones. We like to break them in slowly with fish around 20 – 30LB but as many as the guys can handle. Soroya did let us down with this mission today as both boats managed to land loads of fine Cod and even managed to get some for dinner which I am looking forward to eating as last week we had some one in the cabin that really hated fish being cooked, in fact he said it made him sick so out of respect we never ate any. I wont mention his name (Stuart)……..
After around 3 -4 hours of catching good sized fish I spoke to the guide and mentioned it maybe worth looking for some better fish and he was well up for that. So we motored to an area that was good to us last week and true to form the first fish we had on our boat was 25 kilo around 55LB so a good start. Then it was our friend all the way from Australia that was bent in to a lovely looking fish. After a lovely fight on his short stubby rod with a very smooth Stella reel he soon had the fish beaten. I quickly rushed over to see a fine looking fish waiting to be hauled aboard for the weighing and photos. A quick weigh and the fish pushed the needle round to 24 kilo, a New Australian Cod record…… Well I don't know if that's true but it made every body laugh over the radio.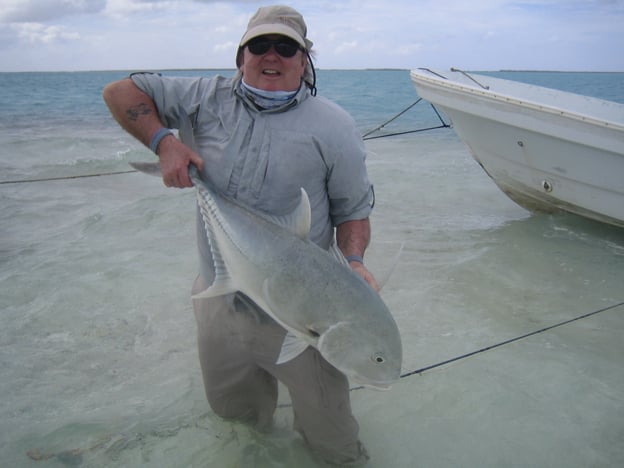 We soon found ourselves drifting off this shoal of Cod so we repositioned the boat for another drift and managed a few more good fish, then all of sudden Stuart from Australia hooked another good fish, this time I could see it was better as it was stripping line of his little Stella reel at the rate of knots. After lots of moaning and groaning a huge Cod hit the surface and could straight away that he had set another record…… Fish in the weigh sling and on the scales she went between 65LB and 70LB (in the swell) so we decided on 67LB, the weight is beside the point, it was a great fish and Stuart was made up and the fish was quickly released to carry on with her life.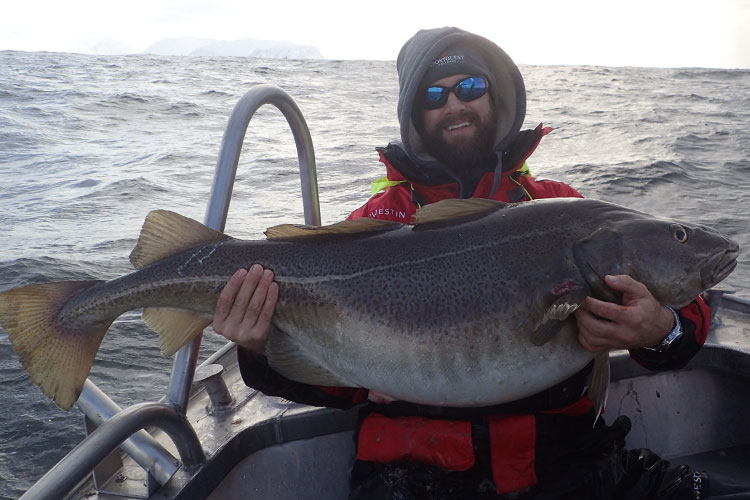 I could see now that the guys were getting a little tired as they had been traveling a long way to get here the previous day so I suggested that we should head in as they had a fair bit of filleting to do and every one agreed that we head back for a few beers and a chill.
What a good start to my second week on the Island of Soroya and hopefully the weather will hold out for us this week and we get to fish everyday because I strongly believe that a very big fish will be caught very soon, so watch this space.
Until next time, tight lines
Paul Stevens
P.S
Here are a few pictures of the last night of the first weeks anglers and the grand ceremony of handing over the kitty of the biggest fish caught on that week. Again well done Bert Williams and thanks for making last week great, your company is always a pleasure.
To see all our hosted trips to Norway Click Here