Christmas Island Group Trip 2012 the results and first of all sorry for the delay in finding time to put pen to paper, or my case finger typing, since returning from what can only be described as another amazing Christmas Island Adventure.
On this trip our guests consisted of a mixture of returning customers along with some new explorers plus Jody who was a non-angling partner of Gary. I must say in all the years of hosting trips to Christmas Island this was the best mix of customers, who right from the start gelled like they had all know each other for years. As normal with all my hosted weeks we had arranged previously for everyone to meet up one Saturday so everyone could get to know each other and I could talk everyone through tackle, what to expect, the good bits and the not so good bits. I am sure the group will all agree holding these meetings is a great help in making sure everyone is well prepared for their adventure.
On the day of departure everything went as smooth as clockwork, everyone checked in no hassles, breakfast at Giraffe's in terminal 5. BA flights to Los Angeles, smooth connections for the flight from LA to Hawaii, mind you a nice few pints of beer in LAX airport had a small part in helping with the journey. Once in Hawaii and we arrived at our hotel everyone was feeling tired including me, however being the perfect host I said anyone want a quick freshen up and join me for a drink down in the bar before going to bed. Only one took me up on my offer a good regular customer Paul Quenet. So up to the room quick freshen up and down to the bar for a quick drink before some well needed rest…..Mmmmm well that was the plan, the barman and I must say a very nice gentleman, started pouring both me and Paul Barcardi n cokes at the strength that could strip paint off the walls. After a few of these it's surprising just how you forget how tired you are and lose complete track of time, just chatting about fishing. Before we both new it the time was approaching 2am and considering we had to be up early again to catch the last flight from Hawaii to Christmas Island we needed some sleep.
On checking in at Hawaii with Air Pacific there was the next surprise the kind gentleman on check in informed us that there would be no charge for all our excess baggage, right result. The quick 3 hour flight saw the whole group approaching Christmas Island, it always puts a huge smile on my face as I watch the group all peering out of the windows getting a great ariel view of all the saltwater flats for the first time. The so blue water, coral flats and channels can be clearly seen, nothing else needed to get your group all fired up. On touch down and stepping off the plane the heat hits you, a real nice climate as long as you like warm weather. Walking across the tarmac to the first class arrival terminal (Only joking see the pictures) Time to sort out all the formalities of passport control, purchasing fishing licenses, identifying your bags so customs can check them, then you step through to a very warm welcome from our team, Hawaii leis traditional decorations of fresh flowers placed on your head, plus a welcome fresh coconut to drink.
After a short road trip we all arrived at our accommodation for the week, time to get everything unpacked, rods set up, lines stretched as the next day it was time to start fishing.
The next 6 days I had the good fortune to fish with everyone, targeting all sorts of species using various methods depending on what each client wanted to catch. Considering we had a mixture of new and previous customers everyone all had their own agendas and species list to tick off. It just goes to show the richness of Christmas Island that everyone not only got the chance to fish what and how they wanted but everyone caught all their species. For some it was their first ever Bonefish, which if my memory serves me correctly everyone caught them on their first attempt. Some lucky anglers like Keith Reynolds even got to catch them over the magical 10lb, a pig of a fish with a beer belly. For others it was catching the famous GT'S on the fly, I remember one day again with Keith that we spent all morning wading the thick coral flats looking for Trigger fish and Bluefin Trevally, casting at the tailing triggers with small streamers and then watching the Bluefin's that sit on the Triggers chasing and charging down our flies. The afternoon was then spent fishing a sandy slightly milky flat with our big bulky flies for the GT's. I think if I am correct between both Keith and I in just that afternoon we landed 13 GT's but that is what Christmas Island is like because by the end of the week you can not remember who caught what and on what day, just a total fishing blur. Paul Quenet and Mike Sheridan on a couple of days decided to give the flats a rest and go offshore looking for GTs with poppers and trolling for Tuna and Wahoo, just some of the other species on their list. On their first day of trying with a unusual day of NO wind they both had a blinding day with GT's, Tuna and some big Wahoo.
Other events that I can remember was Jody who was with the group as a non angler, one day while out with her partner Gary and Paul they decided as they were catching so many GT's that Jody should have a go at catching one. (Personally I just think both Gary and Paul were flagging as they had been catching so many GT's their arms could not take it anymore) Anyhow give them the benefit of the doubt as pure gentlemen they got Judy to have a go at catching her very first fish in Christmas Island. Not only her very first fish but a GT, nothing like making it easier for her. As Jody is not a fly angler they decided to catch one of the millions of Queenfish on the edge of the flat and steep drop offs. Seconds later this fish was cast back out into the deep water off the flats edge, not knowing what to do and obviously feeling very nervous being all-alone out there. The Queenfish just swam around on the surface looking for safety, too late Mr GT would never pass up a perfect opportunity and what he thinks is a free meal. Now let me tell you these Queenfish are no tiddlers, we are talking about fish 12 to 18" long. No problem for Mr GT just a mere mouthful, for what must have been only after a 2 minute's of it being cast back out there is an almighty explosion. The vortex left looked like someone had pulled the plug out of the sea, followed by some whooping noises from Jody. For now she is well bent in to not just a GT but also a good size one. Both Gary and Paul giving advice and I understand at one stage her partner Gary went to touch the rod and got told off… Ha Ha think someone is hooked. Anyhow apparently Jody played it like a professional, with both Gary and Paul reckoning it's because they had caught so many and taught her everything…. Eventually Jody brings her prize in close enough for the guide Bear to tail. See the pictures and you will see just how happy Jody quite rightly is. Well-done Jody that's another angler hooked and repeat customer…lol
One other event I can remember as it involved me on the very first day. On day 1 I was to take out both Gary and Jody as Gary had this burning desire to tangle with his first ever Bonefish. Now as the fishing is done with 2 anglers to 1 guide, I said to Gary you have the guide full time as I did not need the guide I could walk off in different directions allow our guide to concentrate on Gary full time and get his Bonefish. We decided to go right in to the backcountry of the flats, as it's easier for anglers to spot the bonefish working their way along the edges. As we approached our destination our guide suggested they dropped me off the boat quite away from where they were going to fish, so I could spend half the day walking back towards them. Sounded good to me, billy no mates on the flats for half a day. On getting off the boat jumping into the water fully loaded up with backpack, 8# for bones and 12# for gt's. The boat immediately started to reverse back out as I walked off. I had not gone 10 feet when I spotted further down the shore line a group of gt's working the drop off. Wading right to the bank I was able while trying to keep low to the ground, looking like a SAS trooper get ahead of the fish, at which point it started to wade back in to the water stripping line of the reel. As they approached I made one cast (This was my first cast this year on Christmas Island, I hadn't even had a chance to stretch my lines) the fly hit the water one, two strips and the group of 5 gt's charged me for the fly so hard that as they thrashed past me I got soaked. It happened so so fast that before I had time to think, one of the fish had taken the fly, swam past my legs before everything all went tight and both the fish and I realized we were connected. At this point the fish did what all gt's do go for the drop off and dive trying to cut you of fon the edge. Only one thing for it, run after it which saw me in water up to my armpits while trying to keep the rod as high as possible. Its times like this when you realize you are all alone, no one around, just me and Mr gt doing battle in his territory and on his grounds, surrounded by nothing but stunning blue water and nature. After a short hard fight (As I have learnt you have to bully gt's on the fly otherwise they will just beat you up) I was wading back in to shallower water so I could put a glove on and land the fish. Once tailed I measured the fish, not a monster but 82 cm for my first cast not a bad start, not a bad start at all.
Even though most of the trip seems now to have all merged in to one, there are numerous stories we could tell, but we would be going on for ages. As normal the best way is to show you just a few of the customer's pictures as each one tells a story in full colour.
Do not forget, if you ever fancy a trip to Christmas Island give us a call, we take mixed groups so all fly anglers and lure anglers regardless if this is your first trip abroad or just one of many. We are there to guide you through the whole thing from start to finish.
Check out the details of next years group trip Click Here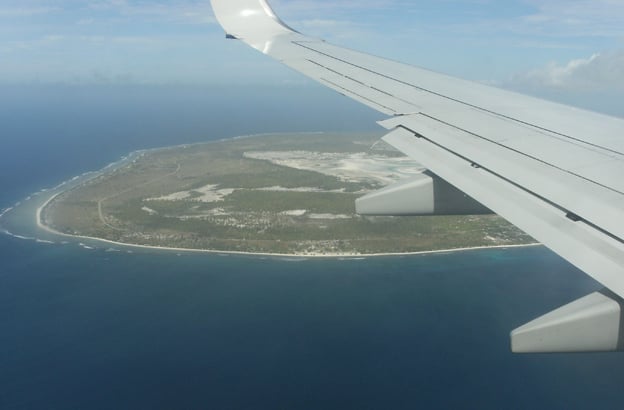 The first sight of Christmas Island as you fly in after 3 hours of nothing but ocean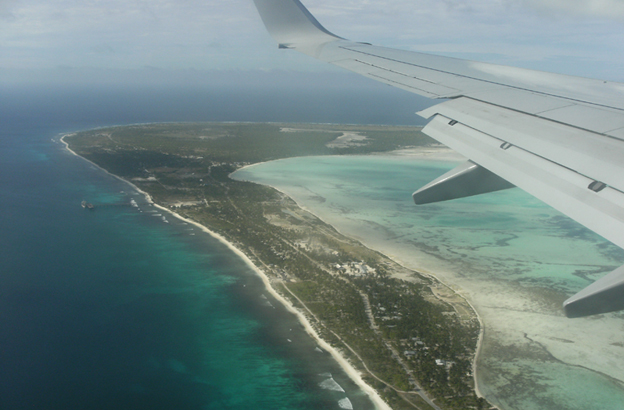 As you get closer you can start to see the vast open saltwater flats
The Air Pacific flight in from Honoulu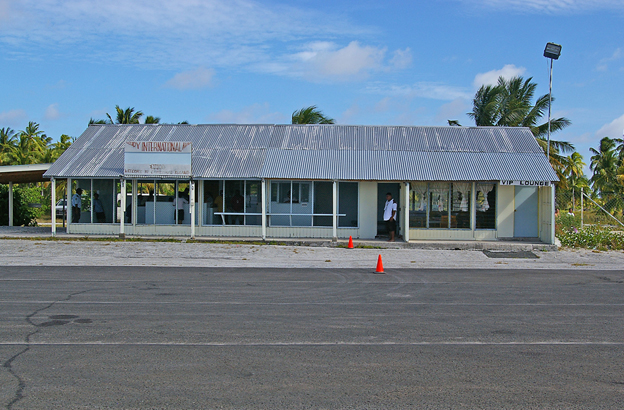 The luxury arrivals hall…check out the V.I.P area on the righthand side of the picture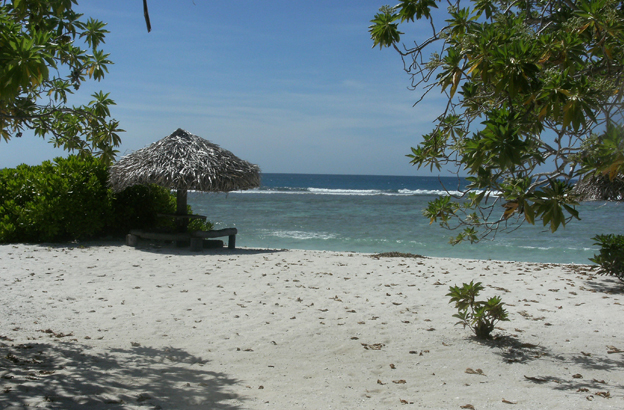 The view of the beach and ocean from your room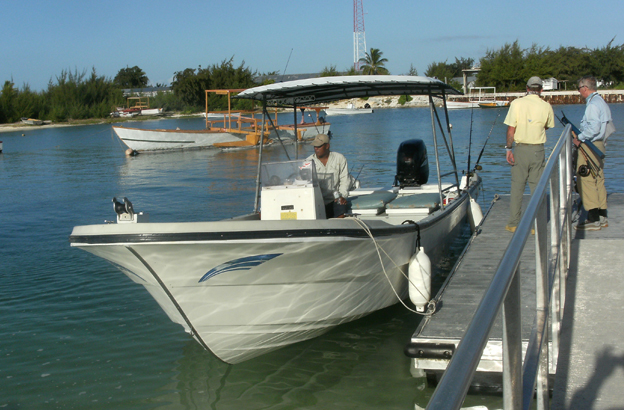 Just one of our new bigger and faster boats, giving us now access to the whole island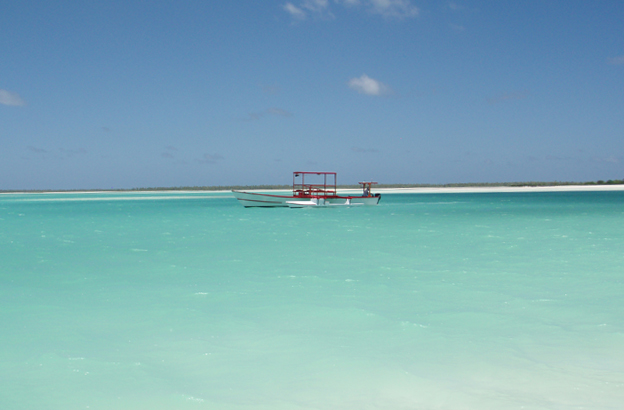 One of our traditional boats, these will all be replaced for the 2013 season, but what a picture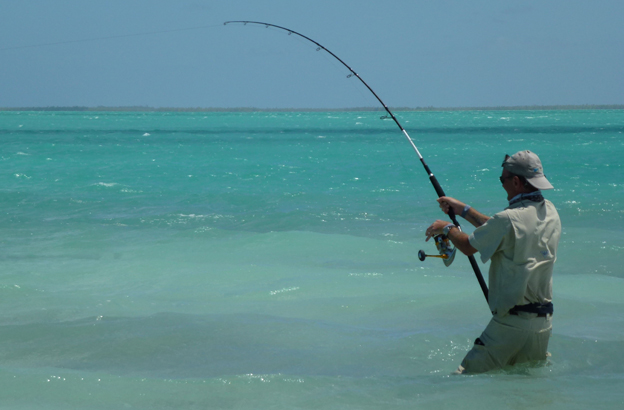 Paul well bent in right from the start on his popper rod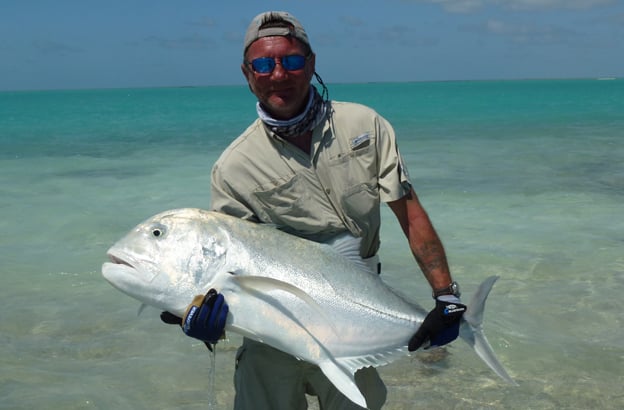 It did not take long for Paul to feel back at home tangling with big GT'S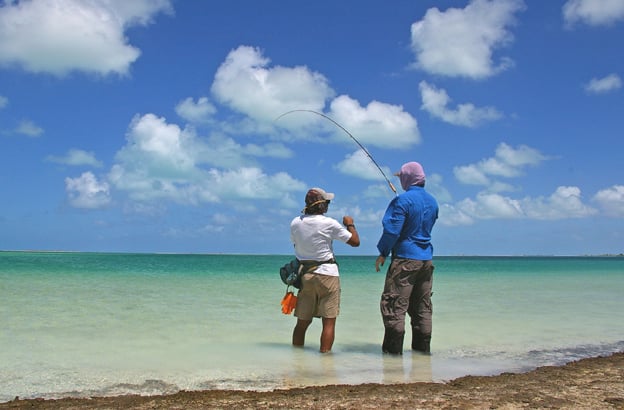 Gary and the guide on the first day hunting done his first ever Bonefish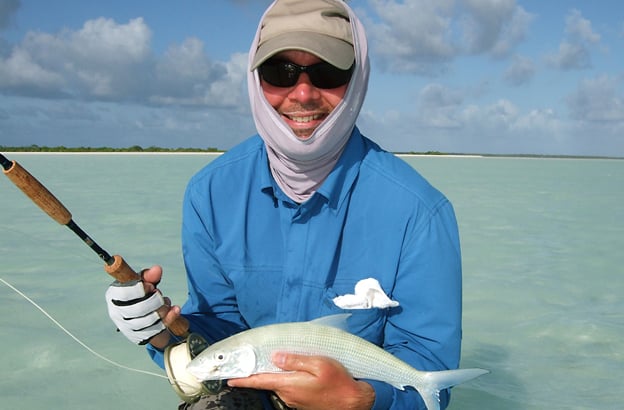 Gary's smile said it all, and they get bigger and bigger buddy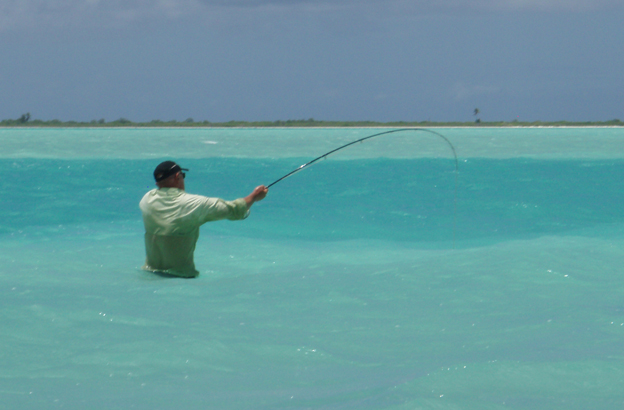 Some nutter out there playing fish…Ohh that will be me…lol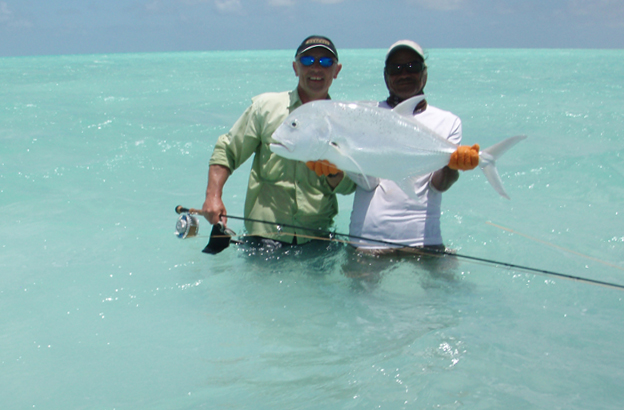 Me with a small one, story of my life 🙂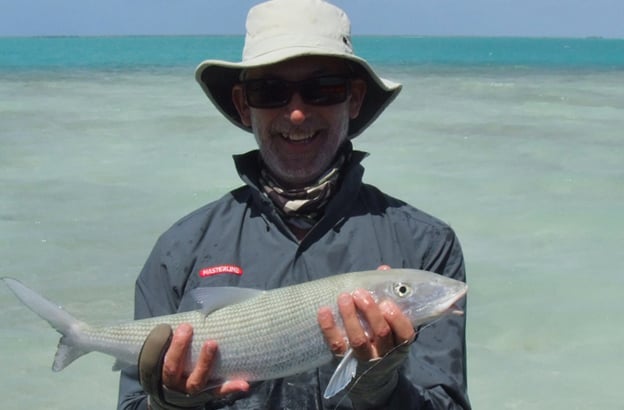 Peter Spice looking very happy with one of his first many Bonefish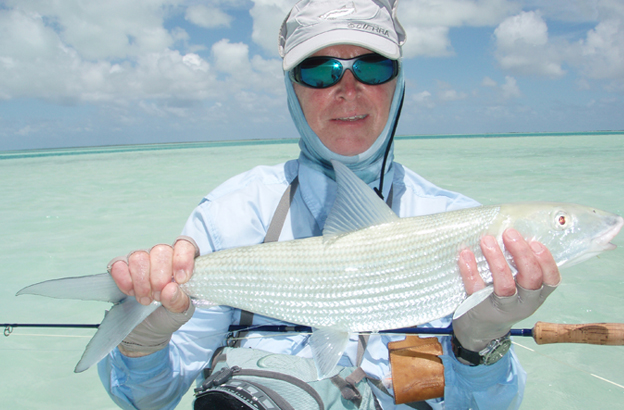 Keith with one of his many Bonefish and Keith had some crackers, Bonefish king for the week was our man Keith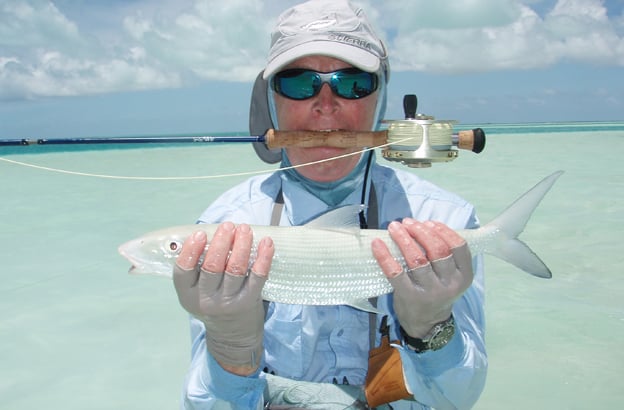 The King with Bonefish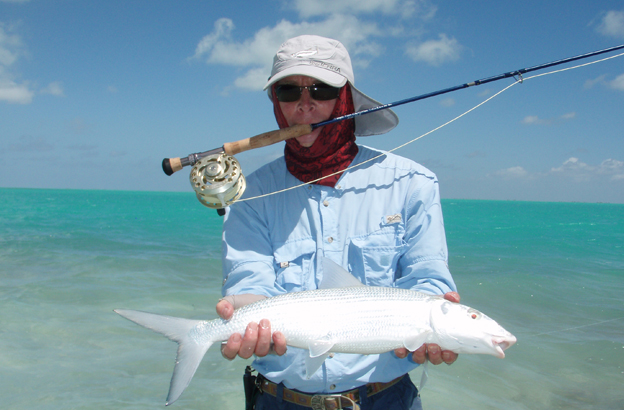 Bonefish King at it again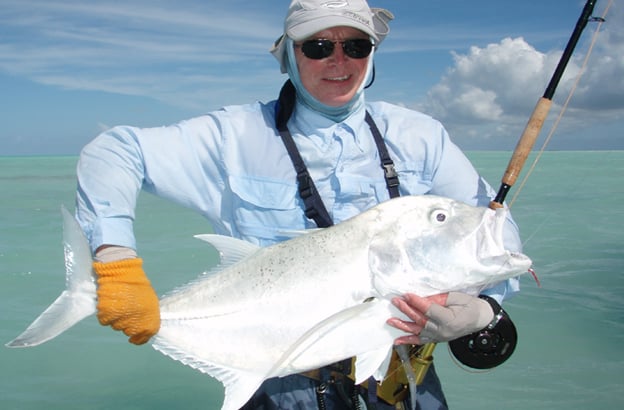 Keith puts down the girls rod to get out the big boy and he is straight in to the GT action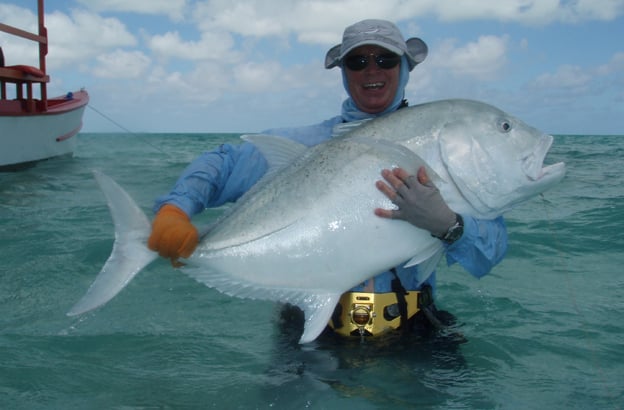 Keith with a cracking GT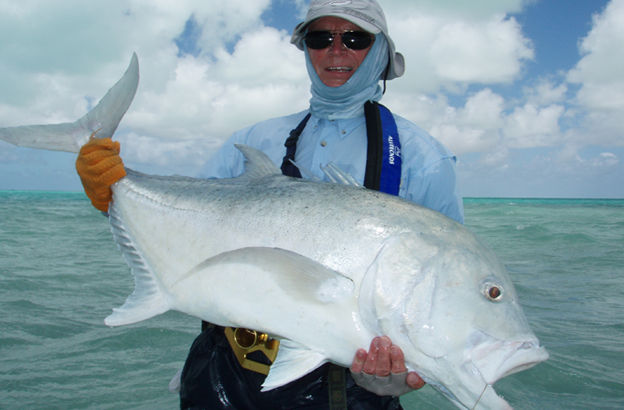 Keith pigging out on the GT'S another stunning fish, now you can see why he uses a fighting but pad for his 14# fly rod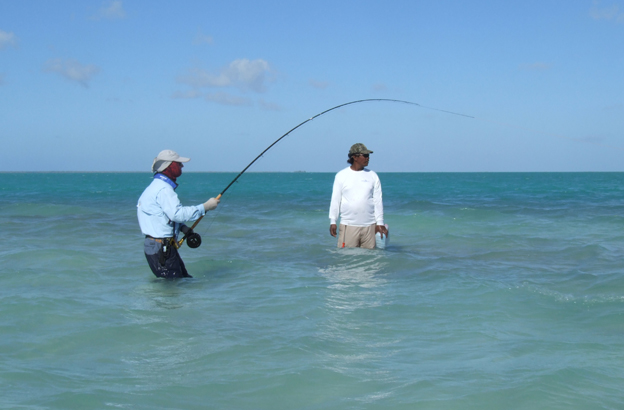 The master trying to show that he is the king with the GT having other ideas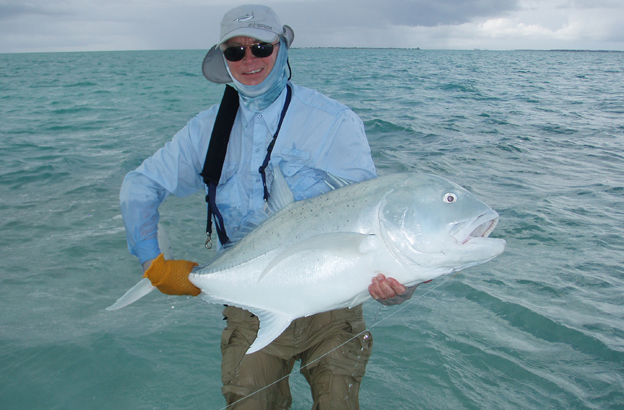 Another cracking fish Keith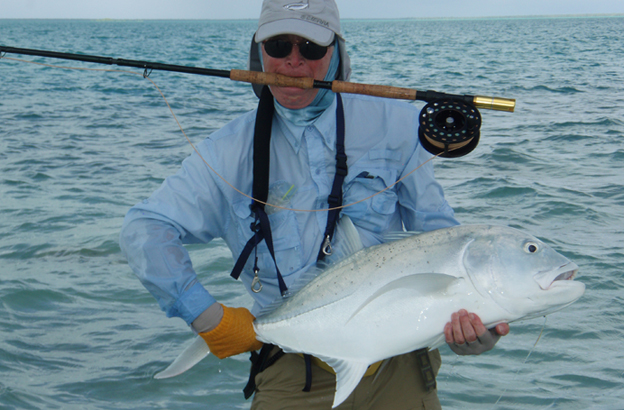 Grip and grin Keith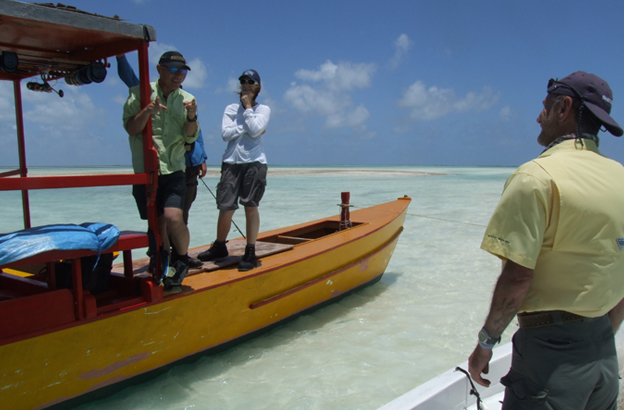 Boats coming together for a spot of lunch, look at my hands I am boasting about the size of my fish again 🙂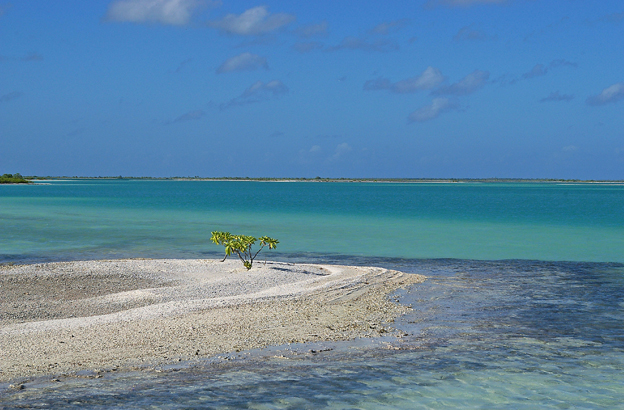 Can you put me a house right here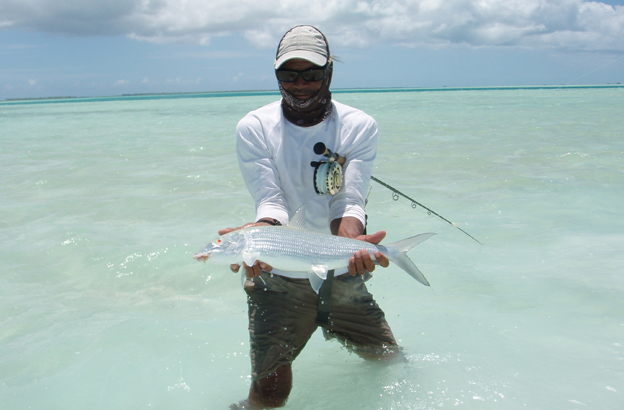 Got to let the guides catch a few fish every now and then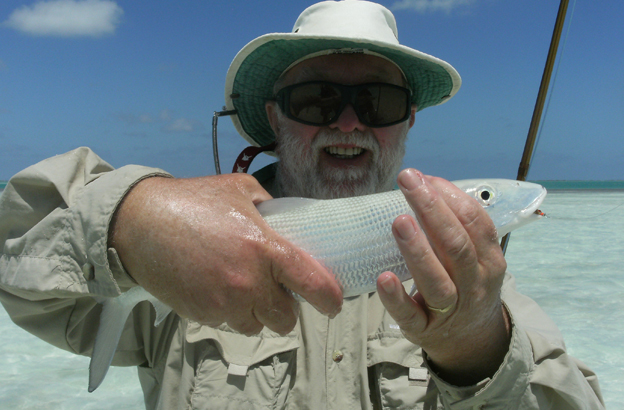 Mike with his first ever Bonefish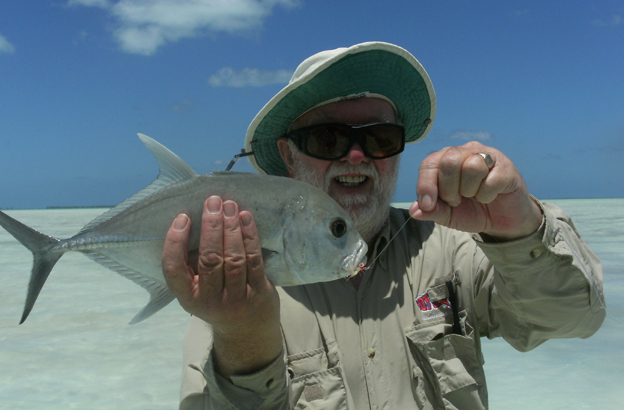 Mike and his first ever GT which in fact nipped in to steal his Bonefish fly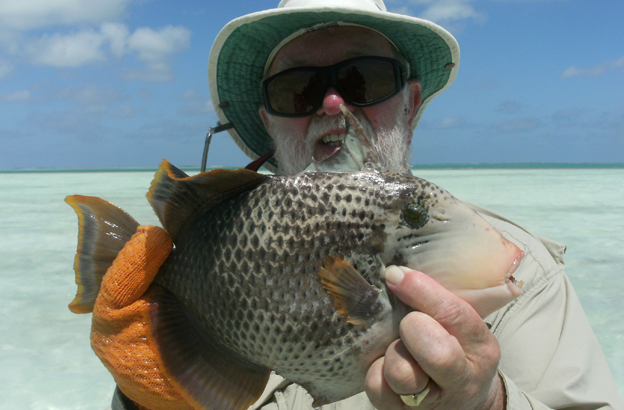 Mike with his first ever Trigger fish on the fly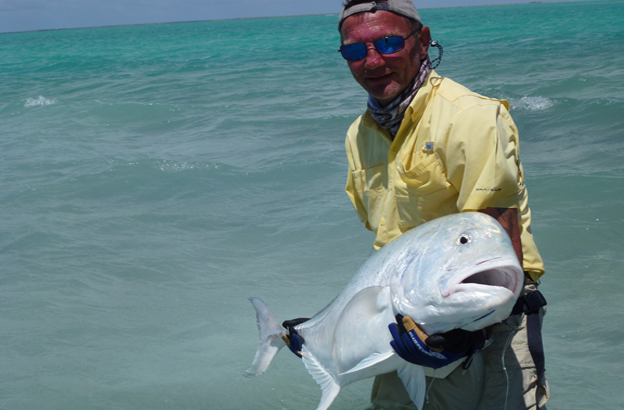 Paul with a nice GT'S from the stunning flats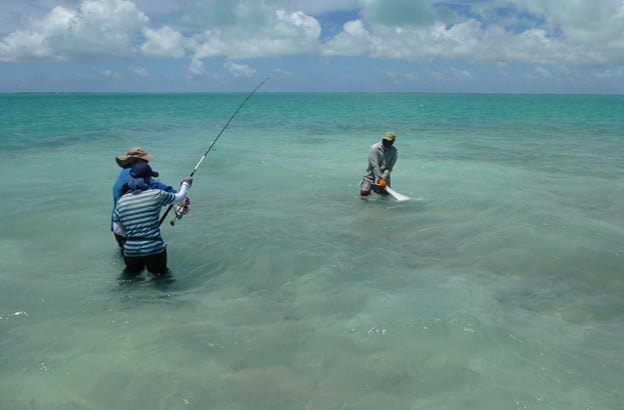 Jody landing her first ever GT, Gary do not touch that rod, she will be after you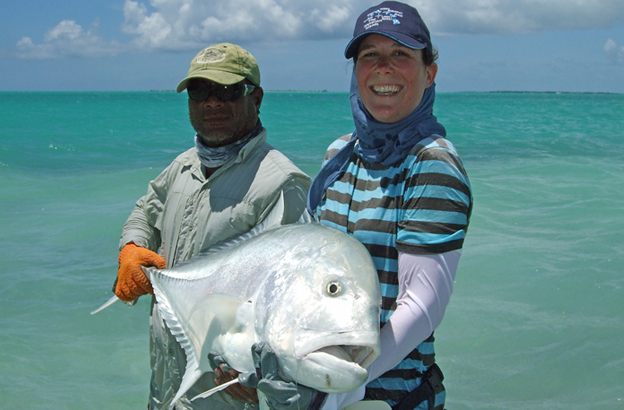 Jody and the guide with her very first GT, not a bad start
Paul and Mike decide to try some offshore fishing and look Pauls well bent in already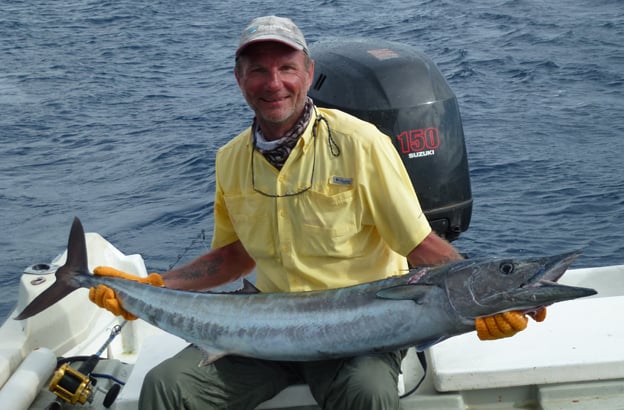 The first sight of Paul with his first ever Wahoo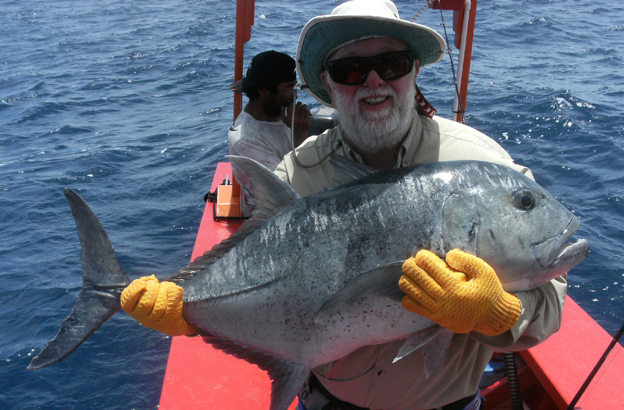 Mike with a nice ocean GT caught on a popper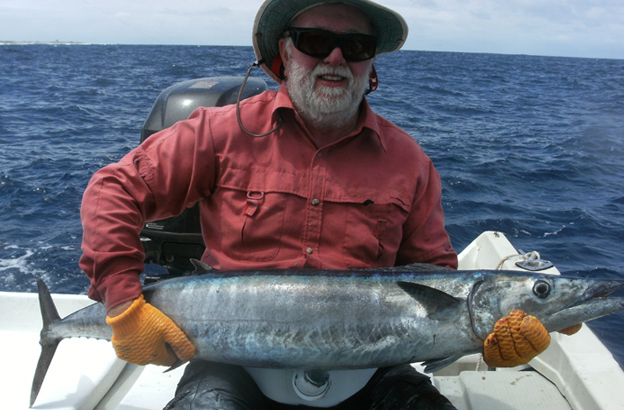 Mike with his Wahoo looking very happy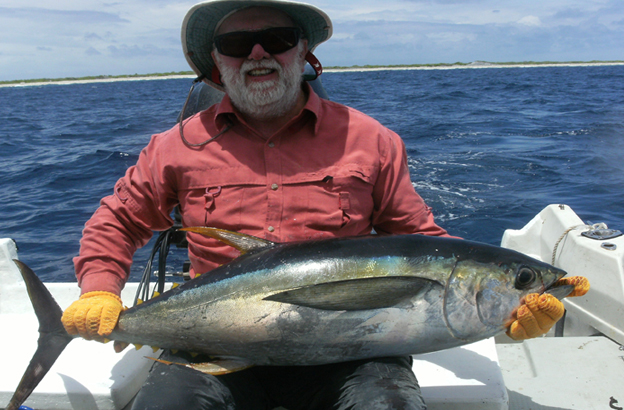 The boys also got in to some of the Yellowfin Tuna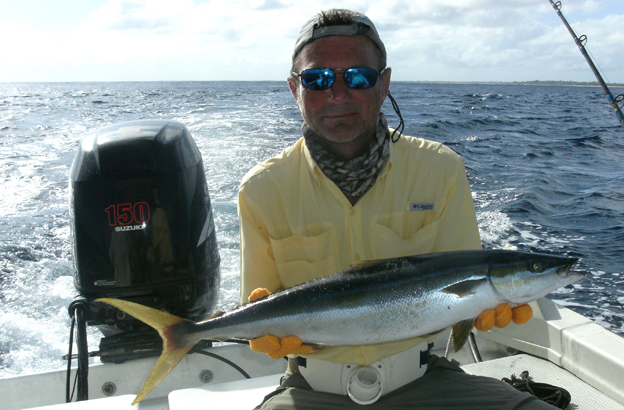 Paul with a nice Yellowtail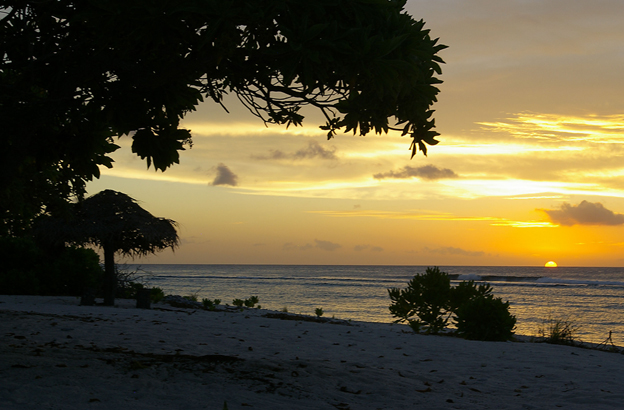 What a sight, just the everyday view of the sun setting from your room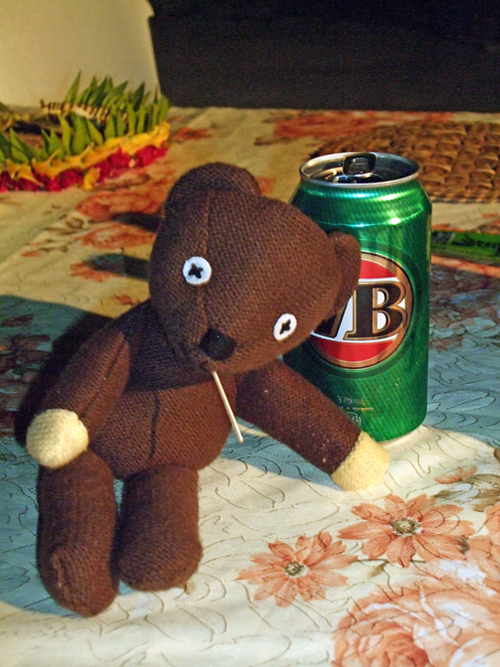 Mr Teddy, which is my lucky teddy and must be one of the most traveled teddies in the world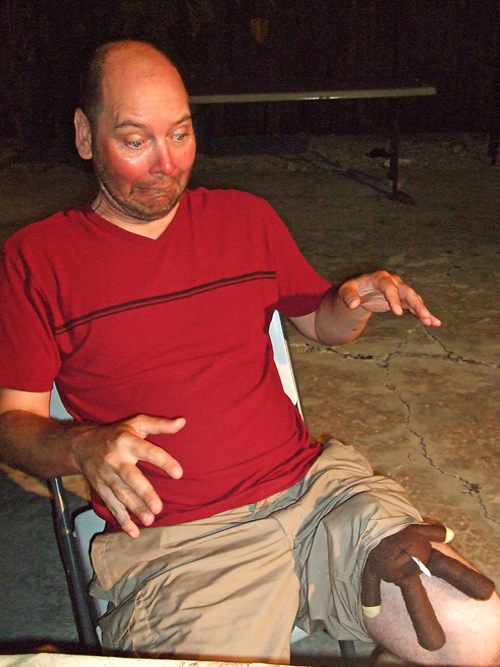 Mr Ted being abused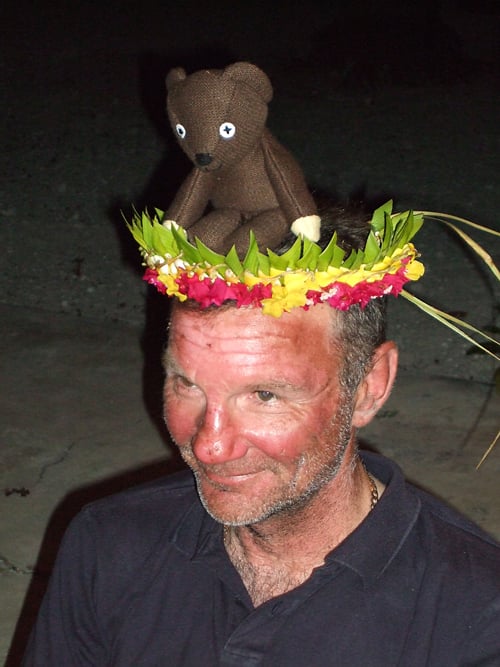 Mr Ted likes to join in on all the action