Overview
Cosmoledo Atoll has become known as perhaps the finest Giant Trevally destination in the world. However, it's not just the famous GT'S that continue to attract anglers to this destination. There are a huge variety species on Cosmoledo and both the numbers and sizes of fish you can catch are exceptional! Below our experienced team have answered the most frequently asked questions we get on this destination.
Where is the lodge?
Cosmoledo Atoll is located 1,030km south-west of Mahé. The atoll is situated a stone's throw away from the world heritage site of Aldabra, which is often referred to as the Galapagos of the Indian Ocean. Menai and Wizard Islands occupy the eastern and western points of the atoll and were named after the two ships that explored the atoll on the Moresby Expedition in 1822.
South Island stands near the main entrance to the inner lagoon, while the second, smaller entrance is just south of Menai. It's a huge atoll measuring 17km from north to south. The perimeter of the atoll is covered with vast, wadeable sand flats dotted with islands of various shapes and sizes, all of which is the perfect habitat for its fish population.
Where do they fish?
The fishing is mainly concentrated around the large white coral sandy flats, the main lagoon or the many surrounding islands.
How long does it take to reach the fishing grounds?
You will either fish the outer Atolls offshore or inside the lagoon depending on what species you wish to target. The travel time to the fishing will then be anything from 5 to 15 mins.
What fish will I catch?
There are many species to both fish for and target on Cosmoledo Atoll. Each day you decide what you would like to target or just go with the flow by casting at what you and your guide find as you go out and explore. There are plenty of species to target that you can catch from Bonefish, Triggerfish, seven species of Trevally, Milkfish, Barracuda, Sailfish, Dogtooth Tuna, Yellowfin Tuna and a plethora of other flats and offshore species.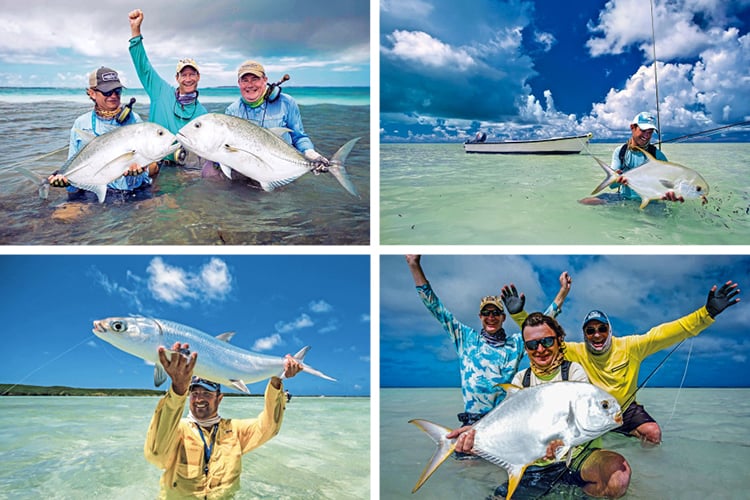 hello my namde
How many fish will I catch?
The number of fish will catch will always vary on the time of year, the moon phase, tides and prevailing weather. However, with the expertise of our guides, you will contact fish each day. The numbers also depend on what you are targeting for example if you are targeting Bonefish you can land between 10 to 20 per day. On the other hand, if you are targeting just GT's you will aim for 1 per day. Anything else is a very welcome bonus. Keep your expectations real and Cosmoledo will always exceed them.
How do they fish?
Each day two anglers will fish with one guide and the fishing is a mixture of either wading the flats or fishing from the skiff over larger areas. There is also the offshore fishing with either conventional tackle or fly fishing. When fly fishing you will practice switch and tease methods, where the guides tease target species to the surface such as Sailfish and Tuna. You will then cast your fly into the action as the teasers are removed. With conventional tackle, you will troll lures behind the boat or cast surface lures around the boat.
Do the guides speak English?
All our guides speak very good English.
Who is best suited to this destination?
Cosmoledo is suited to everyone as there is a variety of species to catch.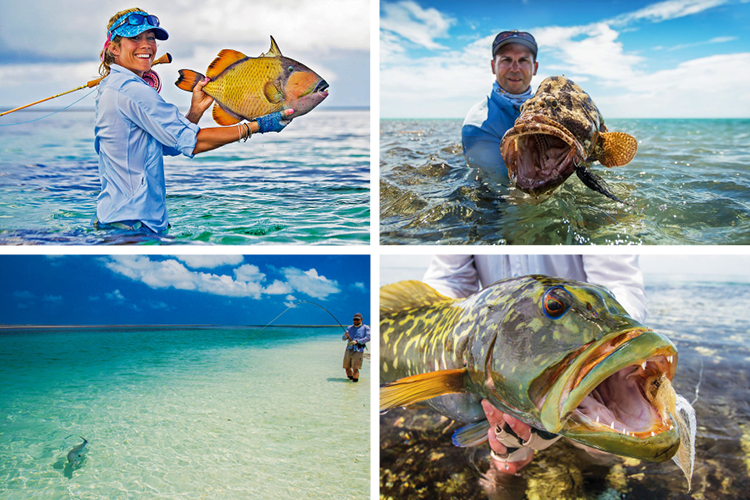 What skill level is required?
If you are looking for the easier species such as Bonefish and Triggers, then only basic fly fishing skills are required. However, if you are trying to fish for the more challenging species such as GT'S and Milkfish, it is an advantage if you are a more experienced caster. Having said this, all of our guides are great instructors and love nothing more than teaching customers to catch the first of a new species.
How physically demanding is this trip?
To get the best out of this destination, and if you wish to spend all day fly fishing, you need to be of a suitable fitness standard and be able to walk certain distances each day (easy hard bottom sand walks). If you wish to fish offshore with both conventual tackle or fly fishing there is limited walking involved as the fishing is mainly conducted from the boat.
When to go?
Cosmoledo is open to anglers from beginning of November to the end of April each season. Fishing dates have traditionally been from October onwards to avoid less stable weather patterns that can be experienced outside of this period. You can have excellent fishing at any stage during the season.
Weeks with full or new moons tend to be at a premium as the increase in tidal range and flow of water, in and out of the flats, benefits the GT's that lie in ambush! When fishing for the flats species the opposite may apply. As conditions will change over the 6 days fishing you should always experience a taste of both and the variety experienced over any week is one of the major attractions when fishing in the Indian Ocean.
How to get there?
From the UK you will fly to either Dubai, Abu Dhabi or Doha. From there it is only a 4.5 hour flight to Mahe. You will then have an overnight stay in Mahe and the next day you will have 3 hour flight to Astove. Once you arrive on Astove it is a 60 min transfer out to Cosmoledo Atoll.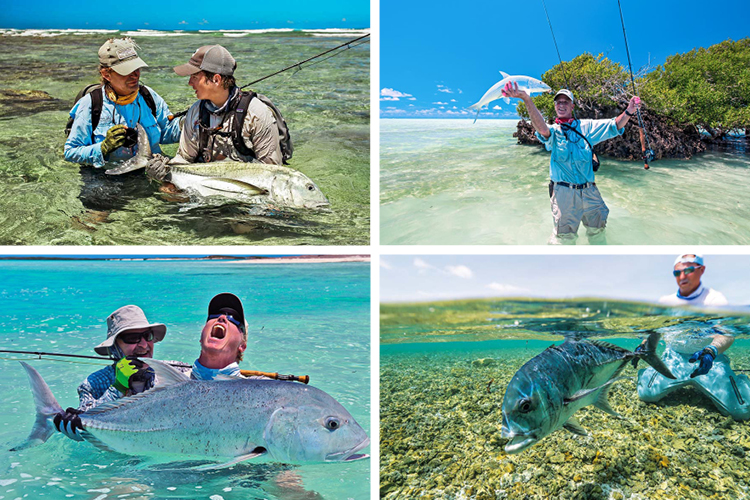 What is the accommodation like?
The accommodation a brand new Eco Lodge where nature meets creative, eco-friendly hospitality. The rooms are made up of custom designed, upcycled beach cottages and communal dining. The entertainment area is a large tent with bare sand floors; both of which are committed to the conservation, preservation and protection of the natural resources of Cosmoledo. Each room can be set up as either double or single room configuration.
What is the food like?
The menu comprises of an English breakfast, a packed lunch of your choice and a Creole-style buffet dinner served in the inside dining area.
Does the lodge provide fishing tackle?
Fly fishing outfits consisting of Thomas and Thomas fly rods and Shilton reels, loaded with 300 yards of Cortland braided backing can be loaned at no charge. Fly lines will need to be purchased from the shop and it is recommended that you preorder a fly pack for your expedition, which would include all the flies you would need for the various different species on offer.
There is a full range of flies that are custom tied for the Astove destinations on the right hooks and with the correct material. It's important that angler's pre-book the rod hire as well as tackle to ensure that we have sufficient stock. All tackle sales may be settled at the end of your trip upon check out at Astove. All rod breakages are for your account and will be billed at $150 per rod.
Is internet and phone signal available?
The phone service is operated via satellite and there is no Wi-Fi. There is a communication cost.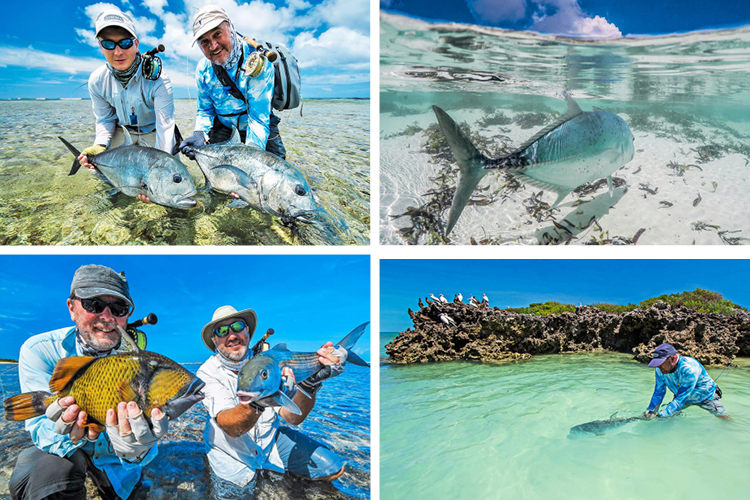 Are there other activities available?
There are some non-angling activities available including kayaking, scuba diving and spa therapies
How much does it cost?
We offer complete packages including all flights and transfers. To view all prices and availability click the "Dates & Prices" tab on our Cosmoledo Atoll page.
Alternatively, if you wish to arrange all your own travel we can book just the lodge and fishing for you. If you have any more questions contact our experienced team who will be happy to help with any queries you have.