This has to be one of the most stunning places that an angler can cast a fly. Set in the foothills of the Andes, surrounded by mountains and glaciers' fishing for prehistoric proportioned salmon is a trip that everyone should do at least once. The small river, which is only 8km long, provides complete and private access to both banks. Here you will be swinging flies in long runs and some pools that have huge back eddies. Each cast in this magical river provides you the opportunity to hook one of its many residents that so far have reached close to 80lb, yes 80lb, for here a 50lb salmon is considered an average size.
Where is the lodge?
The lodge is located in the foothills of the Andes; the closest town is Calafate and from here it is a 3.5-hour boat transfer.
Where do they fish?
On the Caterina River 8KM on both banks, the fishing is mainly conducted in the top two thirds of the river as lower down a small glacier tributary joins the Caterina River and changes the water milky. Fishing is also conducted at the source of the river where it flows out of the top lake. There is also a small bay aptly named Mammoth Bay, where normally during a week's stay each customer will visit once.
How long does it take to reach the fishing grounds?
As this area is a national park there are strict rules on how far inside the park we can take vehicles. From the lodge it takes about 15 mins by truck the furthest point and then the rest of the way is by foot. The closest fishing then is another 15 min walk, the top of the river would take 45 mins and if you wished to walk up to Mammoth bay you will be looking at a 90 min walk.
What fish will I catch?
King Salmon also known as Chinook, we do catch the odd small fish but normally you will be looking at fish around the 30to 40lb as small fish 50lb fish as an average size and each year we also catch on most weeks fish over 70lb
How many fish will I catch?
The number of fish you catch is dependant on weather and water conditions, also which week you are fishing. We fish for just 8 weeks and at the beginning the fish tend to be silver fish but less of them as the weeks progress the river get more stuffed with fish but the fish are then a mixture of silver and coloured fish. You do not go to Caterina for fish numbers you go there to fish for big fish, which are not easy to hook, and due to their size also difficult to land. Go expecting to catch one or two big fish then everything above that will be a huge bonus.
How do they fish?
Each week we have 6 rods and 2 guides, therefore the party is split into two groups. There is a choice when fishing, you can either depart in the morning and return around lunchtime, then after a fully cooked meal and siesta return to the river for an evening session and fish just into dark. Alternatively, if you prefer you can depart to the river after breakfast with your guides and packed lunches to stay out fishing until its time to return back for your evening meal. Each night you will chat with your guides and discuss the next days fishing and make the plans.
The Caterina River is not a big river so its not necessary for long casts, however, you will need to fish with Spey rods and heavy sink tips. The river apart from a couple of pools is not necessarily deep, you just need heavy sink tips from T11 right through to T20 so your flies can get down very quickly in the zone before the swing is over. The best lines due to using heavy sink tips are either floating or intermediate Skagit lines as these allow you to both pick up the tips out of the water and to cast them with ease. Depending on where you are fishing you will be either casting just off from 90 degrees across the river or preferably at 45 degrees downstream. The trick is then to change and vary your swing by mending the line.
Remember mending upstream is going to allow your fly to sink and get into the zone quicker, but then you need to manage the swing, as you do not want your fly to move either too fast or too slow. So through the swing you are mending upstream and then towards the end as the swing slows mend downstream so the belly keeps the fly moving. I have seen many times Kings chase a fly and when the swing slows as the fly approaches our own bank to only turn away from the fly. Quite often in these situations a mend at the end of the swing so the fly sweeps into the bank and some times even stripping the fly towards the end of the swing brings those followers into hard takes.
It is also good to go through the pools fast, do three casts in each spot but vary each of the tree casts and swings so mix it all up. Then take 3 large steps downstream before repeating the whole process again. In clear water Kings can become soft takers as they can see your fly coming from along away off so by the time you have got down to your fly actually covering the fish it has already seen it 9 or 10 times from a distance.
For rods and reels, the perfect setups are 9/10# 13 foot Spey rods and large arbour reels that can hold a serious amount of 50lb braided backing.
Do the guides speak English?
Our Head guide speaks fluent English, the supporting guides speak basic English but more than enough to get by and communicate to you about the fishing.
Who is best suited to this destination?
Customers who have caught King Salmon before but are looking for that special fish of a lifetime and new personal best Salmon, also customers who like to think and work out just how to get the fish to take.
What skill level is required?
What we love about this place is its technical fishing and therefore suits a thinking angler. You do need to be able and proficient in a few basic Spey cast, like single Spey and snake rolls, as these will cover most of the water. A basic understanding about swinging flies and how to make them react differently in the water, however, the guides love nothing more than teaching customers new fishing methods.
How physically demanding is this trip?
There is lots of walking involved to cover the whole river, the walking is medium there are not many hills to walk however the ground is covered with rocks so you have to constantly look where you are walking. The guides are happy to take the walk at whatever pace you are comfortable with so what if it takes you an additional 15 mins to get to the river at least you get there still feeling comfortable and ready to fish.
When to go?
January through mid-March.
How to get there?
Fly from the UK to Buenos Aires, transfer to the internal airport and catch a flight to Calafate, overnight in Calafate before taking the 3.5-hour ferry to Estancia Christina
What is the accommodation like?
Estancia Cristina Lodge is a wonderful fully converted old estancia that was founded in 1914 by English settlers. You will stay in separate bungalows; each bungalow has three twin-bedded rooms each with their own private bathroom. Each room has stunning views of the Andes and the river valley, wake up each morning looking at the snow-capped mountains before walking to the main building that is the centre point of your stay. In the main building we have a private restaurant that serves not only breakfast but also 3 course meals twice a day if you wish to return for each meal. There is also a large resting area with a bar that sells beers, spirits and bottles of red wine.
Outside there is a small boot room where customers each fishing session can get dressed in waders and boots pick up all their fishing rods and tackle. The trucks pick you up from outside the boot room each session.
What is the food like?
For breakfast, you can choose anything from cereal to a cooked breakfast, which is all served buffet style. Depending on your fishing program if you return for lunch and dinner there will be a mixture of buffet style food and also a full menu to choose 3 courses from. If you decide to fish until dark the staff will prepare a full private buffet that will be served in the lounge area of the bungalow once you all have returned. For those who wish to fish all day and take a packed lunch to the river, you will be provided with bags so at breakfast you can make sandwiches, pack cake's, biscuits, fruit etc for your days fishing.
Does the lodge provide fishing tackle?
Basically no, however, we do have two guide setups which are only used in the unfortunate event that a customers luggage gets lost.
Is Internet and phone signal available?
There is no mobile phone reception at the lodge, however, the lodge has good free Wifi so customers can stay in touch with home either by messages or even to chat via mobile apps.
Are there other activities available?
Estancia Cristina was not set up originally as a fishing lodge it is inside a national park that was set up to show people all the wonders of the surrounding area. Therefore there are lots of non-fishing activities that are put on daily for the daytime visitors. You can choose from the many guided walking trails, Glacier tours, museum tours, horse riding etc. Plus as one of our customers if at any time you wish to swap either a morning or afternoons fishing for an excursion there is NO additional cost. So why not bring your non angling partner they would love the place.
How much does it cost?
Sportquest Holidays offers you the complete package including all flights and transfers, to view all available weeks and prices click HERE
Sportquest Holidays also offers hosted trips to Caterina River each year which are ideal for single anglers to view all available weeks and prices click HERE
Alternatively, if you wish to arrange all our own travel arrangements Sportquest Holidays can book just the lodge and fishing for you. If you wish to book or have ANY questions please feel free to call our offices on 01603 407596.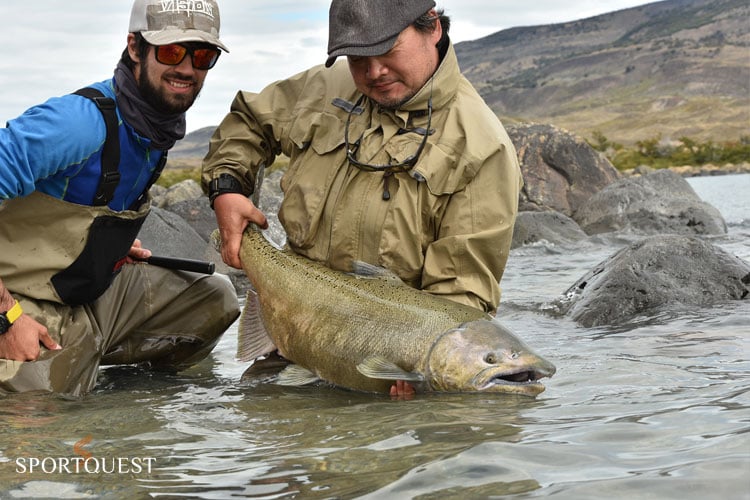 A cracking hen fish of a typical size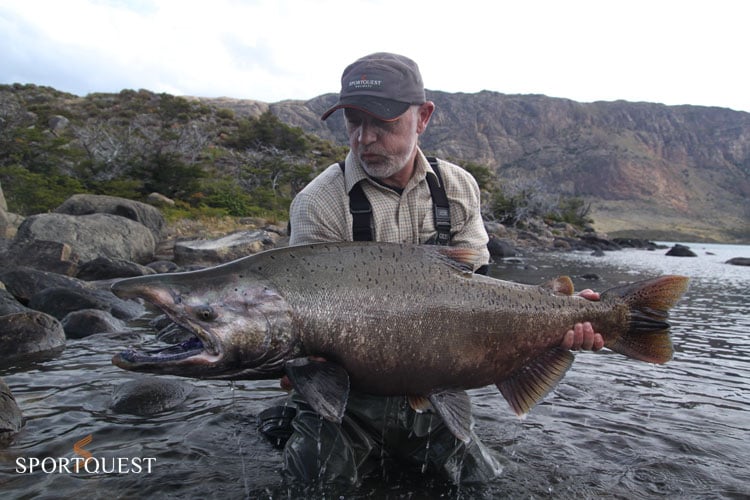 Just under 40lb cock fish which gave an amazing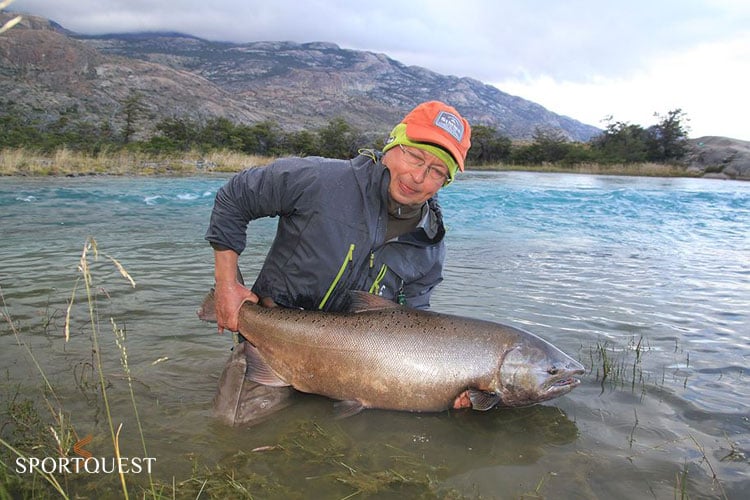 A nice hen caught from one of the holding pools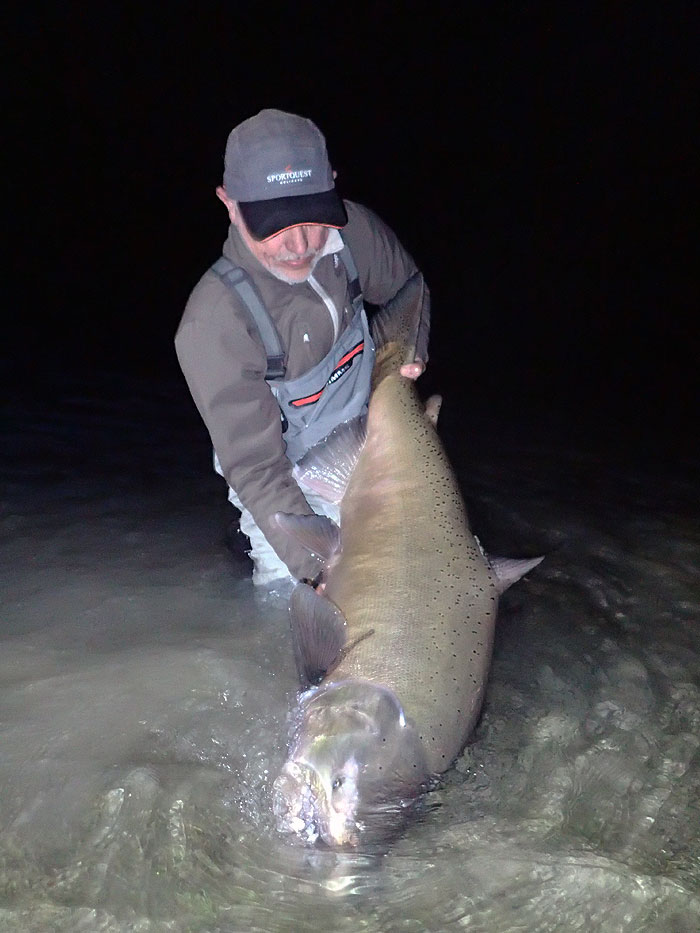 Those last few minutes in to darkness can be a killer, this fish of 56lb grab the fly on the last few casts I was making as the guide was landing one of our customers fish. I thought it was just a small one with a bit of head shaking until I started to try and give it some stick, as it then just toured off.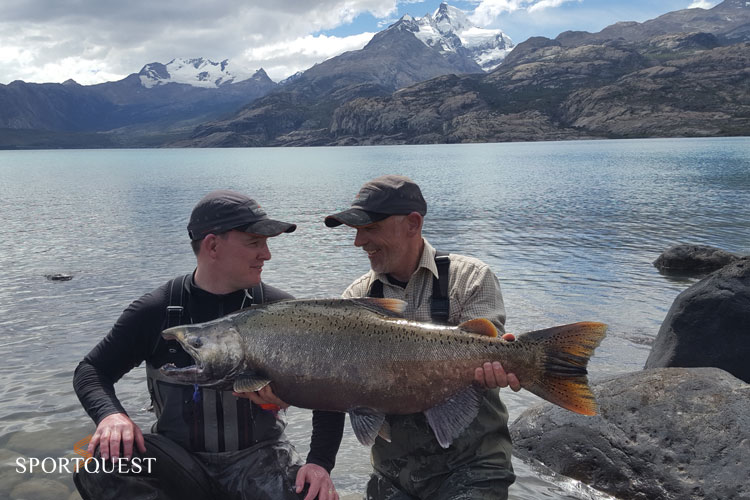 We spotted a large group of Salmon cruising the edge of the top lake at the source of the Caterina River. 4 or 5 cast later this nice King smashed the fly. We are laughing as I fell over playing this fish so could have easily lost it.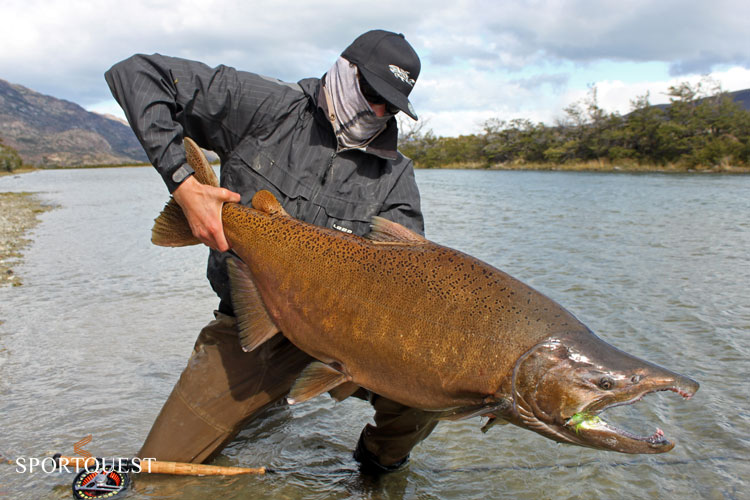 The fish come in all sizes and all colures, but whatever the colure believe you me these fish are going to fight like hell.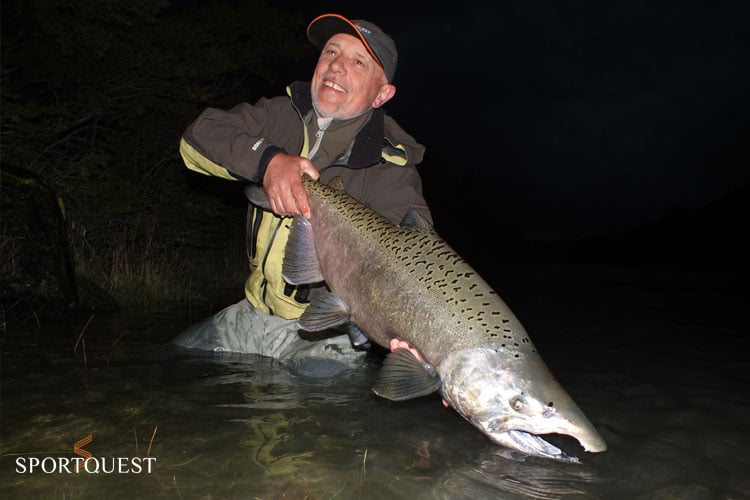 The markings along the top of the back are like they have all been hand painted, truly stunning fish.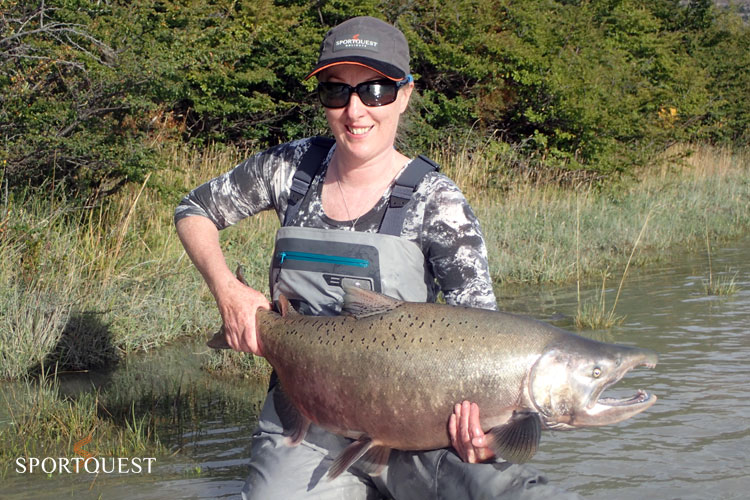 Tracey with her new personal best a mid thirty pound fish that gave her a great fight, landing the fish around 600 metres down stream.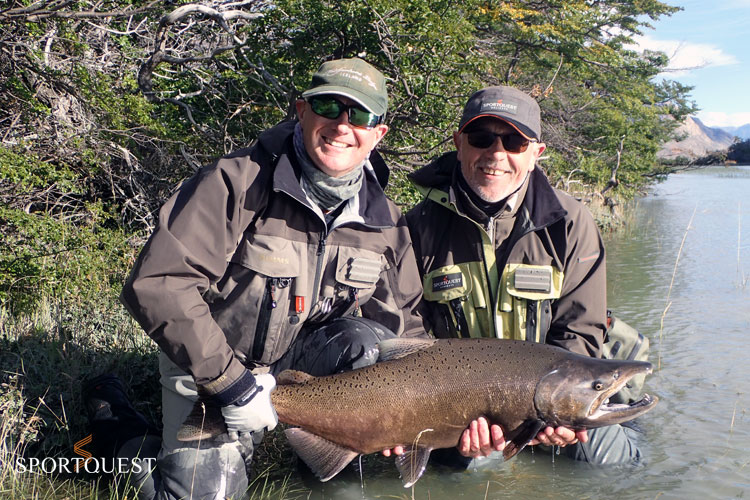 Just goes to show what happens when you listen, I guided Guy and explained how to fish the channel with mending both upstream and downstream and look what happened with in a few hours he was in to fish.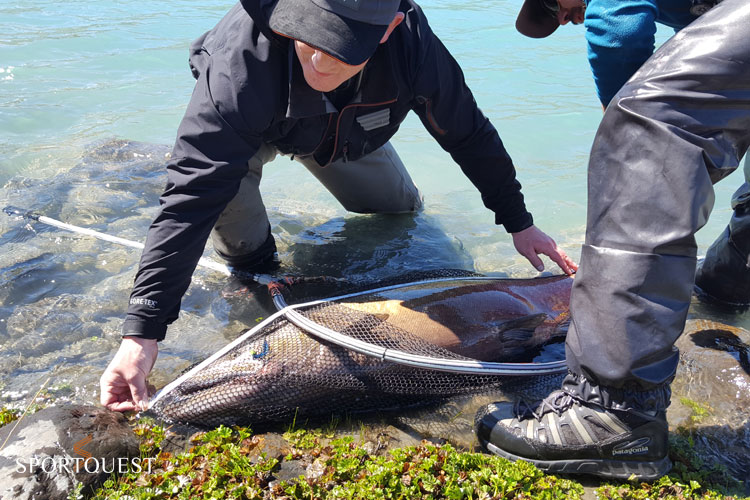 Graham measuring a beast of a fish this one was around the 70lb mark and was the 3rd fish we caught in the first 2 hours of the day. When the bite is on its on.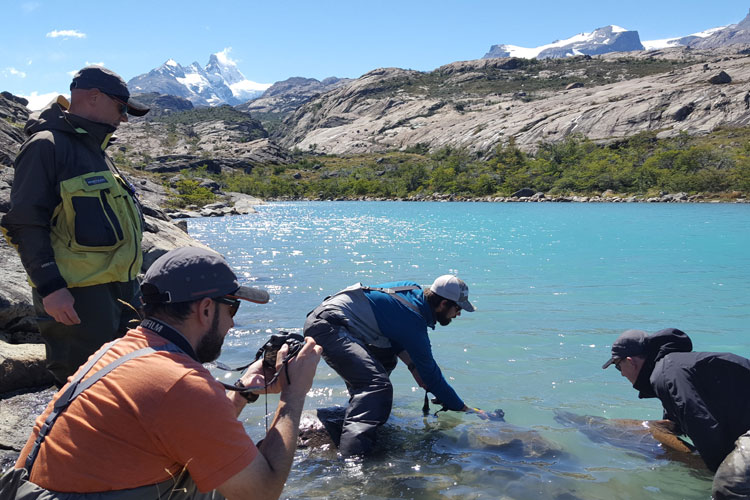 The beast being filmed as everyone watches it swims off strongly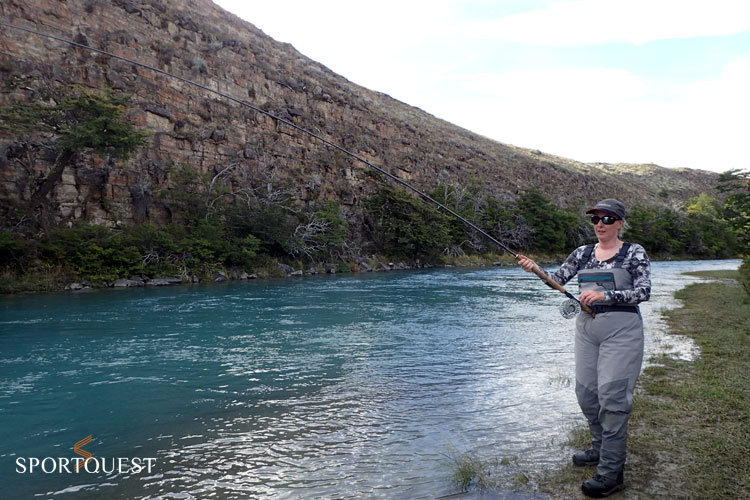 Tracey playing fish in the channel, you can clearly see with the different colour in the water how the drop off is in the channel, with the deepest parts tight to the far bank and sheer cliff wall. This is where the fish site tight so you have to get it in there and down quickly. Great technical salmon fishing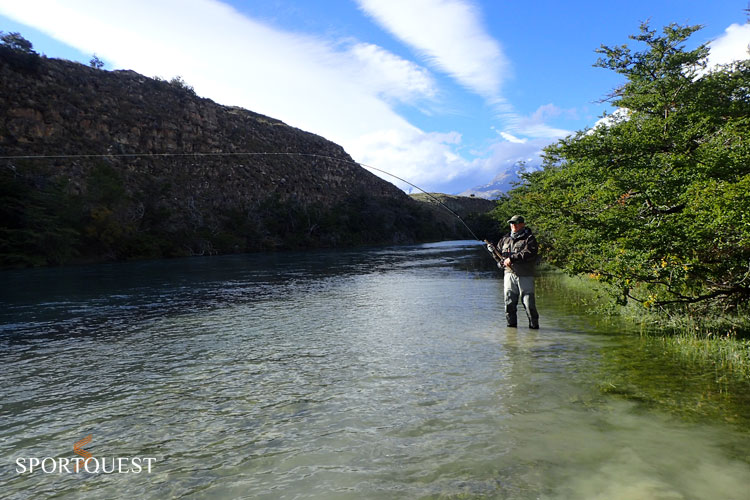 Customer bent into another fish on the wall this time.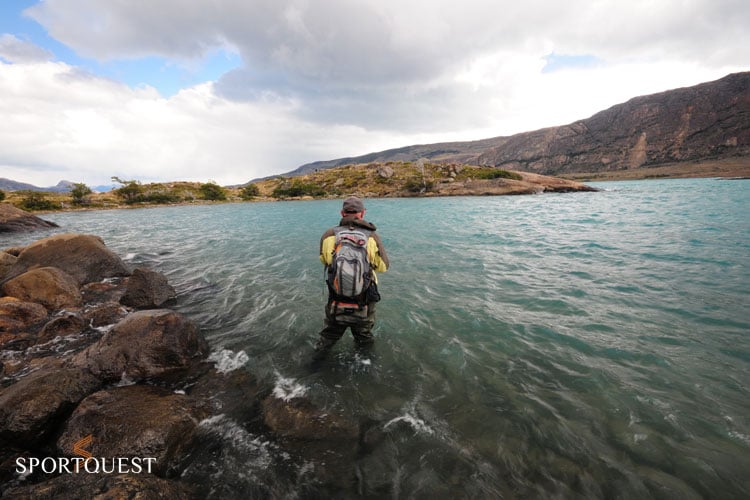 Peter fishing the source of the river a great place to fish as the Salmon swim in and out of the river from the lake.
Another great very very long run aptly named the aquarium for its a place you see lots of fish swimming around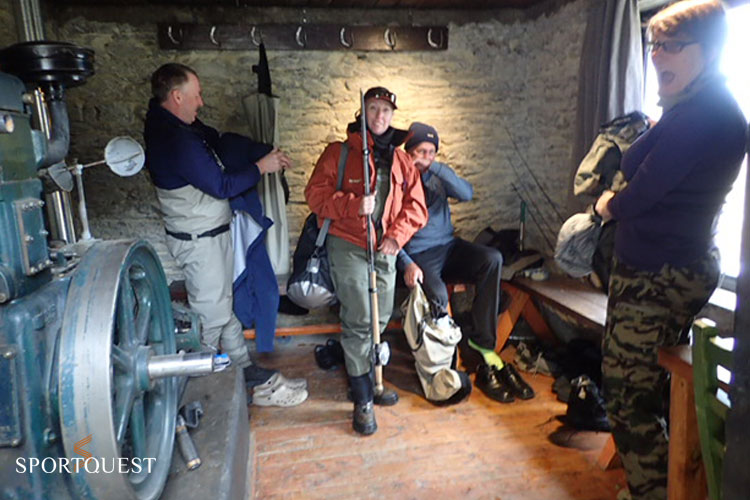 The customer boot / drying room at Caterina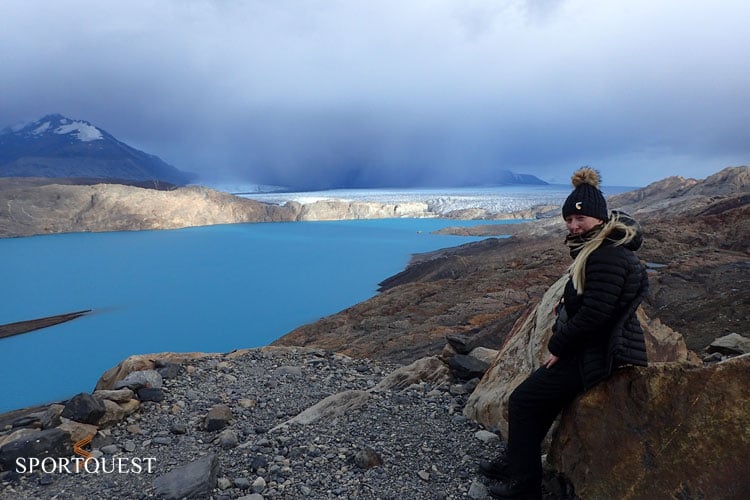 Non fishing activities lots to choose from how about a private galicer tour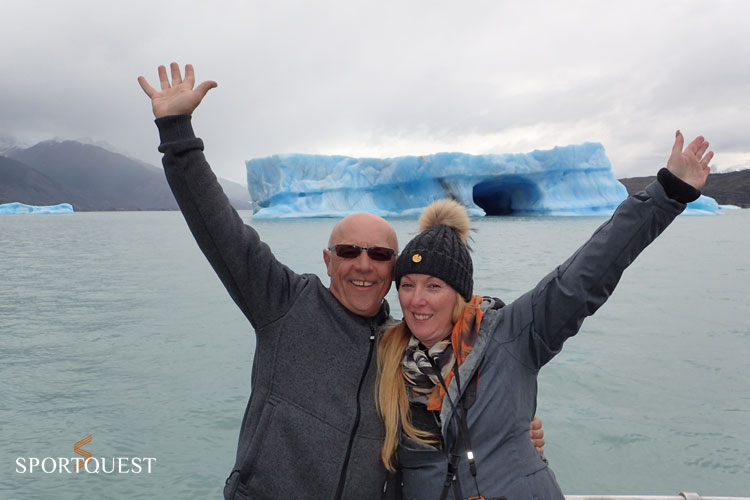 On the 3.5 ferry ride to the lodge you will get the chance to grab some pictures of huge icebergs that have broken off the glacier, just look how stunning and blue they are.