Destination Overview:
Shore Shark Fishing Namibia, the fishing takes place from the beach along the Skeleton Coast, so called due to the amount of whale and sea bones that litter the shore line. The coast sits in the cold, nutrient rich Benguela current of the Southern Atlantic and that, coupled with the hot Namib desert that extends the entire length of the Namibian coastline, means frequent morning fog, dropping the temperature down to comfortable levels. Shipwrecks adorn the coastline, including some quite recent ones which make for some amazing photographs.
Where is the destination?
The area you will be fishing is in and around Henties Bay in Namibia situated on the Western Coast of Africa.
Where do they fish?
Here you will be fishing from the shore at many different marks with big baits, mainly for the many shark species that inhabit these waters but also for other various species that swim here.
How long does it take to reach the fishing grounds?
You will be transported to the grounds in a vehicle, depending on the grounds you could be as close as a few minutes drive or a bit further depending on conditions.
What fish will I catch?
The main species you will be targeting are the huge Bronze Whaler sharks that patrol these waters but you also have the chance of catching Seven gilled cow sharks, Spotted gulley sharks, Smooth-hounds, Guitar fish, Kabelijou and Steenbras.
How many fish will I catch?
Your catch rate will vary depending on what species you want to target but the average weight of Bronze Whaler sharks here is 176lb. So you will see some massive fish.
How do they fish?
You will be fishing from the shore using big baits for the sharks. Your baits will be taken out by a drone which will drop them beyond the surf line to reach the optimum fishing area. Each person has a rod and nobody will be forced to take a time out so others can fish.
Do the guides speak English?
Yes perfect English
Who is best suited to this destination?
The angler who wishes to target monster fish from the shore.
What skill level is required?
A basic understanding of fishing from the shore is all that is required.
How physically demanding is this trip?
You will be fishing in hot weather and these fish really pull back so this fishing is fairly physical.
When to go?
October through to April is when we offer dates and anywhere within these are the best times to go.
How to get there?
Flights leave the UK from Heathrow and stop off in Johannesburg before heading on to Rooikop airport Namibia
You will then be picked up by the guide and transferred to you accommodation (approx 1 hour).
What is the accommodation like?
Simons guesthouse boasts full bar facilities, a pool table and DSTV are available to help you unwind after a days fishing. You will be sleeping in modern well furnished twin rooms ensuring that you get the best nights sleep after doing battle with big sharks all day.
What is the food like?
The speciality is fresh caught fish as well as a variety of other meals. Our chef excels in all types of cooking and can cater for any taste. Vegetarian, vegan and any other type of dish can all be prepared for you.
Does the lodge provide fishing tackle?
Yes all tackle is provided
Is Internet and phone signal available?
Phone signal is available and the Wifi is free and fast.
Are there other activities available?
Yes, if you want we can also arrange extra days out on Safari.
How much does it cost?
Sportquest Holidays offers you the complete package including all flights and transfers, to view all available weeks and prices click HERE
Sportquest Holidays also offers hosted trips to Namibia each year which are ideal for single anglers to view all available weeks and prices click HERE
Alternatively if you wish to arrange all our own travel arrangements Sportquest Holidays can book just the lodge and fishing for you. If you wish to book or have ANY questions please feel free to call our offices on 01603 407596.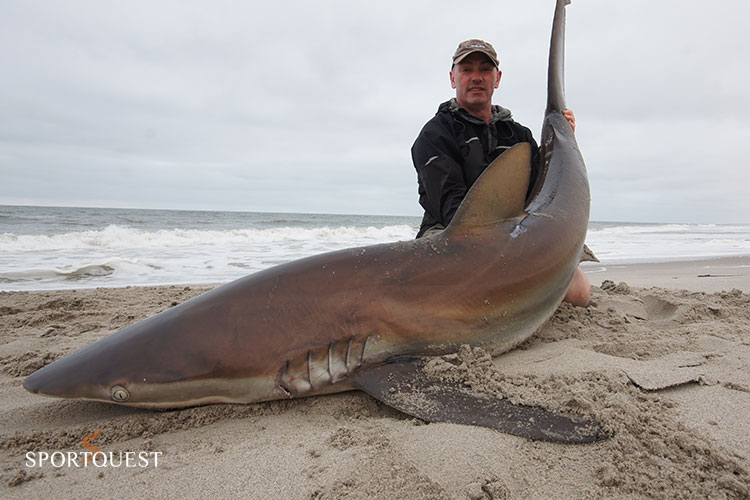 Fishing from the shore you will be targeting the hard fighting, monstrous Bronze whaler sharks.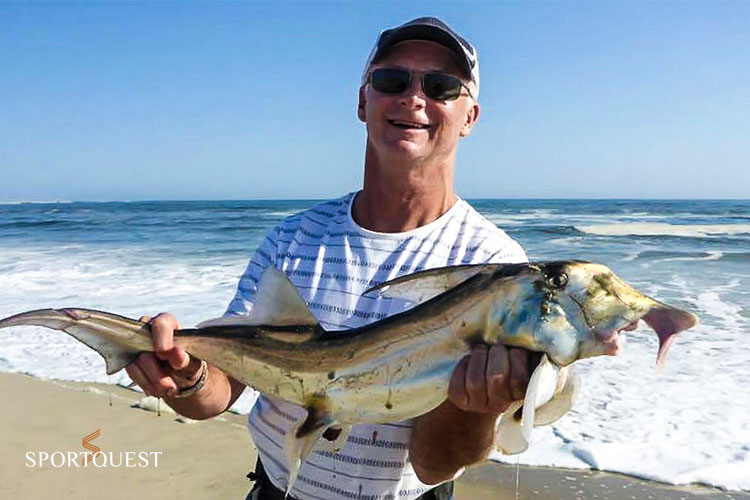 Its not only massive sharks that you have the chance to catch here, there are lots of other species to try and catch too.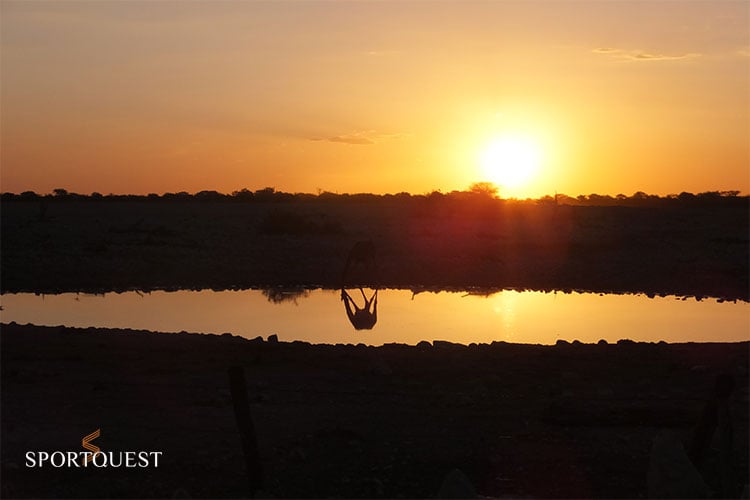 The sights on the Namibian coast are amazing, this really is dream fishing.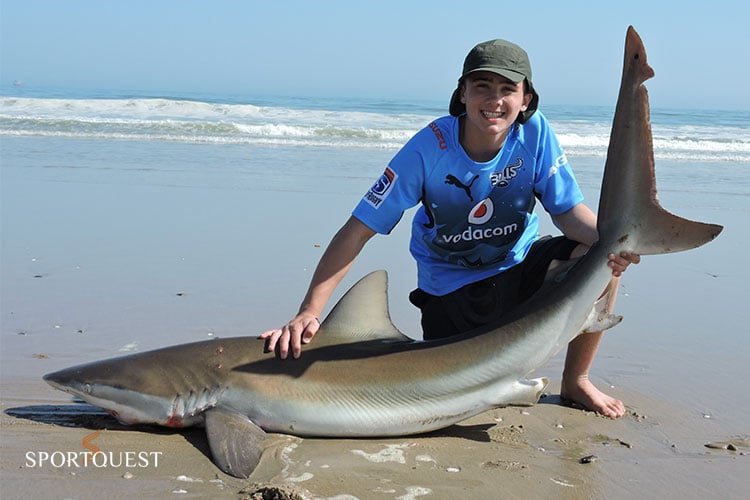 This trip really is the shore anglers ultimate holiday, big fish from the beach in beautiful weather, what more can you ask for.