Its all good fun when you are out fishing, but we do need to remember that we are fishing in the natural world that mother nature creates and man is not always at the top of the food chain…..
As everyone has now arrived at the lodge the staff have all been busy getting everything ready for the busy season ahead we have booked up with customers. However all the staff and guides plus a few of our first customers of the season have been out on the river exploring and checking out all the normal areas and of course sample some of the fishing. I think it is fair to say that the Trout fishing has been off the charts with everyone having such fun.
But for some people you can never get enough fun, so last night Jon the new guy decided he would continue fishing with the midnight sun.
Katlyn one of our new staff was standing down on the dock watching Jon fish, when Katlyn yells for Jon to look behind him as there is a female Moose and her calf hoofing it across the river. They looked to be in quite a hurry!. After standing there and appreciating this spectacle of mother nature, thinking to themselves, "Wow, wasn't that pretty cool!"…..as if that weren't enough, along comes this big ole Alaska Brown Bear, barreling over the meadow in hot pursuit, crashing in to the river at pace, with water splashing in every direction as he tries to catch up with female Moose and her calf….and who can blame him, he's pretty dam hungry after 6 months of hibernation and no salmon in the river yet!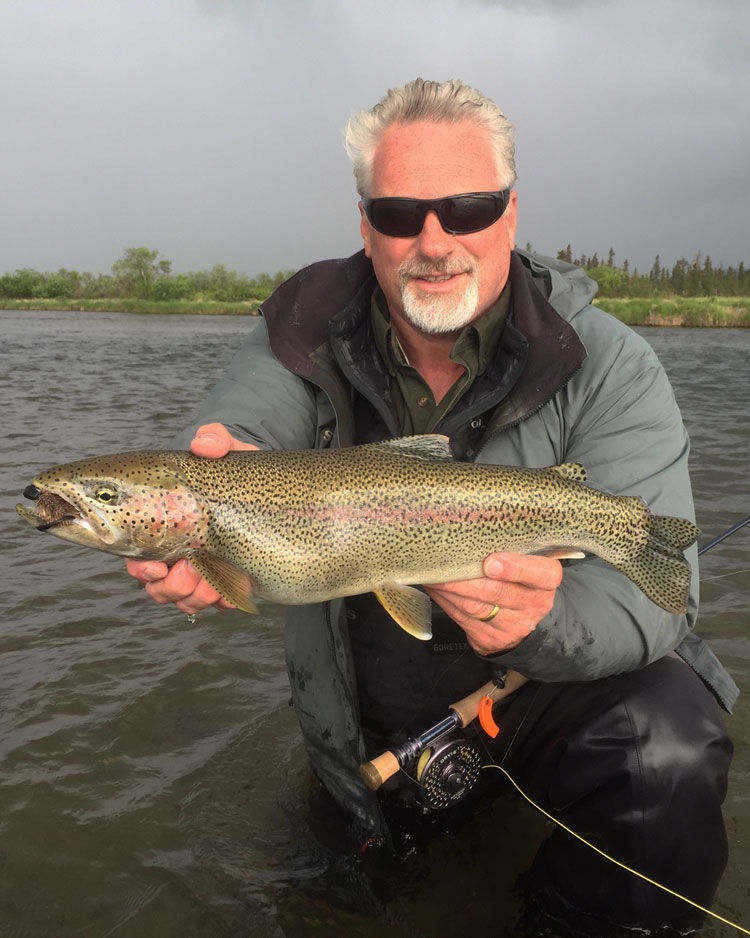 About halfway across the river, the Grizzly catches wind of Jon standing in the middle of the river wading….I'm not entirely sure what Jon's aftershave is or what he is applying in the shower as the Bear stops in his tracks, stands up on his rear legs and starts sniffing the air. He looks at Jon for a moment as Jon looks back and realises that he just could be on the menu. Thankfully after determining that Jon was far too scrawny, the Bear determines that those Moose might better satisfy his raging hunger and off he goes in pursuit of his prey!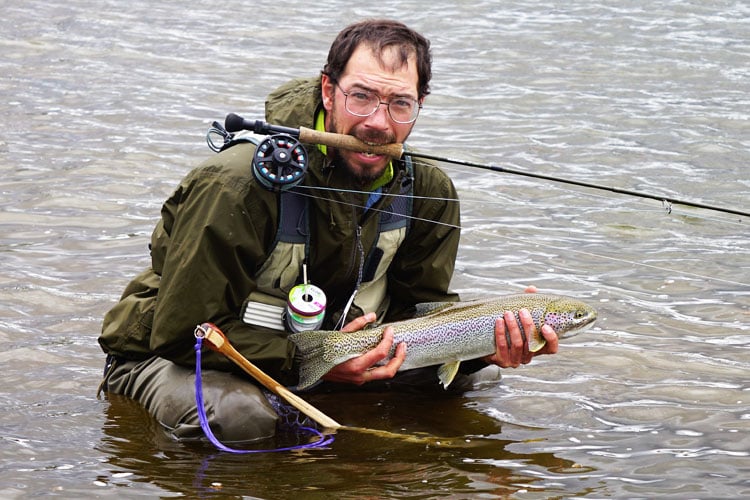 Jon look our behind you……
Jon shrugs his shoulders as his mind immediately returns to the fishing as he casts again in to the river. Wow was that a close encounter with a bear you could ask…… No its just another day on the Wild Alagnak River!
Below are a few pictures of Trout we got on this opening day on the Alagnak Wild River in the first couple hours of fishing! The water levels were perfect for wading and skating a mouse pattern on the surface. Swung black leeches were also a big producer. And the dry fly fishing with Elk Hair Caddis, Parachute Adams and Chernobyl Ant patterns worked a treat!
Remember if you would like to either book to join our hosted trips in 2018 or would like to book any dates in 2018 Please
Click Here
for full details.
We also have some AMAZING LAST MINUTE DEALS if interested call Peter in our office 01603 407596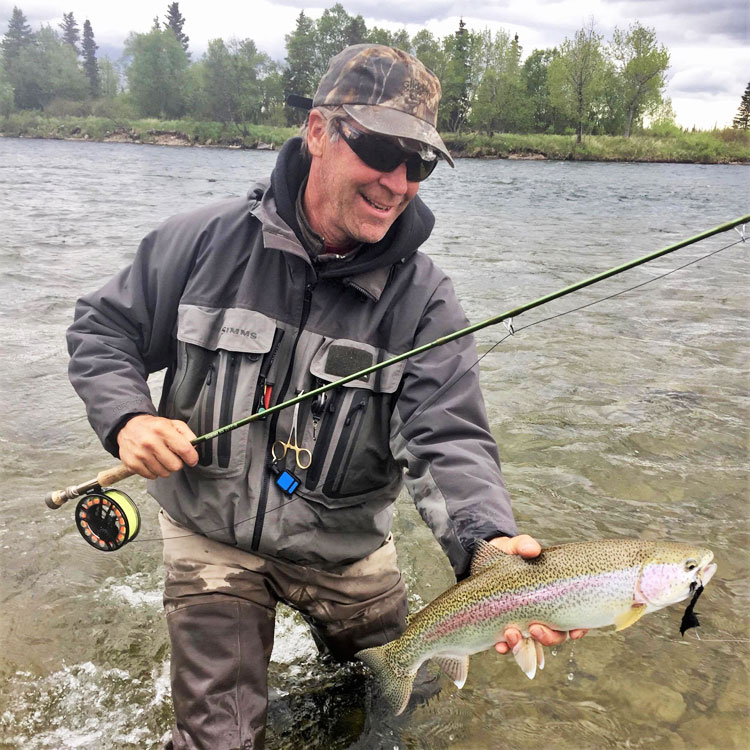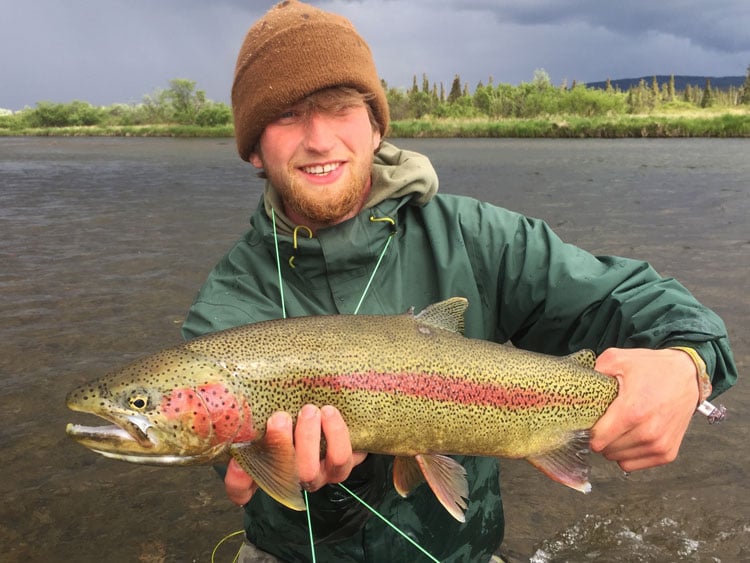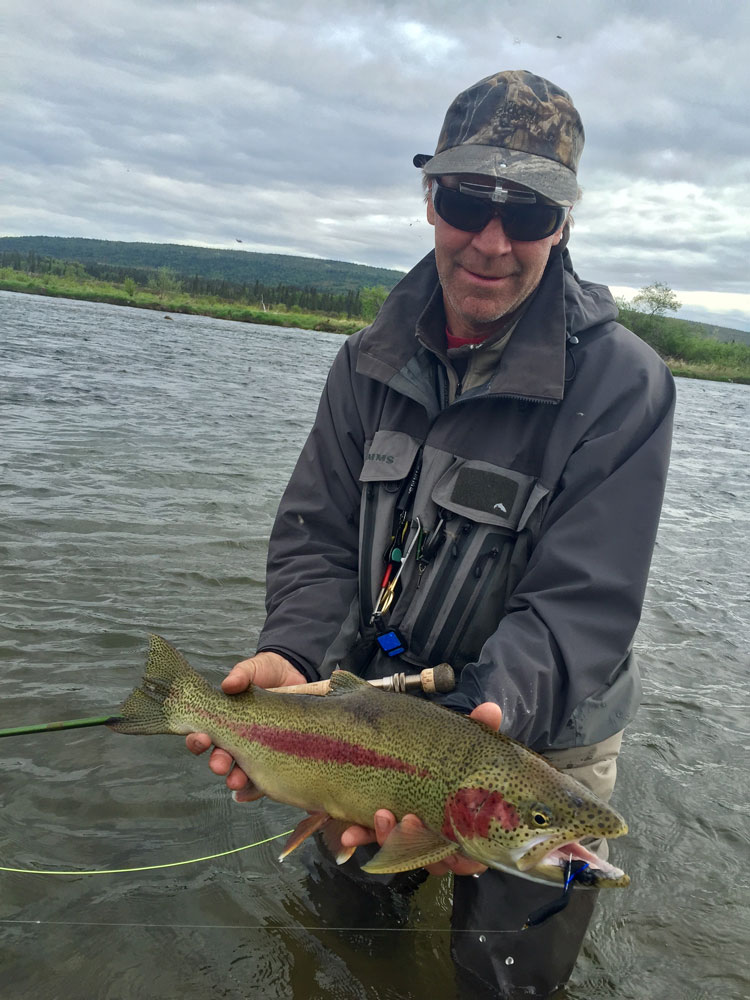 v