El Pescador More Than Just A Fishing Resort and we have this week given you a round up of what's being caught and by whom and on what flies and by the looks of it everyone have been catching their dream fish with some fantastic stories along the way:
All sorts of Bonefish by all those who tried: Honeymoon couples Joe and Ashley + Chip and Kasidy were pleased with the bones and moved on to tarpon and permit. Russell and son, August, got their feet wet with some bonefish their first day, Frank and his son, Frankie, also warmed up with bonefish and then off to tarpon-land, Frank's daughter Ashley was not going to let her brother Frankie beat her and scored a bonefish on her day on the water with her Dad. Joe with father Chet and Uncle John went directly to permit and tarpon catching a few bones in between chances at tarpon. Tony and his son Damian were also after permit and tarpon, using bonefish as a warm down on the day. Chip and Elizabeth were able to get bonefish on their quick trip. Gary and Sandra joined in the bonefish parade, as did Chip and his young son Brook. Evelyn and Michael, SC used bonefish as a backup to Michael's true desire… permit and tarpon!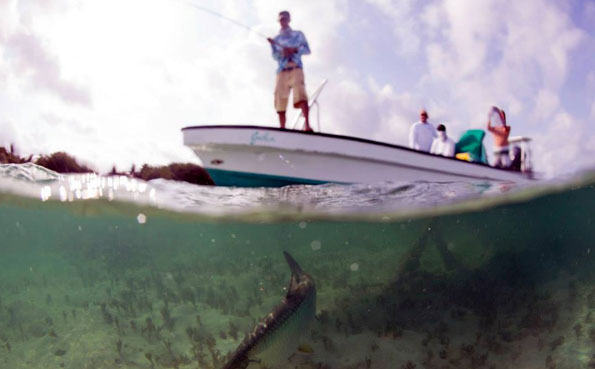 Chip is a lucky guy, not only did he land the lovely Kasidy as his wife last week; he landed a permit with the coaching of Hilberto this week. It was a desperate extra hours move on their last day, with just minutes left before calling it a day. The pressure was huge, as Kasidy had already landed her permit earlier the same day.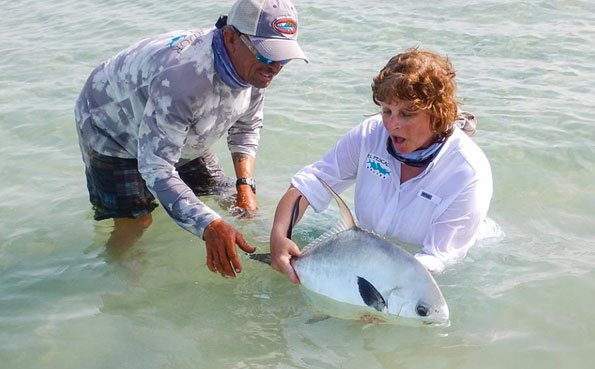 Josh (His 3rd time here) got a nice 50-pound tarpon to the boat on his second day with Capt. Cinoeh and jumped a couple more. Chip had an Olympic decathlon event with his 100 pound poon; the drag on his new reel burned up, someone then had the risky idea to cut the line from the backing and tie it to another rod/reel/line while the guide played the fish by hand for a bit, remarkably it worked and they finally got the fish close to the boat and the 12 weight broke as Chip lifted to get the fish to float, they got the broken section back on board and landed the fish using just the reel. According to his Guide Hilberto, "Big tarpon like to eat fishing gear for lunch." Joe got in a rhythm jumping 2 everyday with Capt. Vince and Joe's Dad Chet, Joe's uncle John finally got in to some fish on his last day. Last but not least was 9 year old Brook's tarpon on the spin rod thanks in Part to his Dad Chip and his guide Erlindo. Erlindo is one of the 4 original guides here at El Pescador starting over 40 years ago!
To see ALL our amazing fly fishing destinations in Belize Click Here.
Until Next time, Tight lines and happy holidays
Paul Stevens