Family Holidays At El Pescador and Jeremy and Joe were here from the UK , leading their "Bonefish Bonanza!" A good time was had by all. We had some pretty tough conditions this week with rain, clouds and wind. The good sportsman attitude prevailed and Mr. Bonefish was a leader in making this happen. George has been fishing here at El Pescador almost 30 years. He goes out with the guides to chase tarpon, but what really gets him going is when he connects with the bonefish on the front side of the lodge. One afternoon after fishing, both George and his son Tim landed bonefish on their own. George's granddaughter Jesse was here celebrating her birthday. She was so excited when her husband Eli went out and landed his first bonefish on fly. And he just started fly fishing, so he was really stoked. Special times! Jim is here with his lovely wife Carol. Jim's persistence paid off as he attacked the beach everyday in his spare time. Just as Carol was wandering down to check in on her husband, Jim got tight with a dandy bonefish. John actually won his trip here with Orvis. He volunteers his time teaching an Orvis 101 class and entered in contest to come to El Pescador. He was thrilled with his first bonefish – a dream he thought would never be realized in this life. His smile got bigger when he returned from fishing with Captain Erlindo. He walked down the dock and would throw out numbers like, "15 today!" Cade and Andrea also landed bonefish on the fly. Robert, Mike, Bruce, Blaine, Bob, Tim, Ed – all part of the Orvis group – congratulations! It was so much fun to see you advance through the week. And welcome back Phil and John – hope to see you again next year! It was tan – small stuff, like a size 10 with weed guards that made it happen in the front. Just a slight retrieve not to spook them. With the guides – they love Christmas Island Specials in orange, pink and pearl. Size 8 and 10
Keith and Andre were the only guys that landed tarpon this week. I still am holding my breath for Tim, he wants one soooo badly! There were follows, eats and jumps but these guys got it done. Keith was with Captain Alex and they had a blast with baby tarpon. Baby tarpon can be challenging because they love to jump, flip and do whatever show they can to lose the hook. Nice work! Andre was winding down when Captain Luis said, "Let's try this spot before heading in." Well, they connected and landed a nice poon! Yay!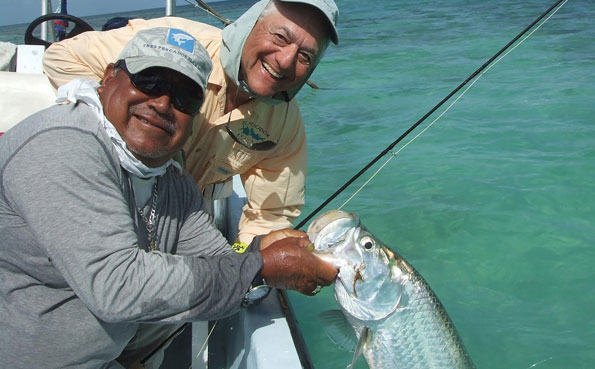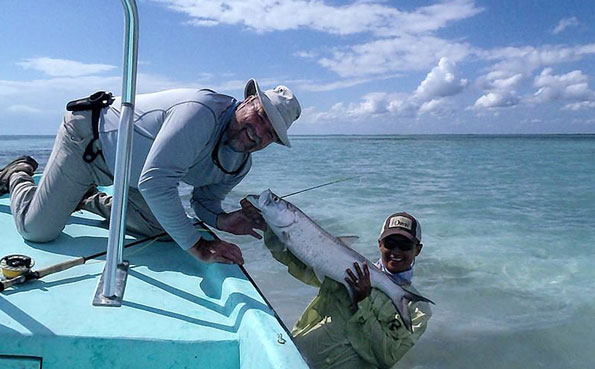 Other Species:
Nice schools of jacks sharing the same water with Mr. Permit. Captain Luis got into the ladyfish with Andre and they had a great time.
Grand Slam:
No slams this week.
Flies that worked:
Bonefish: Christmas Island special, Spawning Gotcha, Crazy Charlie tan
Permit: Gotcha, Merkin
Tarpon: Black Death,Blue/White deceiver, Tan Bunny, White Cockroach.
Guide of the Week:
Captain Luis for showing Andre a wonderful selection of our Belizean fly fishing. So far they have landed bonefish, tarpon, ladyfish and jacks. We'll see, they still have more fishing days together.
Week's Summary:
Well, we have had some weather, and that certainly made it tough to see the fish on the flats. However, everyone went out no matter what – and made things happen. Some days were really wet. It's these times that anglers realise Mother Nature will prevail – it's what you do with it that makes it your experience. Thank you to all of our return guests this week! Matt and Diane, Phil and John, George, Judy and Tim, Keith and Susan. Jeremy thank you for being a great trip leader, and we look forward to working with you in a few weeks, Joe, when you return. We are moving into our "winter" season. The air is brisk in the morning and the fish are moving around a bit. Our migratory tarpon have moved out and will return next May. It's so much fun to watch the seasons change. Snook are out on the flats and on the beachside. The "snapper run" is also happening on the beach side. Traditionally November can be a big "slam" month. We'll see. We will be celebrating El Pescador's 40th anniversary this month. I have a feeling we are in for some fun surprises. Fish on!
If you are interested in fishing in Belize Click Here to see ALL our destinations in Belize that all offer amazing fly fishing