Fishing Skeena River and just had a very quick update from our customers currently fishing the Skeena River in British Columbia, looks like they are off to a cracking start.
Mike and Peter had a good first day out on the Skeena. Mike did battle with several fish and Peter was the star of the day when he landed 2 Steelhead, a Sockeye and some Pinks. Attached is a photo of one of Peter's Steelhead. He was pretty pleased!
Let's hope these customers keep bagging the fish like the Skeena is famous for each day and return full of smiles and cameras loaded with some great pictures from their adventure.
To catch the King of fish is by no means an easy feat but our salmon fishing holidays certainly make it a little easier. Situated overlooking the Kalum River (complete with private boat launch) and a stone's throw from the world famous Skeena River system, our lodge is your home-from-home for record-breaking fishing. Based in Terrace, B.C, we have access to numerous Salmon and Steelhead big-fish rivers with regular encounters of 60lb+ Chinook Salmon. Fishing Skeena River
Also known as King Salmon this is the largest of the salmon species, weighing 10lbs to 99lbs. The power and size of these huge salmon is unbelievable – Broken tackle from fighting with these powerful fish is common. The Skeena river has produced two world record Chinooks weighing 92 and 99lb.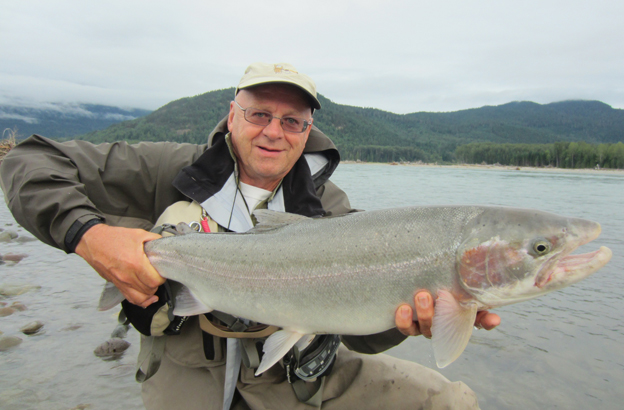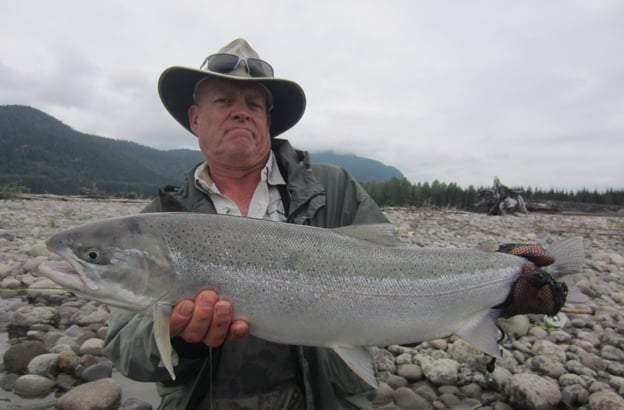 Why not view all our Chinook Salmon fishing destinations Click Here