Dahlia Camp Fly Fishing TigerFish
If you have ever wanted to experience the thrill of this amazing adventure and doing battle with these fish that have serious teeth issues well now is your chance.
We are looking for anglers to join our group trips as over the past 6 years the fisheries of the Mnyera and Ruhudji Rivers in South Western Tanzania have fast built a reputation as one of the finest fresh water fisheries available to the discerning travelling angler. The trophy tiger fish that call these rivers home provide unparalleled tiger fishing opportunities. The Mnyera and Ruhudji Rivers are widely regarded as THE destination to target Fly Fishing TigerFish in the 10 – 25lb range.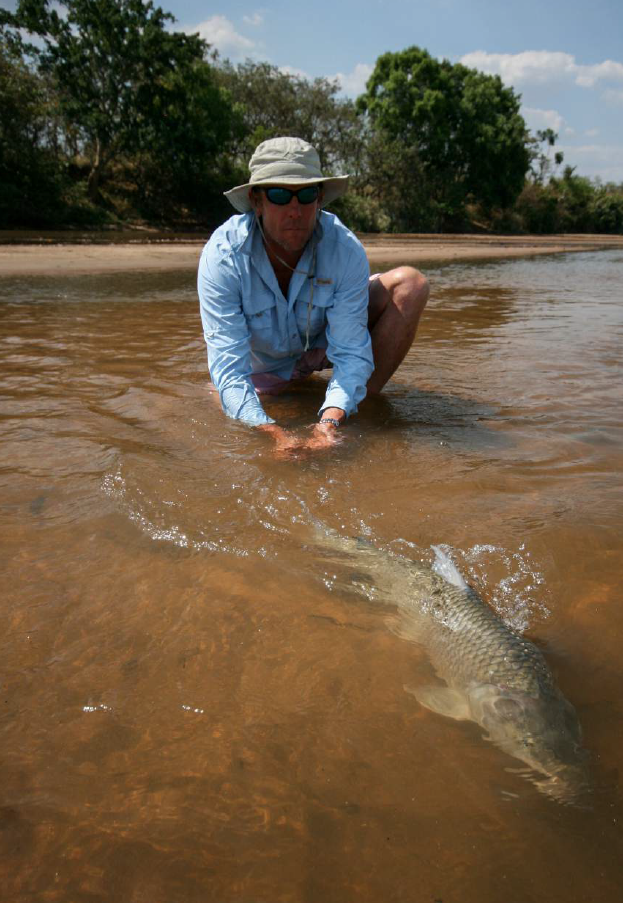 The continued success of the fisheries can be attributed to the cutting edge concession and fishery management, and strict guiding protocols implemented by Kilombero North Safaris, Tourette Fishing and Sportquest Holidays. Since 2008 when international guests were first introduced to the fishery, growth and development has been in a controlled and scientifically based manner. Comprehensive data collection, recording each and every fish caught and released, combined with leading academic research and advice, has allowed us to manage the fishery and grow the product in a sustainable and responsible manner. This combined with the intense anti poaching measures implemented over the past 5 years has ensured the Fly Fishing TigerFish fishery is as productive as ever.

FISHING METHODS
The majority of the fishing is done off the drift. Here our attentions are focused on the river structure which comprises fallen timber, long sand banks, steep drop-off's and rocky outcrops. When conditions dictate we also make use of sand anchors and tying up to structure mid stream to focus our attention on a specific stretch of water. All fishing is done off 18ft aluminium boats. These boats have been chosen for their application and are ideal for fishing the Mnyera and Ruhudji Rivers. All boats are fitted with 25 hp motors. Each boat caters for two anglers and their professional guide, as well as a coxswain. Boats have ample storage areas and seating for three people. All boats are equipped with first aid equipment. This river has received very little fishing pressure over the centuries, and with the controlled fly fishing venture will continue to do so. The system is also extremely rich in bait fish (predominantly red finned barbs). The combination of these factors has resulted in this population of tiger fish obtaining otherwise unheard of sizes. Trophy fish in this system are measured above 15lbs. Be prepared to have you tiger fishing paradigms shifted!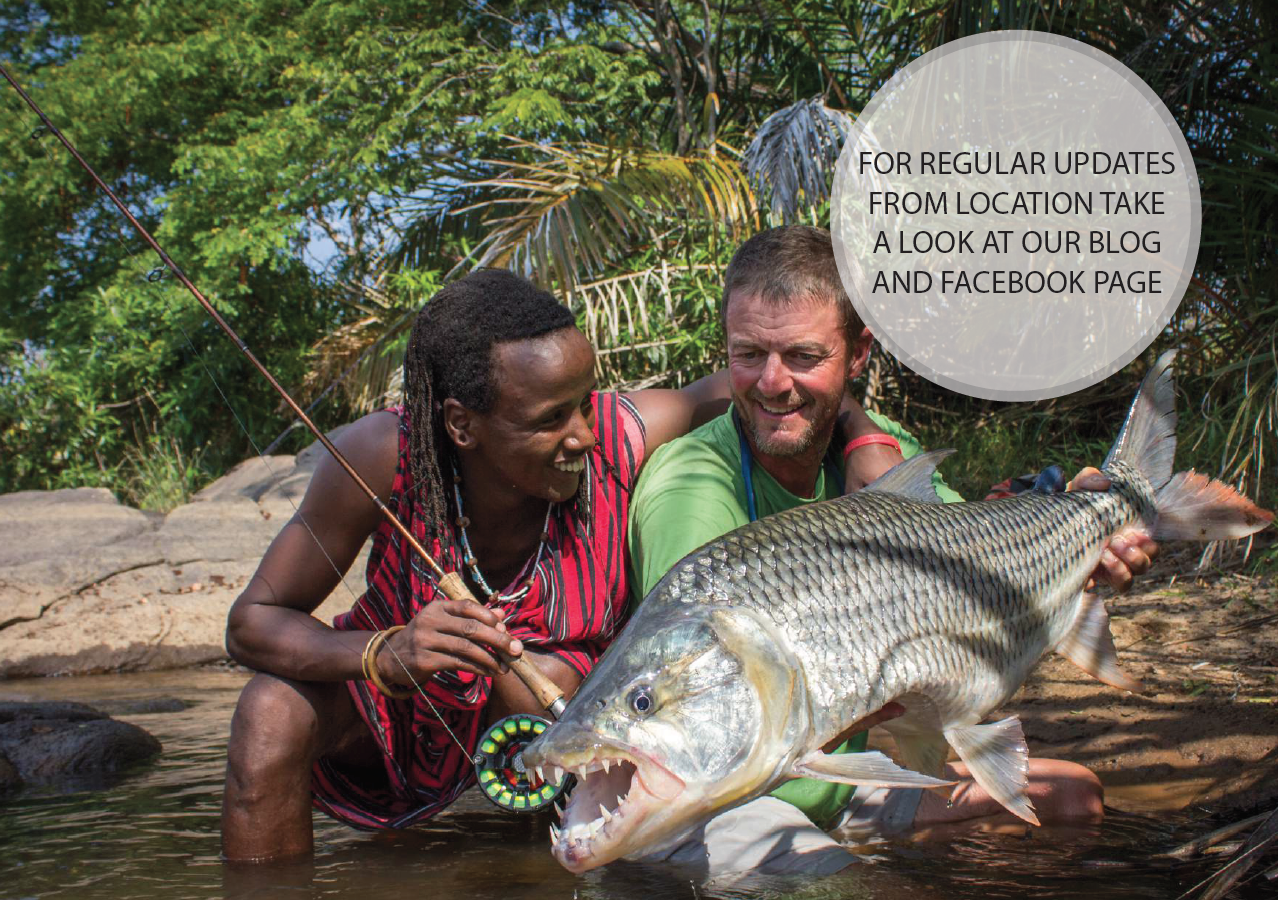 All catching is strictly "catch and release" with single debarbed hooks. No beat is fished twice in a week; areas where fish are spawning are strictly no go areas, and there is no re-drifting of beats allowed. This ensures you arrive at a fishery that is well rested and productive. Your understanding of these rules is appreciated, as I am sure you will appreciate this from the groups that have fished before you.
SAFARI EXPERIENCE
DHALLA Camp (on the Mnyera River) and Samaki Camp (on the Ruhudji River) offer the adventurous fly fisherman a unique African fly fishing safari. Tented bush camps erected on each river ensure that the African safari experience is as much a part of this trip as the trophy tigers you can expect to encounter. Camps are not luxury, and due to the seasonal floods are built from scratch each season, they are practical and comfortable and allow guests and guides access to these amazing rivers.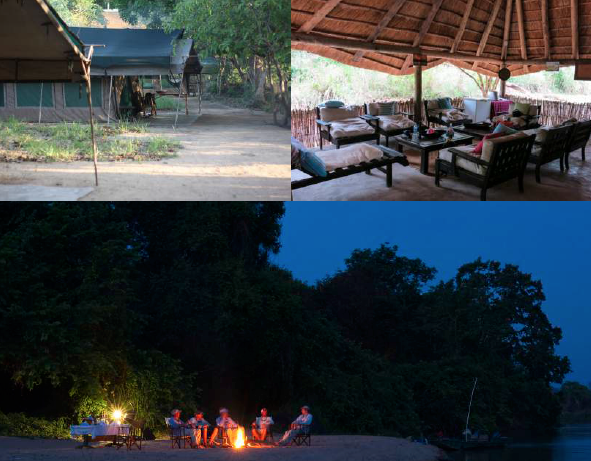 THE RIVERS
MNYERA RIVER
Guests have access to 40km of fishable waters on the Mnyera River. The Mnyera River changes character quickly over it fishable length. From rapids and pools in heavily wooded riverine forests on the upper reaches, the structure rich mid sections courtesy of centuries of erosion and fallen trees, to the deep "outside bends" and clay banks of the lower reaches. The Mnyera, with its incredibly diverse river structure is a veritable tigerfish haven and one that all guests visiting this amazing river will appreciate. Kilombero North Safari's Dhalla Camp is your base when fishing the Mnyera River.
RUHUDJI RIVER
Situated in the neighbouring catchment (one valley south of the Mnyera) is this remote river with a charm and attraction that is hard to explain. Guests fishing the Ruhudji River have access to 80km of fishable water. The river is quite different from the Mnyera. It is a shallower river, with long sections of sand banks followed by deep outside bends and pools in the lower reaches. The river changes in its upper reaches to a narrow deep river, bordered by steep banks and heavily wooded forests as it enters the "gorge area". Kilombero North Safari"s Samaki Camp is your base when fishing the Ruhudji River
If you are interested in the full trip details CLICK HERE