Overview
Fly Fishing in Oman gives anglers one of the best chances of catching many different game species all on the same week. With some of the best guides in the business and set in the beautiful Hawana Marina, it makes for a superb holiday for both anglers as well as non-anglers.
This destination has the benefits of stunning scenery, exquisite hospitality and breath-taking fishing. It is definitely a different kind of trip to the "normal" saltwater fly fishing holiday that you might be used too. This area is steeped in history and the local people love to treat visitors to its legendary culture.
Fishing this area can provide anglers with some of the most technically challenging but rewarding saltwater fly fishing anywhere with regards to targeting the elusive Indo-Pacific Permit from the beach.
Where is the Lodge?
The lodge is in Hawana Marina, Salalah Oman. It is a beautiful area shrouded in history that has helped form a rich culture that is very welcoming to visitors. Hawana Marina is made up of many bars and restaurants and has the relaxed feel that you might expect from an upmarket coastal resort. This is one of the main reasons why this holiday is so popular for anglers and non-anglers spending the week together.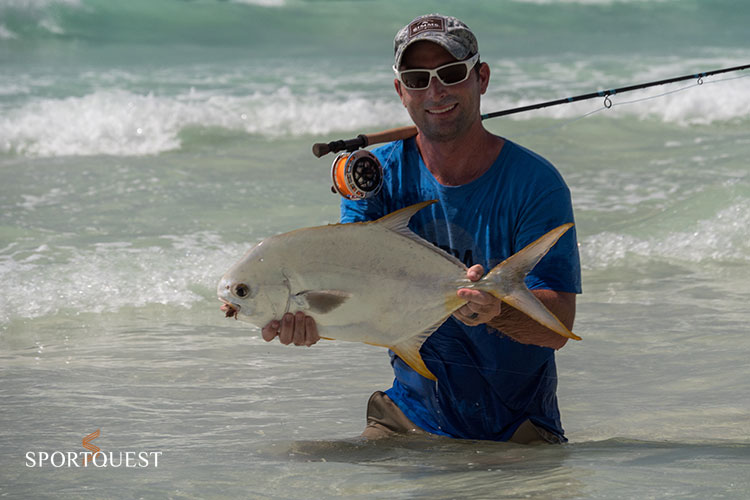 Where do they fish?
The Fly Fishing in Oman takes place either from a boat or along the shores of the magnificent Omani coastline. Anglers will have the chance to fish from a custom-built 24ft inshore boat, allowing them to chase Permit, Omani Bream, Trevally, Milkfish and many other coastal species! When fishing the huge sandy and rocky shores, a certain level of fitness is needed to quickly get into a casting position once a fish is spotted. Landing a GT or Permit in this way is considered one of the most highly regarded achievements in saltwater fly fishing.
How long does it take to reach the fishing grounds?
The walk between the hotel is only a couple of minutes giving perfect access. The boat journeys can be anywhere from 20minutes to an hour depending on the grounds and species that you would like to target.
What fish will I catch?
The number of different species that can be caught at this destination is magnificent, everything from the iconic Permit (Indo and T.Africanus), several different species of Trevally, Bluefish, Milkfish and many other coastal species. If you fancy going a little further off the coast, then this opens up a multitude of new species such as Dorado, Sailfish, Tuna and even the mighty Marlin.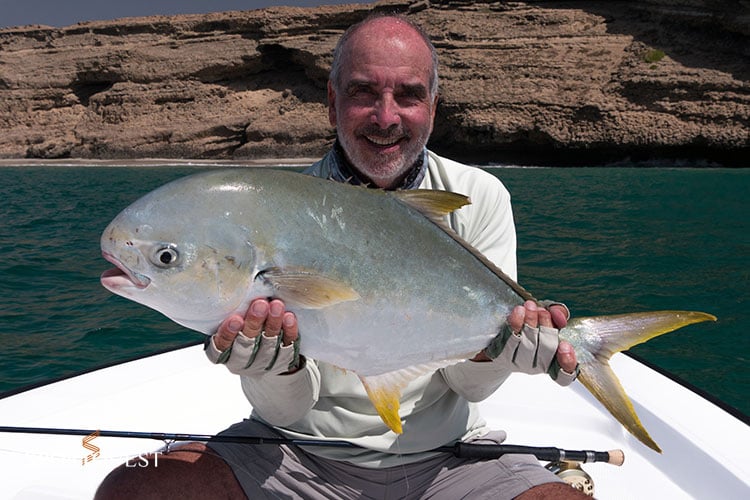 How many fish will I catch?
This is always a hard question to answer, but with so many different species your chances of catching fish are pretty good. It is always a good idea to get casting lessons before a trip such as this to allow you to capitalise on each and every shot that you get and ultimately land more fish for the week.
How do they fish?
Fly Fishing in Oman is mainly based on a coastal boat. Anglers can also use lure fishing equipment and troll for the many coastal and blue water species that are available. Please note that on flies and lures only single hooks are allowed no doubles or trebles.
Do the guides speak English?
The guides all speak English as their first language.
Who is best suited to this destination?
This trip is the perfect holiday for anglers in pairs or anglers travelling with a non-angling companion as the area has so much to entertain those who do not wish to fish.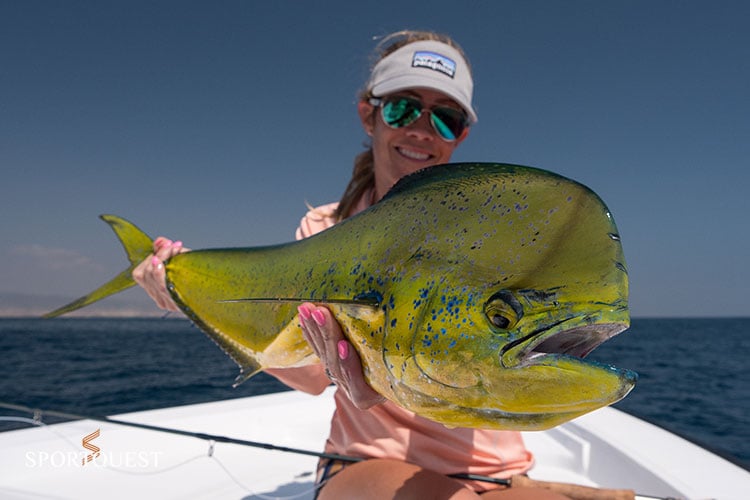 What skill level is required?
Anglers need to be competent casters and should be able to double haul and cast at least half a fly line. Your guide will spot the fish and position you in the best place for a shot at the fish but the better you can place your fly the more fish you will catch. Anyone wanting to brush up on their casting can contact Sportquest Holidays for advice on where to find a casting instructor near you.
How physically demanding is this trip?
Fly Fishing in Oman from the boats does not require any real amount of fitness only to have good balance to stand and cast from the front of the boat. If you want to target Permit from the beach you need to be relatively fit and able to run, hike into beaches and walk long distances.
When to go?
The Fly Fishing in Oman takes place between October and May and different species can be targeted at different times. For anyone wanting to target a specific species, it is best to call to match the best months and tides to maximise your chances.
How to get there?
Flights to Salalah often go via Dubai. Once you have landed at Salalah airport and met your accommodation representative, it is just a short 20 minute transfer.
What is the accommodation like?
The hotel is four star and is a great place to stay whilst fishing in this majestic area. Being such a short distance from the marina and the fishing boats is a real plus. The hotel has many different activities available for non-anglers and anglers alike making for a really good all-round holiday.
What is the food like?
The food at the hotel is excellent, the hotel does a huge buffet and there are other restaurants around the marina. You can even bring a Dorado or Tuna home and have that cooked by
the local bar in the marina. Lunches are homemade by your guides and are great to eat out on the water.
Does the lodge provide fishing tackle?
Gear can be hired out at $90 each outfit with a $150 breakage charge.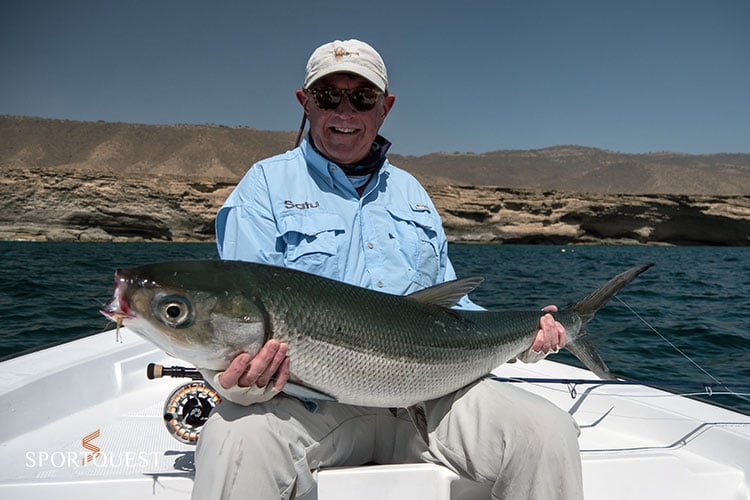 Is internet and phone signal available?
The hotel has WiFi and a good phone signal. The guides carry a satellite phone as a backup as there is no signal on most of the remote beaches.
Are there other activities available?
The hotel can provide many different activities such as diving, water parks, snorkelling, dolphin watching, tennis, chess, jet ski, paragliding, paddle boarding etc. all in the marina.
How much does it cost?
Sportquest Holidays offers you the complete package, including all flights and transfers. To view all prices & availability click the "Dates & Prices" Tab on the Fishing in Oman tour page.
Alternatively, if you wish to arrange all your own travel arrangements Sportquest Holidays can book just the lodge and fishing for you.