Hosted Christmas Island Part 1 and as the captain announces that it's only 60 minutes before we arrive, I awake from my nap after a long journey and looking up at the TV monitors in front of me and would you believe it, a film all about Santa Claus. How appropriate for we were on the final flight to Christmas Island. Each year now for many years I personally host a group for an annual trip and this year I had 10 rods. As I looked at the rest of the group still fast asleep I just knew that they were all dreaming of what lay ahead. 6 days fishing on stunning saltwater flats with high expectations of big bones, tackle busting GT's, majestic triggerfish, Bluefin's and the elusive Milkfish on the fly. It is about this time just 60 minutes before arrival, any host will tell you, that it's impossible not to start to wonder what the week will hold. What's the weather going to be like, who do I put to fish together, what are the customers fishing capabilities etc etc, the list is endless.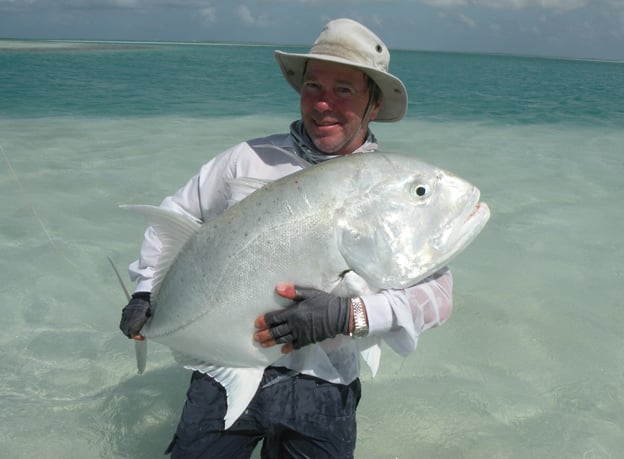 On arrival, which I always find amusing, is to see the customer's reactions of the famous Christmas Island arrivals hall, AKA a chicken hut. Once everyone had passed through immigration, purchased fishing licenses and gone through security we were met by the lodge owners and transferred to the lodge our home for the week. As far as accommodation is concerned this lodge is complete luxury for the island, twin rooms with everything anglers need. En-suite bathrooms with electric showers, air conditioning, enough table and storage space for everything, plus rod racks outside each room with freshwater hoses to clean everything down each night. Add to this the food, which is as good as you will find at any lodge in the world makes for a perfect base for the week.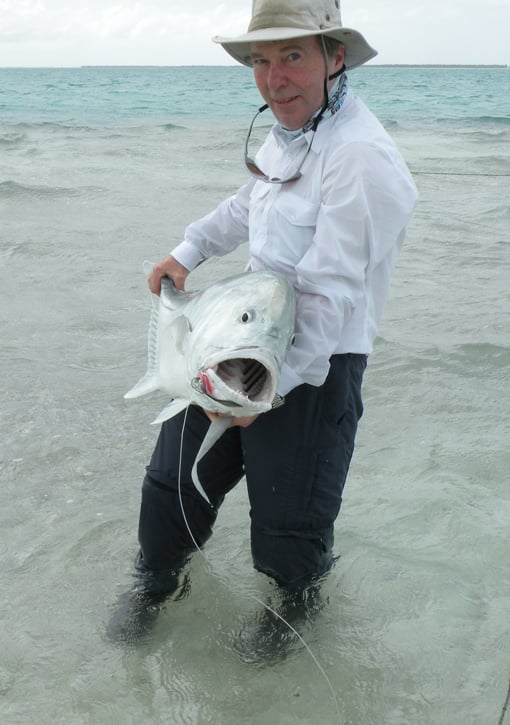 The group this year just so happened to work out that everyone apart from me was from Scotland. Some had travelled and fished together before, for others this was the first time they had met, having said that by the time we all went fishing the first day you would have thought they had all grown up together. Lots of Scottish banter, some of which being a southerner I did not even pretend to understand.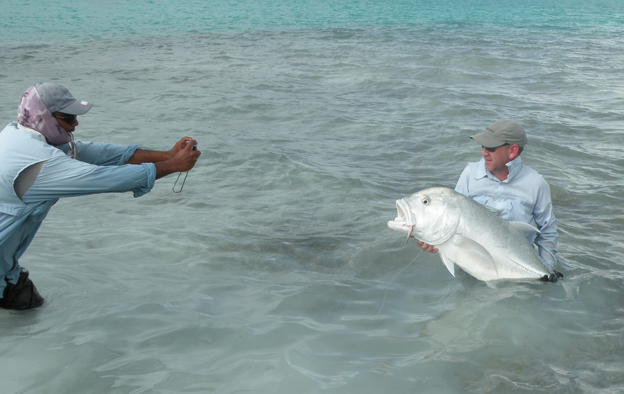 As the group was getting on so well we all agreed that they would work out who wanted to fish with whom each day. I would float about with whoever wanted me out for the day. This then meant that who ever was out with me would then get the guide on a one to one basis. While fishing I would walk off to the side looking for fish on my own. This way you do not have 3 people wading next to each other, which makes too much noise, after all we are stalking fish. On the first day which is always memorable I had Darren with me as this was his first ever proper saltwater fly fishing holiday and it would give him the best chance to have a 1 on 1 guide basis. We decided to get him started on Bonefish so went to the famous Orvis Flats, after wading for only 5 minutes we came across the first large shoal of Bones. Darren cast but to no avail, as he could not see the fish. (It takes time for people to get used to seeing the ghosts of the flats) Having said that he was a quick learner, as 10 minutes later he was playing his first Bonefish. After a short fight we took some pictures, as your first one is always special. Nathan our guide for the day then joked "well lets go home now and finish on a high" like we would ever get Darren out of the water now after that experience. Just think first time saltwater fly fishing, 15 minutes in the water and he has already caught his first ever bonefish. The rest of the day was much the same for Darren; he ended the day with over 20 Bones to his name.
I concentrated on the edge of the flats, wading amongst the stag coral, as this is my favourite type of fishing, walking right along the edge looking for triggerfish, Bluefin and of course GT's. I like to keep around waist deep this makes spotting fish harder for many people but I have done so much of it now I feel like I am at home. Its gets my blood pumping as you never know what you are going to come across. It was not long before I was getting shots at fish mainly small Triggers and Bluefin's. As normal I scared a few and even had a few follow I even managed to prick a few.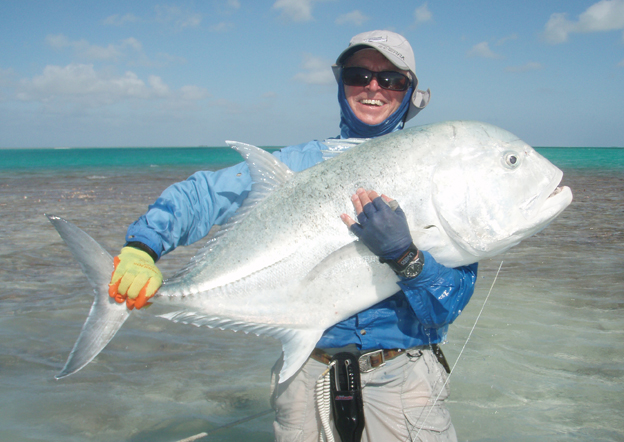 As I said with this type of fishing you never know what you will see and this was no exception. Ahead of me I could see 6 Triggerfish tails spread out in a small area, nothing abnormal about that apart from I am wading just over my waistline and these fish tails are still out of the water. Realising that this was a group of big triggers I try to get in position, with a racing heart I cast to the closest fish. Perfect about 8" in front of it, giving the fly time to sink a small little strip and the fish nudged towards the fly, another small twitch and he was on it. Strip strike and all hell broke lose. The great thing is the fish just turned and ran straight off the flat into deeper water, perfect just perfect. Within a very short time the fly line and endless amounts of backing had gone, there was no stopping this fish. However after a short 5 minutes the inevitable happened and he bit me off. The fish had bitten right through the hook. If I said I was gutted that would have been an understatement, these Triggers on Christmas Island are of record size and that was my chance.
Imagine my surprise when turning round to find that the other 5 fish were still there happily feeding like nothing had happened. Well I can tell you that was the quickest for a long time I have retied on a new fly as I crept back into position. Again a perfect cast a little twitch and another monster is on. This one was worse than the previous fish, again charging off the flat in to open water of the channel. I was amazed at the speed and power, for anyone observing would be forgiven for thinking I was playing a GT. After a huge run which had so much backing out the fish just turned and charged straight back at me, reeling like mental to try and keep up with it. The fish swam right past my feet no more than 2 feet away, the size was just amazing, a huge orange and black fish with a massive width across its back. On an 8# fly rod it was completely unstoppable, he was in control and determined to teach me a lession. Running around and around the flat it was just like the fish said enough is enough as it just deliberately head butted a coral head, which would of knocked most other fish out. Ping the rod straightened as the grinding action of the fish pushing its head into the coral just parted my leader like cotton. This time surprisingly I was not gutted; I just looked at the fish still sitting there and gave it all the respect the fish deserved, he had well and truly beaten me and for once I admired him for that. There will be others and later in the day there were, all be it small ones, but I had learned even more about these fish, what I call the Permit of Christmas Island, for are they not only hard to catch they are 10 times harder to land.
The first days fishing like all had come to an end, but you have to give it to the guides and the lodge a FULL 9 hours fishing on the water is a proper days fishing which makes travelling halfway around the world all the more worth while.
On returning to the lodge, I could hear the banter around the table and as a host it is music to your ears to listen to all the stories about who caught what, who messed up, who lost what and also who fell over in the water on the first day, plus they had pictures to prove it.
One other real noticeable event on that first day was Charlie, who on his first day had only gone and hooked and landed two Golden Trevally, which out of all my trips to Christmas Island this being my thirteenth I had never even hooked one. What a great start to the week, so nothing for it and as the rest of the group was all from Scotland it was time to break out the drink, tell more jokes, wind each other up and plan for the next day.
The days total for all the customers was:
121 Bonefish
5 Bluefin Trevally
3 Golden Trevally
8 small GT's (FLY)
1 Medium GT (POPPER)
5 Triggerfish
So until my next instalment, tight lines and Happy New Year!
Regards, Peter Collingsworth