Finally, the stable weather has arrived at Havoysund and what a start it has been in the week! Thursday afternoon, fish-ready guests arrived by bus, and on the first night many of the new guests headed out to sea.
On Friday morning, most of the boats started looking for large cod far out to sea. Strong tides and some old waves made the conditions difficult at first. With drift speeds of around 1-1.5 knots above the cod, it was a little heavy start for many of the guests. But when the drift slowed down and the waves calmed down, the Cod really did start to bite!
In the Guide boat there were several cod of around 14 – 20LB, but then Erling's rod bent double! A strong strike secured a perfect hooking, and Erling got to pump up what would be a real dream catch! 50LB + Cod, he smashed his former personal best, and one of the larger Cod of the season so far. After catching a lot of Cod, we decided to move and fish for Halibut.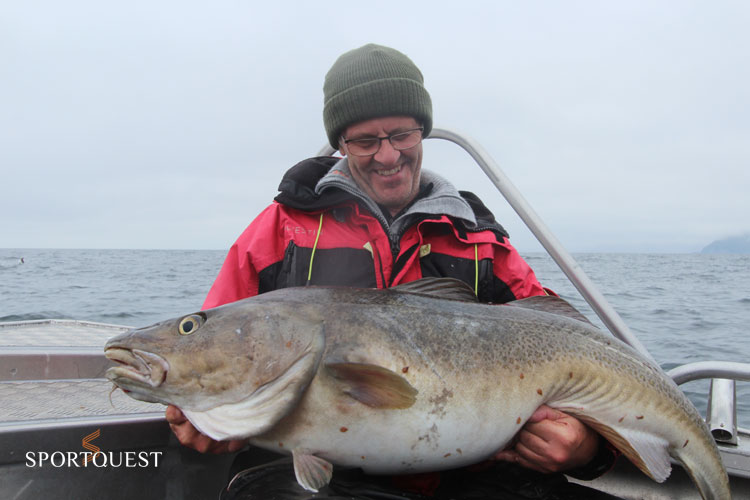 In one of the other boats, Johan managed to strike gold and after a few head shakes and rushes the Halibut managed to shed the hook. Fredrik in the Guide boat managed to bring up a small Halibut of 70 cm, which got swimming back into the depths. In the same drift, something took Andreas rig and everyone thought it must have been a Halibut. When the shape approached the boat, we saw that there was a large cod that had inhaled the jig! A around 30LB for Andreas, and it was a very successful day for the guests in the guided boat.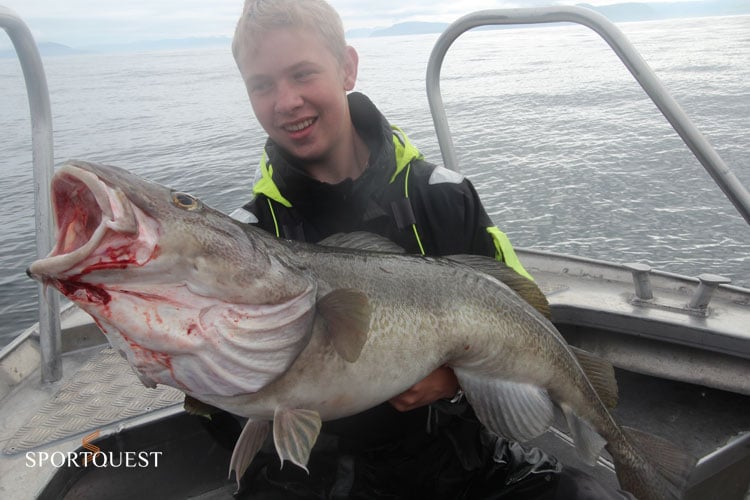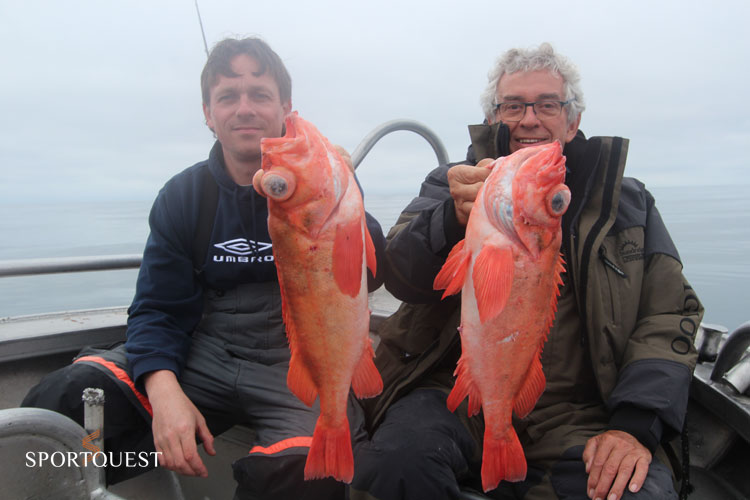 On the same day, more boats went on a long trip fishing after halibut. Boats 4, 5 and 7 left early to ensure to get a long day in. The fishing was good, but it was probably Pontus from boat 4 who had the first smile when we met them at the harbour in the evening. A little dream of getting a halibut on spinning equipment came true and it was described as a really fun fight! Pontus landed a 130 cm Halibut on spinning gear that day! All the boats landed several Halibut of 100-130 cm, and they really want to go back there again later this week.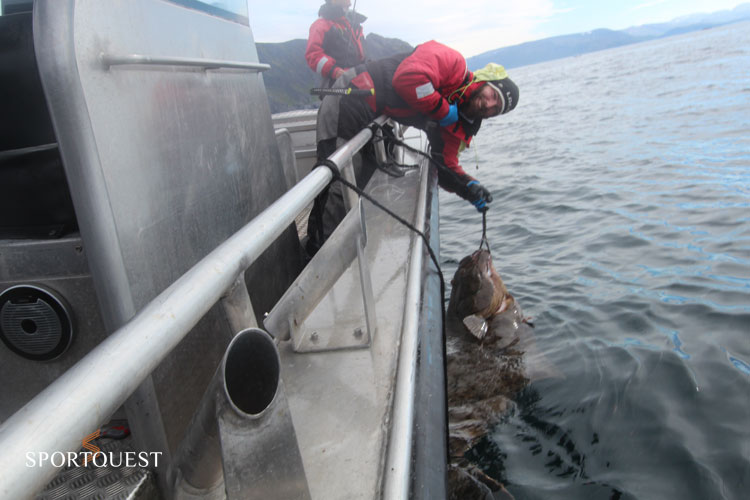 The day after was a bit more "gray", but completely calm. After we had looked at the weather forecast, we planned a real long trip. We had a total of 9 boats that would go to "bend Halibut". When we arrived, it did not take longwhen boat 3 shouted over the radio that the first Halibut was landed! A nice halibut of 1 meter. After that, the messages began to flow over the radio. The boys in boat 6 had never had a Halibut before, but when the message about a 155 cm came in, the pleasure was great for the Swedish guests. And there were even more big fish. In boat 4, Pontus would once again have a fight of life. He threw his shad 20 meters away from the boat, and "bounced" it along the bottom! An insane fight on a spinning rod was in progress. When the fish was landed and secured, it was measured to 160cm! Awesome catch on a spinning rod, and a big congratulations to Pontus.
In the Guide boat, Fredrik would finally get his revenge. He put out a bait fish, and not long after, the rod arched over. The cheers were huge when Ivan put the halter hook and secured it along the boat's edge.. and Fredrik had got his dream fish. "The monster" was measured at 170cm! Photos were taken shortly after measurement, and then the beautiful fish swam back to freedom. For a day!
At the end of the day, 10 minutes before we had to leave, the Belgians in Boat 3 had some amazing minutes! They saw that they were drilling a really nice flounder on their way home. The fish was landed and secured, and was measured to 155cm, when it narrowed again! Another big fish. The fight lasted for a while, but after several rushes, it became successful. As said, this was also great. 150 cm! Two pieces 150+ right after each other are absolutely amazing and became a good end to the day. All boats that were on a long trip succeeded in landing Halibut. Sea island ysund delivers again!
Today is a little more windy. 10 mts from southwest make fishing a little more difficult. But it does not stop the guests from fighting on the outside. We have had a great start to the week here in Havøysund, and we really hope that the stable weather will continue in the future. Tomorrow it looks good, and it is suspected that more boats will go out already in the night and drive on with a real long pass!
Tight lines // Jørgen Zwilgmeyer, Douglas Dahlberg, Ivan Swarts
Thanks guys for your update and with my hosted trip only being a few weeks away it has got us all fired up. Lets hope we see some of these monsters on our trip.
If you would like to see the full details of Havoysund with lots of pictures of fish and also what dates we have got available then simply click HERE
Tight lines / Paul