The river Orkla is the largest river in the Trøndelag county and has a length of 180 kilometres. The river starts its journey in the lake Orkelsjøen and ends in the town of Orkanger. The pools of the Orkla river can produce some of the best Salmon fishing in Europe, with good numbers of fish entering its waters every year as well as some very good sized chrome bodied beauties.
Where is the lodge?
The lodge is situated on the banks of Norway's Orkla River. It is approximately one hour fifteen minutes from Trondheim airport.
Where do they fish?
Orklagaard lodge has private fishing on over 2km of the Orkla river's banks. The largest chunk of the lodge's water is a very short walk from the accommodation and since most of this is private on both banks, the two lodge rowing boats give perfect access to your fishing.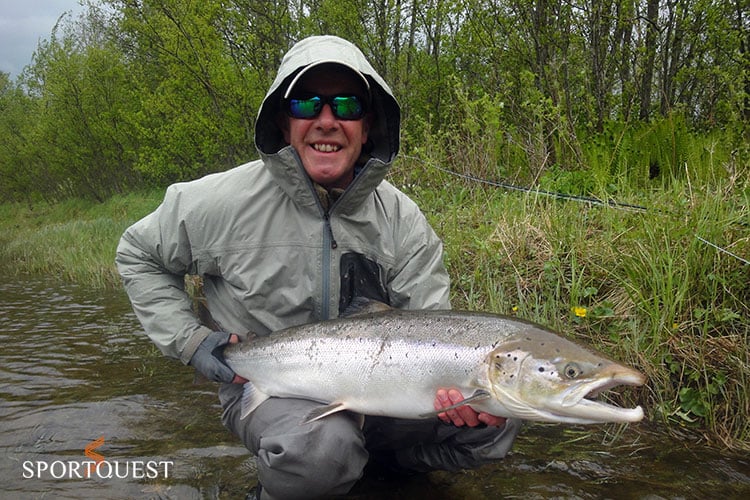 How long does it take to reach the fishing grounds?
The nearest fishing water to the lodge is only a couple of minute's walk from the back door. The furthest pools are a leisurely ten-minute stroll.
What fish will I catch?
This is a dedicated Atlantic Salmon lodge. Orkla River Salmon are large and in good numbers. In general, the bigger fish will run the river at the start of June and then the bulk of the fish will come in July but this can differ from season to season depending on the weather in late spring.
How many fish will I catch?
Orklagaard is situated in arguably the best section of fishing water on the whole of the Orkla River. No Atlantic Salmon is easy to catch and Orkla River Salmon is no exception to this, but given good conditions, anglers should be able to equal or better any other lodges catches of Salmon in Norway.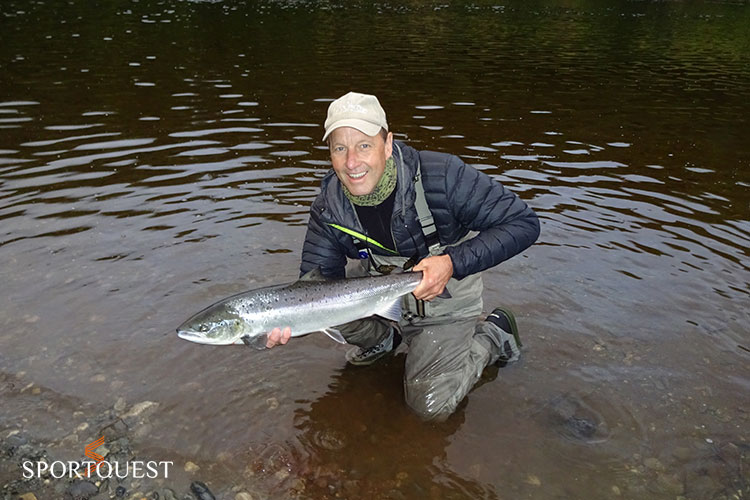 How do they fish?
The River is comparable in size to the river Dee in Scotland. Double handed rods in 13/14 ft length and 8# to 10# line rating range are used depending on water conditions. A wide range of different density lines is used depending on the water temperature. Anglers use traditional Salmon fishing methods of 'swinging' flies through Orklagaards private pools in the hope that a large Orkla river Salmon will be teased into taking. A mixture of classic Scottish and contemporary Norwegian fly patterns from small to no more than two inches are what seem to work the best.
Do the guides speak English?
The guides speak very good English and will help put you in the best possible position to catch fish and have a great week whilst at the lodge.
Who is best suited to this destination?
Any Salmon angler who loves to have easy access to private, good quality pools. Orklagaard is also a good place for guests who like relaxed non-hassle fishing weeks whilst enjoying superb hospitality.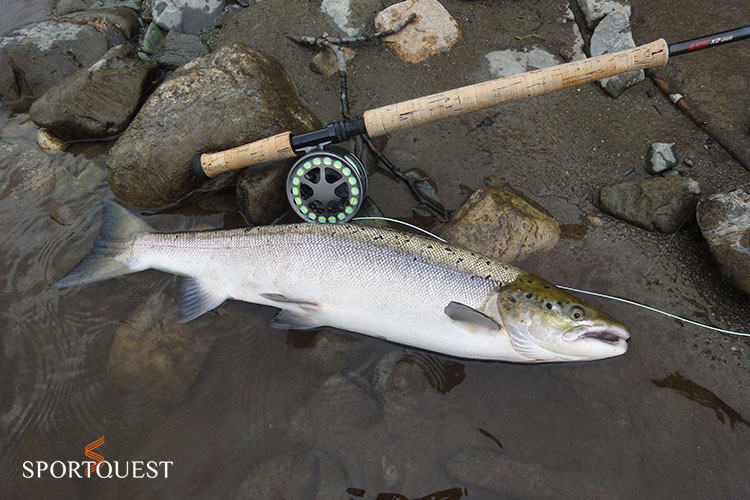 What skill level is required?
All levels will get a lot out of a week at Orklagaard. If you are an experienced angler then you will be able to maximise the fantastic pools you have in front of you and hopefully land plenty of silver gems. Any novice Salmon anglers will be in the best of hands with experienced fishing guides looking after them. The other added bonus for novices is any weeks the lodge owner is at the lodge, he can provide qualified casting tuition free of charge.
How physically demanding is this trip?
The fishing at Orklagaard is not of a physical nature. The only partially physical part of a week at this lodge is that the wading would be regarded as moderate and some care is needed when wading deep.
When to go?
If it is the largest Orkla River Salmon that you want to target then you stand a slightly better chance of catching one in June. July still gives you the chance of a very big fish and also has the main run of fishing so weekly catch numbers are normally increased.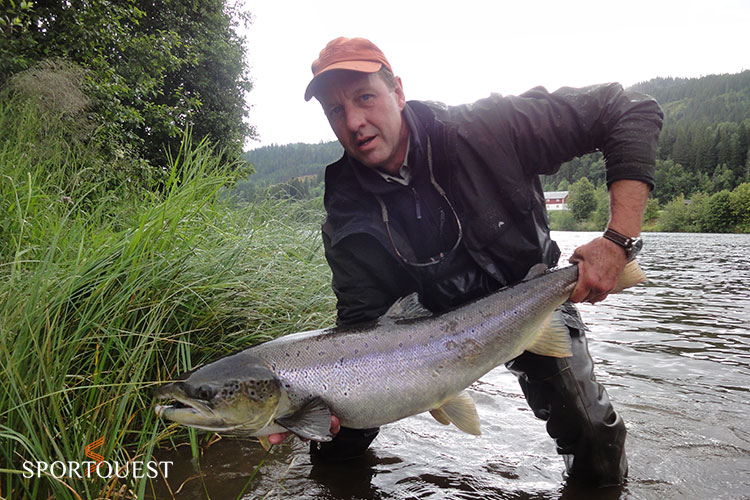 How to get there?
Flights to Trondheim via Oslo are the most direct route. Once at Trondheim airport a hire car is needed to travel the 1-hour 15-minute journey to the lodge where there is ample parking for all.
What is the accommodation like?
The accommodation is very quaint. It has a traditional Scandinavian look with carved wooden outer walls and decretive inner furnishings. All bedrooms are based on single ensuite occupancy and breakfast, lunch and dinner are taken in the main lodge.
What is the food like?
The food is very good, a mixture of classic Norwegian food with a modern twist.
Does the lodge provide fishing tackle?
Yes, the lodge can provide full setups if plenty of notice is given. If flies are required they can be ordered in with plenty of notice.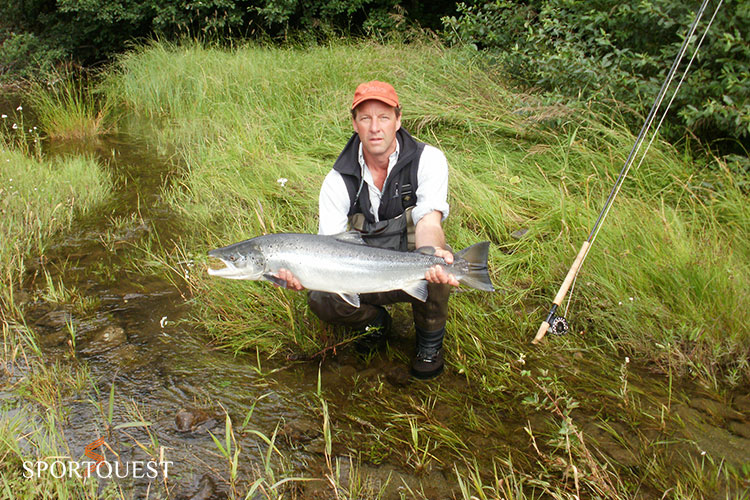 Is internet and phone signal available?
The lodge does support signal for most network suppliers.
Are there other activities available?
At present the lodge does not provide any other activities, it is looking to expand into more avenues in the future.
How much does it cost?
Sportquest Holidays offers you the complete package including all flights and transfers. To view all prices and availability click the "Dates & Prices" tab on the Orklagaard Fishing page.
Alternatively, if you wish to arrange all your own travel arrangements Sportquest Holidays can book just the lodge and fishing for you. Contact our experienced team for more information.