Wow, Andaman Islands never fail to impress us at Sportquest. When this group made contact we knew they were going to have a great trip. The excitement in their voices could be heard from the off.
This particular group ended up with smashed lures, opened hooks and broken rods, but boy, did our friends from Singapore have a smile on their faces by the end of the trip. Like all anglers from Singapore, they had the best kit for job – PE 10 rated rods, a great selection of lures and of course top end fishing reels.
With Kantha skippering the boat, they were in for a hard-core set of 5 popping days. A suddenly active Northeast monsoon meant that going further offshore would have been difficult so we would have to fish and fish hard at our most likely spots.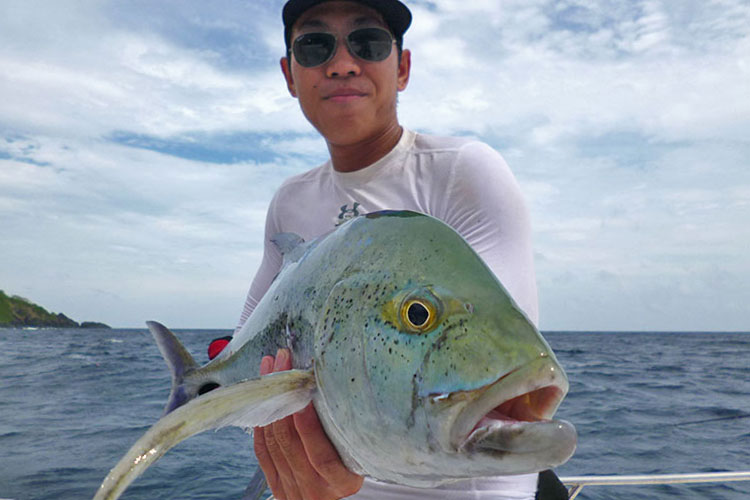 After Day one the guys came back and said they had a great day, after day two they came back and asked us what kind of fish we had here that could not be stopped, after day three one was smiling, after day four two were smiling and one was really disappointed, after day five, to end a great trip, they were knackered.
A few highlights from the trip as we will let the pictures do most of the talking: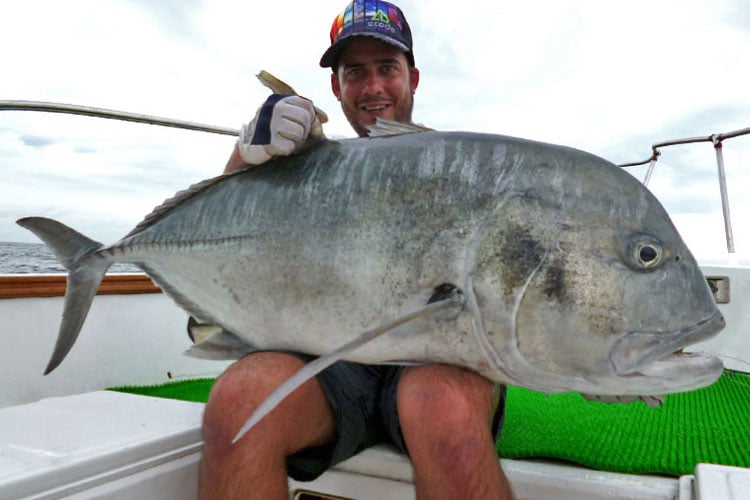 Kenny had said his Hammer Head popper was not working too well after day one so we gave him some pointers on how to work it. Work it he did! And with it booming properly, he had one of the Andaman big boy Geets literally inhale it, only for his PE10 line to part instantly. Thadd, feeling sorry for Kenny, swapped his PE 10 with his. Thadd had a bite which felt like a small fish but once Mr. GT realized something was wrong, he put equal pressure back on Thadd who couldn't do anything but hold on, only for the PE10 rod to explode in his hands. He did a very good job to land his personal best GT on the remaining part of the rod and two guides.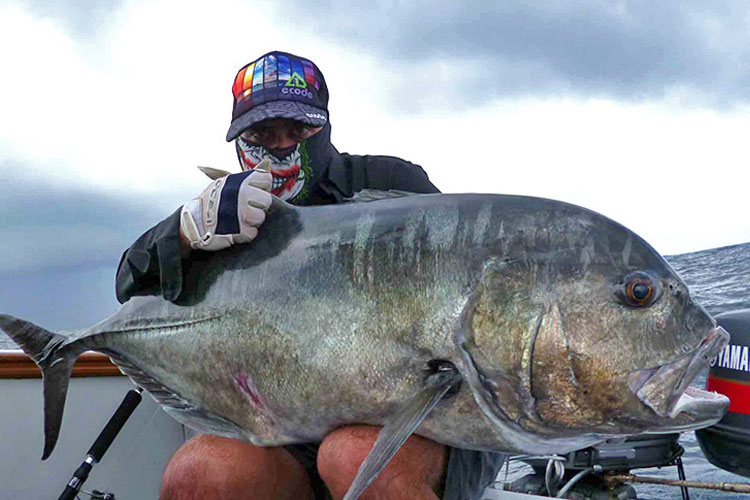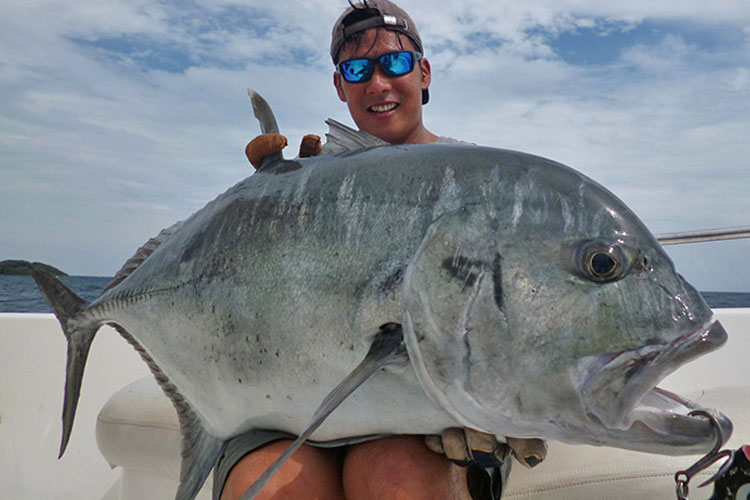 Thadd had one of the rare Craft Bait Real Bait stick-baits in a colour that I have always found works really well here in the Andaman Islands. When he showed it to me I told him to use it a secret weapon but he could not resist and put it on, only for it to be smashed on the second twitch by a huge GT. He set the hook and the fish took drag as the reel screamed, only for it all to go loose – the connecting system on the Craft Bait had failed and his stick bait was left with one bit of the wire. The wood of the lure soon floated to the surface confirming what had just happened. He then changed his lure to a Temple Reef Stick Bait and cast on the next drift.
It was again smashed and the fish took off once the hooks set. Thadd palmed the spool but it did not stop the fish, which burst off on the reef leaving Thadd shocked! Back to the drawing board and he put on a new Shimano 220F and cast again for another hook up, which felt strange for a GT fight. At the boat he discovered two GT hooked on the same lure, the smaller one had thrashed about and cut the leader with its tail flukes. Three lures gone in 3 casts.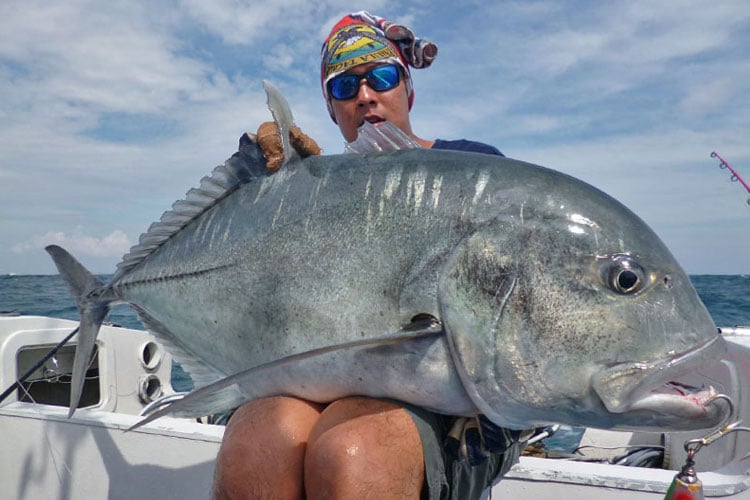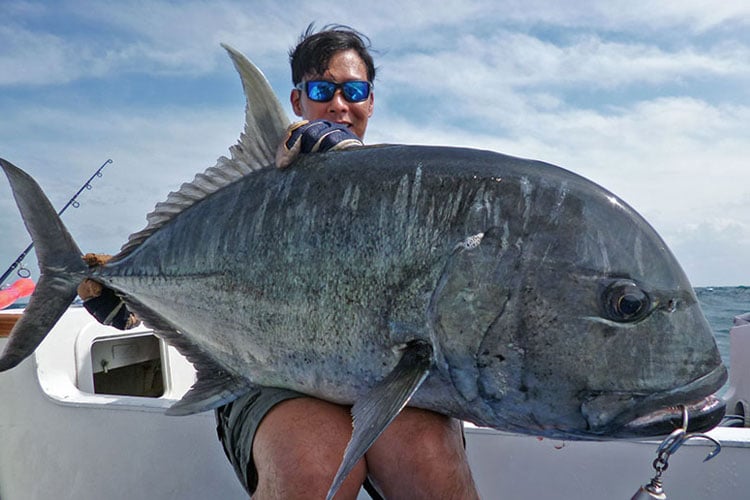 They got some awesome footage on GoPro, of a white bellied sea eagle and GT fighting over Thadd's lure, before the GT finally grabbed the lure and got hooked.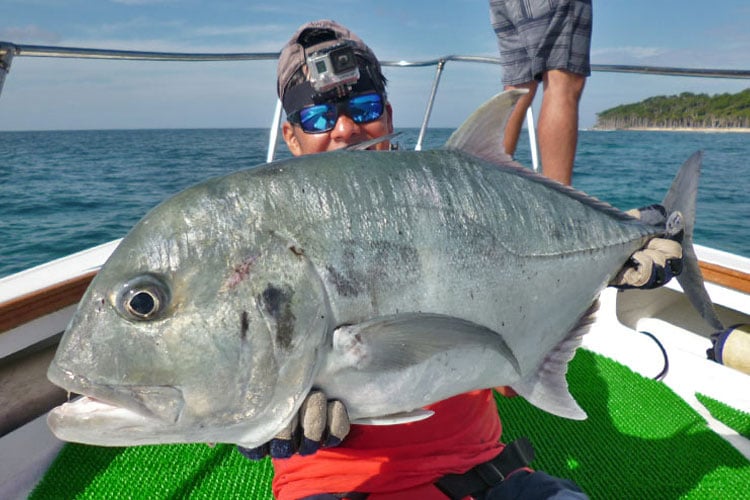 They lost a total of seven lures on the trip, all to big fish.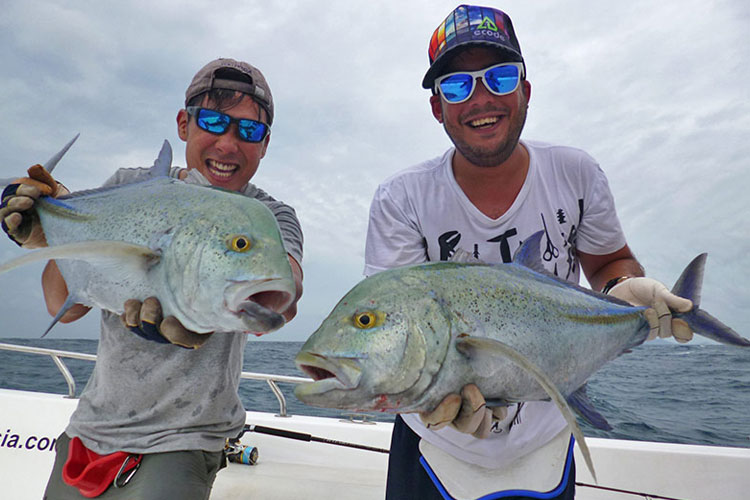 The guys decided to do a bit of jigging and soon Nauveed was into a fish that screamed off line in 100 meters of water with the hit happening mid water. Every one shouted "doggie"; it did not last long and burst off. He had another hit again shortly after but this one held, much to their disappointment. We think it turned out to be another GT over the kilo mark. With this they decided to focus on top-water for the rest of the trip.
They will be back for more for sure!
Tight lines!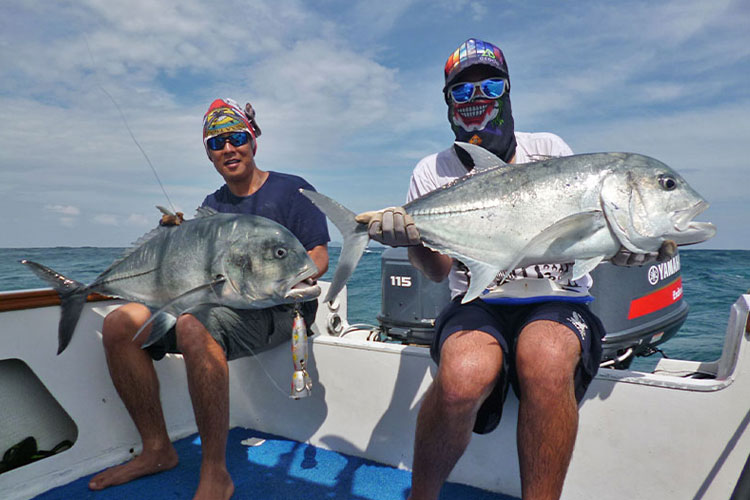 Rods: Ripple Fisher, El Toro, Valley Hill, Smith AMJ, FCL Labo, Yamaga Blanks BS, Expert Graphite Doozer
Reels: Shimano Stella, Daiwa Catalina, Shimano Twin Power, Accurate
Poppers and Stickbaits: El Toro, Orion Nambas, Craft Bait, Seven Seas, Shimano 220F, Temple Reef, Bally Hoo, Buffalo Lures
Jigs: Jigging Master, Blue junkie
Species Caught: Giant Trevally GT, Gold Spot Trevally, Twin Spot Snapper, Green Jobfish, Barracuda, Coronation Trout, Spangled Emperor, Bluefin Trevally, White Tip Shark, Rosy Jobfish.
Remember, we have some fantastic weeks exclusively for our Sportquest Anglers set in prime times during their season. These have been set up aimed at single anglers or small groups as a way of offering these awesome destinations with out paying supplements. Below are the dates we have available but remember that we have had to add more weeks as the first set of dates have become completely SOLD OUT. If you would like a chat with me about these trips then call us on 01603 407596
WEEK 1: 05/10/17 – 14/10/17 – Only 4 Spaces Available
WEEK 2: 08/02/18 – 17/02/18 – Only 2 Spaces Available
If you have any questions about any of these trips simply call us.
To view this amazing trip and view our awesome fish packed galleries Click Here
Tight lines
Paul Stevens