As the Norway season is upon us I thought it would be helpful to all the new comers and of course the regulars, to share with you some helpful tackle advice on what I have been using over the last year and also what is new.
---
A couple of years ago I met a guy on one of my hosted trips to Norway. His was one of the keenest anglers I know and there isn't much he doesn't know about rigs and making rigs. The very first time he came with me I was shocked at the amount of tackle he bought, but like he said, its better to have it and not need it than need it and not have it.
After chatting with him it turns out that he owns a tackle company selling lots of different tackle from Carp fishing up to Heavy deep sea fishing tackle and that would explain the amount of tackle he bought with him. Over a couple of beers he and I decided to get together after the trip and discuss Norway tackle as he would ideally like to be able to offer people a one stop shop for them to buy all their Norway tackle from one place as we both agreed that it was annoying when shopping for your tackle that you would always have to buy it from various shops meaning being charged for postage more than once.
So after the trip we got our heads together and hopefully we have come up with some quality products and have rigged them with quality components meaning you don't have to remove swivels, split rings and hooks as we have coupled all the shads, pirks and Halibut rigs with top quality hooks, swivels and split rings.
Rig Components need to be strong
There has been a lot of thought gone in to the rigging of these products as we both believe that anglers are spending a lot of money to travel on these trips and why should they be let down by companies scrimping on the quality of the components. If you ever get to see and use any of these products you will soon realise that he has a huge amount of passion in what he does and how he rigs his tackle he sells.
We have also pre-tied lots of leaders on quality mono and these have been hand tied and coupled with 500LB+ swivels and split rings meaning the guys who have not done these trips before can buy these pre-tied and not have to worry about what knots to use, what leader material is best and what swivels they should use. We have tried to make everything as easy as possible for people but never once have we comprised the quality of the product, meaning every knot has been tested, all hooks are the sharpest they can be and the shads and pirks are of a high quality material.
As you guys may realise, I host many trips to Norway and have done for the last 7 years so I have used a fair amount of tackle over the years so its important for me to only use the best I can get as a lot of the fish over in Norway that I target will test your tackle and if there are any weak links then it may cost you a fish of a life time. I personally love my Halibut fishing and can and do spend hours fishing for that bite and the tackle I use for them needs to be up to the job as you never know what size Halibut is going to take your bait.
So what's in my tackle box?
I will start with shads: There are hundreds of shads on the market and it is hard for me to say one will work over another, but this is what I have been using recently and have some very good results plus the all important hook holds have been excellent. Both Paul and myself have put these shads through their paces and have tweaked the hooking on them to what we both think is the best way of rigging them. I have caught very large Cod and Halibut on these shads and can not recommend them highly enough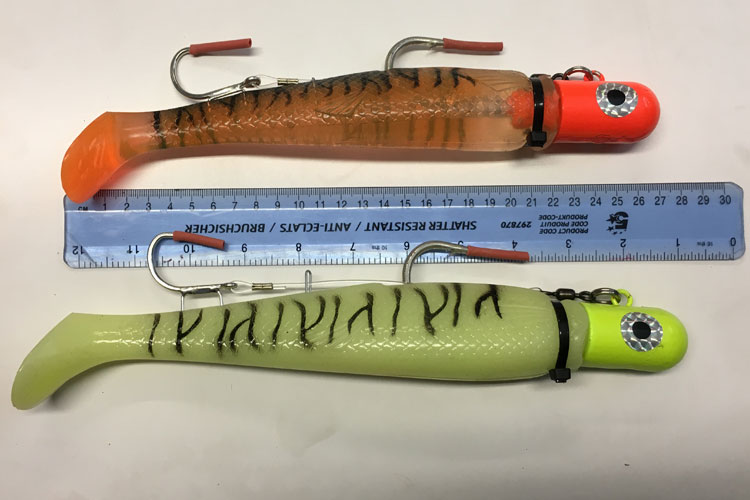 CLICK HERE to read more details
Halibut Anti Twist Rigs: My personal favourite way of fishing for them is using a Halibut anti twist rig coupled with a Coalfish or Mackerel. I have been using these rigs in my Halibut fishing for a few years now and has transformed my fishing for Halibut as I used to use a simply ball lead but found my hook length just kept getting very twisted. Paul Adams came to rescue and created for me some excellent Anti twist rigs that I have been using now for a while and they have never let me down. We have made a couple of changes and now believe that these Halibut Anti Twist rigs are top quality. Rigged with heavy mono with two very sharp and very strong trebles on (size can be altered when you order them) the hook length is attached to the moon shaped lead via a 500LB swivel and then on the other end of the lead is another swivel where you attach a small leader then you are ready to fish. Take a loom at these rigs and you will see the thought that's gone in to making them, Paul also makes these in three different Lumi colours plus many different weights.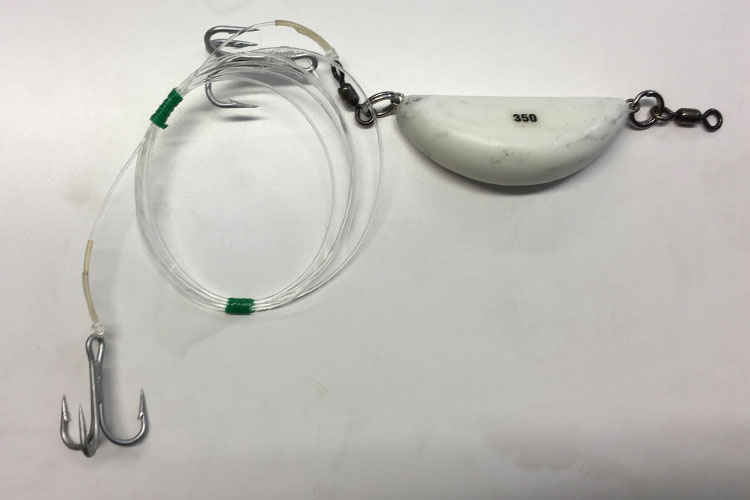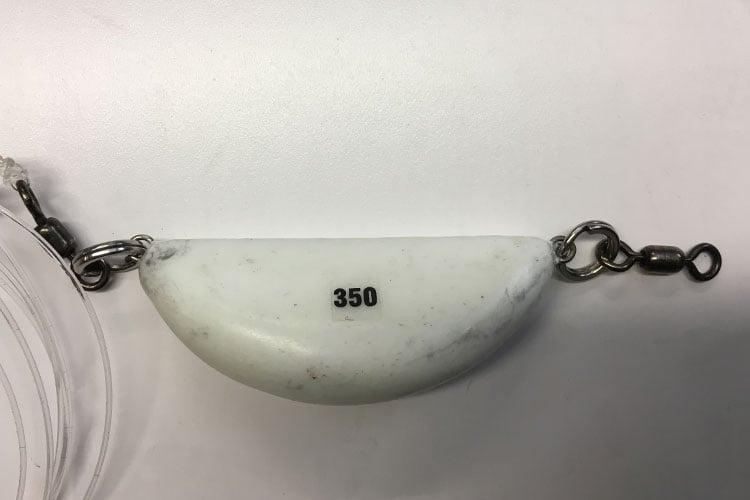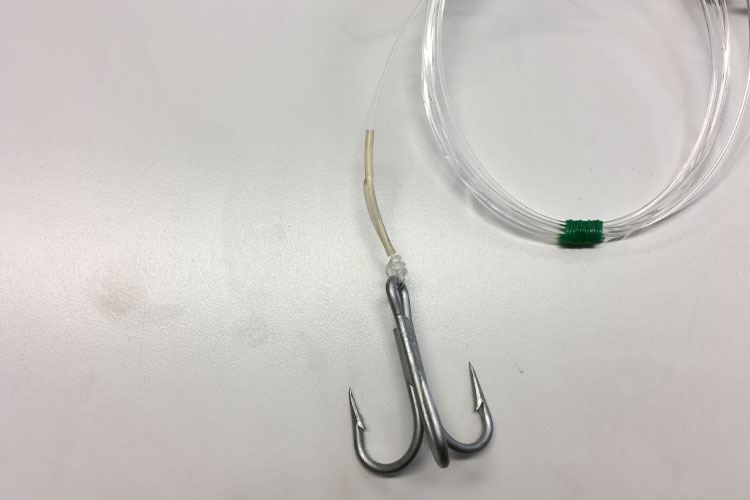 The next on my list is Pirks: Again there are many different colours, shapes and weights you can buy and the below pirks are my go to shapes and sizes. I think the best piece of advice when looking at purchasing pirks is buying ones that are shinny; they just seem to catch anything that swims. The ones I have been using recently are a diamond shape and they have performed so well that these always appear in my tackle box and if I was only allowed to take one piece of tackle with me to Norway it would be these. Paul and I spent a while searching for the right pirks and finally we have got come up with the below and again Paul has rigged them with top quality components meaning you don't have to change anything on them.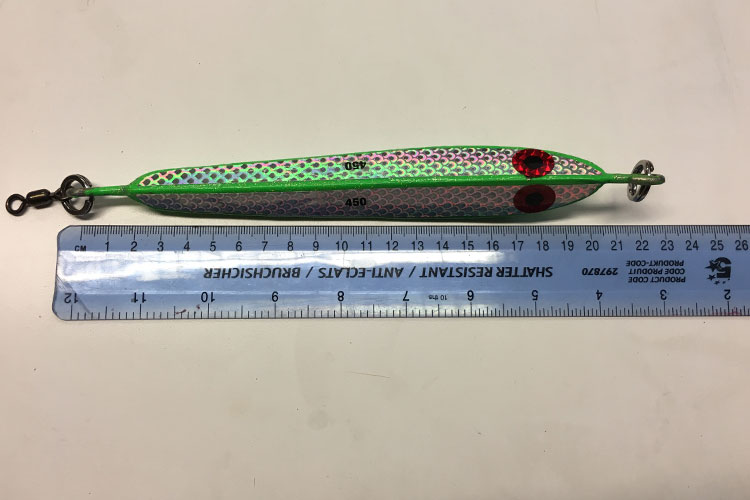 CLICK HERE to read more details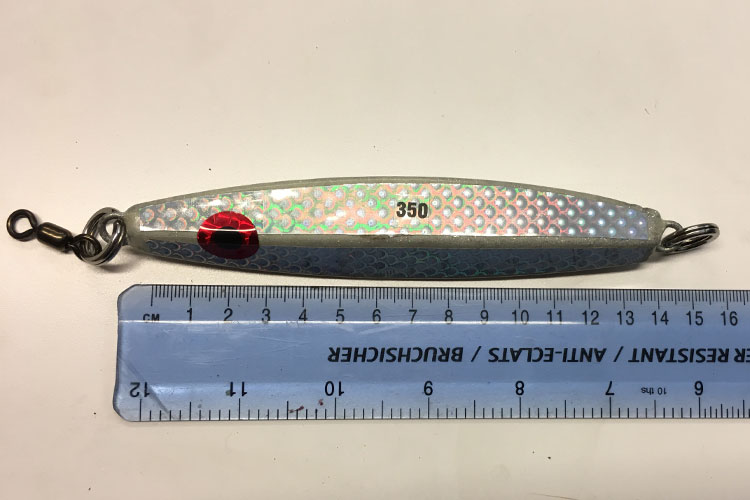 CLICK HERE to read more details
Leader material: This really is a personal choice and the only advice I can give is do not buy cheap leader material as along with a hook, this item is what attaches you to the reason why you travel to Norway. I like using clear mono leaders around the 100 – 150LB mark and I will always have 5 tied up ready to take on the boat with me, that way I don't have to sit on the boat tying new ones up when they need replacing. The length of them I think is important and I never have them longer than around a metre, two reasons, the first is that is you have a long leader it is hard sometimes to land your catch as I always attach my leader using braid to a swivel and if you are using a 12ft leader you fish will be 12ft away from you when the swivel is sitting in the tip ring. Secondly with only using a metre length leader your expensive spool will last you along time.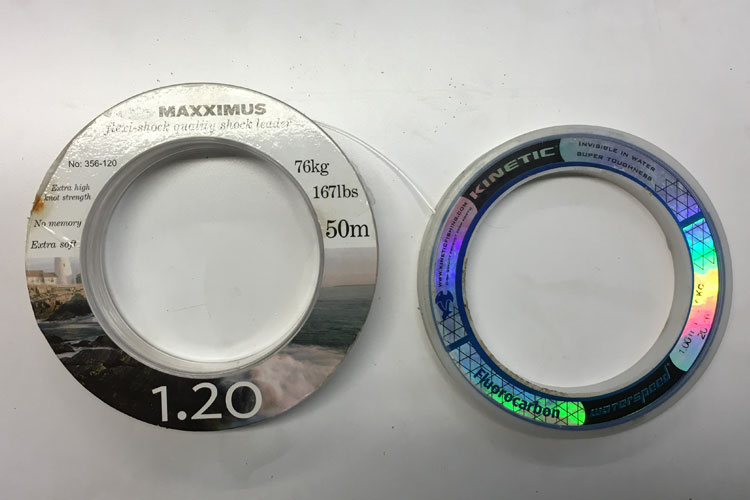 CLICK HERE to read more details
Swivels: I only ever use swivels on their own, when I mean on their own, I mean with out any snap links. I will couple the swivels with split rings but I class this as the strongest way to connect any of your shads or pirks.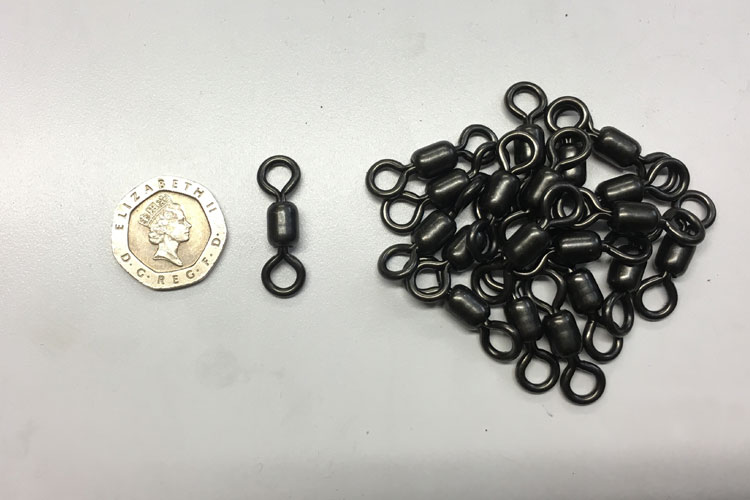 CLICK HERE to read more details
Split rings: For many years I have used so many different split rings and it wasn't until I met Paul that found some split rigs that fitted all my needs. It is important to find some that are big enough to be put on hooks, swivels and shads but small enough not to affect the action of the lure.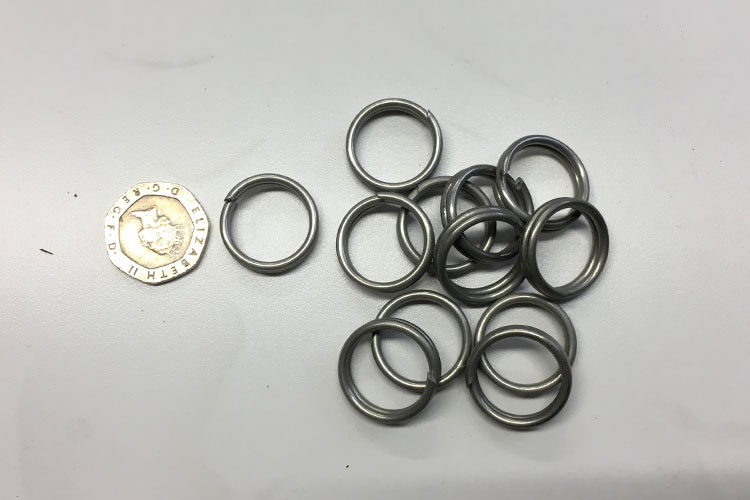 CLICK HERE to read more details
Hooks: My go to Trebles for Norway are Owner 4X ST-66 in sizes 3/0 & 4/0. I will not use anything else and believe these hooks are the best on the market. They stay sharp, they do not rust and they get the best hook hold. Days have gone where certain people would recommend 10/0 – 12/0 trebles, they are horrible hooks and make such a mess of the fish and with more and more people catch and releasing it is important that we cause as least damage as possible. I am aware a lot of people like circle hooks for bait fishing but for me its trebles.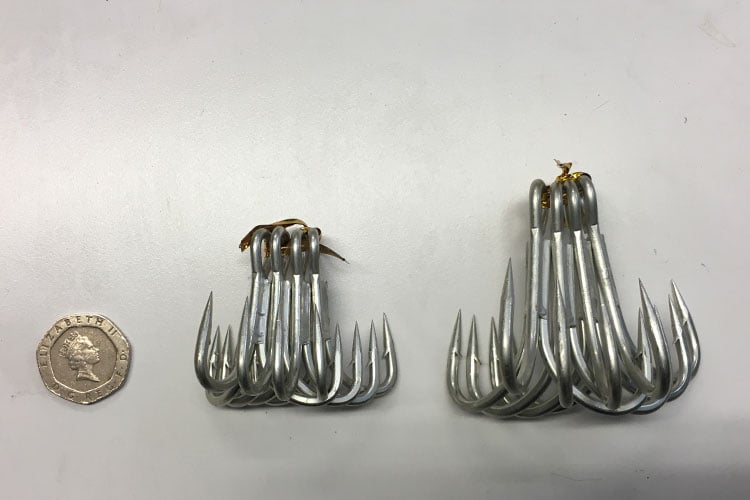 CLICK HERE to read more details
Tools: It is very important to buy a good quality pair of split ring pliers, cheap doesn't work and will bend and break and the last thing you want to be doing is trying to open tough split rings with your fingernails. Another item I always have with me is a big pair of bolt croppers, and these are used to cut through hooks that have found their way in to something they shouldn't be in. Fingers, legs and hands are prime targets for big sharp trebles and having a pair of these on board is very important and can save a trip to hospital.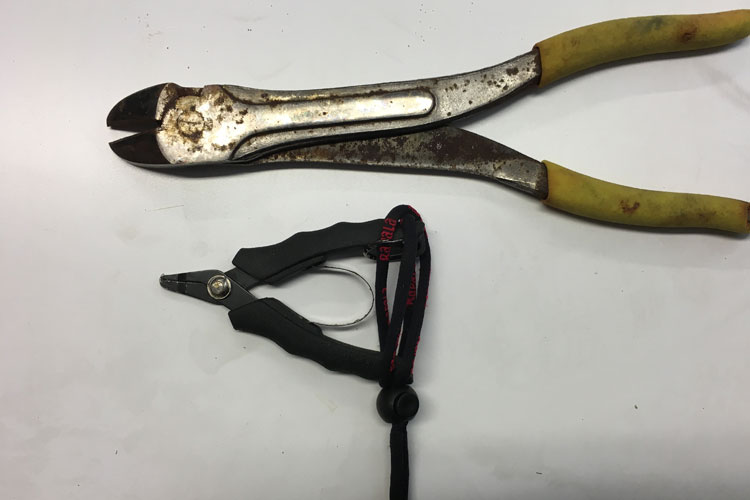 CLICK HERE to read more details
There are lots of other smaller items you may wish to take with you to Norway such as Plaice rigs, feathers, small hooks, leads etc and the above I personally think is what you should ensure you have in your tackle box. I would love to hear all your thoughts on what you would always take with you as I am sure there are many other items that people take. This report is just a small insight in to what I take with me and is given to try and assist you guys in to helping you make a decision on what to look for in your tackle items.
I hope at least one person reading this has learnt something, as that was what this report was meant for and please can I ask if you are out fishing and someone asks you for some advice please give them a little bit of your time if you think you can help them. I have been to lots of different camps around Norway and you always get some people who try and hide everything, this shouldn't be the case as every one is out fishing in Norway for the same reason and if you can help someone catch their personal best fish then surely the feeling is better than catching one yourself.
Hope to see you in Norway over the 2017 season and if I don't, tight lines and hope Norway makes all your dreams come true.
To view all our destinations in North Norway Click Here
Tight lines
Paul