First Time Poppers Visit Andaman Islands
We at Sportquest are getting inundated with excellent fishing reports from our guides in Andaman, as the fishing is so good at the moment and we thought it rude not to share them with you all.
The below report is of three Swedish friends who have never ventured in to this type of fishing before, their usual target of species normally do not pull as hard so we tried to explain just how physical and demanding this type of fishing is. Hopefully they enjoyed themselves:
We cannot recommend this destination highly enough, if you are after some of the best topwater action then what ever you do, do not look any where else!
Enjoy the report and if you would like us to look at some dates for you then simply call our office on 0044 (0) 1603 407596
FISHING REPORT
Joakim, Martin and Alexander picked us for their first foray into tropical fishing, going after the GT's that the Andaman Islands are so well known for. Joakim and Martin are from a Swedish Tackle shop called Huntyard & Berras and have fished a lot for Carp, Pike and Halibut and were very keen to see what tropical fishing was all about.
We started off with getting them set up and showed them the few finer niceties of tying the FG knot and rigging up for maximum strength. They were using Swedish made three-piece Westin popping rods and two-piece Westin Jigging rods. The guys had set a conservative target of getting a 20 kilo GT each on their first trip and if they were lucky, a 30 kilo one to top the trip.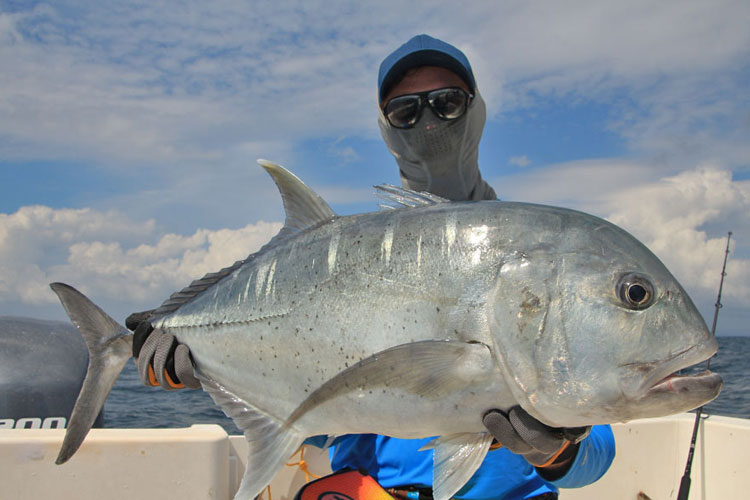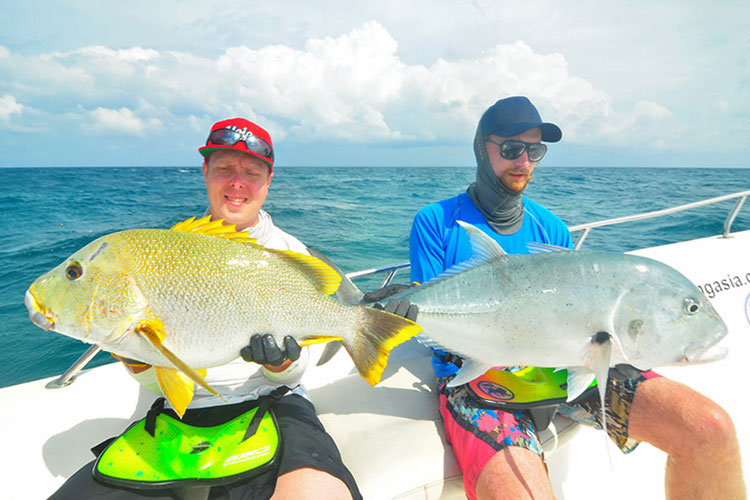 We decided to go to a place where they could get a lot of action the first day and get used to what popping and jigging was all about, how to cast, work the lures and set the hooks. They we not disappointed and came back with a lot of landed fish and missed strikes, including ticking the two main ones off the bucket list, the GT and the Dogtooth Tuna, both on topwater.
I decided to join them to get some photographs and we looked at working an area over thoroughly. When we got there the tide was rising and perfect with the chop providing just what GT's look for, the third cast into the morning and Alexander is on only for his line to part on his Stella after a good run. From that point on we had pretty much continuous action all the way up to lunch. Martin missed a nice strike from a big GT on a deep drift. The dogtooth were following the lures all the way to boat but not taking, so we moved to a channel where the tide was ripping through. After casting a bit Martin had a nice strike quite close by and the fight was on. Steering his GT to keep it clear of the razor sharp bommies very well for a first timer, he held on to land a really nice 20 kilo plus Geet. With more action coming, Alexander got a really nice Maori Perch on topwater as well.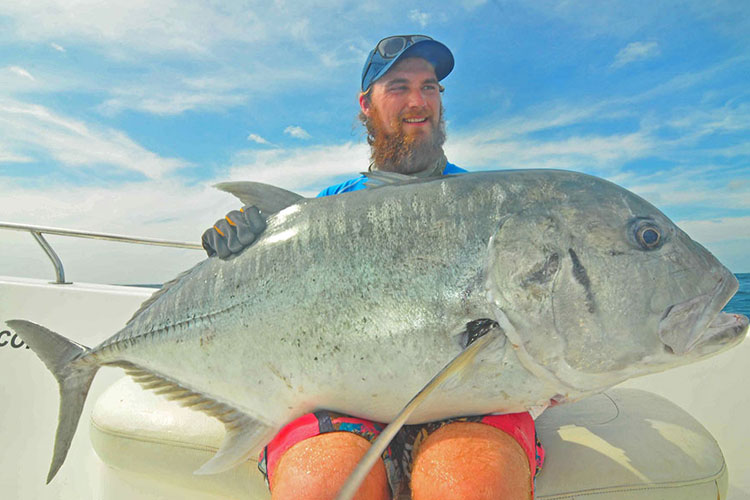 We jigged for a bit and Martin got a huge strike from a doggy that peeled off line, with his reel screaming, but, like most times, it went slack and we find the hook wrapped around the jig with its point blunt and the jig showing the full dentition of a really good dogtooth, that probably took the school away; we had to content with a few GT's on jig after that.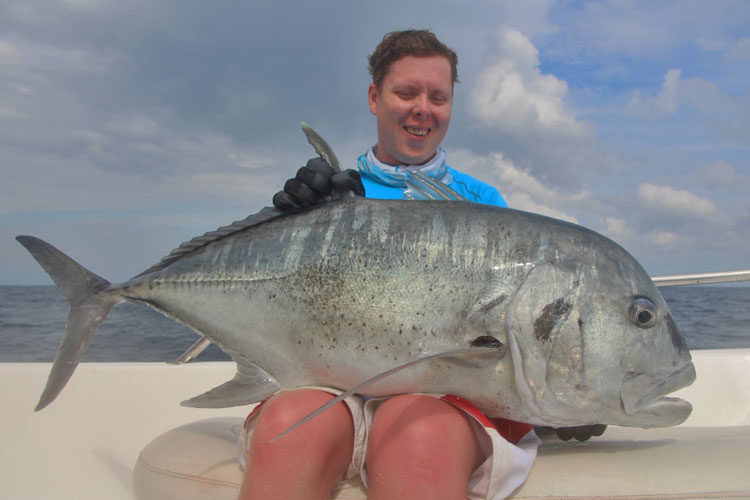 We decided to stop off at the deep spot just before heading back and on the second cast Jaokim had a huge strike; the fish is on and after a great tug of war the GT comes into the landing net and it's a really good one at that. He got his dream catch for the trip – a GT over 30 kilos and well over it, for that matter.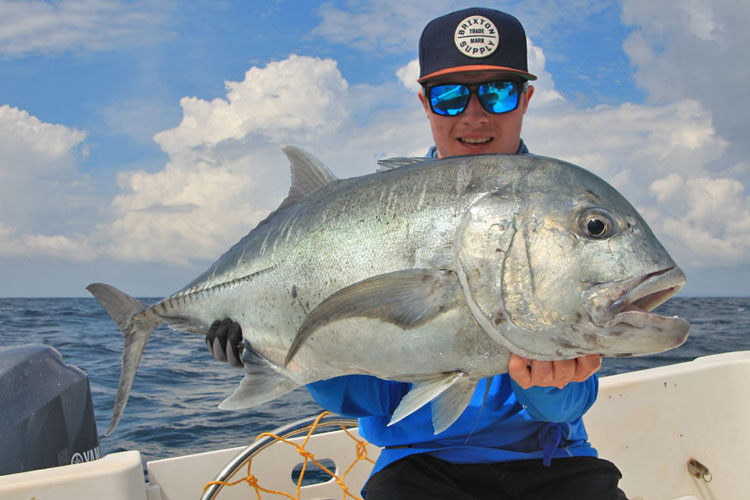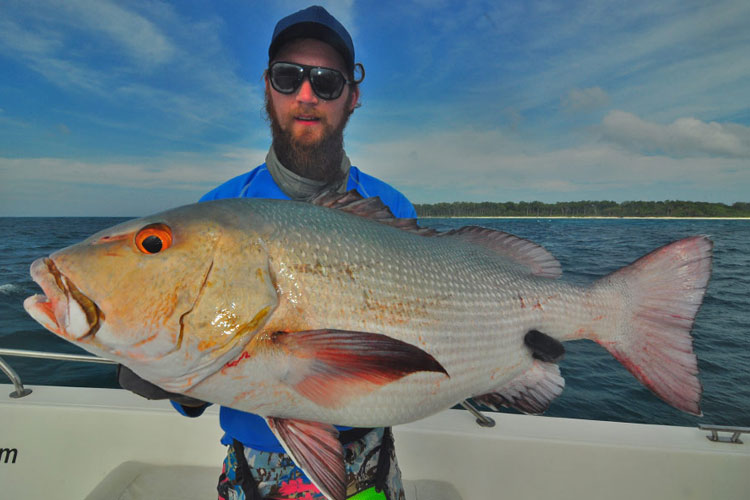 The next days we action as usual, but it was sporadic; every change in spot would result in a take or fish landed with some great double headers but it did not seem the GT's were full on in their feeding mode. Jaokim had another strike on a really good fish with his Wahoo stick bait in shallow water, which he could not turn even with high drag and then the hooks pulled….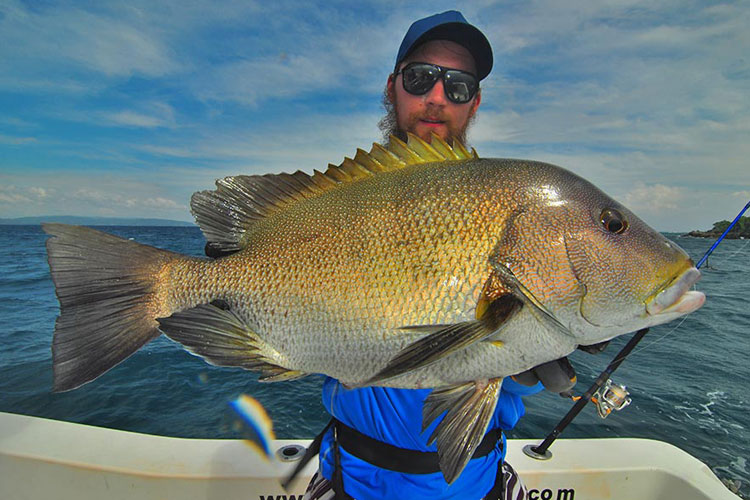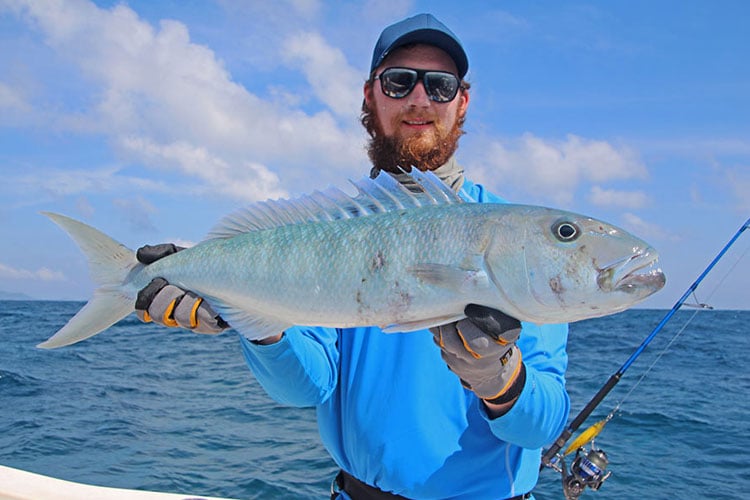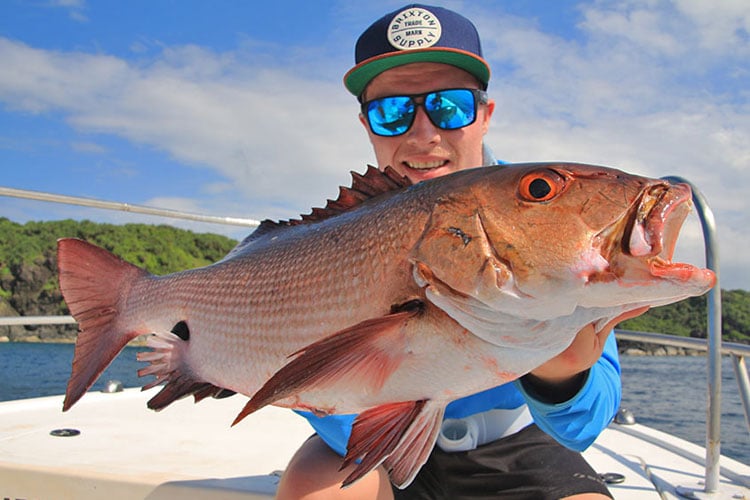 We moved a little farther down of a rocky outcrop and there we found a big school of bait; three poppers we set amongst the bait, for Alexander this time to have his Cubera popper crashed by what looked a very decent fish and we are soon into a really good hard fight. Having changed his line Alexander was able to put the pressure on and a super GT surfaced. Another big fish for the boys who exceeded their expectations and had a great trip. The action continued and on their last day Jaokim put another 20 kilo Geet on deck to end their first popping trip.
They will be back for more for sure with their sights set on bigger GT's for sure.
Tight lines!
Tackle Used
Rods: Westin, Saltywater Racepoint 150, Shimano T-Curve 400
Reels: Shimano Stella, Daiwa Saltiga, Penn Slammer III
Poppers and Stickbaits: Cubera, Temple Reef, Halco, Sebille, Buffalo Lures
Jigs: Williamson
Species Caught: Giant Trevally, Dogtooth Tuna, Twin Spot Snapper, Green Jobfish, Maori Perch, Bluefin Trevally, Spanish Mackerel.
To view this destination simply Click Here