South Africa | Fishing Holidays
South Africa boasts a coastline of almost 3000 kilometres long and a variety of dams, rivers and streams so as you can imagine fishing in South Africa has a lot of opportunities to offer the keenest of anglers. From Big Game fishing in the two oceans to trout fishing in the many mountain streams, you will find something to challenge the most enthusiastic angler. Along with some of the best big game fishing in the world, South Africa offers some of the most beautiful places in a country blessed by Mother Nature.
Guided Shark Fishing Jeffreys Bay | South Africa
We are pleased to offer you the opportunity to catch some of South Africas biggest and toughest species from the shore. Here at the beautiful destination of Jeffrey's bay, you will be fishing from the shore with a very experienced guide who will aid you while on your holiday to land some of the Indian Oceans most hard fighting species. This holiday will see you fishing big baits from the shore hunting down the very big sharks that inhabit these waters, these enormous specimens will see you doing battle as you pit your wits to defeat the king of the seas and land that fish you have always wanted to catch... Read more
Category: Big Game Fishing, Fishing Holidays, Sea Fishing, Hosted Hosted Popper, Jig & Big Game Fishing Holidays, Hosted Saltwater Fishing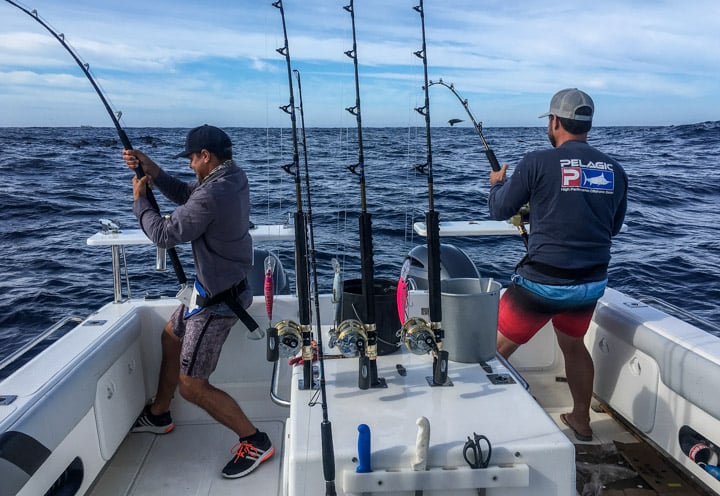 Yellowfin Tuna Fishing | Cape Town | South Africa
We are incredibly pleased to be able to offer the most exceptional fishing trips Cape Town has to offer. Team this up with the best boats and tackle available and you will soon find yourself being hooked up to one of the hardest and dirtiest fighting Tuna that swims our oceans... Read more
Category: Big Game Fishing, Popper & Jig Fishing
Additional Information
South Africa is the Southernmost tip of the African continent, on one side is the stormy Atlantic ocean and on the other side is the beautiful Indian ocean. This collision of 2 turbulent seas on the tip of the cape provide some of the planet's most nutrient-rich waters. Fishing in South Africa provides the possibility of the travelling angler hooking into one of many species, using a wide variety of tactics.
Fishing in South Africa can put you in the hot seat of a big game boat, trolling these fish-filled waters looking for hard fighting Yellowfin Tuna, superfast yellowtails and the brutal hitting but very tasty Snoek. If this does not take your fancy then why not try your hand at beach fishing for sharks.
On your fishing holiday, you could hook into some of the oceans most toothy predators including Bronze Whaler Sharks, Ragged Tooth Sharks Bull Shark. Each of these species packs enough power to drag you a long way down the beach but will you be able to tame the beasts that lurk below the waves of the South African Coastline?
It is not all about the sea fishing when you travel to South Africa, with many freshwater streams and rivers running through the mainland there is every opportunity to get stuck into some amazing South Africa Trout fishing. You can also sample the amazing Bass fishing on these waters. With Black, Largemouth and Smallmouth Bass all living in South Africa, there really is some amazing South African Bass fishing to be had when fishing in South Africa.
There are many other activities you can do on your fishing holiday. We can organise a day out cage diving with the apex predator of the world's oceans, the stunningly cruel-looking Great White shark. We can also organise a day out on the green sampling South Africa's world-renowned golf courses.
If you have any questions on the fishing trips we offer then contact us in the office, our experienced team will be happy to help you with any queries you have. Additionally, you can request a free brochure.
Stay in Touch
Sign Up To Our Newsletter
Sign up to our weekly newsletter to get the latest travel advice, offers and adventures.
Request A Brochure
Our inspiring, free brochure is packed with incredible travel inspiration from every corner of the planet.
Submit An Enquiry
Our experienced team are always on hand to help you with any questions or advice you need.