Full Report Hosted Lofoten Norway June
Fishing Report Norway, a lot of you may realise that I have just returned from an excellent Hosted trip to the stunning Lofoten Islands, Norway. It was a new camp for me and it did not let me down, the fishing was awesome and so was the camp as you will see in this Fishing Report Norway
As I sit here writing this Fishing Report Norway it already seems such a long time ago but was in fact only last week and with the anglers slowly sending me their pictures I thought it was rude not to share what I have got and a little run down of the week that we experienced.
DAY 1: It started on the 17th June where we all met up at Gatwick at 4am…. In the flying horse pub at the south terminal to enjoy a breakfast and a catch up with all the new guys. A couple of the anglers have travelled with me before and with all the introductions over it was time to board the first flight out to Oslo. After a short flight we had a couple of hours spare at Oslo before our onward flight to Harstad, which is north Norway. If you have not travelled to this part of the world before then let me tell you that nothing in Norway is cheap especially at the airport, but that is something you have to get used to.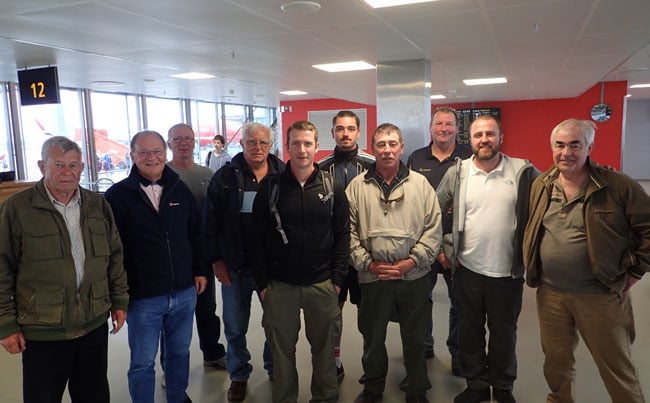 So after a quick bite to eat it was time to board our final flight, which is around 1hr30mins, so before we knew it we were finally at Harstad and now only short 4-hour coach transfer…. It may sound a long journey but the stunning scenery soon passes the time and the coach driver is very knowledgeable and keeps you informed and keeps the journey interesting. With every one keen to see the camp it was only matter of a few more corners and we would be there. Finally we arrived at the camp and were blown away with its setting as you can see from the pictures in this Fishing Report Norway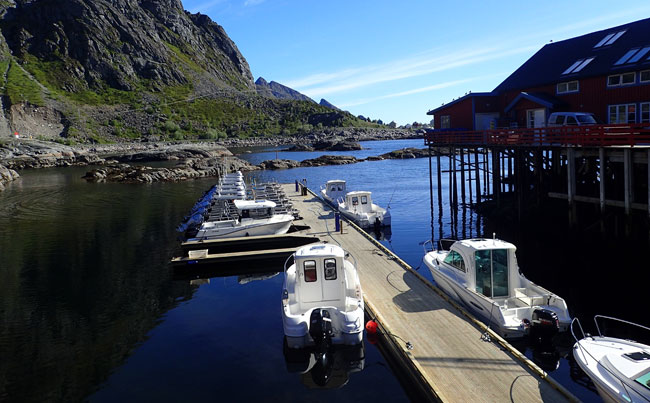 The guys were shown to each cabin and given time to settle in and unwind after the long journey, so around 8pm I arranged to meet every one down at the filleting house for a quick briefing on what to expect in the following week. The size limits of Halibut to be kept and the ones to be returned, that is the good thing with the camps we use they have strict size limits on catch and release of Halibut and strongly promote this. So after the briefing was over I could see the guys starting to look tired and with a time set for the first morning fishing it was time to head back to the cabins and get our heads down. I had arranged to start the fishing at 10am the next day so the guys could get a little lay in as it is good to be fresh on your first day
DAY 2: First fishing day of our Fishing Report Norway and every one was up bright and early, fed and ready to go at 09:30. So with every one suited up and on the boats a plan was set to test the Halibut fishing first off as the tides were looking good for a bit of bait fishing then we would try for the Cod and Coalfish but spend most of the day on the Halibut as this area is famous for really big Halibut.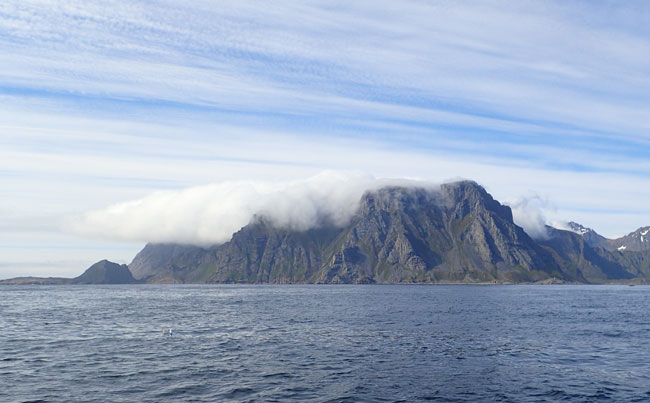 With the first mark found we set the boats up for our first drift. We had told the guys to fish a couple of rods on bait and the rest of the rods on Shads. Both methods work very well and it wasn't long before, over the radio, a shout of 'Halibut On' was heard. What a great start as we had been fishing for just under an hour and the first Halibut had been boated and as soon as the congratulations had been sent over the radio our bait rod ripped off and this was looking like a huge fish and was stripping line fast. I have hooked many halibut in my time but this one was in a different league, I simply could not stop it. I quickly shouted at the guys on my boat to reel in as we had to follow this fish and they quickly reeled in and one of them jumped on the throttle so we could get some line back. This fish was heading out to the open ocean and I could not slow it and with braid appearing on my reel that has never seen the light of day appearing I knew I did not have long. So with a little more throttle we were soon catching up with the Halibut and I was slowly making head way then all of a sudden the hook pulls…… and my heart sunk I could not believe it and with my head in my hands but still holding the rod it came back and took my bait again. I could not believe it came back, so the fight was on again I continued to play the fish for another 5 minutes and felt power that I had never felt before in Norway and the unthinkable happened again and everything went slack this time not returning. I felt like crying as this fish was big and I just slumped down in the chair and couldn't believe it, had my chance of a big Halibut gone? I really hope not read the rest of my Fishing Report Norway to find out
After the commotion of this fish had died down it was time to move on after the Cod as the tide was not right for the Halibut any more so we moved location and aimed our efforts after the Cod. It wasn't long before we had found some good marks for Cod and 20 – 30lb Cod were hitting the surface all around me, then over the radio came 'Big fish on' so we all decided to drive over to see what had been caught and Mike on the guide boat had a 16lb cod on a muppet above a pirk which had a 52lb Cod attached Wow well done Mike excellent summer Cod. The day carried on like this with the odd 20 – 30lb Coalie thrown in. At around 6pm the guys were starting to look exhausted so a shout went out that we were heading for tea and all the other boats decided to join us.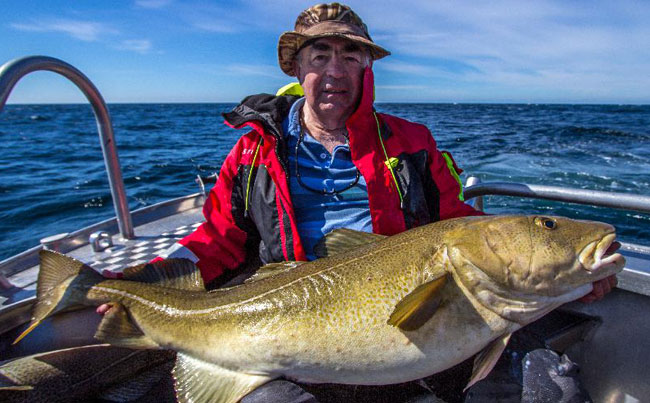 What a superb first day in stunning conditions, not a cloud in the sky and a gentle breeze, huge amounts of fish and a good laugh had by all. Hopefully the rest of the week was going to follow suit.
DAY 3: Second days fishing of our Fishing Report Norway and it was a little windier so a different plan was hatched to stay in the fjords which really is only good for smaller Halibut and not a lot else. The guide had told us of a bay near by that normally holds a few smaller Halibut but good fun. So after a gentle steam we arrived outside of the fjord and to our surprise 6 Killer whales were feeding on a bait bail around 600mtrs in front of the boats. We all instantly stopped to see if we could sneak up on them and as quickly as we saw them they had gone, I guess 4 boats just can not be that quiet. It was still an awesome feeling that we had seen something so breath taking in its own environment.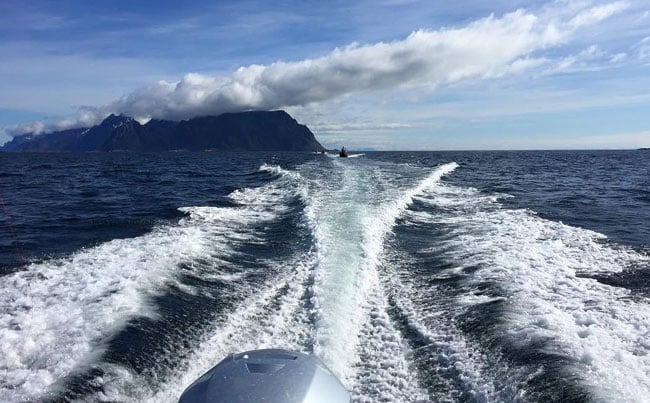 As we entered the fjord we were confronted with a wide-open piece of water with wind howling down from the mountains making the surface choppy. So once we had found an area that gave us a good drift out went a drogue to slow the drift and also some shads to try and temp a few Halibut. Well to cut a long story short it was not a good day for any one, there were 4 boats and not so much of a sniff from the Halibut. After many hours of trying different areas in the fjord it was time to set a new course and a new species, this time we would have a go for some Plaice and Dabs back near our own harbour.
The harbour where we were fishing was a busy little harbour with many big boats so we had to keep on our toes and a sharp eye out on boat traffic. This style of fishing I love and is something I very rarely get to do as the guys always want big fish when they come to Norway, but Plaice and Dabs on the right gear put up a great little fight and is a nice break from hauling up big Cod. The rigs are very simple and baited with frozen cooked prawns purchased from the supermarket. It didn't take long before the guys started to catch these little flatfish with the odd 2-3lb cod, all in all a good bit of fun and a nice day was had by all. Plus Mike caught a fairly rare species for Norway and one that i have only ever once before, it was a Blonde Ray, well i think it was. Congrats Mike on your catch
| | |
| --- | --- |
| | |
| | |
| --- | --- |
| | |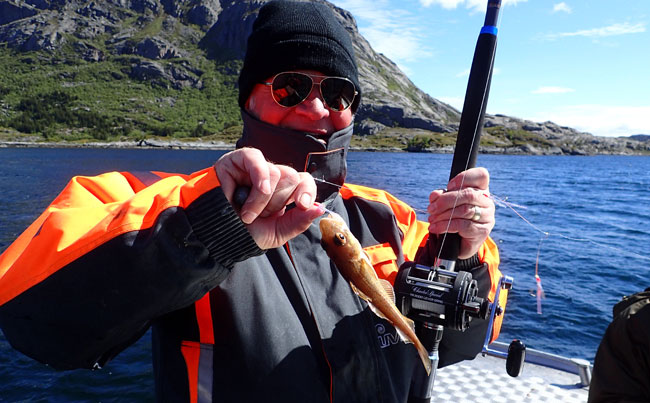 DAY 4: Third day fishing of my Fishing Report Norway and the weather gods were back on our side with hardly any wind and blue skies we decided to head back round to the north side to try for some more Cod and Coalfish then a bit later when the tide was right we would fish the stream again for those elusive Halibut. With this route planned, off went the 4 boats in search of some action and before long we had arrived over some great looking marks at around 20 – 60mtrs, perfect for those shad loving Cod and Coalfish. One of the guys in my boat decided to have a day off meaning that I would get a chance of some fishing today so I just had to try some fantastic Shads that had been given to me from a company called www.seabooms.com and was asked to test them for durability and how well they worked and let me tell you that they surpassed my expectations and done the job over and over again so a massive thanks to Allan Yates for supplying such good quality Shads, in fact every one on my boat started using them and had very good things to say.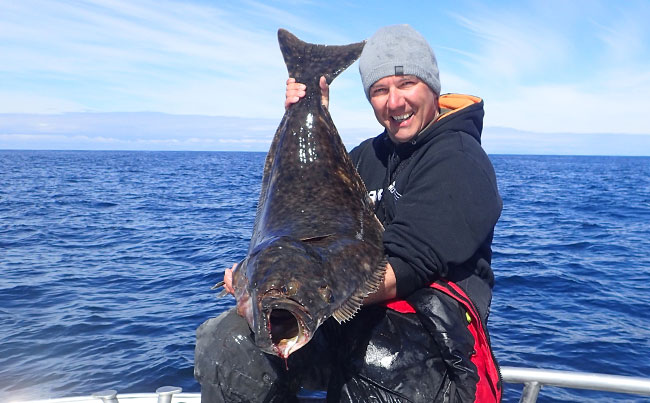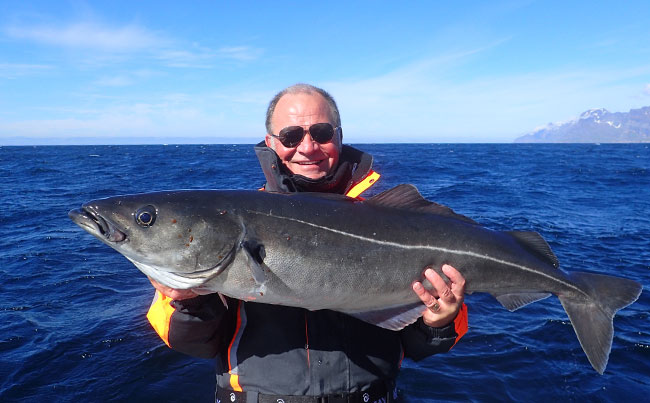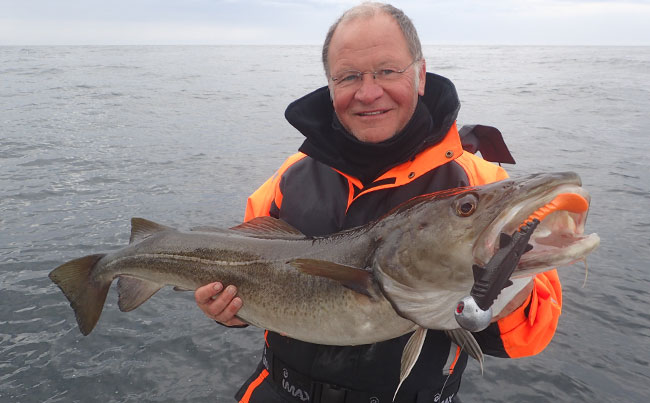 After every one had filled their boots with Cod and Coalies it was time to head back to the stream for a bit more Halibut fishing with bait, so off we all set in search of those Halibut. This area of Norway is so famous for having the biggest tide in the world and boy they were not wrong as when we arrived at the spot the tide was pushing and I mean pushing so much so that it looked like a set of rapids. All the boats hung back for half an hour ate some lunch and was ready for when the tide slowed a bit. Our boat made the first move and went for it and with the boat in position and baits lowered down we were ready for the Halibut. Within 5 minutes the bait rod was in full arc and line was screaming off so up jumped Tony and he was in to what looked like a nice Halibut. After 10 minutes or so his reward was surfacing next to the boat and it looked like a good fish. With the lip gaff in place and tail rope secured to both the fish and the boat it was time to get ready for pictures and a safe return. Tony was very lucky on this week and had most of the Halibut on my boat, but I guess when your luck is in it's in. Fish returned and we decided to carry on the drift so out went another bait fish and four shads and after a further 10 minutes Tony was in again this time on a shad and this one looked a bit smaller and after a short battle we had it secured by the side of the boat. Pictures done and we soon found ourselves fishing once again then all of a sudden 'Fish on' came over the radio. It was certainly looking like Halibut feeding time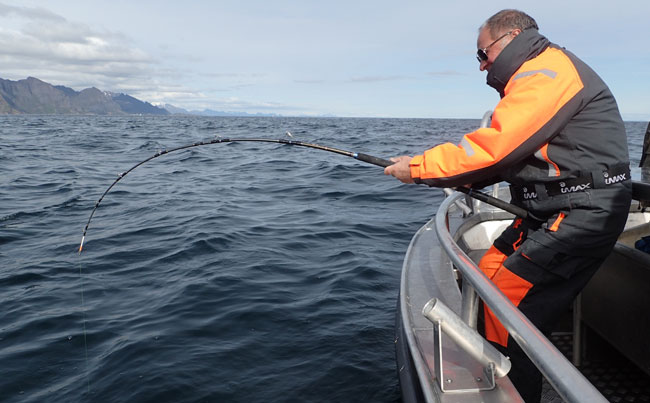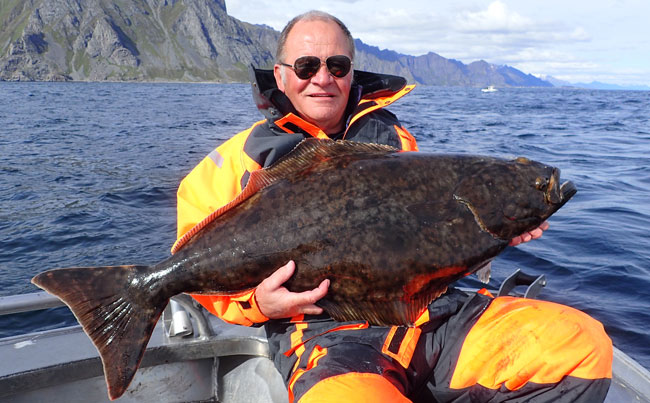 As the tide slowed so did the fishing so we all made a decision to head back to the cabins for a well-deserved beer and some hot food after what was a great day had by all
DAY 5: Fourth day fishing of the Fishing Report Norway and it started the same as the day before with fantastic weather and every one was hoping for a day like yesterday and we soon realised we would not be disappointed. With a new plan hatched to try somewhere a bit further afield we all decided to motor to the Island of Vaeroy which is located around 20nm from the camp we were staying at, so after around 45minutes steam we had found our first mark and Cod and Coalfish were the order of the day. Basically to cut a long day short we had huge amounts of Cod and coalfish, no record breakers but Cod to 35lb and Coalies to 25lb. All these were caught on a mixture of tackle from shads to Pirks and also a couple of better Cod on bait. After every ones arms were falling off it was time to head back to the camp as it was nearly 8pm and the guys were looking hungry
| | |
| --- | --- |
| | |
| | |
| --- | --- |
| | |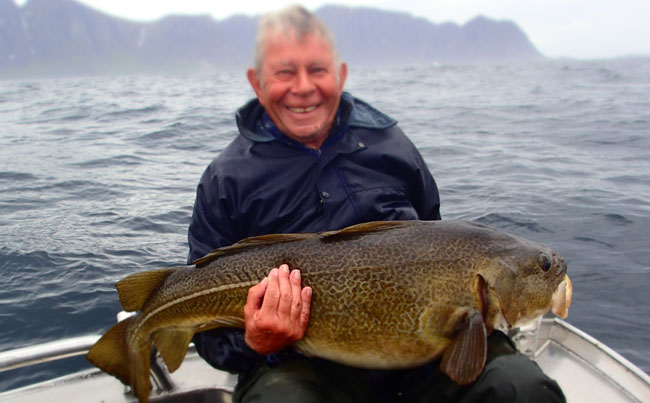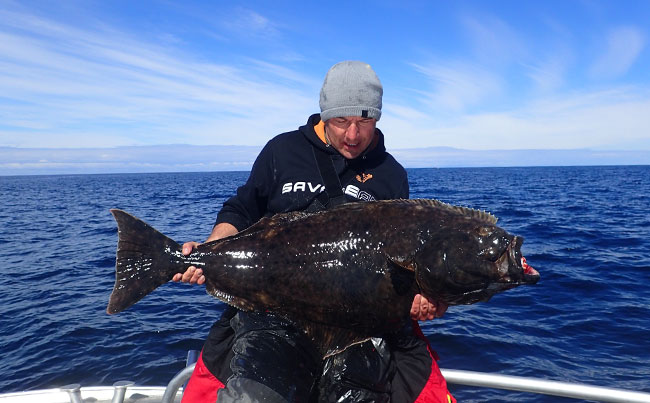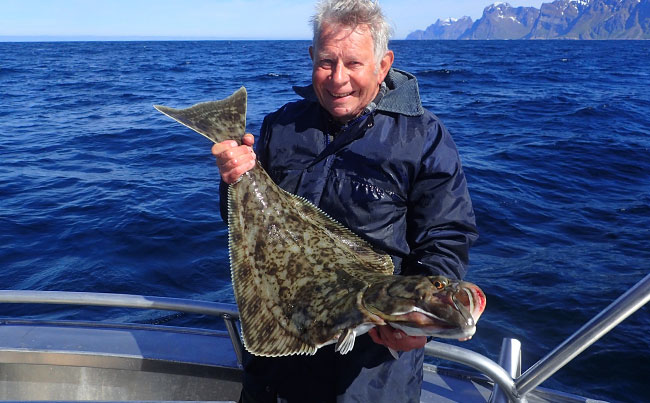 DAY 6: Fifth days fishing on our Fishing Report Norway and the guys decided to go out and out Halibut fishing for that one big fish. I did however warn them that this type of fishing could be slow, as Halibut do not tend to swim around in shoals so it can be many hours between fish but if that's what they wanted then that's what we would try for. I had a quick chat with the other guides to see where we should head to and quickly found ourselves heading to the stream again where the day before a 120kilo Halibut was caught and released. So with the excitement of this huge fish in the angler's minds we headed out to see what we could get. Now if you have ever fished for specimen sized fish you will understand that things sometimes do not happen for many hours and this day was not unusual. We spent what seemed like days drifting areas known for big Halibut with big 5lb bait fish. After around 7 hours of not even a sniff the guys were looking disappointed and ready to go back so with this in mind I got on the radio and the other boats were to join us and go back. That's specimen fishing….
| | |
| --- | --- |
| | |
DAY 7: sixth days fishing and the last day so we better make the most of it. The plan was to go and catch a lot of Cod and Coalies then Halibut and then back on to the Cod and Coalfish and with this in mind we headed around the north side again where we had done so well a couple of days before. As we set out we soon discovered the weather was a little worse today and with horrible drizzle and slight wind, driving the boat was horrible. We soon found ourselves cruising over the same marks as before. Out went shads, pirks and one rod on bait just in case there was any Halibut around. The guys absolutely filled their boots on the Cod and Coalfish and we had Cod to 42lb's and then a shout from one of the other boats of a 50lb Cod… a massive congratulations went over the radio as a 50lb Cod in the summer is an awesome Cod. Then all of a sudden the Coalfish started to feed and Jeff at the front of my boat was in to what we thought was a good sized Halibut, but how wrong were we!! And after around 20 minutes up popped the biggest Coalfish I have ever seen. We soon got this Coalfish aboard and with her carefully weighed I was gob smacked to see the scales go round to 16.9kilo which is just over 37lb and boy this fish was big. After all the celebrations and photos we decided to try our luck one more time for a big Halibut so a new mark was plotted and off we went.
| | |
| --- | --- |
| | |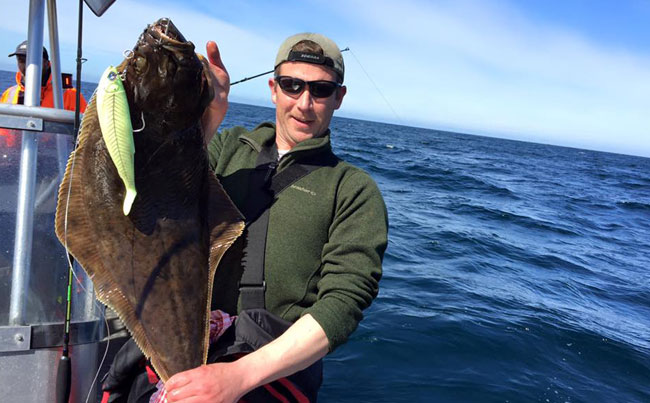 | | |
| --- | --- |
| | |
Soon we found ourselves drifting over an area which had produced a couple of Halibut for us earlier in the week and things were looking good as the tide was moving so the Halibut should be feeding and before we knew it Jeff was attached to one of these elusive flatfish and as he struggled to get her off the bottom another person was in…. two halibut on at the same time things were looking good. Both fish to the surface and once we had one secure it was time to deal with the other one which was waiting peacefully on the surface that was until I tried to slip the chin gaff in and then it went mad and decided it didn't want to be on our hook any more and some how managed to dislodge the treble and swim free….. well at least we had one at the side of the boat.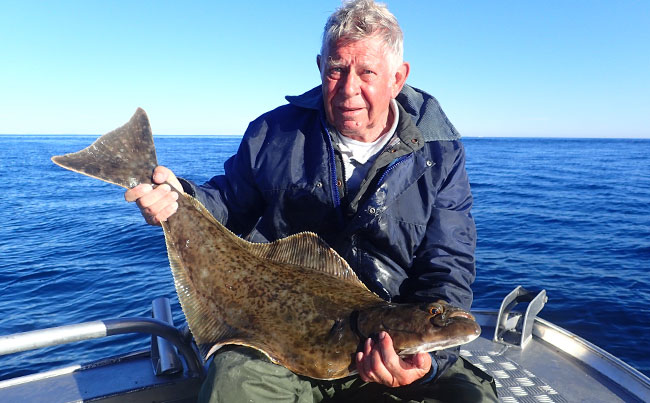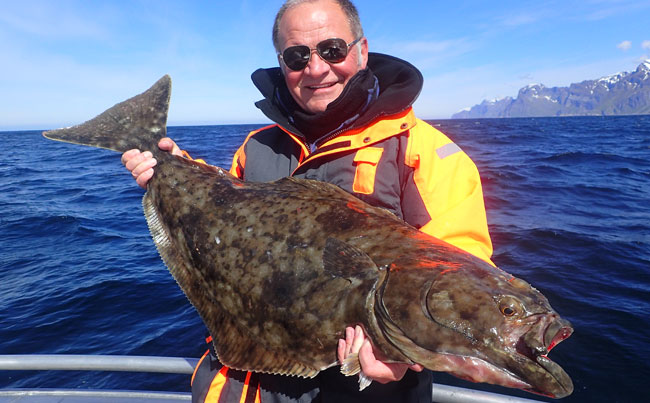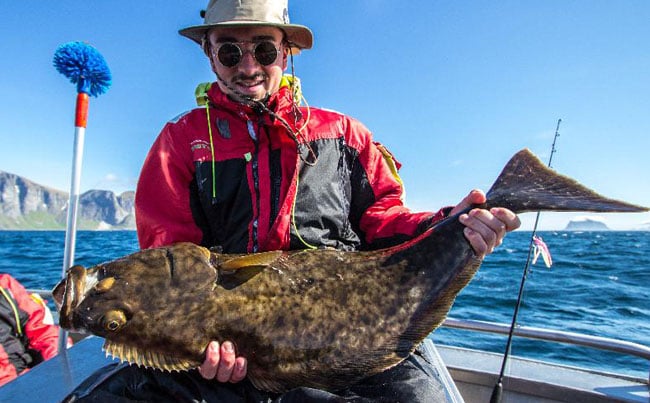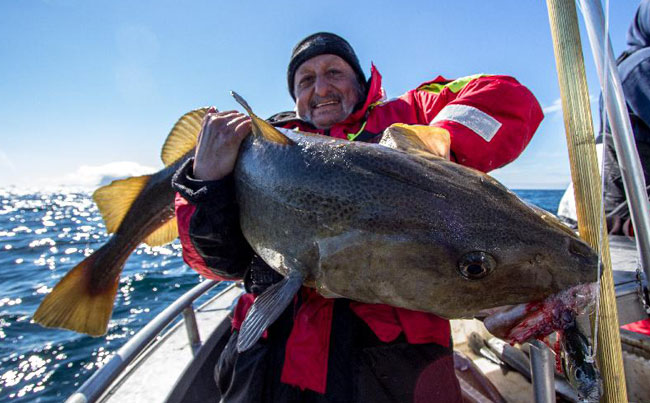 Photos taken the guys decided that this fish was going to be the last one of the trip as we had to get back and clean the boats and refuel before departing the following morning. With this plan we headed back and soon found every one else had the same idea and found ourselves in a 4 boat convoy all heading back for the last time.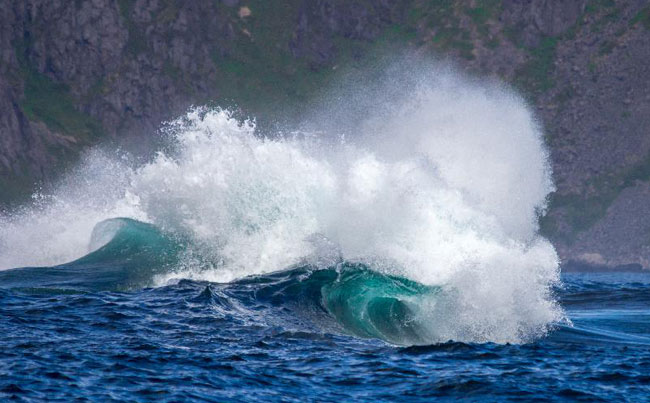 Once back at the harbour the guys set about cleaning the boats down and refuelling before heading back to the cabins for a last meal together and a few well deserved beers.
DAY 8: Last day of the Fishing Report Norway and everyone was ready to say their goodbyes to the guides and got ready for the long journey home. The journey home seemed to go a lot quicker and soon found ourselves sitting at Oslo waiting for our flight back to the UK and after a couple of beers at Oslo and the last goodbyes we all headed our own way.
I would just like to take a moment to thank all the guys that attended this trip and hopefully will get to guide you again some day and a massive thanks to Hannes our guide at the camp and a personal thanks to Allan Yates at www.seabooms.com for the lures supplied. Check out his website and you will find all the lures I used
This trip was the first for me to this camp and can highly recommend it if you want a mixed bag of fish. The camp is in a very popular tourist area and there are plenty of other things to do at the camp from Museum's to galleries and also many shops on site. All in all it was a great trip and look forward to returning there next year and if you would like to join me on this trip or any others then simply call me on 01603 407596 and I will try to make your dreams come true
Hope you have enjoyed my report and until next month where I find myself travelling back to Norway to our camp in Havoysund, tight lines.
To view this Hosted sea fishing destination Click Here
Paul Stevens