Mathew Rickard Hosted Sturgeon Fishing 2017 Report
We would like to apologise for the late full report from our Hosted Sturgeon trip to Canada but its been a little issue with getting the photos all in, but we glad to say that, here it is the full report from Mathew Rickard. I would just like to add that Mathew is currently hosting yet another Sportquest Holidays trip out to Mexico and word is that they are catching lots of good fish.
If you would like to join our 2018 Sturgeon trip then we have the very last two spaces available ready for you to book on. Simply call us on 01603 407596 and we can talk about what we can offer you.
Also we would like to congratulate Rick Hurley and his new wife Teresa Hurley (Used to be Lisk) for winning this holiday by entering Angling Directs 'King Of The Catch' competition. See people, competitions like these are real, all you have to do is head over to www.anglingdirect.co.uk/competitions/king-of-the-catch-2017 and enter a picture in one of the categories, but act FAST as they close the competition soon.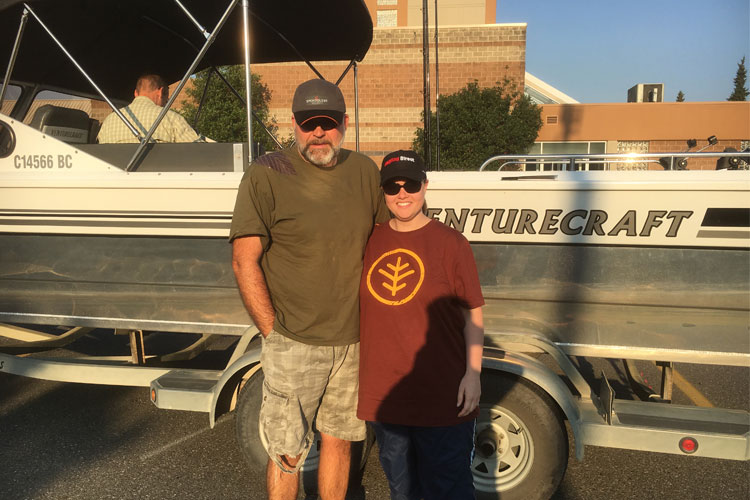 FISHING REPORT
As with all my hosted trips, the journey starts with phoning all my customers for the coming trip. It's always great to speak with them before hand to answer any questions they might have. As always we meet up at the flying horse in Gatwick, it's a great way for everyone to meet up and have a chat about all things fishy.
So the long journey began to Vancouver with high hopes for everyone. Finally in Vancouver we made our way through security to find our driver whom would take us to Chilliwack to check in for the week at the coast hotel.
Upon arrival friendly staff greets you, which is very nice. The hotel is very clean and is run very well Indeed. The rooms are spacious and the beds are super comfy. The plan for the afternoon was to take a walk have a few beers and try and stay awake for as long as you can which to be honest didn't last that long, I think everyone was in bed by 9pm.
First days fishing
6am soon come round and we were all sat for breakfast. You could see on everyone's faces they were excited about the first day. Soon were at the car park with our guides for the day. So off we went to the boat launch. Some went further up river some stayed close by but boy were my customers in for a shock.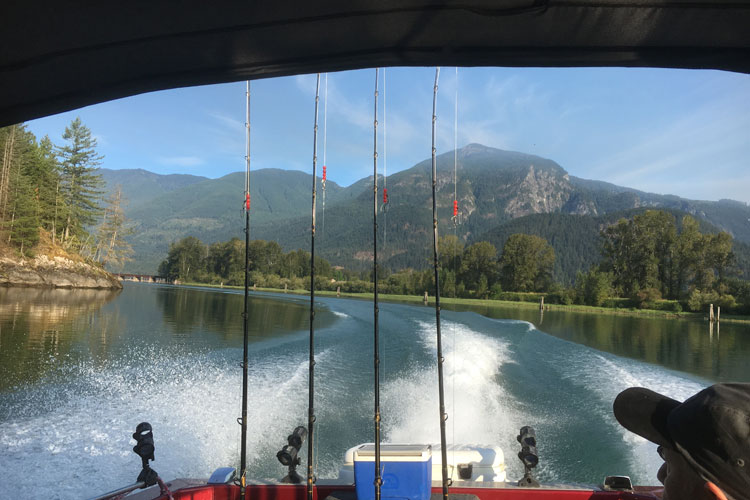 First up was Teressa as Rick and bill said lady's first. 15 minutes went by and bang the line was singing. The thing with sturgeon fishing you just don't know what size your going to get: I don't think any of us would of thought it was going to be that big and the biggest of the trip. After a 15 minute battle, which to be honest was quick as the fish didn't really go crazy, they're it was an 8ft 2inch with a weight of 320lbs. A magnificent fish and well done Teresa.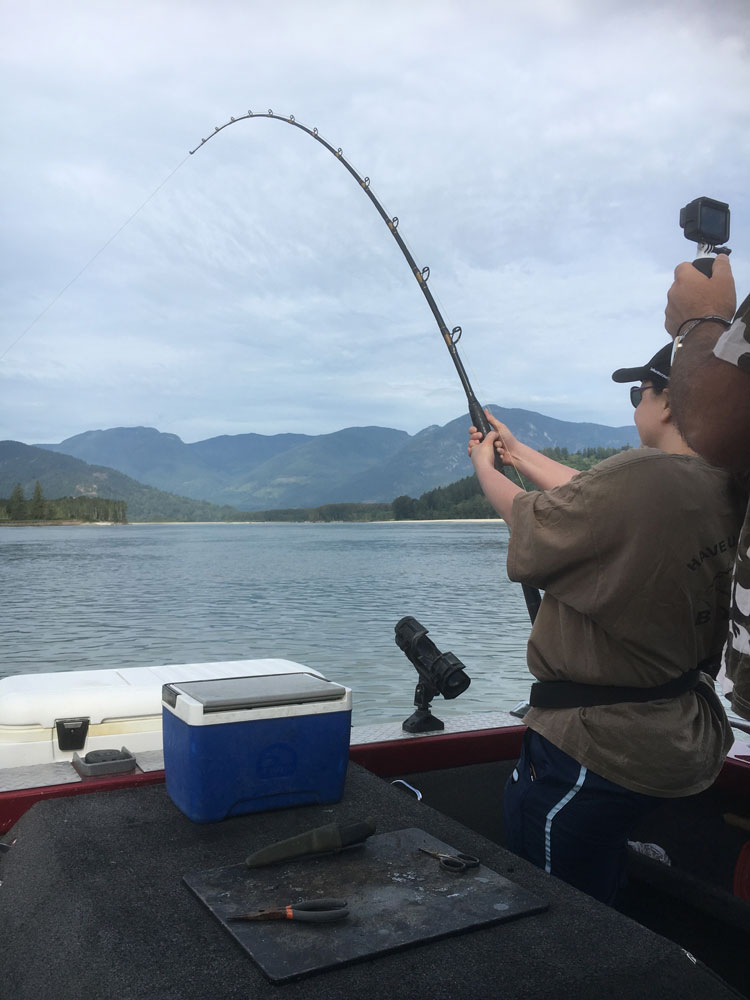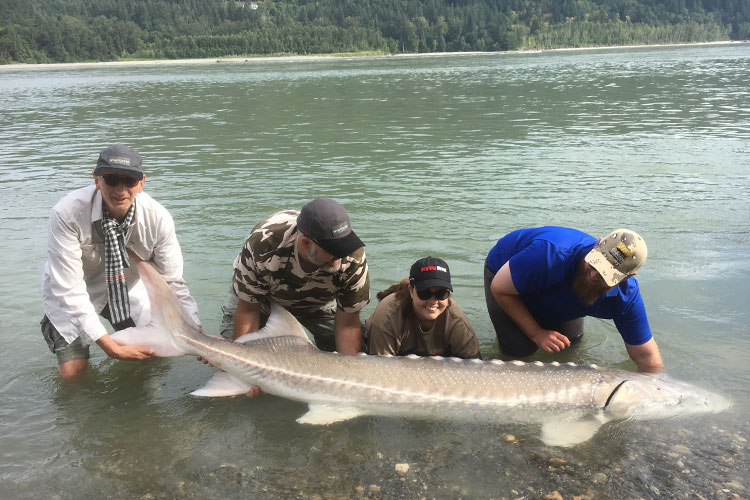 Then it was ricks turn and before the line went screaming off he said to us all, I bet this will be a 70 pounder, sure enough it was. Next up was bill. The reel went off screaming yet again and this time it was 50lbs, must be Lady Luck having the big fish. At least these smaller fish put the guys in good stead for what was about to come.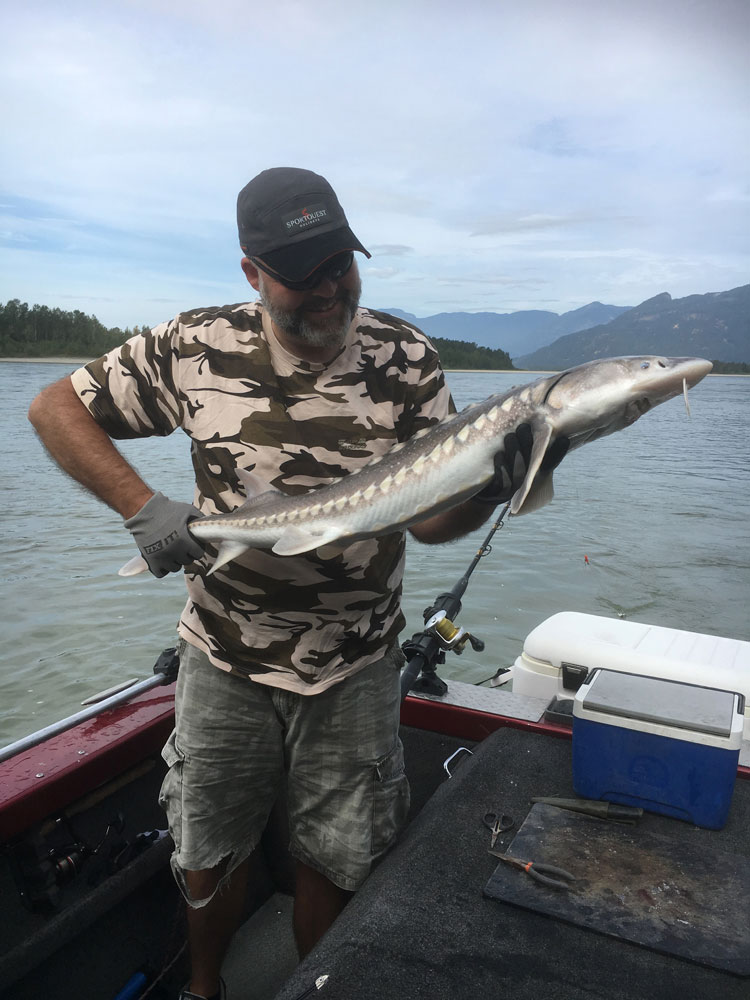 Back at the hotel we were waiting for the other group to arrive back to see what they had done. Well what did you get I asked. A big fat 0 they said. They had blanked on there first day. You could see on there faces they were upset by it but that's fishing. I turned round said I reckon all of you will get a fish over 200lbs this trip..
Day 2.
This time I was with terry, Jason and Steve. First up was Jason, who I was sharing a room with, said to me before we left for breakfast, I'm going to put my lucky shirt on which to my amusement was a Manchester United top. Any how, 20 min went and off she went the reel screaming and soon we had all the rods out the way, anchor up and drifting back with the fish. Strangely it never breached but 20 min went by and we had it beat on the bank. A few photos and back it went into the flow of the Fraser. We measured it and it went 8ft 4inches long and estimated just over 300lbs. A fantastic fish and one that Jason won't forget in a hurry.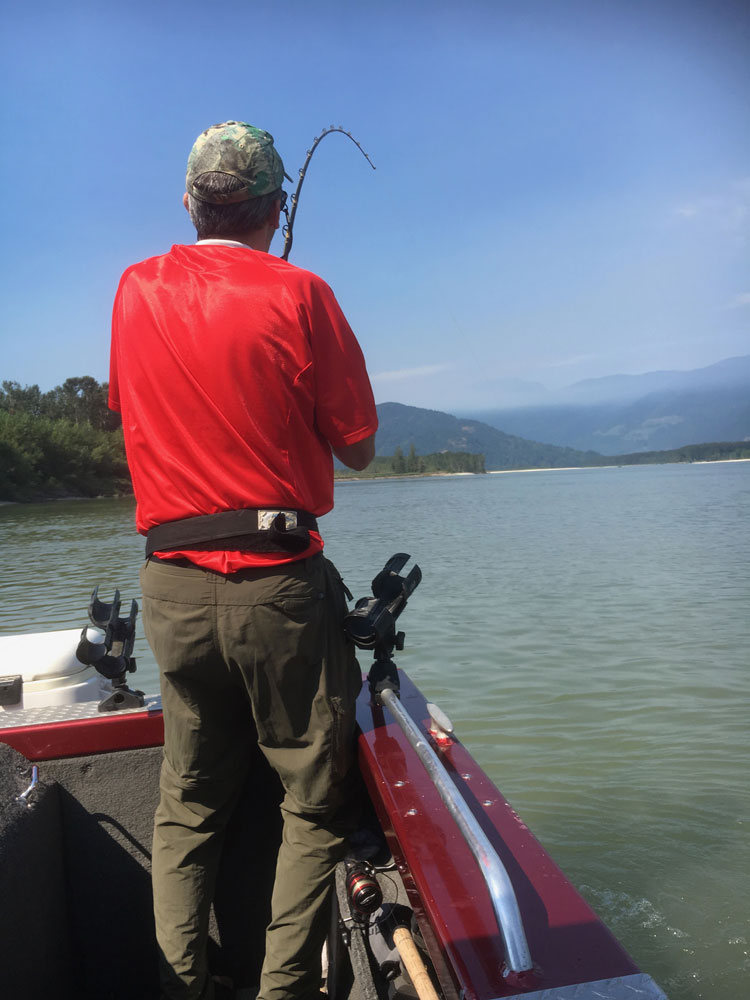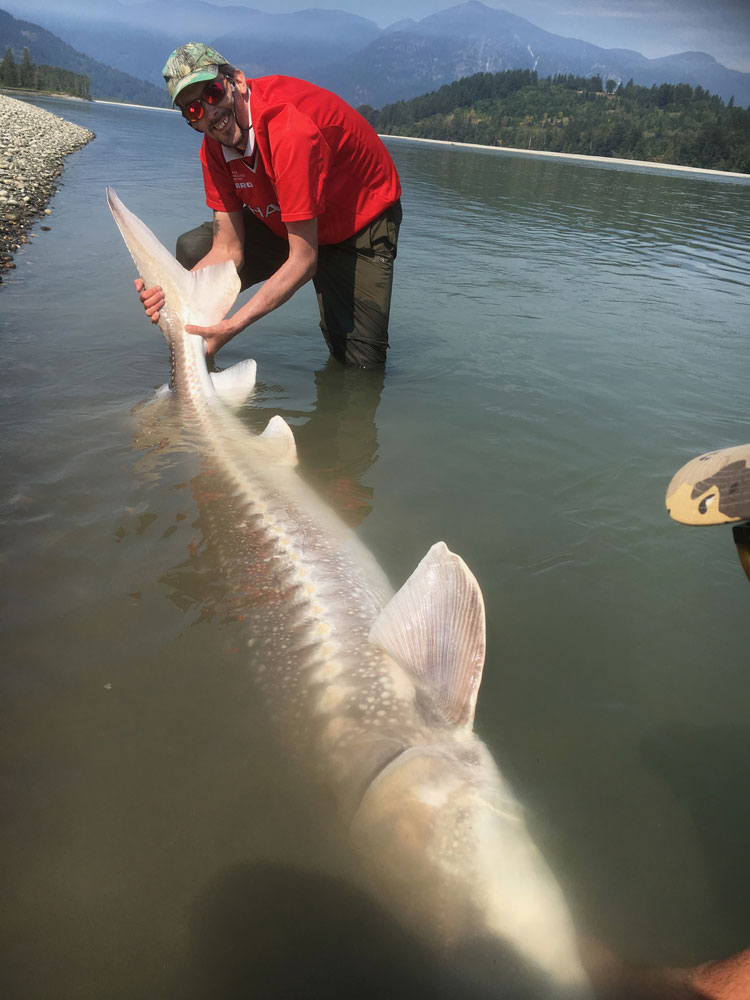 Terry was next up, a nice fish of a 100lbs+ then Steve which was under a 100lbs, I think we had 5 to the boat that day. All in all it was a great day yet again and Clayton the guide doing what he does best.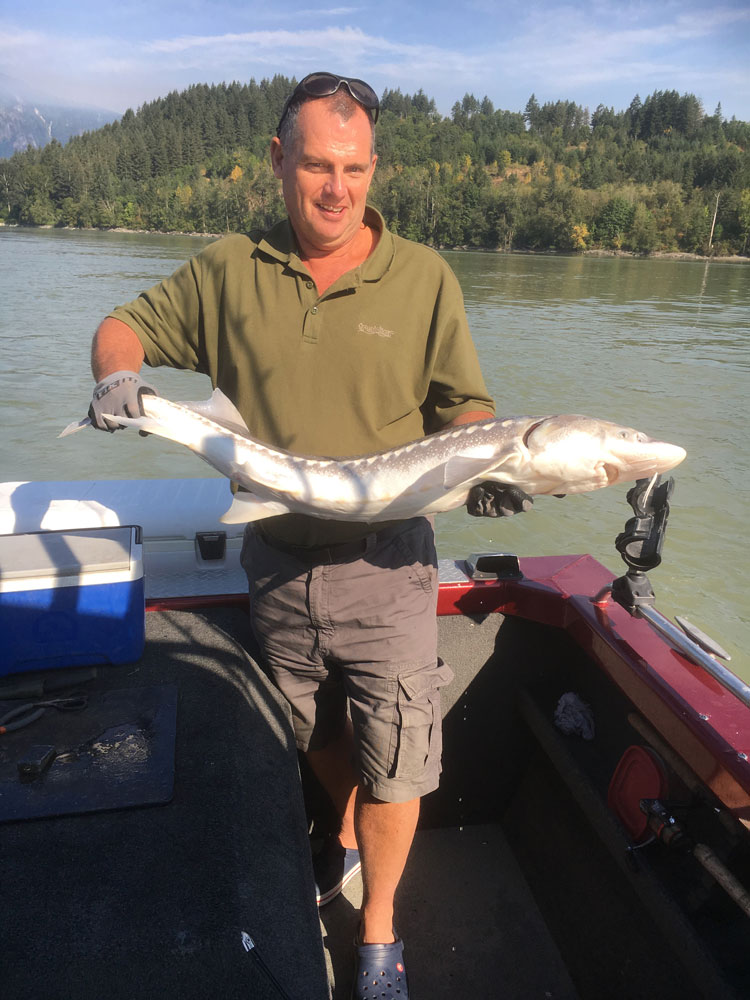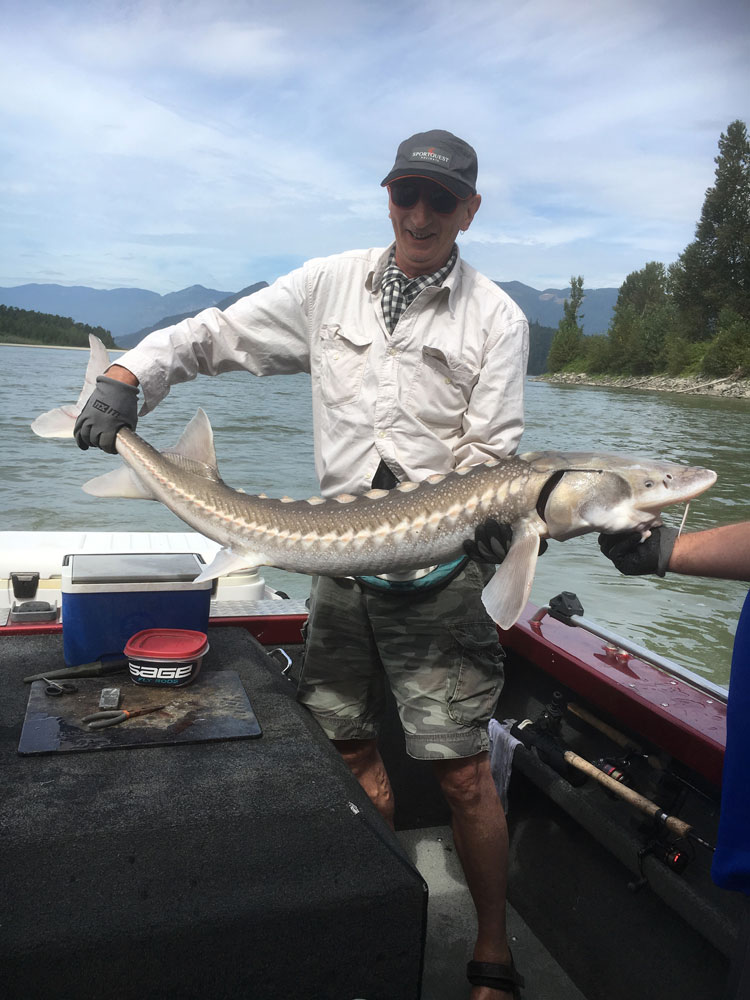 Day 3 to 6
Same routine but with different guides everyday, the fishing was very good but not on fire, this was due to the lack of pink salmon running the river there was no right or wrong way to fish with them, it was just a case of moving and putting fresh bait out and see what happened. Still though big fish were coming out to play on most days, we even saw a bear whilst terry was playing his fish. It was last chance saloon for bill and Steve to get a fish over 200lbs, I was with bill on this occasion and his biggest of the trip came that day, a plump 160 but the day was not over. Mark our guide gave bill an extra 10 min fishing and he was so glad he did. 40 min later and he had done it, a nice 220 pound river Fraser sturgeon. He was that overwhelmed by it all, a tear came from his eye. A life long ambition had been achieved. I'm pleased to say that bill will be back for sure.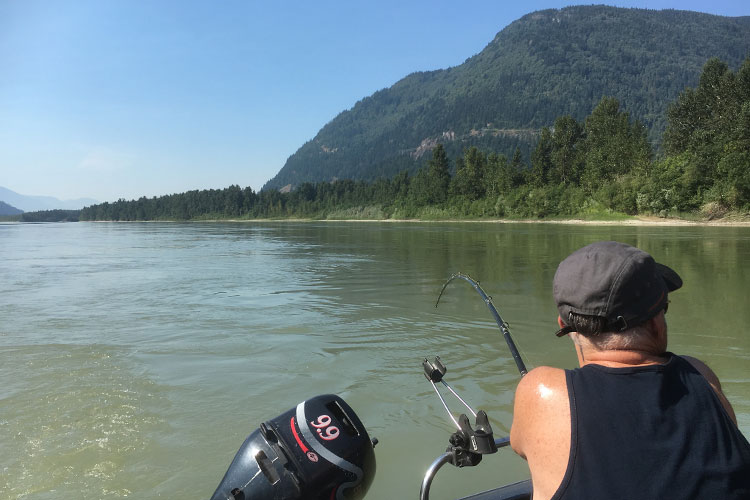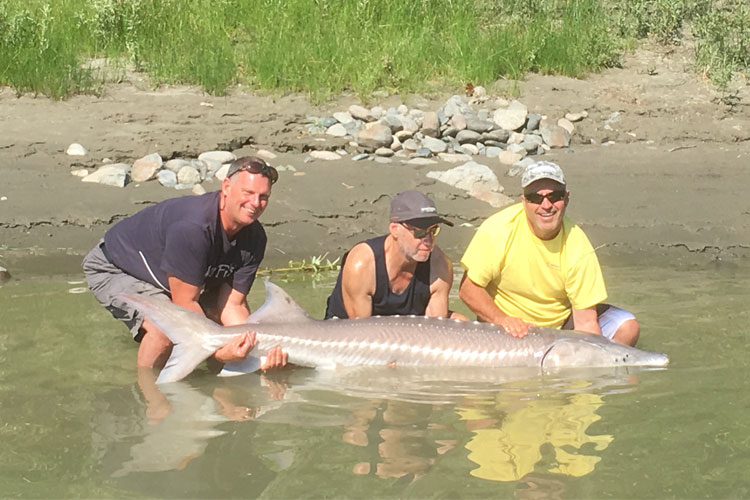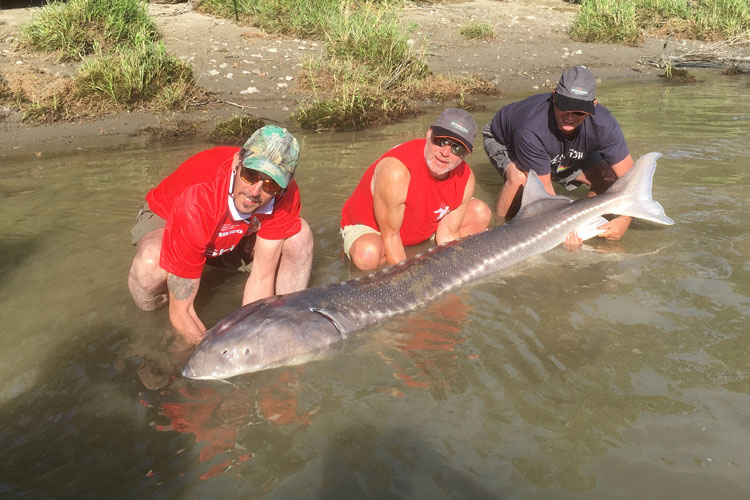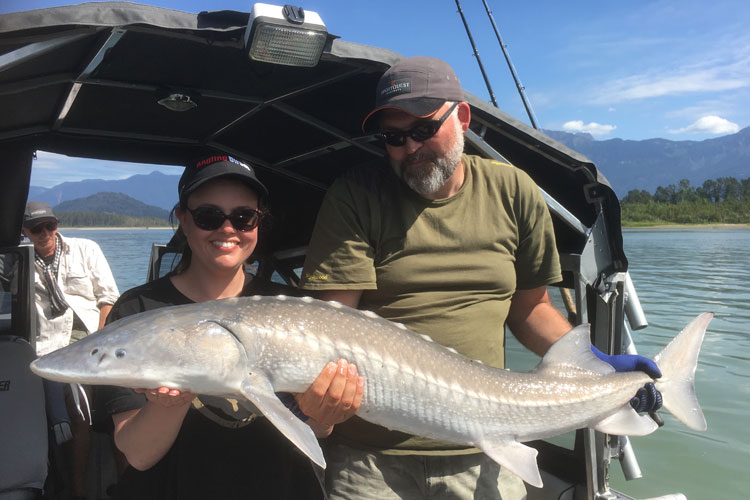 Well we were back at the hotel waiting for the other boat to arrive to see if Steve had done it. Sadly he never, which was such a shame. Well Steve, looks like your going to have to book another trip.
Well that was it, Saturday morning came and it was time to depart from what was another epic trip here in BC, it wasn't over though as there was a cabelas store down the road, there was no way the guys would of gone past without taking a look. All I can say is, you'll need 3 suitcases and all day to look around.
I would just like to take this opportunity to thank every one of the guests on this trip. You were all great and everyone got on well. I hope one day we meet again. Also a massive thanks to cascade fishing and there guides for a fantastic week yet again. Hope to see you guys again soon.
Tight lines
Mat.
Total number of sturgeon caught:
40
9 over 200lbs
14 over 100lbs
And the rest to were up to 100lbs
Thanks Mathew for your report and I am sure any freshwater course angler out there reading this will want in on some of this action, it truly is a mecca to any keen angler and something people really need to experience at least once in their life time.
To view the full holiday details CLICK HERE
Tight lines
Paul