MONSTER 300LB HALIBUT CAUGHT!!
The guests in Havoysund have had a truly amazing weeks fishing with lots of fish being caught including one complete monster of a halibut
Then the week was finished here in Havøysund, and what a week it has been, we have had a fantastic weather all week and not the sunshine for most of the week, but the winds have more or less been non-existent almost all week. We have enjoyed fantastic fishing and good atmosphere at the camp, it has been really fun to see some of the guests spend some time and energy on a few different species as usual.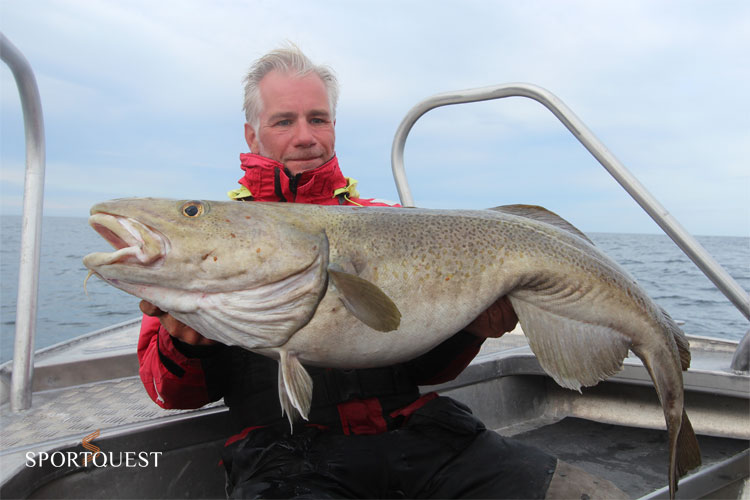 During Monday, I drove on a long trip again with the guide boat and a couple of boats to, as before, the forecasts showed magical weather and the conditions for the place we were going to be so pretty for most of the day. But this amazing place would turn out to be a disappointment when it was unfortunately not delivered and then after 8 hours of fishing us and boat 14 were left and the only fish that came up was a really nice fish of 140 centimeters (83lb est) in the other boat so we decided to change the area and then round the day with some cod fishing. When the halibut continued to shine with his absence, it was really advisable to put the boys on some fine cod in the way, and after fishing a nice spot of 85 metres we had a bunch of cods of 15 kilos, which was perfect to round off the day.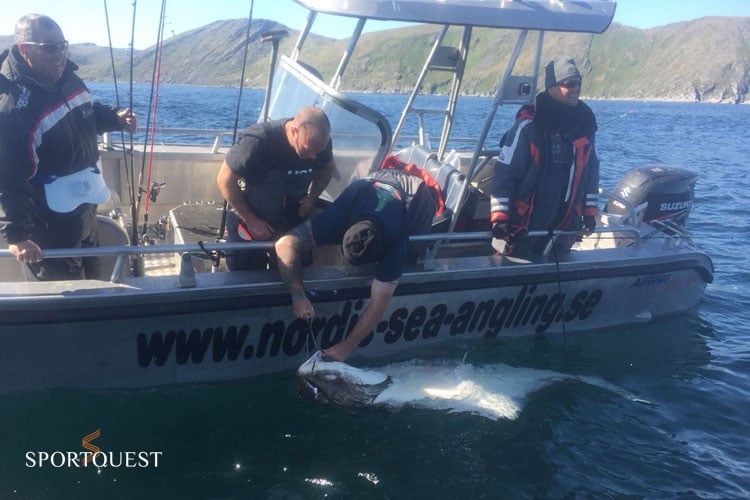 Tuesday was actually the windy day of the week, but still the winds were so low that there were no restrictions, so most of the boats chose to catch more cod. The fishing on the cod has been good but a bit hard, the currents have been really strong during the week and it has been difficult to see the cod on the echoes, fishing has been carried around tops and out on edges and plateaus where large shoals of grazing fish in the form of cod have remained, it is good to fish under the shoal near the bottom, the result has been countless 15+ cods with a peak of 19 kilos.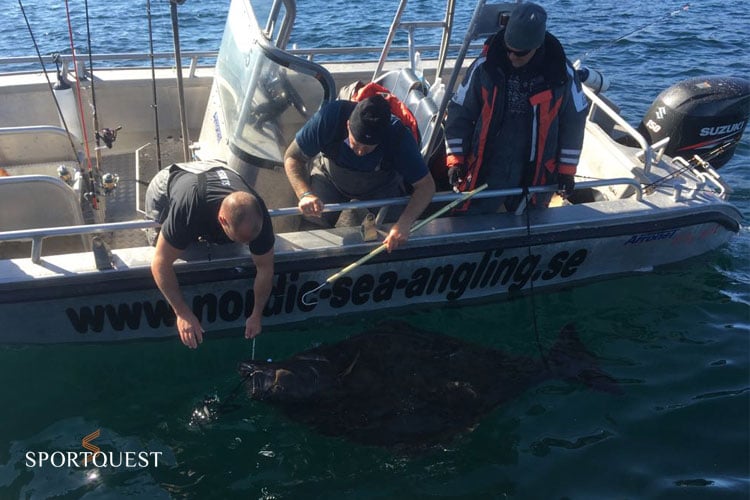 Wednesday would prove to be the day when our guests from England would get to know what it's like to meet a real monster, and since that boat already landed a halibut of 170cm(155lb) this week, it's no wonder that this was something magical. Our two boats with English have been browsing the week for several days in an area that delivered large fish for those 156cm and 170cm early in the week on the two boats during the first 2 days. Smart as they were, they returned to this place several times, and you only had to drive 30 minutes to this place from the camp, they left the last day there too, though it did not take more than 3-4 hours of fishing before they hooked into a fish that would make their former monster halibut look smaller. From the described sight, the boys immediately noticed that it was a really big fish because it was really heavy but like many other big fishes, it did not make much of a fight and it was landed after about 30 minutes of struggle. After a successful landing, measurement and plating, the fish then returned to the depths and we are very pleased that they managed to land this amazing fish at 210 centimeters (307lb est)!
Tight Lines // Douglas Dahlberg, Jörgen Zwilgmeyer, Ivan Swar
Cheers for the report guys, that halibut must have been an amazing sight beside the boat
Why not have a look at Havoysund and book yourself a trip chasing these monsters NOW
Tight Lines
Matt