Mountains Of Tackle
Mountains Of Tackle and as we all woke early this morning, I don't know about anyone else but I could barely sleep for the excitement, I felt like a kid on Christmas Eve! As today was the day we would make our final journey to Christmas Island, one of the most remote places on the planet! After three days of on and off travelling, we would finally be taking the 3 hour flight to the island. Everyone was up and about early too, so we grabbed some breakfast, a quick stop off at a starbucks for a coffee and we were on our way to the airport.
We arrived at the airpot with plenty of time to spare, and I'm glad we did now, as the mountain of fishing tackle we had to sort out, look after and check in was phenomenal! It seemed like we had enough tackle for 2 months, not just two weeks! It is all necessary though, as the fishing in Christmas island is so varried, and you can catch on so many diffrenent methods, you do need all the gear. We checked all the takle in, and knew that the next time we would see it, would be on arrival in Christmas Island! Everyone's excitement levels started to rise, at the thought of 13 fantastic fishing days ahead of us. Just three hours away were, Bonefish, Huge GT's, Bluefin Trevally, Tuna, Sailfish, Wahoo and Milksfish, all in abundance, and all ready to be targeted with our flies, lures and poppers.
Next time you hear from me I will be on the Island!
Tight Lines Pete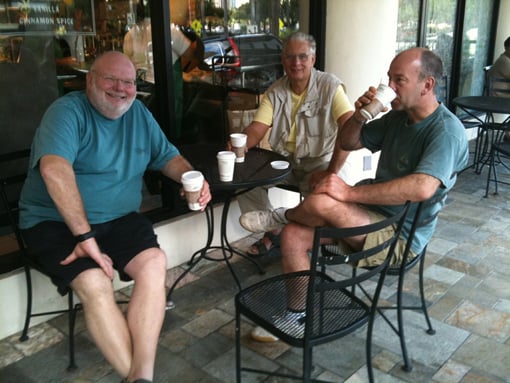 The Early Bird Catches The Worm! The Boys Up And About Early, Enjoying A Starbucks Before We Have To Leave For The Airport.
To see the full trip details of Christmas Island
Click Here