New hosted trip saltwater fly fishing Cuba
New hosted trip saltwater fly fishing Cuba, Mutton snappers on the fly, just one of the many species you can hope to catch on our hosted October/November in 2016 weeks.
Jack have been hosting fly fishing trips to Ana Maria / Jardines De la Reina, for the past 5 years and it is the great variety of species that can be caught, that makes this, his number one location in Cuba.
There are miles and miles of shallow flats, channels, lagoons and reefs, teeming with fish. The bonefish here, average 3 to 4lbs with 7 and 8lb specimens caught on nearly all the past hosted weeks. Tarpon in October / November are here in good numbers, on the flats, channels and in the mangroves, from 10lbs to 40lbs. There are also some bigger silver kings to 70 and 80lbs.
On Jack's 2014 hosted weeks everyone had excellent fly fishing for the tarpon with the best fish of the week, a superb specimen of 80lbs to Joe Cattle and a 50lb Tarpon to his fishing buddy Mark Ellwood. Two personal bests for two very happy regular customers.
On our 2014-week, our guides got us out early one morning to fish for the tarpon that were feeding on big shoals of sardines. Sport was hectic with all the anglers hooked up to tarpon of 20 to 30lbs, at the same time. Fantastic sport that lasted until the sun rose in the sky and the tarpon returned to deeper water.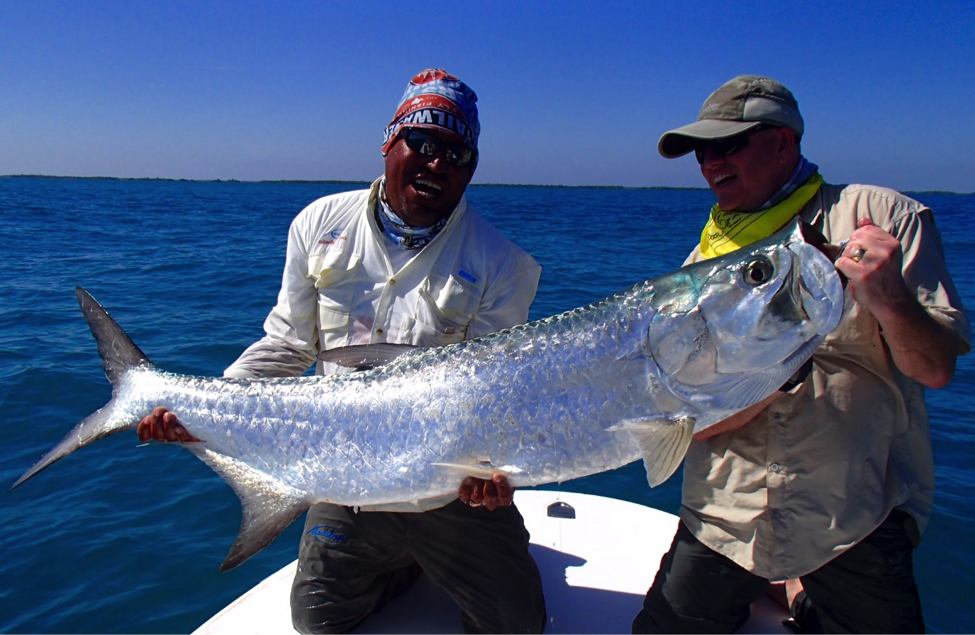 Joe cattle's superb 80lbs plus tarpon with his guide Bemba – a personal best for Joe and the biggest poon caught on the 2014 hosted weeks to Ana Maria.
Permit, the holy grail of the flats and the most challenging of flats fish to take on the fly. However they are also here in good numbers. Over the past 5 years, we have landed 6, with 5 grand slams a bonefish, tarpon and permit landed on the same day, on the fly. Permit here average 15 to 20lbs. They are never easy to catch but certainly the ultimate saltwater fly fishing challenge.
You may also want to try for a super slam – permit, tarpon, bonefish and snook.
Among the many other shallow water species that will give you superb sport are barracuda and jacks (jack crevalle and horse eye jacks) barracuda are plentiful on both the flats in the channels and on the reef. The average size is 15lbs, we have caught them to 35lbs. If you do decide to bring a spinning out fit there is great sport to be had with surface poppers and plugs on the flats and in the channels and on the reef. You could hook into a big cubbera snappers. We have landed several to 50lbs and lost a good many more that were much bigger.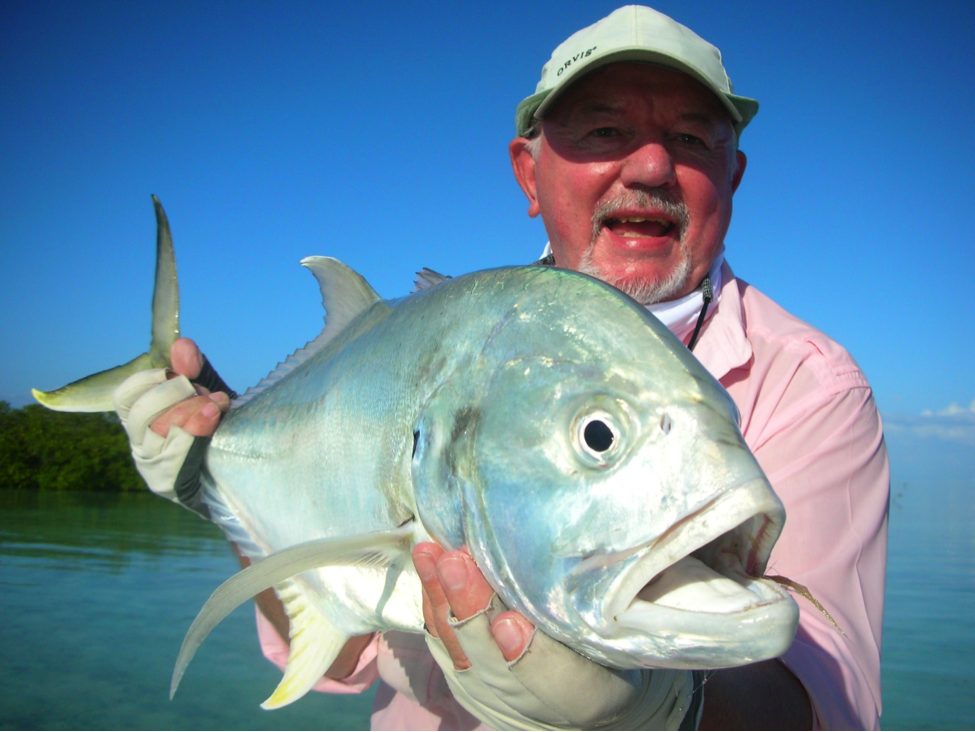 A nice horse eye jack of 15lbs on a bonefish fly and #8 weight took me 40 minutes to land. Certainly one of the strongest fish you can hook on the flats.
They are here in large numbers up to 30lbs plus- great sport on the fly or light spinning outfits.
October / November can also see big schools of bonito and skip jack tuna just out side the reef. They average 3 to 6lbs and can be caught on fly and small spinners and plugs. They often have large pelagic predators such as sailfish, wahoo, and sharks feeding on them. Last year a sailfish was hooked when it took the hooked tuna. It threw the hook when it tail walked down the side of our skiff. Exciting stuff!!! Go prepared and maybe you will be the first to hook and land one
Little wonder these hosted Ana Maria weeks have 80% of the anglers returning year after year. This is why we are booking these very popular weeks so far in advance, to make sure we get these prime weeks.
For 2016 we have reserved two, prime weeks with perfect tides and moon phases, on the live a board Halcon yacht with just 8 anglers, 4 guides and 4- 16ft dolphin skiffs. On a full board basis including packed lunch and drinks with 5 full days and 2 part days fishing (time depending on transfer times) each week.
This price excludes, international flights, which many clients like to book themselves. There are several flight options. We can of course book your flights for you
Spaces are already very limited so if you are interested contact us today, as ALL the spaces will be on a first come first served basis.
For the full details CLICK HERE or call Peter Collingsworth 01603 407596