Tips For Pacific Salmon Fly Fishing in Alaska
Fishing for Pacific Salmon has over the last few years become increasingly popular with British Anglers. With the sad demise of our own home Atlantic Salmon fishing, many anglers have decided to travel further abroad to get a bend in their rods. Customers travelling with us to these destinations for the first time never have high expectations, as after many years of hard fishing they have become conditioned into thinking that if they get a few fish it will be a great trip.
Imagine their surprise, when it's not uncommon to catch more Salmon in their first days fishing than they have in the last 3 years fishing at home. However, as we hear with the sceptics, Pacific Salmon do not fight. Oh, how wrong are they and anyone who has fished for all species of Salmon will know the truth. If you were to put all Salmon on fighting scale Atlantics only come third.
Clothing
Weather can be extremely diverse, summer weeks can vary from 70 -75 F to mid-50's F   in the same week. Never venture out without your waterproofs as a shower can catch you unawares. Layering is the best option, typically an under a vest or T-shirt followed by a windproof shirt topped off with fleece if it gets too warm just take off a layer.
As you will probably be in chest waders most of the days make sure you are comfortable by wearing a pair of "long johns" or similar followed by breaks and stockings or a pair of jogging bottoms, the water is always chilly. There is very little deep wading, knee-deep will be enough in most cases.
Please be aware that in Alaska felt-soled wading boots are not now permitted for fear of disease transference so the new "sticky soles" or velcro types are required. Some lodges do have loan equipment. A good quality wading jacket is essential, cap and polarised glasses complete the outfit.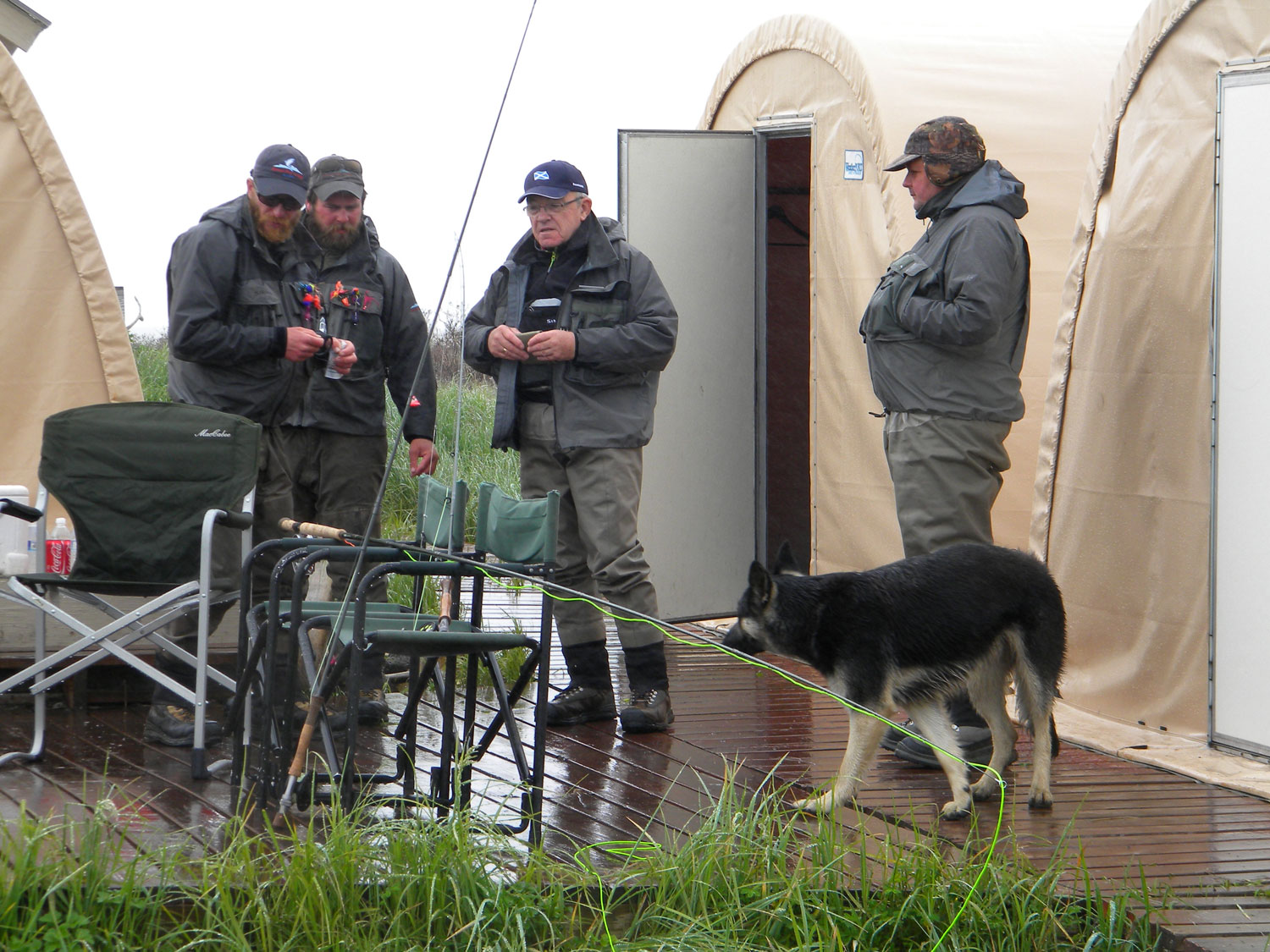 Customers dressed in layered clothing, not everyone wearing Simms jackets, in our view the best wading jackets in the world
Rods
Rods depends on what lodge and what rivers you are fishing as Salmon can be found in big rivers like the Skeena to small creeks. For small rivers/creeks single-handed rod is all that's required as casting is normally quite short, anything between 20 – 50 feet.
For Sockeye, Chum and Coho Salmon, a 9ft. 8 weight is perfect. King Salmon will require a more powerful rod to handle their incredible strength, so a 9ft. 10 weight is perfect. On larger and more powerful rivers you will need 13 to 15ft double-handed rods. These will not only help with longer casts but also allow you to control your line better and make life easier if you are having to fish with heavy sink tips.
For a break from the salmon fishing and if you have a chance to experience the fabulous dry fly fishing for big Grayling and wild Rainbows a 9ft. 5 weight fits the bill. As previously mentioned, some lodges can supply all or some of the equipment you will need, some charge, some don't so additional costs of equipment is not necessarily an issue.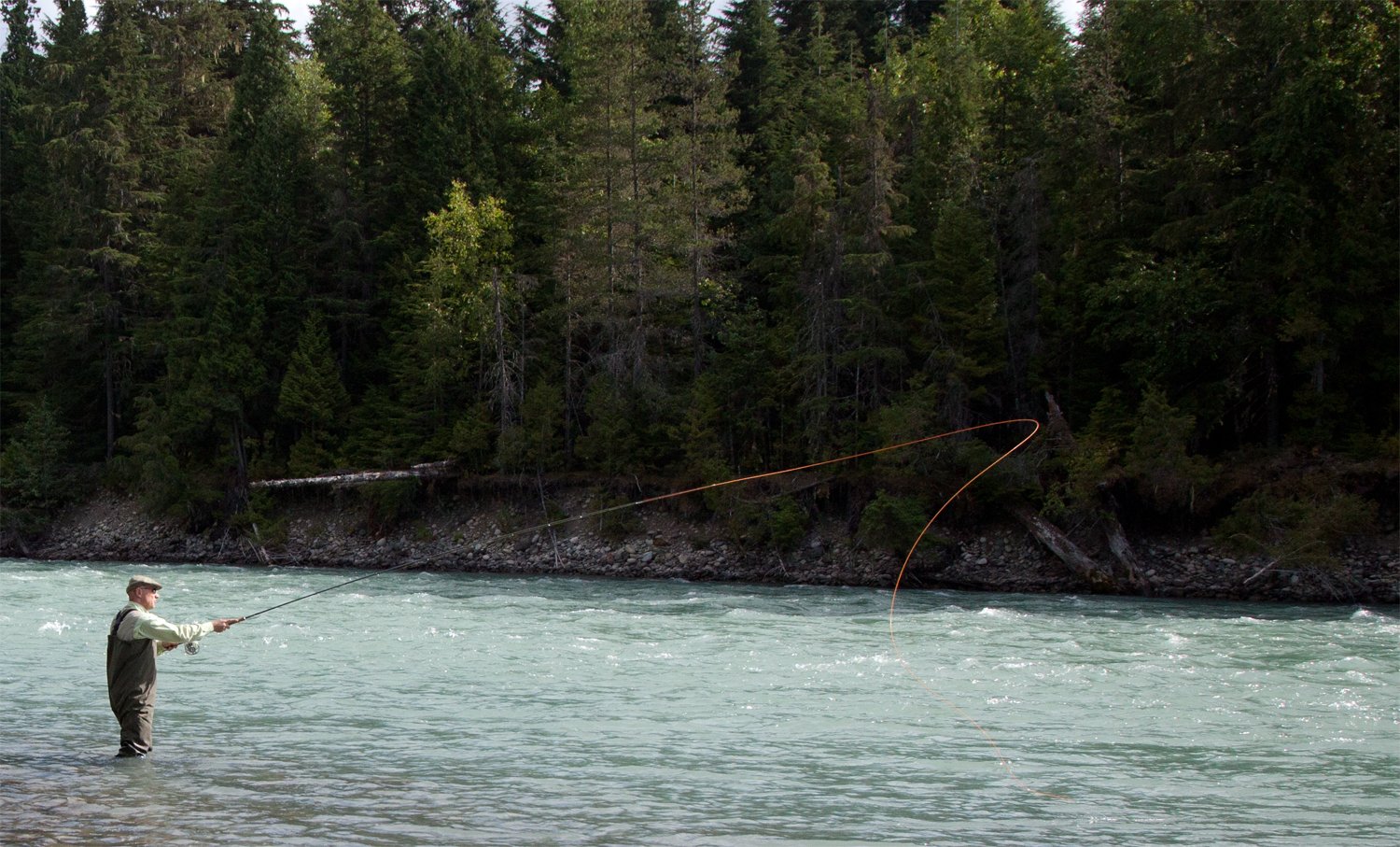 Peter Collingsworth Salmon Fishing British Columbia
Reels
Pacific Salmon fight incredibly hard and make long powerful runs so a reel with a reliable drag is essential, I have seen many inadequate reels with burnt out clutches after a couple of days fishing. Reels need to carry 150 -200 yards of 30lb. backing.
Lines
For single-handed rods, sink tip lines are the most versatile as they allow the fly to be kept in the slot of water being fished by mending the floating section the tip will not drag out from the desired zone. If a full sinking line is employed it cannot be amended once under the surface and is then at the mercy of the current and virtually impossible to control.
We favour the Teeny Mini-Tip, a short 5ft. heavy tip that gives great control, if fishing deeper runs for Kings a longer heavier tip is advantageous such as a Teeny 300 (300 gram. Head). Jim Teeny, Americas Pacific Salmon and Steelhead Guru designed these Teeny lines.
Jim's lines and flies (more of that later) are some of the biggest assets anyone could use in Alaska and Canada. With the sink tip variants leaders of 2 – 3 ft. are generally accepted as the norm. In some situations, a full floating line and longer leader is preferable especially for Sockeye and some Coho fishing.
For swinging flies with double-handed rods, shooting headlines are preferred as like above the running line and a floating section of the line gives you the chance to control the mend and both the depth and speed of the swing. Interchangeable tips allow you to also ensure that your flies are swinging through the zone. This is especially important if you are targeting Kings, for these fish do not like light and will always be very close to the bottom, therefore that's were your flies need to be.
Dependant on the river being fished you could be using anything from intermediate tips through to arm aching T20. Leader breaking strains vary but 12 -15 lb. or Sockeye, Chum and Coho and 15 – 20 lb. for Kings is recommended.
Flies
There are many fly patterns that will catch Pacific Salmon, colours that are most successful are pink, purple and black, other colour variations do of course work but the big colour is pink.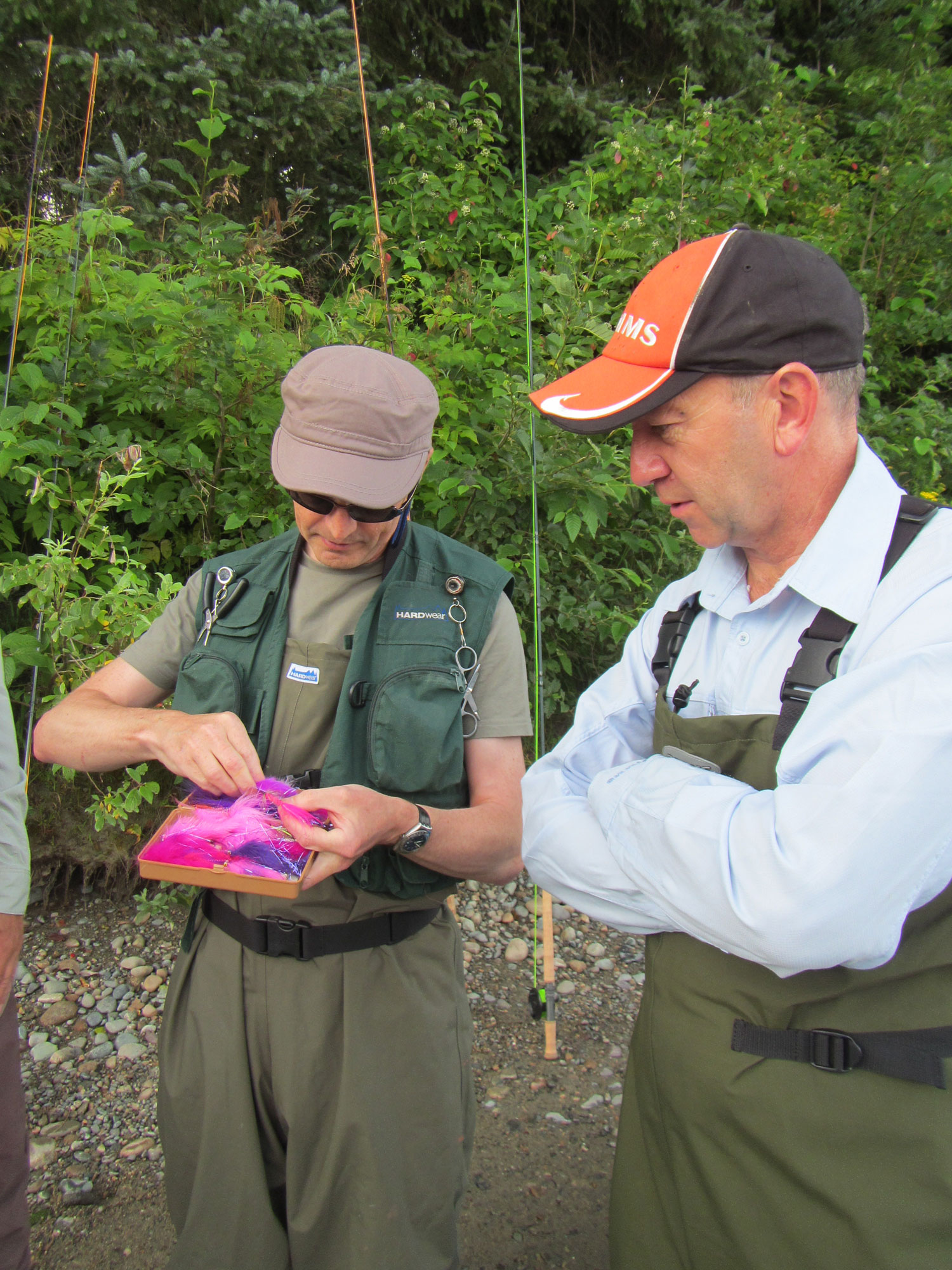 Customer choosing flies, there's lots of pink in that box
The Teeny nymph (pictured) for us is the most successful fly anyone could use in Alaska and indeed British Columbia for Steelhead. Most anglers will not have seen them, as they are not sold commercially, they are made from dyed Pheasant tail and will catch more Pacific Salmon than any other pattern, tied in tandem New Zealand style they are deadly. Sometimes a large flashy streamer is good for Kings but a Teeny nymph on the trail is always advisable, often the fish will be attracted to the streamer but will take the nymph.
The nymphs are tied on no2 and no.4 strong hooks, Tiemco T811 bonefish hooks have the dimensions required. There are a number of sites on the Internet showing how they are tied. They look innocuous but believe us they really work. Note it is important to make sure of the rules where you are fishing for some destinations do not allow tandem hooks if that is the case the large flashy streamers can be tied on bareback hooks which basically is just the straight shank of a hook.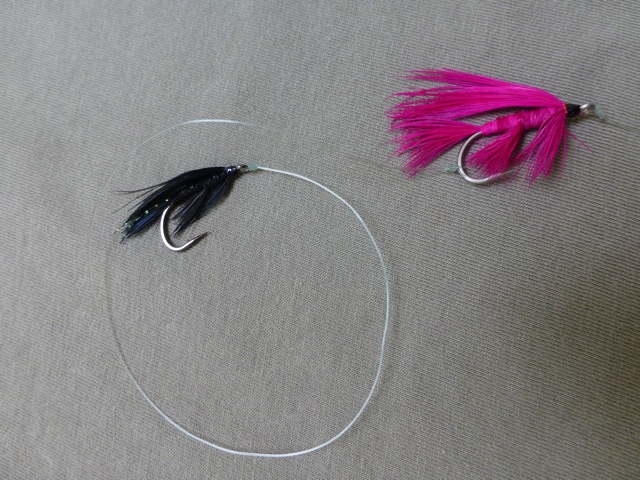 Two Teeny flies tied on a Tandem set up.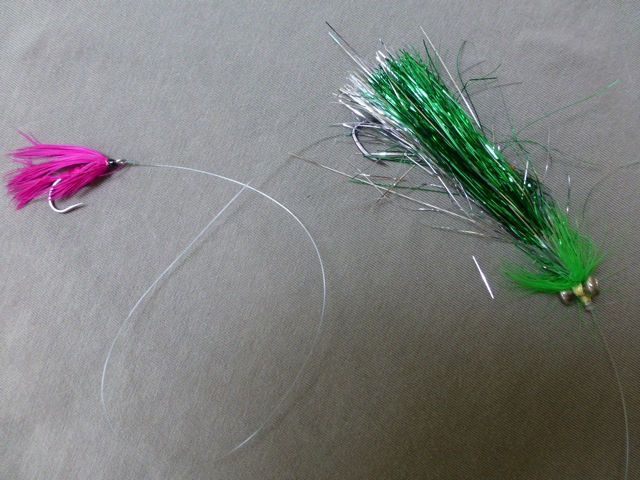 A pink Teeny tied straight of the bend of a streamer fly.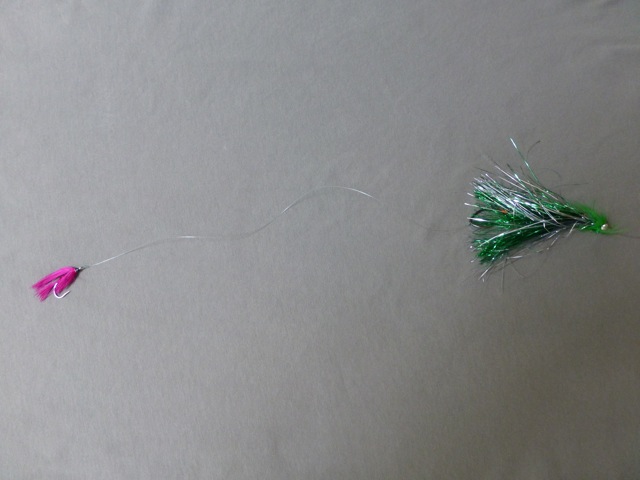 It is amazing how many fish get picked up by the Tandem fly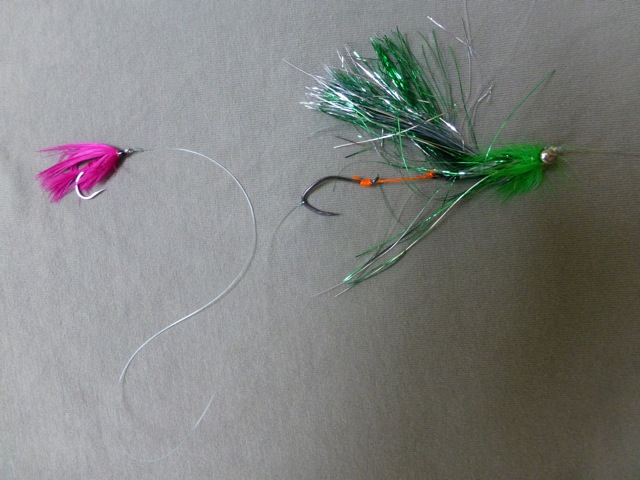 This is a killer method / set up for Kings and Chum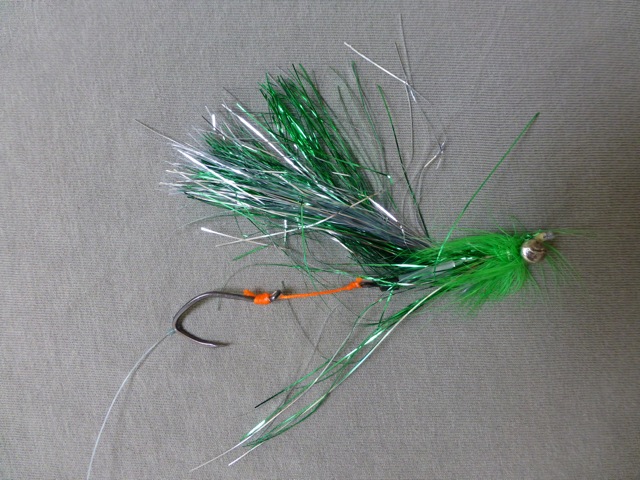 A close up showing how the tandem fly is tied on the bend of the hook.
After fishing in Alaska & Canada for nearly twenty years we have built up lots of experience and each year we also host escorted group trips to both Alaska and Canada. If you decide to visit or join us on one of our trips we can always customize them, as there is so much else to see and do. Fly to Brookes Falls and see the bears, catch the Alaskan railway to Seward and take a whale-watching cruise or try some Halibut fishing, view glaciers, pan for gold, the options are endless.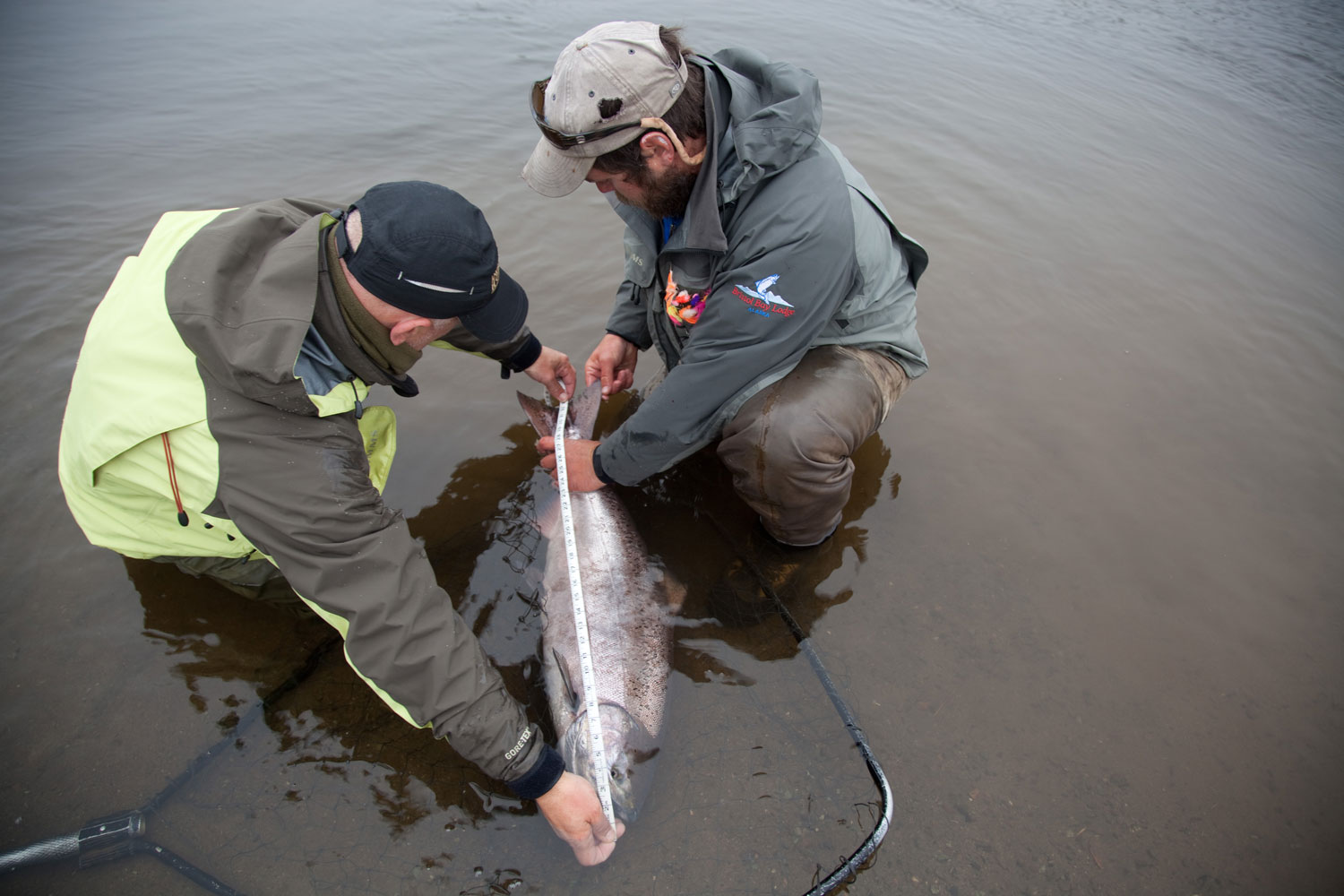 This is what it is all about, measuring a nice size fresh Chinook / King Salmon from Alaska
Our hosted trips are great for groups or single travellers as our host will be in contact with you all the way before you travel to ensure that you have everything you need for the trip. You travel out together, plus they are then on hand each day to ensure that you gain the most from your holiday.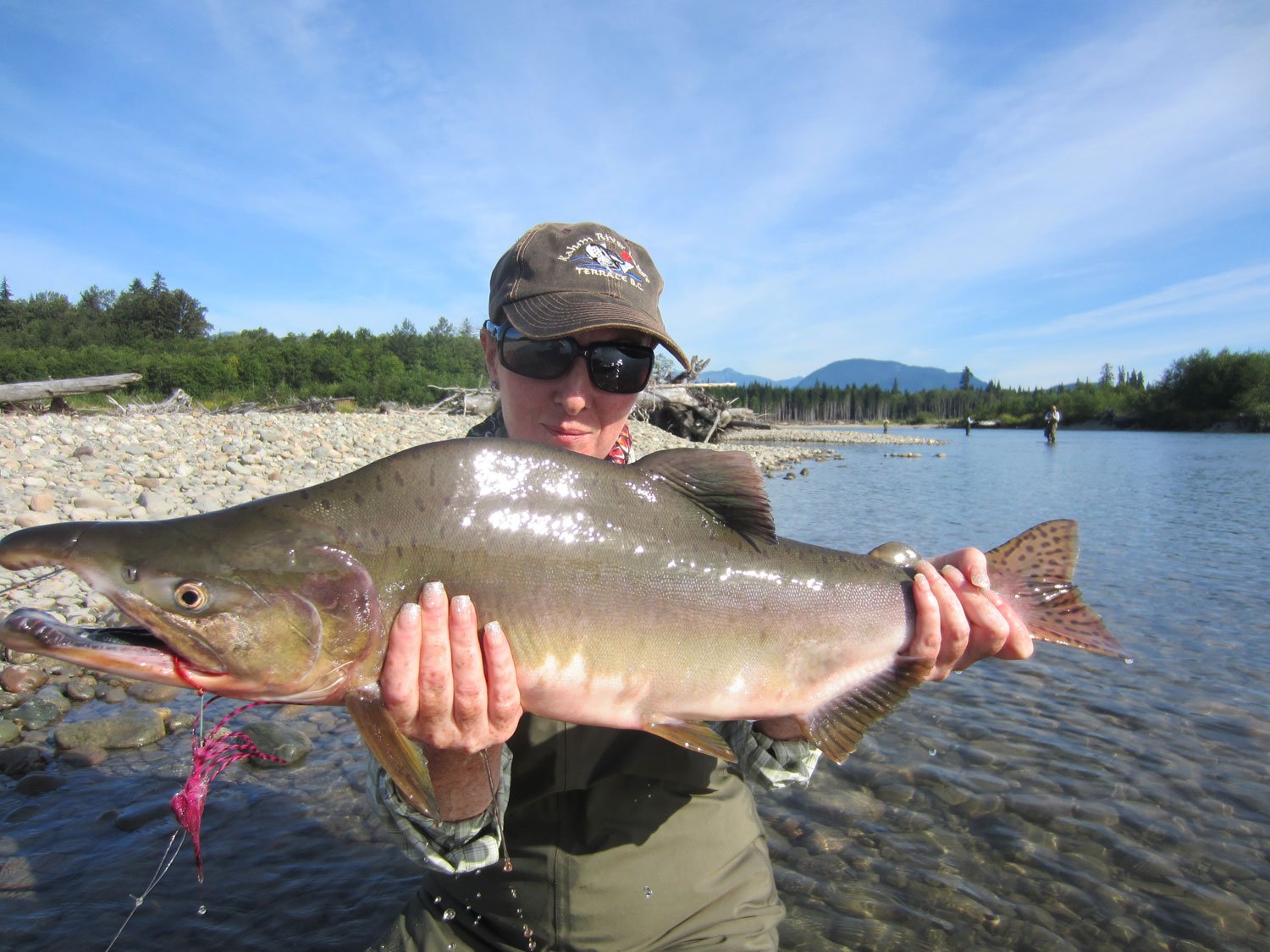 Tracey Buckenham with a large Pink Salmon, notice the pink salmon fly again in the mouth of the fish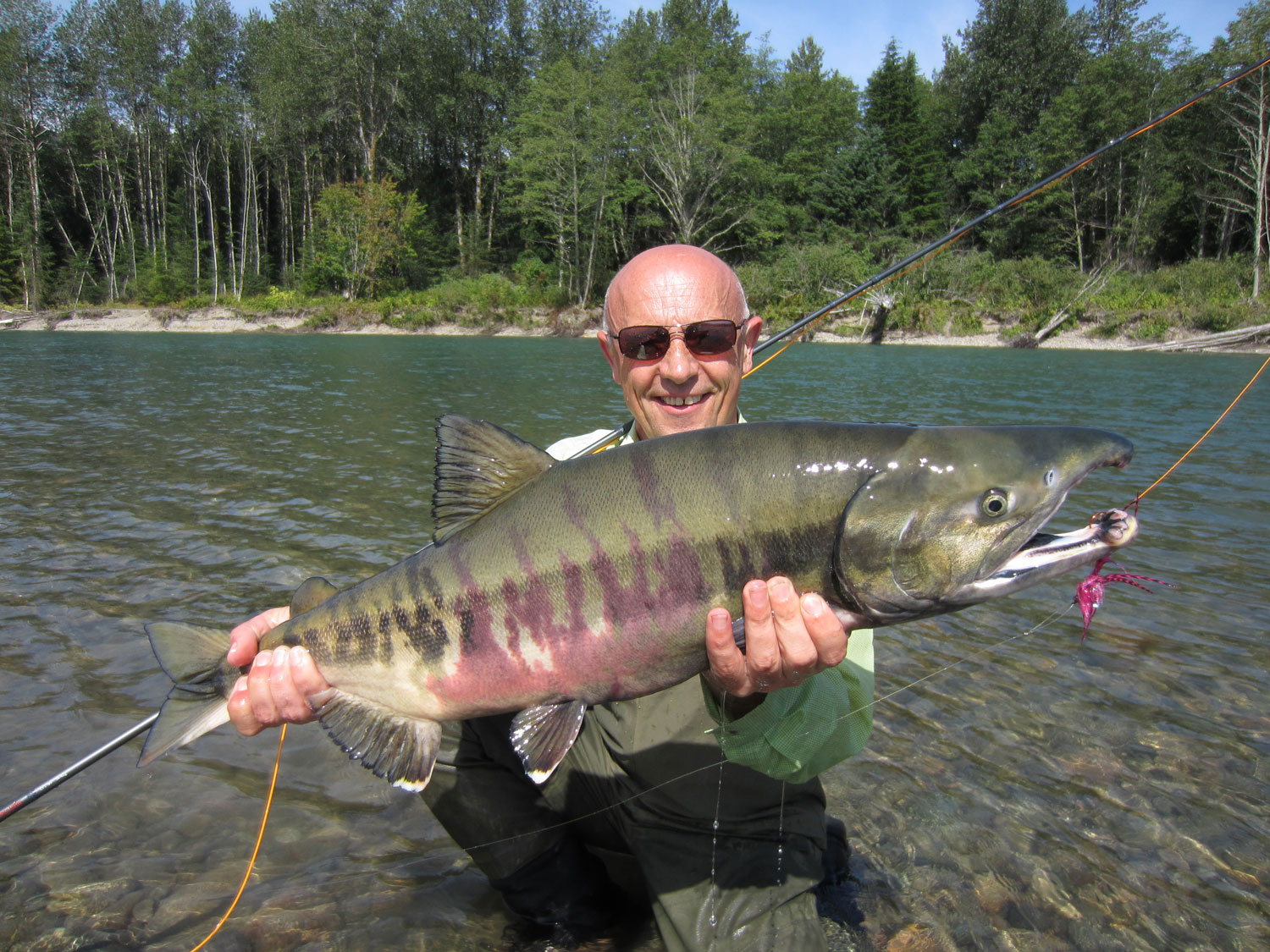 A striking Chum Salmon from British Columbia again on a pink fly.
If you have ever wanted to fish for Pacific Salmon then contact our team to discuss our hosted trips.