Paul's Fishing Report Norway Hosted Lofoten
Fishing Report Norway, after many cups of coffee and a couple of cans of Redbull, it was time to pick up two guys who were part of the group I would be hosting to Norway for the last trip of the year. I had arranged to meet them at a service station in Norwich at midnight as our flight was scheduled for 05:50am from Gatwick.
After a smooth run and car parked it was time to meet up with the rest of the group. Six of the guys had been on trips with me before and were all single anglers which just left two that I had not previously met, but felt like I knew them already after many phone calls between ourselves sorting out tackle recommendations and what to take.
With introductions done it was almost time to board our first flight and boy I was looking forward to hopefully getting at least an hour sleep on this first flight. Once we had boarded our flight and found our seats it was time to try and get my head down for a little while, the next thing I knew the alarm was sounding ready for landing….. great I had slept through the whole flight
We had a couple of hours between the two flights, which was spent at Oslo airport and with our stomachs rumbling we went in search of breakfast. Now if you have not been to Norway then let me tell you that it is expensive and the airport is even more expensive but what the hell the guys were on holiday. So with food and a drink ordered we all sat down chatting about the fishing to be expected during the week and by the look of their faces they were all very excited
Soon we found ourselves boarding our last flight to Harstad, northern Norway. This flight is just over an hour long so not much chance of a kip on this one plus I was next to Albert who could talk the hind legs of a donkey….. Bless him
Once we get to Harstad we had a coach waiting to take us the final leg. The transfer by coach was going to take 3.5hrs which may sound a long time but with the stunning scenery of this part of the World it soon flew by.
I personally have never been to this camp but heard great Fishing Report Norway from all that had visited, so I was very keen to see it for myself. It is a great place to go with a large group as they have a 10-bed cabin perfect for groups of guys. The cabin we had was so well thought out and had everything to make your stay very enjoyable, from dishwashers, washing machines and a huge fridge freezer.
With all the rooms allocated it was time to stick the kettle on and talk tackle. I find that people always have different ideas on what to bring but I always try and advise as much as I can before people leave and show them previous Fishing Report Norway so to make sure that people do not waste too much money on un needed tackle. So with all the lures and pirks set up ready for the following days fishing it was time to chill with a few beers and have a good chat with the guys.
The morning of the first days Fishing Report Norway is always a bit of a rush, as people are very keen to get out and normally forget things…. So hopefully with everything loaded on the boats it was time to head out to target the Halibut. I forget to mention that the wind was going to be against us for a few days with highs of 12m/s but with this camp there is nearly always somewhere to get out of the wind. So with this in mind we headed to an area called "The Glory Hole" which made all the guys on the boat chuckle…. Once at the Glory hole it was time to set the boat up for our first drift, some guys decided to fish bait and others decided lures. The wind was proving to be very difficult as with wind you get waves and these were throwing the boat all over the place and I was finding it hard to follow the contours of the bottom. If you have fished in rough conditions you will know what I mean and for my guys it was not pleasant as they all had to fish sitting down and could see on their faces that things were becoming difficult. After only about an hour I made a decision to change the plan and go for some Plaice in a near by sheltered bay, which proved to be a very popular decision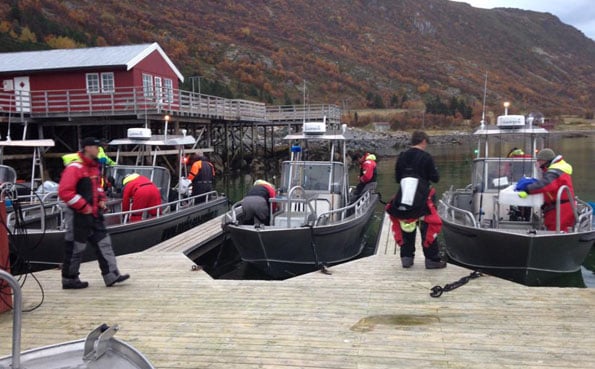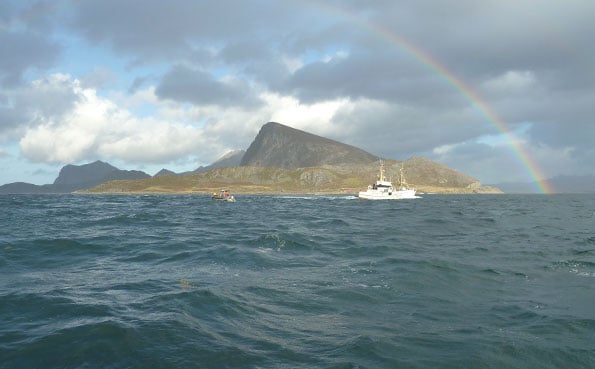 With some Sandy ground found it was time to change over to the lighter rods and fish with prawns in hope of some great Plaice and only after about 10minutes we had the first on the boat. This was a great start at around 4lb's the lucky angler was made up as he had tried catching Plaice before and failed. Then another bite and another, the guys were finally smiling as they were catching fish and out of the wind. We carried on fishing this bay catching many Plaice and a Scorpion fish, which the guys had never seen before.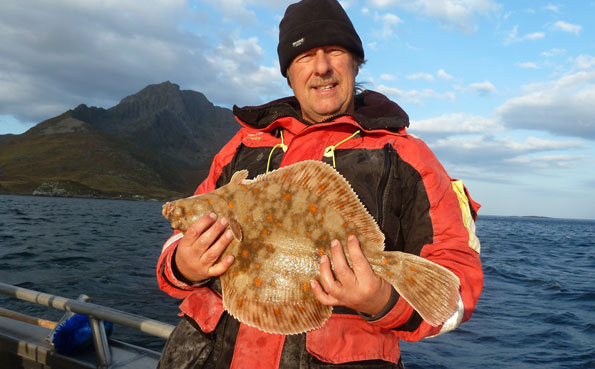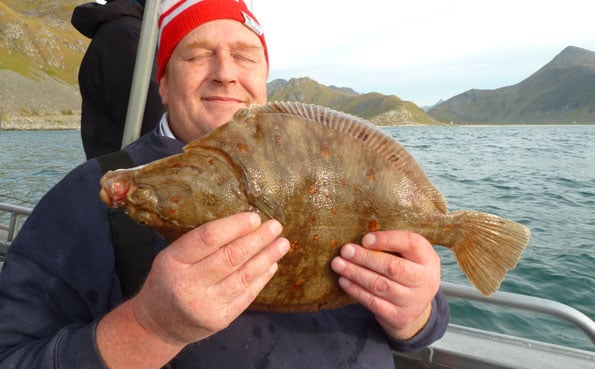 The day ticked by and at around 3pm the tides looked very good to try once more for the Halibut, so back to the Glory Hole for one more go. I positioned the boat well up tide of the hole and once we had all the tackle down we had just started to drift over the spot when Ben on the back of the boat hooked something that looked quite substantial. With the rod knocking it looked set to be a Halibut, but then all of a sudden it just came off… the look on Bens face was a look of total devastation. Ben had been with me before Halibut fishing and unfortunately had had no luck and I so wanted him to catch one this time, but as I said to him 'things happen that you just can not control'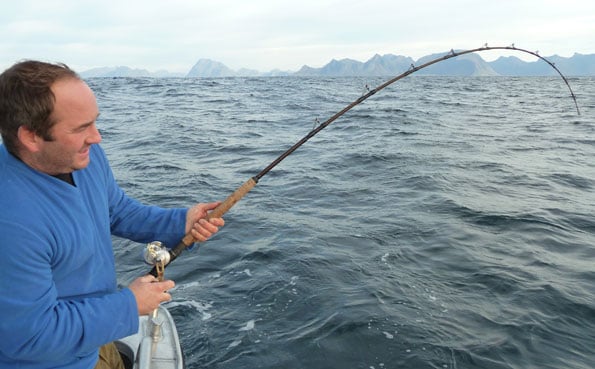 With the light fading I made a decision to head in for a well-deserved hot drink and some dry clothes. Tomorrow is another day!
Fishing day two of the Fishing Report Norway was soon upon us, and this time we were going to try and head a bit further out for some Cod and Coalfish as the guys were keen to catch a few fish. As we left the shelter of the Islands I could see the state of the sea and said to the guys 'Are you sure' and they all looked a bit disappointed so I thought it was worth a look. The waves were looking big but nothing these boats couldn't handle I just was worried about if the guys could handle it!!! We finally made it out to some Cod fishing grounds and it was time to get a few bites. Down went some heavy pirks and it wasn't long before Cod and coalfish started biting but I could see the guys struggling as we were getting knocked around a fair bit by the swell and the wind. We managed to stick it out for a couple of hours and then every one decided to go in for some more Plaice fishing, which suited me as controlling the boat was becoming very tricky as you really do not want the braid rapping round the prop out there…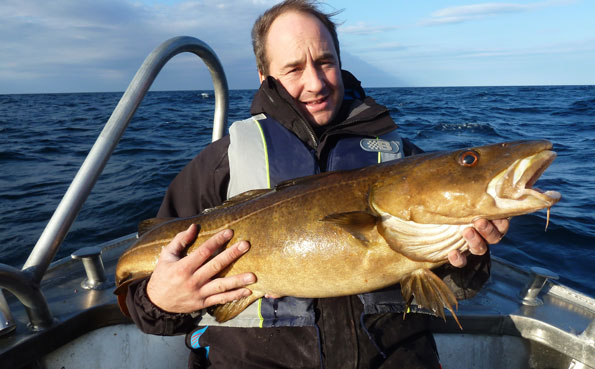 I studied the fishing charts and found another great looking bay to try for some more Plaice. After a very bumpy and wet ride back we found shelter once more in a lovely looking bay. After a quick look around I had located a great looking area that just had to hold a few flat fish and it did not take long before the first plaice was boated. This time going to Andrei and it was a good one taking the scales round to just under 5lb and a personal best for him, I was made up for him and after pictures taken the fish got to go on with its life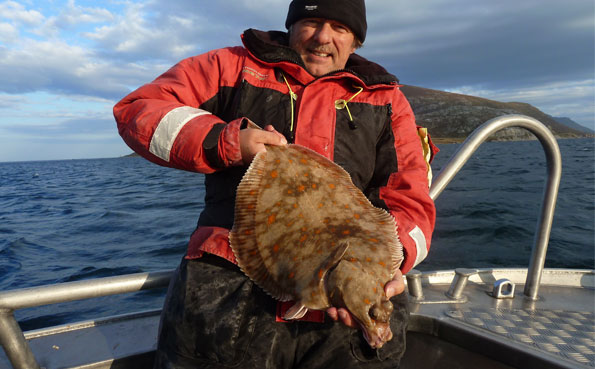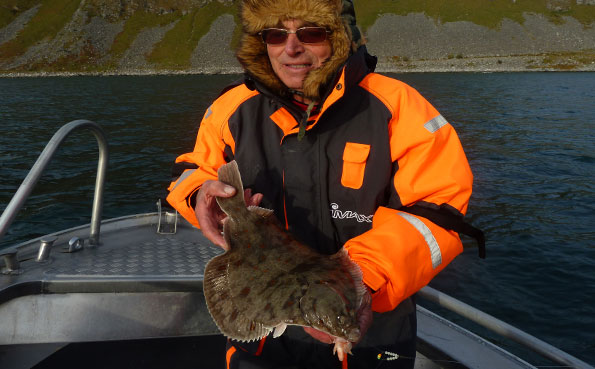 The guys had taken a real beating today and all decided to head in a little early to warm up and have an early tea. The drive back was pretty bad as we were now going against the wind and waves and if you have ever experienced this then you will know how much water gets blown in your face….. After a very bumpy hour steam back the guys were not looking too happy but were glad to be back at the camp to warm up and get some dry clothes on
As the alarms sounded for fishing day 3 of the Fishing Report Norway every one was up bright and early for what was going to be mainly a Halibut fishing day. With a quick chat to the other guides on camp we made a plan to make our way round to an area that has in the past produced some quality Halibut, not necessarily lots of them but size was what we were hoping for. The wind had died down a little now which made the journey to the new mark fairly easy for all concerned and after about 45minutes steaming we were looking at a massive bay surrounded by some fantastic mountains with many Sea Eagles flying above them, it just looked so fishy.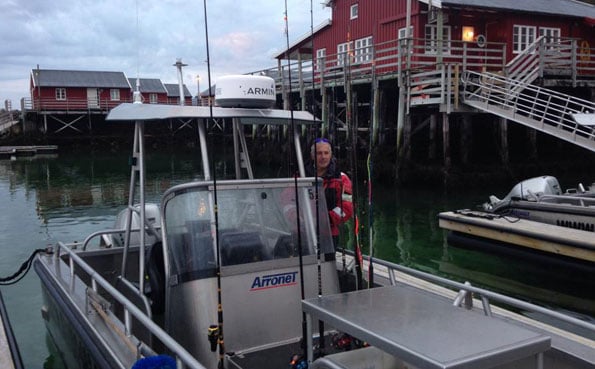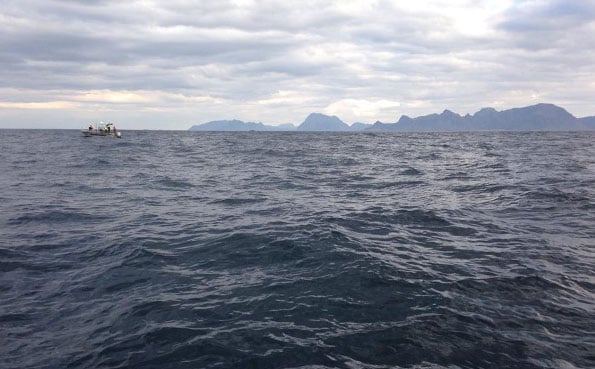 The first drift I had planned was perfect and we covered the ground very well but no bites…. We were trolling baits at the perfect speed but nothing at home I guess. I repositioned the boat for a different drift this time in slightly shallower water hoping the Halibut were feeding on the huge shoals of Coalfish that were present and after 5 minutes one of the rods screamed off and it was Bens rod again, I have never seen him move so quickly but I said to him wait 7 seconds then hit it as we were fishing big baits today around 4lb coalfish. The 7 seconds seemed like a life time and then finally he struck the fish it was on, then after about 20 seconds it was off….. oh dear Ben it just isn't your lucky week. I felt so sorry for him as he so wanted to catch one but it just wasn't meant to be.
The tide had gone now so we made a group decision to try off shore for some Cod. The sea still had a good swell on it but no white tips on them today so the journey out there was much more comfortable for all of us. Once at the grounds we were straight in to Cod with the odd coalfish thrown in for fun. Every one was now very happy as they were catching fish after fish and you should have seen some of the sholas we drifted over. After around 3 hours of catching fish along with moving a couple of times the guys were looking exhausted so as the tides looked good for Plaice fishing I made a suggestion that we head in but try for some Plaice on the way back. Every body agreed and off we set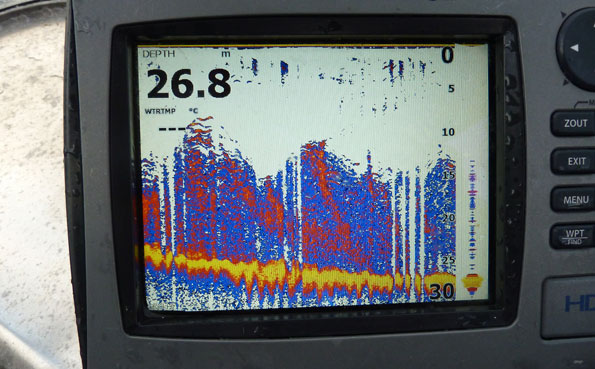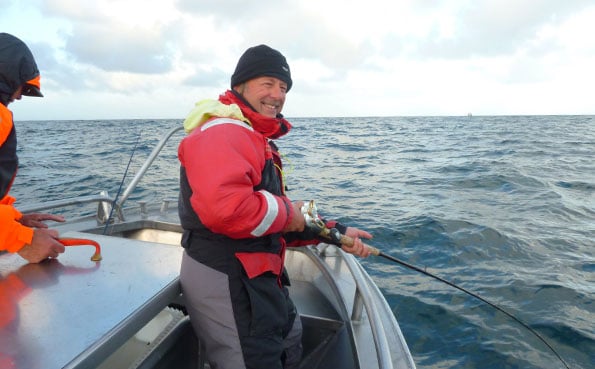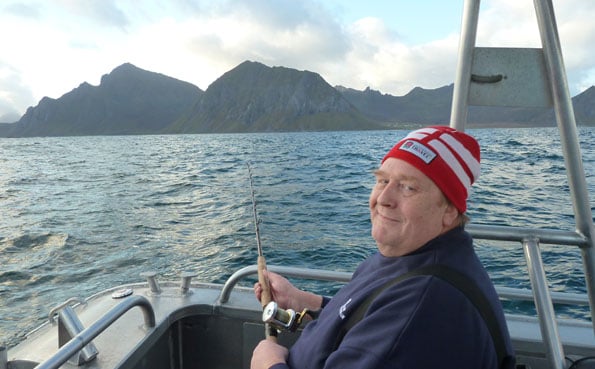 We found our selves back at the original bay we had first fished for the Plaice and it was looking stunning, flat calm like a mirror, perfect sunshine and lots of little fish topping. Back to the same area as the first day and we were straight in to Plaice and dabs, the guys loved it and such a perfect way to end a day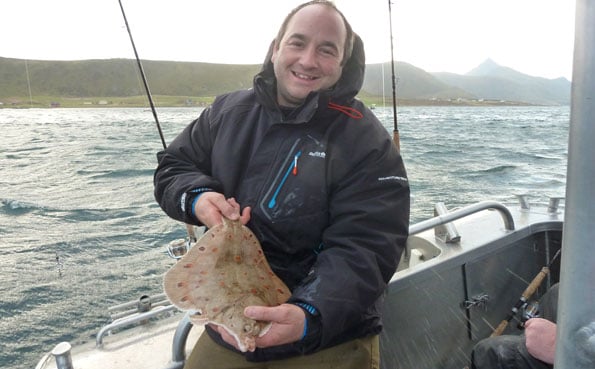 The weather forecast for fishing day 4 of this great Fishing Report Norway looked so much better and the guys were keen to get amongst some of the bigger cod and the chance of maybe a Halibut, so the guides and I hatched a plan to head out to an area known as the 'Cut' which was a deep gauge and held some big cod and sometimes the odd Halibut. I suggested to the guys to fish bait again today as the big Cod loved this over shads or pirks. So out went some pretty big Coalfish as bait and we set about trolling with the tide, we didn't have to wait long and it was John's rod, which screamed off first. I gently reminded him wait, wait then hit it and it was on. Was it a Halibut or big Cod, by the looks of the rod it was going to be a big Cod and then it hit the surface a very healthy looking plump cod around 40lb's wow what a start. Photos done and fish returned, a new bait was attached and back down to the depths it went. Next take was Ben, I thought to myself please be a Halibut, but from the off I could see the fight was completely different to a Halibut fight. After a short struggle Ben had boated what we call a shit fish…. A Bromse and it was a big one around 20lb, so unlucky Ben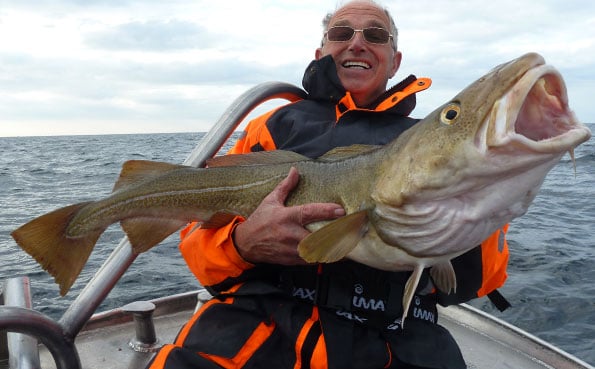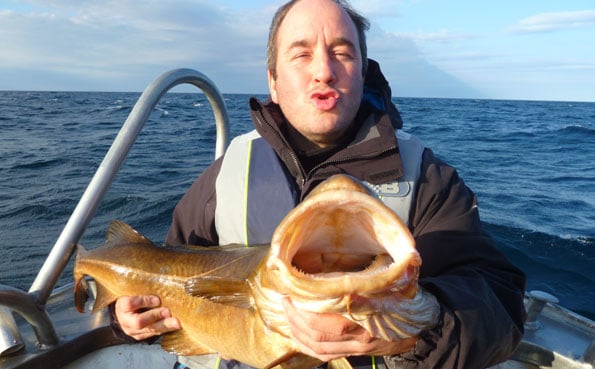 We spent the rest of the day fishing and catching Cod but still unfortunately the Halibut have not shown up, will it happen?
At around 5pm the guys looked tired and we made a decision to head in for some lovely food and a few beers. Tonight was flat calm so I was able to show these fantastic boats off to the guys and they loved it. The boats are some of the best boats I drive in Norway and can move from mark to mark in seconds as they are pushed along by 135hp engines. So with the boats set for the journey home it wasn't going to take long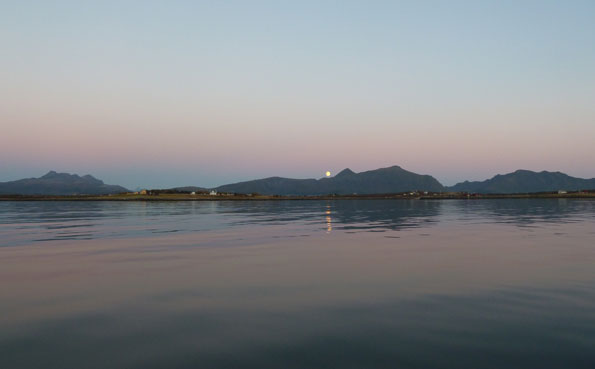 They guys decided to have a bit of a lay in for fishing day 5 of my Fishing Report Norway and wanted to head out at around 9am. I had a few things to do today before going out so I got up at normal time and made sure all things were prepped for the day ahead. Boats fuelled and gear all sorted I was down on the boat ready at 8:30am, it wasn't long before the guys were making their way down to me and off we went. As before we were going to try for Halibut first as the tides were spot on for the flat fish. We managed to get our selves some lovely bait today and set about trolling for the Halibut, this time two guys decided to use shads whilst the others bait fished.
After trying a few marks with no success I was starting to think the Halibut had not moved in from deep water and this was confirmed when I later spoke to a commercial fisherman who had done very well fishing for Halibut in 300mtrs of water. The reason why I put this trip on at this time of year is the fact that this time last year they had awesome Halibut fishing with double figure amounts of Halibut being caught per day and some very big ones, but and here is the but, this time last year it was minus14 with heavy snow and this year it was 10 – 15 degrees with bright sunshine and the Halibut just hadn't moved in to the shallower water yet…. I know that sounds like an excuse but that is the only reason I can think and the other guides all agreed with me, that's fishing!!!!
With the Halibut fishing slowly starting to drag on people I made a call to go again for the Cod as at least they were catching and seemed happy with that. After speaking to the other guide over the radio we were heading out to yet another good Cod mark to catch the guys some fish. Once we arrived the guys were all keen and almost had their tackle in the water before I had cut the engine. The cod seemed hungry today and it wasn't long before every rod was bent over the boat and once again the guys were happy even Colin managed a smile…. Colin has been on many of my trips and is a lovely guy and just loves catching fish of any size and was over the moon with the Cod fishing as I could see him getting bored with the Halibut fishing so it was nice to see him smiling again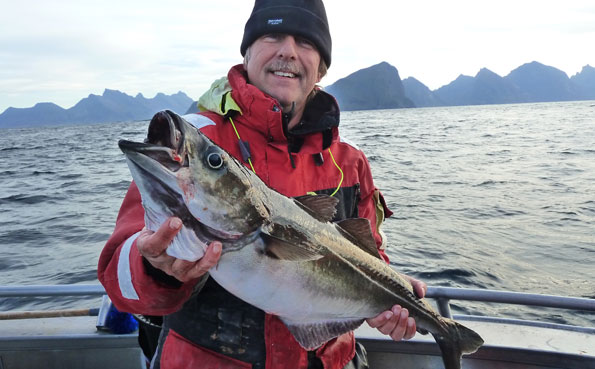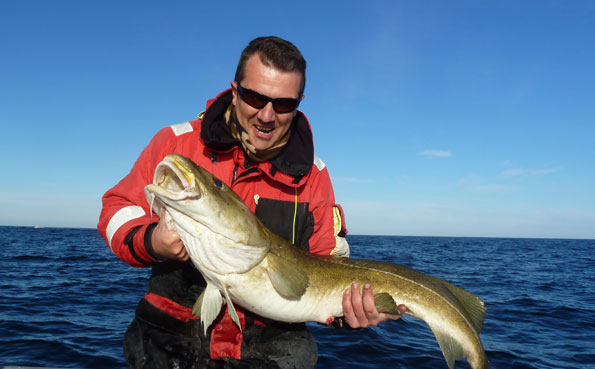 As we were fishing away I looked over to Andrei and he was struggling with what looked like a huge fish, it is hard to gage the size of a fish on someone else's rod but what ever he had was looking big. After about 20minutes of playing his fish, up popped a big Cod and unfortunately it was hooked in the belly. So now I could understand why it took him so long as the tide was pulling hard and he was bringing this fish up side ways… never mind Andrei still a good fish at just under 40lb's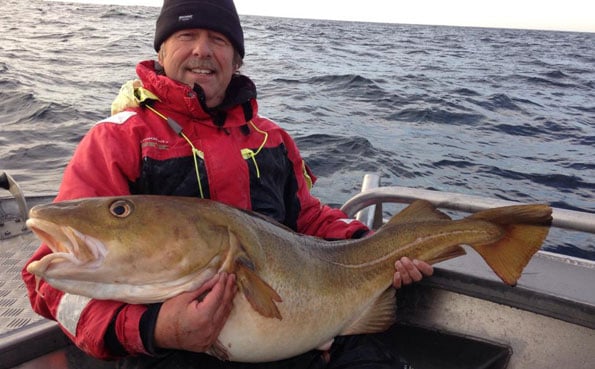 After what seemed like a thousand Cod the guys had had enough and wanted to go in so with a quick call to the other boat we were all in an agreement to head in for a well deserved rest, good fishing guys
So with the last fishing day looming what would the guys want to target? I had asked the question and with mixed remarks it was decided that we try quickly for Halibut then when the tide changed we would go for the Cod again then if we had time try for the Plaice on the way back in. With fresh bait caught we tried, for the last time, a drift through the Glory Hole, but it just seemed wrong as the wind had gone completely today and the drift was rubbish, I tried pumping the engine but they just were not fishing correctly, so you guessed it cod fishing time. Out we went to where we had caught well from yesterday. The Cod and Coalfish seemed like they were everywhere today and we couldn't do anything wrong, I even managed to get in on the action taking cod to 40lb's. We had an excellent last day with great banter over the radio and some stunning views, can life get any better????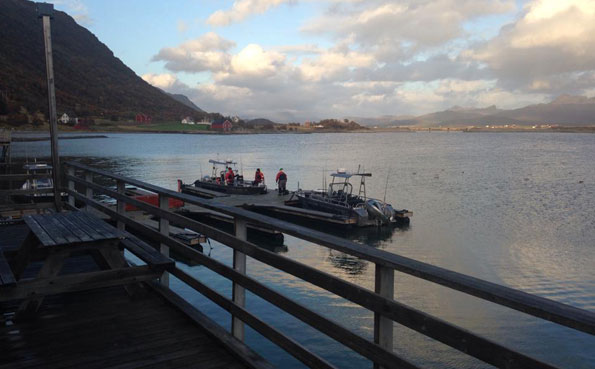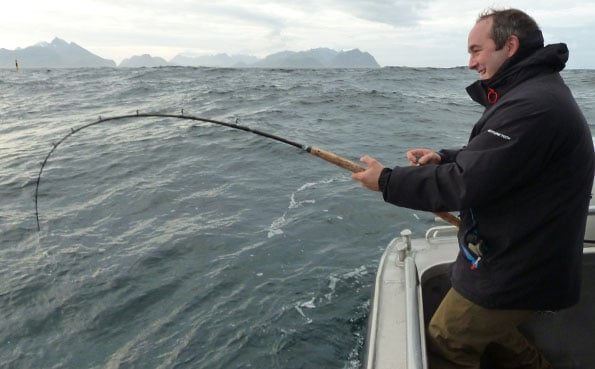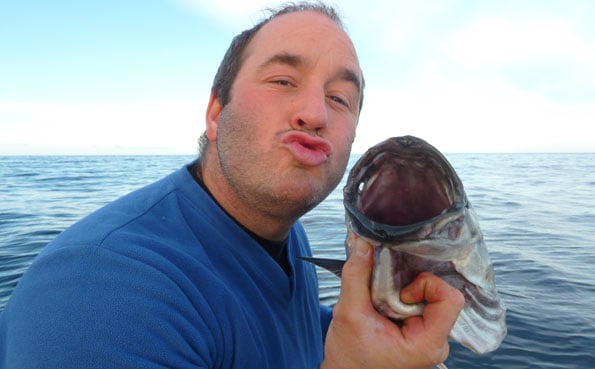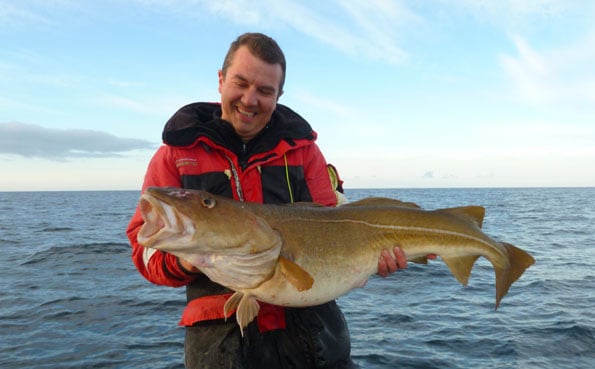 At around 4pm after one more cast we all made a decision to head in to clean the boats and pack for the journey home the following day
With boats cleaned and gear packed we all sat down for one last meal together and a few beers chatting and laughing about the week. All in all, it was a great week with some great company and I would like to just say a massive thanks to the group that attended this trip and look forward to hosting you guys again in the future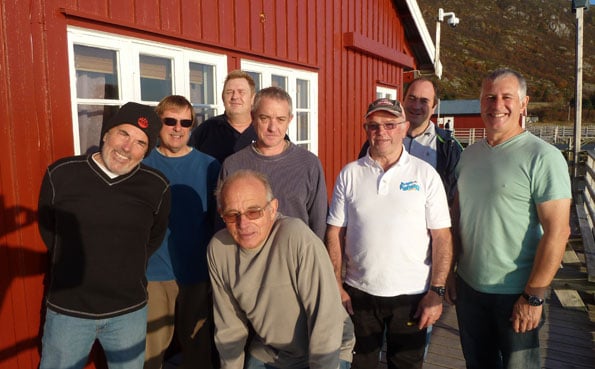 I hope you have enjoyed reading my report and that is it for me in Norway for 2014 my next trip is March 2015 to the home of the World record Cod, which is Soroya. So until then tight lines every one
To view this fully hosted trip Click Here
All the best
Paul