Tips on Popper Fishing For Giant Trevally
When somebody says they just want to go fishing and get punished by a fish that is both extremely big and strong, the one fish that pops into my head is the Gangster of the ocean, the Giant Trevally. One of the most fun ways to catch these big tough and hard fighting fish is by using poppers on the surface. The popper is an effective and proven lure which moves water by forcing it out of the way of its shaped nose causing lots of disturbance on the surface.
Poppers are designed to simulate any sort of distressed creature that might be struggling on the surface of the water. Catching Giant Trevally on poppers is becoming more and more popular due to the GT's aggressive nature which in turn creates some amazing surface takes. Used by fly and conventional anglers alike, this pattern has not failed fishermen since its creation around a century ago. This method only works at certain times and like many pelagic species of fish you need perfect conditions like tide run to get them to come to the surface. The best time for this is on the larger making tides up to the moons and even then only while the tide is running.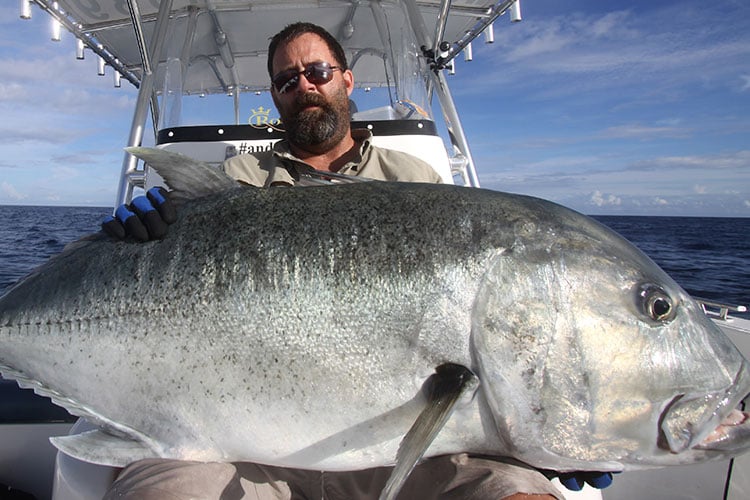 By working the poppers around outcrops and underwater peaks you should soon start to see fish follow and hopefully it will not be long until the fish smashes your lure, my suggestion would be to use big poppers and a heavy-duty spinning outfit with a good retrieval rate.  Once you have found a few fish willing to follow I would strongly suggest you work that area for a while and you should soon start to hook into fish. Only the other the best and strongest tackle available to use is a must.
Reels with a drag of 30kg, teamed up with PE8-10 braid, 150lb mono trace and the toughest split rings and swivels of at least 150kg breaking strength. Any attempts with lesser tackle and weaker components is not advisable. Just imagine hooking an absolute beast of a fish that behaves like a steam train, not stopping for anybody or anything and the line suddenly goes slack all because you did not have tackle that was up to the job… how devastated would you be… I think the answer here is very!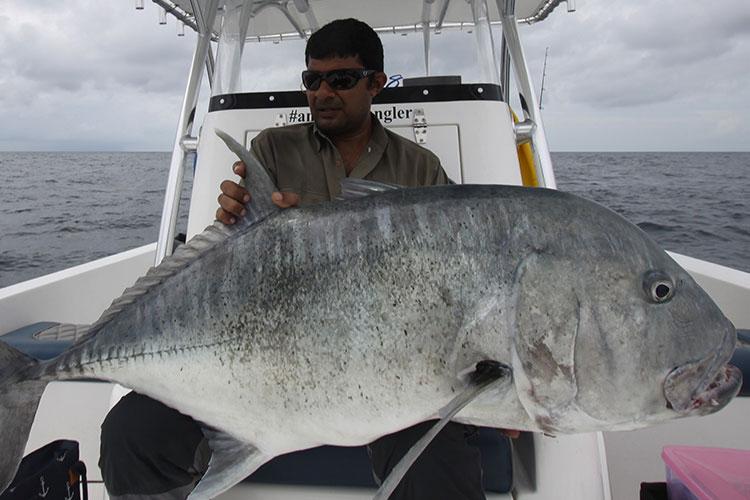 The best way to describe this style of fishing is extreme!! Popper fishing will give you the most physical workout both to the angler and his tackle, when a bow wave builds up behind the popper and then it disappears in a massive swirl. The next moment a huge angry Giant Trevally nearly pulls you off your feet and this feeling is something that you will never forget. All you have to do now is land this monster fish that you have hooked.
Hopefully, by following the advice given in this blog you will be able to not only fish for the Giant Trevally using popper tactics but also land the fish that you have always wanted to catch.
Tight lines,
Matt