Our guys in Belize at the world famous El Pescador Resort have just sent us the most up to date report and by the looks of things the fishing has been great with huge Permit showing regularly.
This resort is one of our favourites in Belize as it will suit the whole family so if you have been looking for that special place where you would feel comfortable to take the whole family then look no further than El Pescador Resort in Belize. We can tailor your itinerary to what ever you wish so if you would only get away with a couple of days fishing and then spending the rest of the time with your family, we can make it happen.
If you would like us to look at putting something together for you then call us on 01603 407596 and we can recommend some special dates.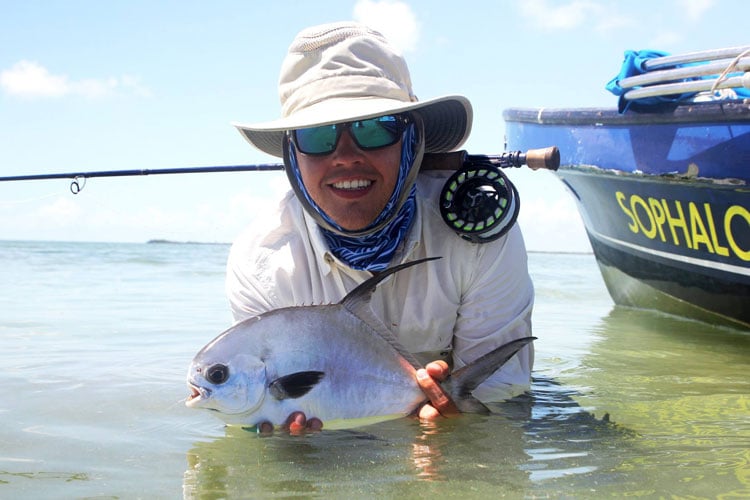 FISHING REPORT:  November 13th – November 19th, 2016
Weather: Partly cloudy most of the week with some off and on rain showers
Winds: The same 5-15mph out of North switching to NE each day and swinging to full east some afternoons
Air Temps: 82 to 86 degrees with lows between 68 and 79 degrees
Water Temperature: 80 º F.
Barometer: 1012-1019 mbar
Moon phase: The super full moon was on November 14th   It was spectacular rising over the reef!
Sunrise: 5:49 am   Sunset: 5:22 pm
Bonefish (Macabi): Some big numbers were landed this week with at least 3 boats topping 20 bonefish to the hand. The biggest of the week was 4 pounds. Many were landed by DIY anglers in the back lagoon!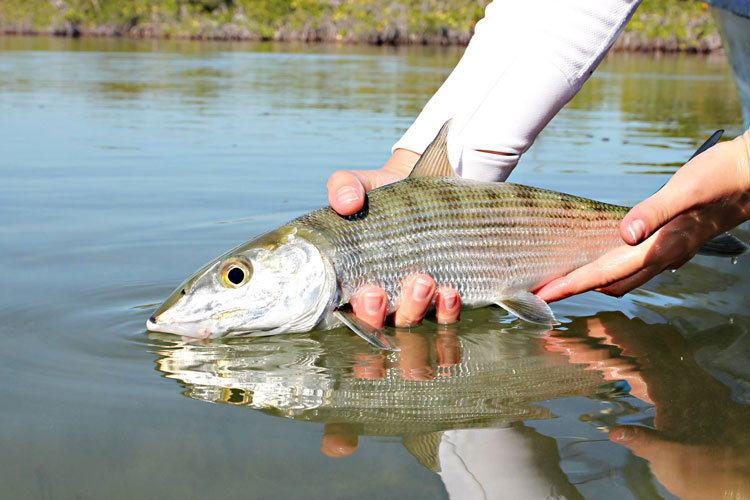 Permit (Palometta): Permit are still relatively happy to eat with more than a dozen landed this week. The star of this was the permit duo of Joe and Mary with 6 permit between the 2 of them. Mary's largest topped the week at 20 pounds, she couldn't lift it!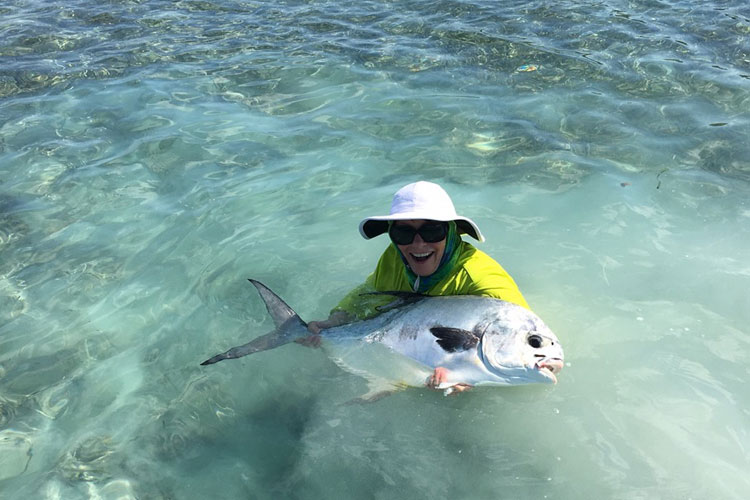 Adam and Daniel added permit notches on their belt, Patrick was thrilled with his permit, Ryan got a permit as part of his "soft" super slam, and Dan 2 landed a beauty mid-week.
Tarpon (Sabalo): Mac got a tarpon off the dock!! Dante got a nice fish on a last minute trip on his departure day. As he was not scheduled to leave here until 2 pm, he fished from 6 am to 1 pm, landed the tarpon, took a shower and headed out with a bagged lunch for the planein his pack! Jeremy had a 4 jump encounter with a large tarpon that will be forever etched in his brain (I clearly remember the first tarpon I jumped 20 years ago)
Other Species: Snook, Cudas, Snappers, Grunts, King Mackerel (outside the reef one day)
Grand Slam: Congratulations to Ryan who over the course of the week landed a permit, tarpon, bonefish and snook. Even though it was not all in one day, it is still noteworthy!
Bonefish: Christmas Island Special, Gotcha, many variations of Crazy Charlies
Permit: Bauer crab, brown, Christmas Island Special, mantis shrimp
Tarpon: Black Death, Peanut butter, White bunny
Week Summary: An average weather week here, but we had good action for permit and bonefish. The big super moon was pretty special as well as it was very large and very bright. Now we will get ready for the Thanksgiving crowd!
To view this amazing, stunning resort in Belize Click Here
Until next time, tight lines
Paul Stevens