Wow what a week it was for Phil Barker's hosted week at Bristol Bay Lodge.
All members of the twelve strong group had amazing catches with Fergus McMullen"s group of four catching 102 fish in just ONE day at Birch camp including Dolly Varden to 9lb.
It was John Morris's first ever time  fishing and he started his week with a 28lb King, not bad for his first ever fish!
3 days later he and his dad Mike caught 52 Kings on Togiac River for the day , a new record for the river.
There were huge numbers of big Chum Salmon caught from the confluence at Rainbo camp and Ron, Race, Richard and John were credited with over 60 for their visit as well as Sockeye and Kings all to the fly.
Phil and Ken had good numbers of fish with Kings to 30lb big Sockeyes, Chum and Dolly Varden to 8lb.
In total we have no idea how many Salmon were caught but it would be in the many many hundreds for the week. On top of this the amazing Dolly Varden, Rainbow Trout and Grayling its no wonder why people love these hosted weeks.
We are looking forward to next year already with places already sold it could be another large group.
There are already ONLY a few rods left on both our hosted weeks for 2016, so if you would like to join us and enjoy real full on Salmon action please call today 01603 407596 to reserve your place.
Regards Peter Collingsworth
If you would like to see the full trip details CLICK HERE
Below is just a few of the many pictures we have received so far, we are still awaiting on over 50 % of the groups pictures but at least this gives you a real teaser of what you are missing.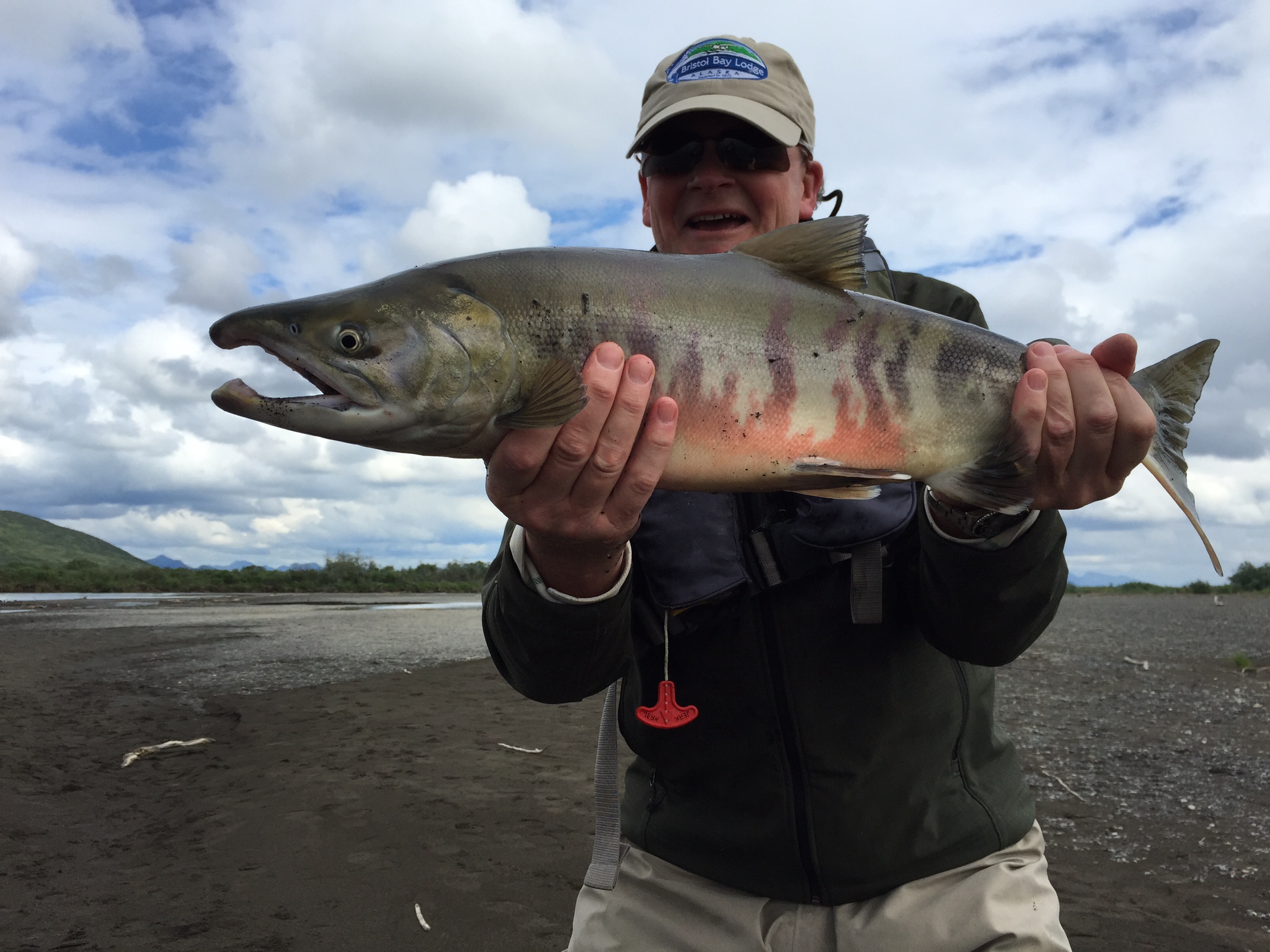 These Chum Salmon have stunning markings and fight so much harder than people realise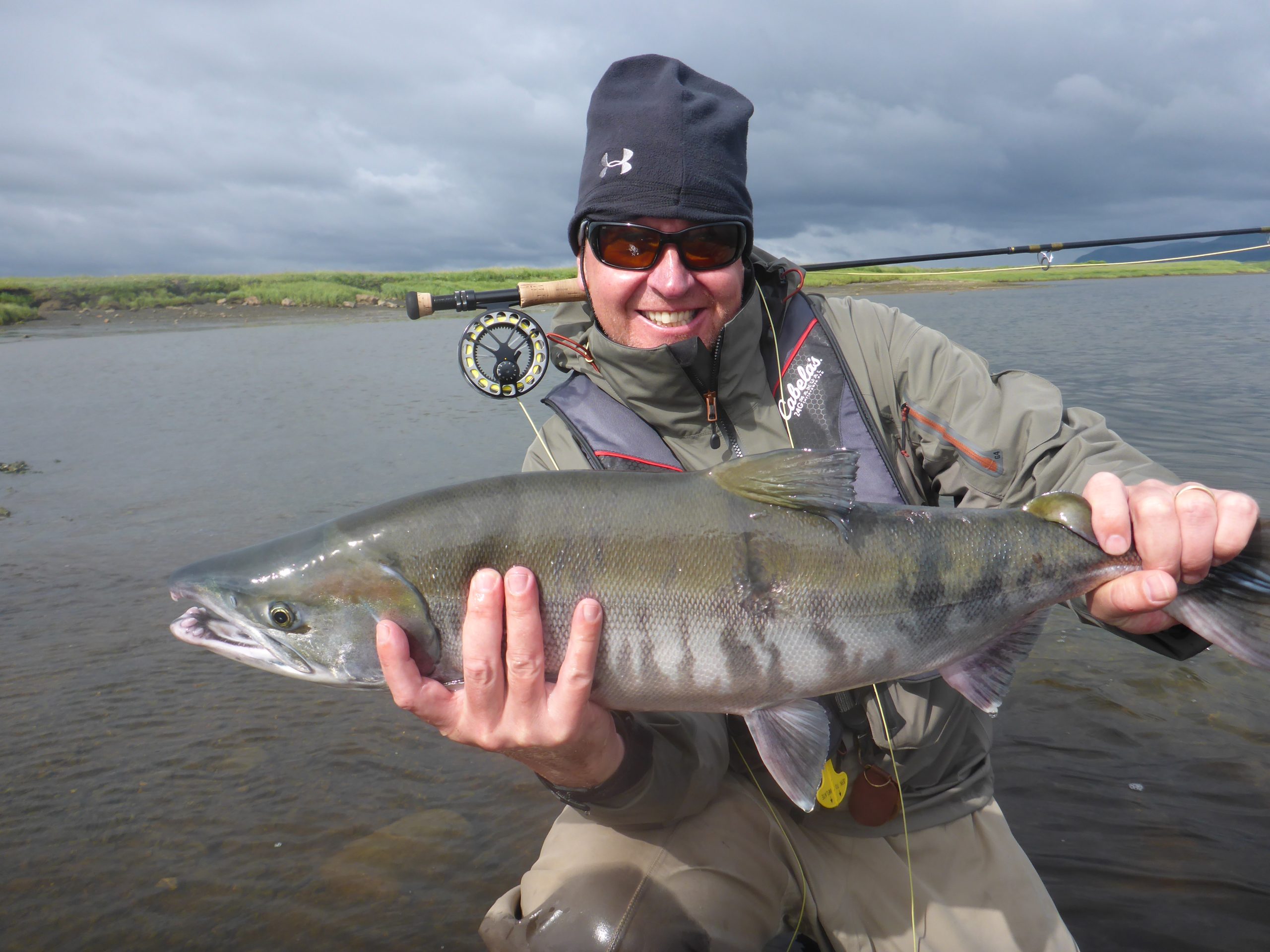 The smiles tell the whole story another hard fishing Chum
Group picture with a nice fresh Chinook / King Salmon, well done everyone.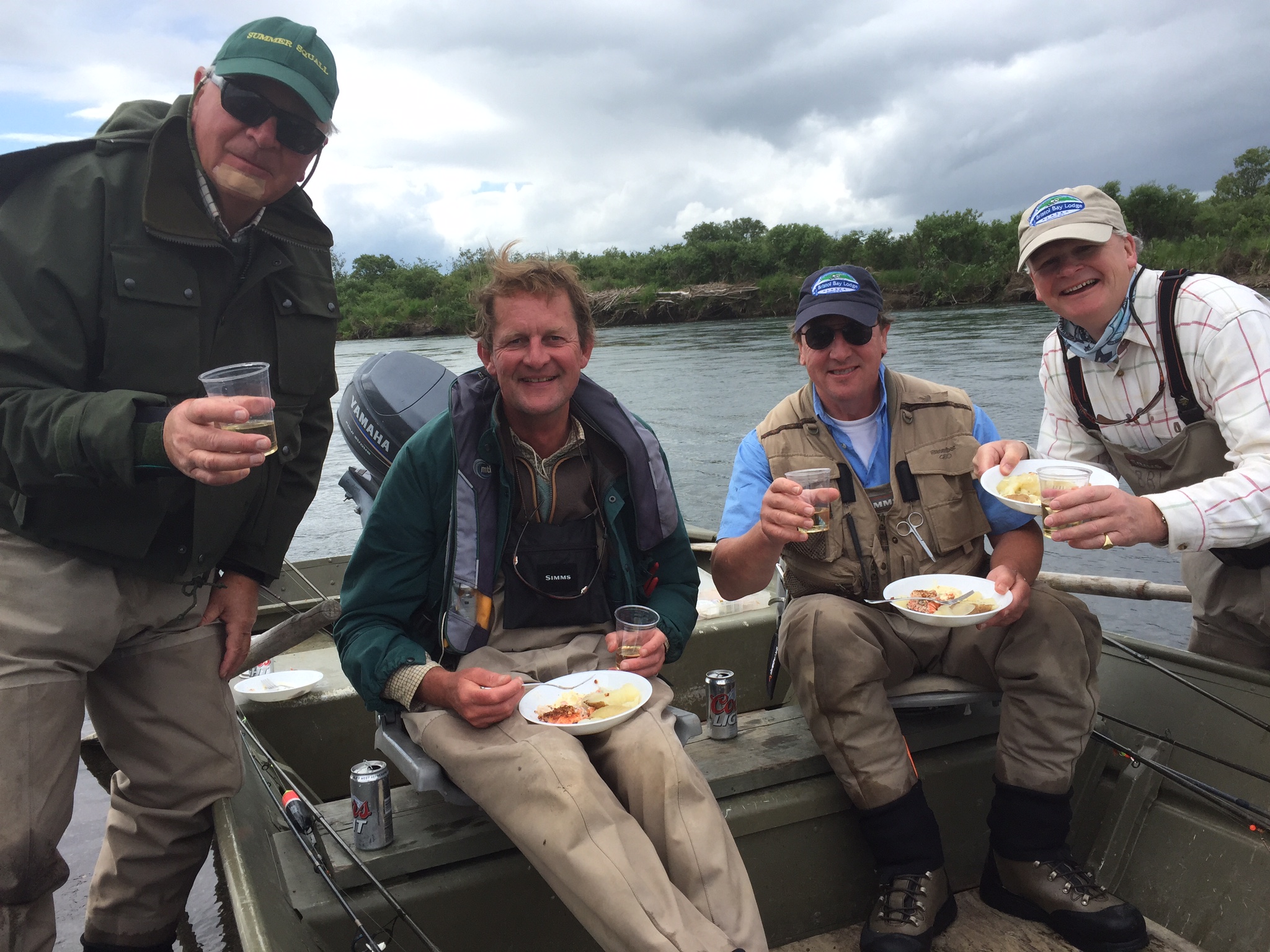 Happy fishermen enjoying a shore lunch fly fishing bristol Bay Alaska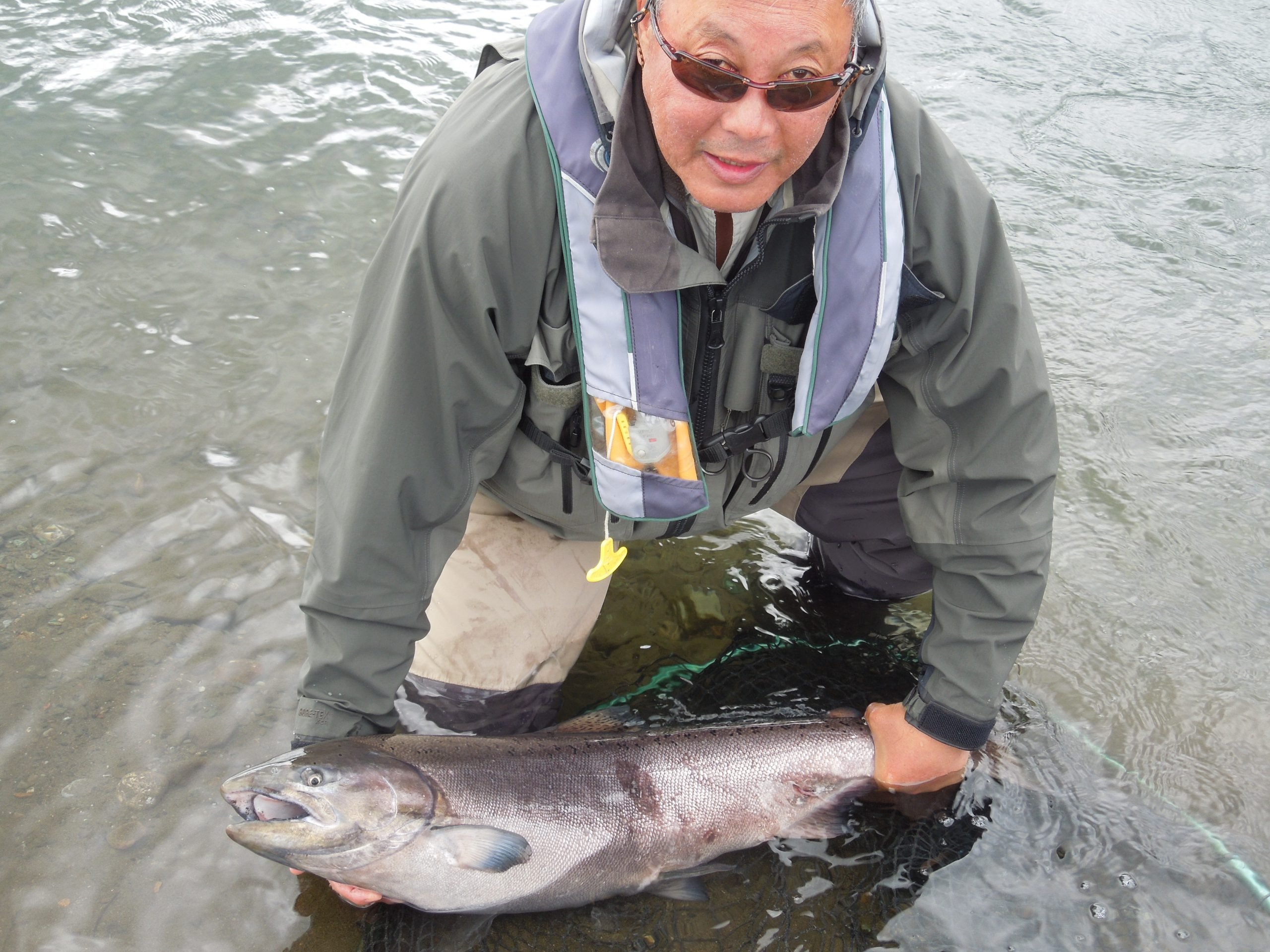 Race looking very happy with just one of his many many Kings caught fly fishing.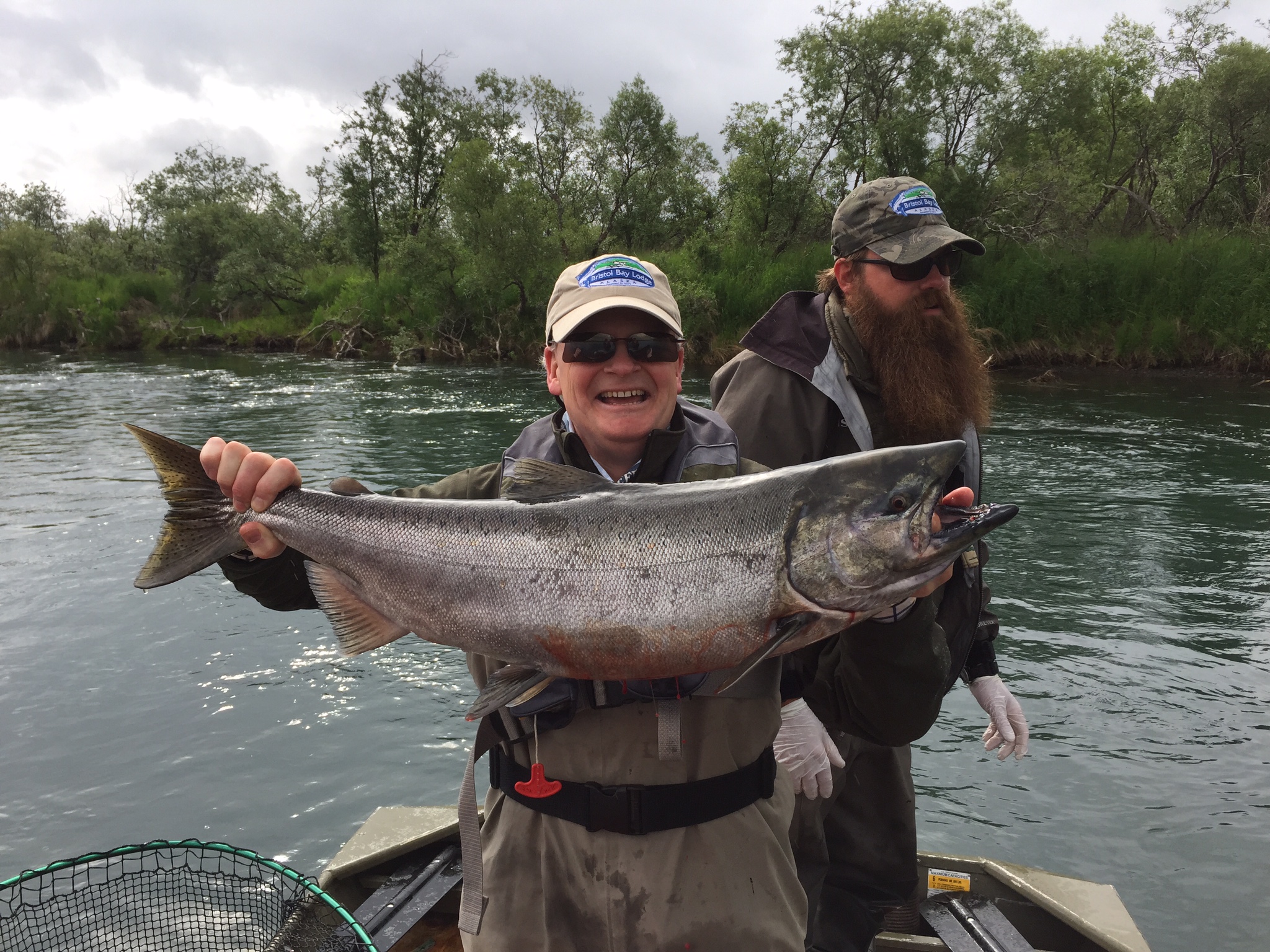 Another stunning King Salmon caught fly fishing Bristol Bay Lodge Alaska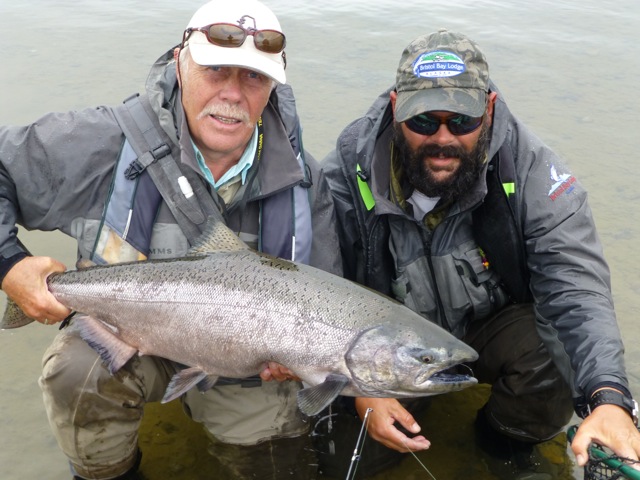 Your host Phil Barker and guide posing with a nice fresh King. Catching these fish on the fly is amazing sport.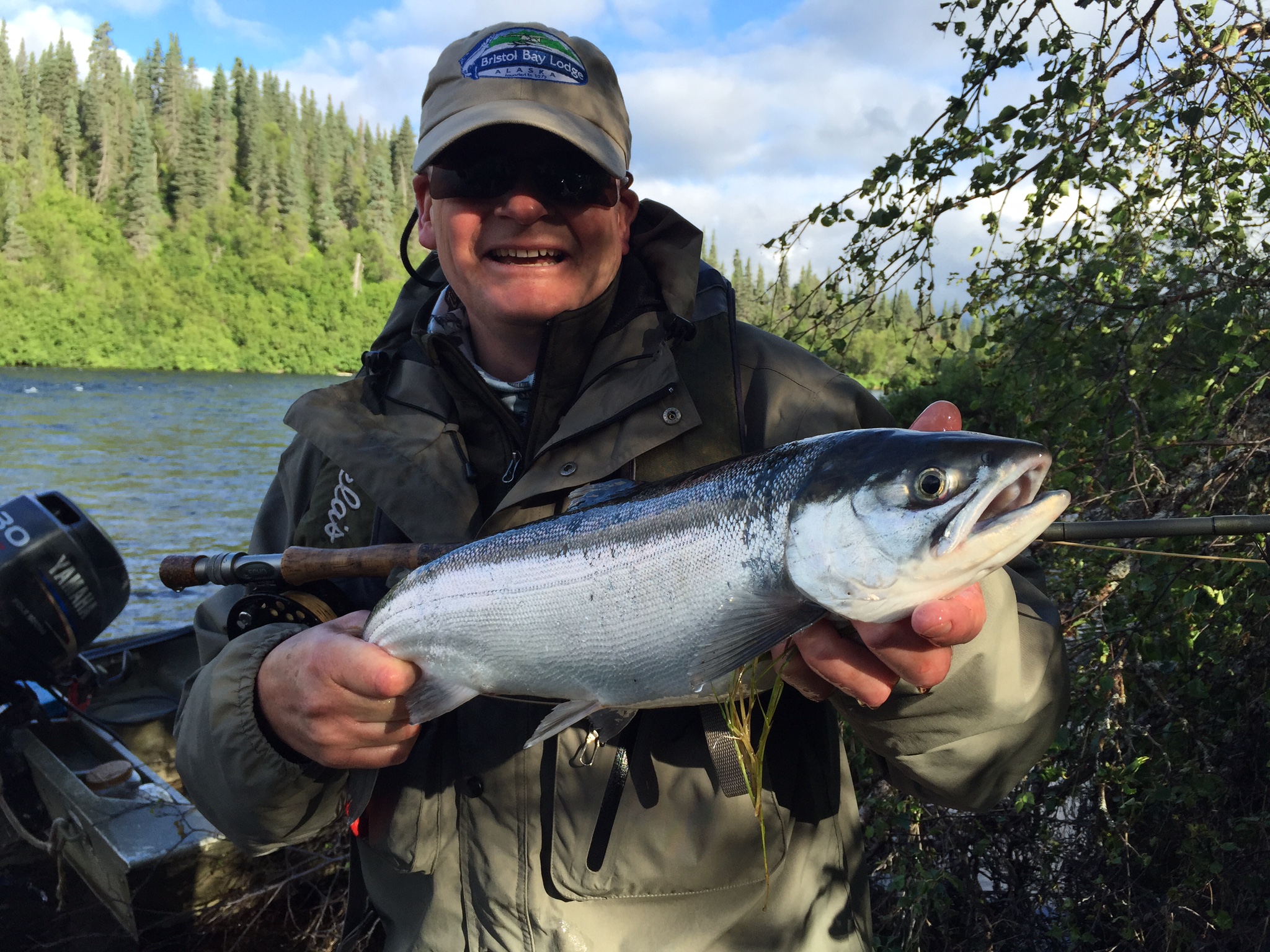 Sockeye and customers smiling for the camera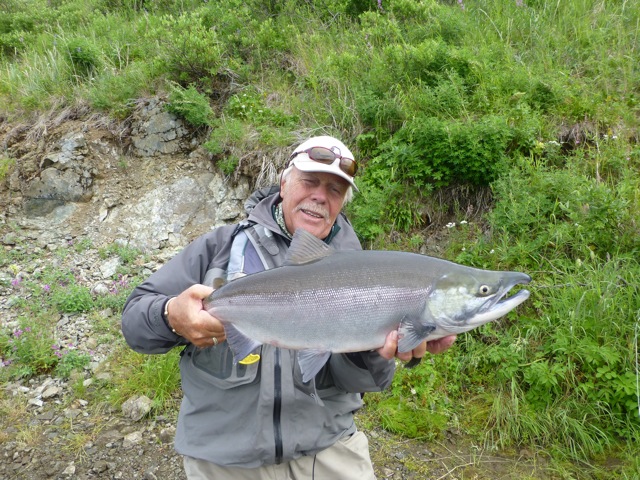 Phil with a big Sockeye Salmon fly fishing at Bristol Bay Lodge Alaska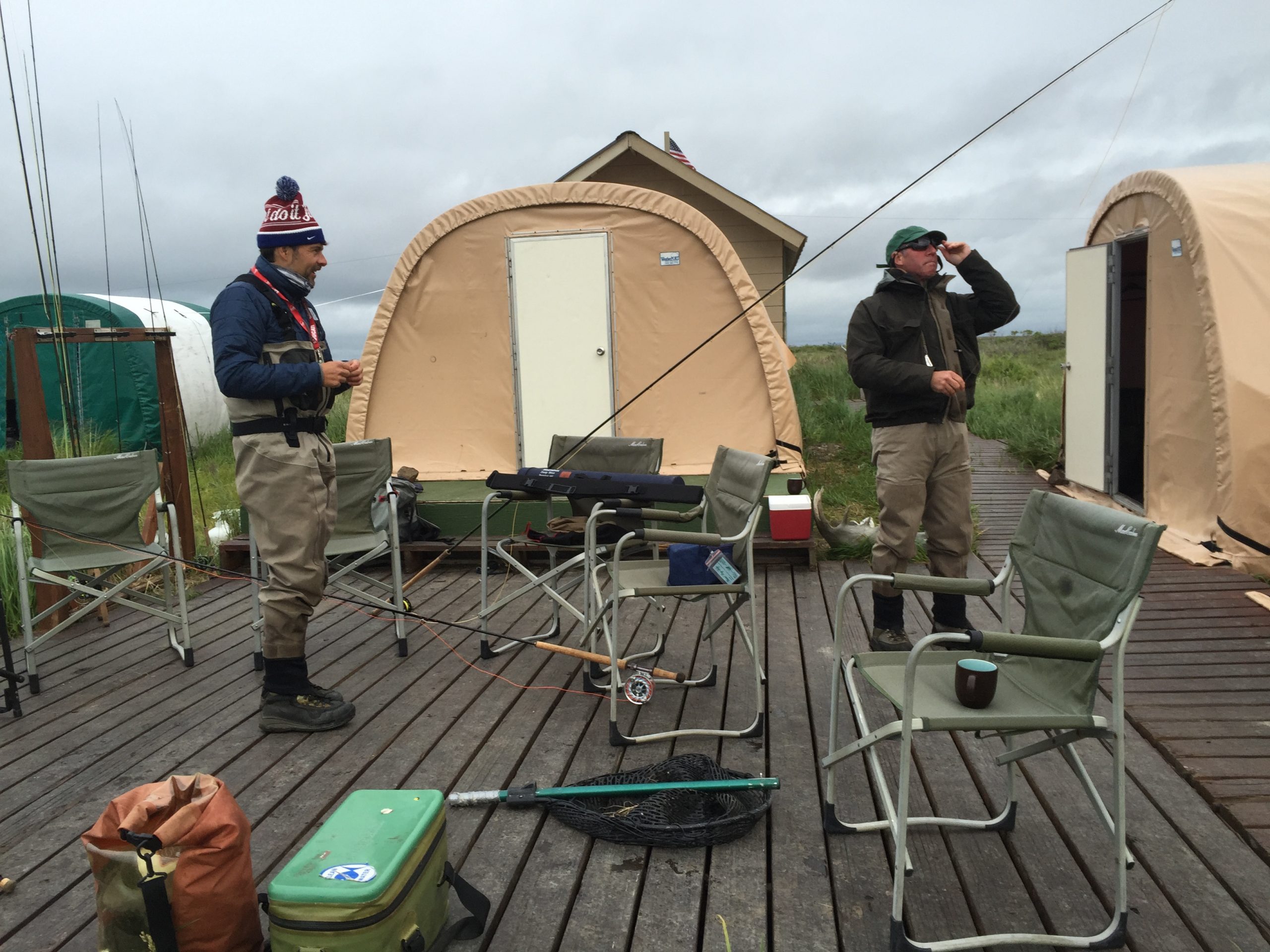 Customers setting up at one of the remote fly out camps for the night at Rainbow. The fly fishing hear is mind blowing as its right next to the sea so all fresh run fish.
A real home cooked shore lunch on the Pak River Fly fishing for Salmon in Alaska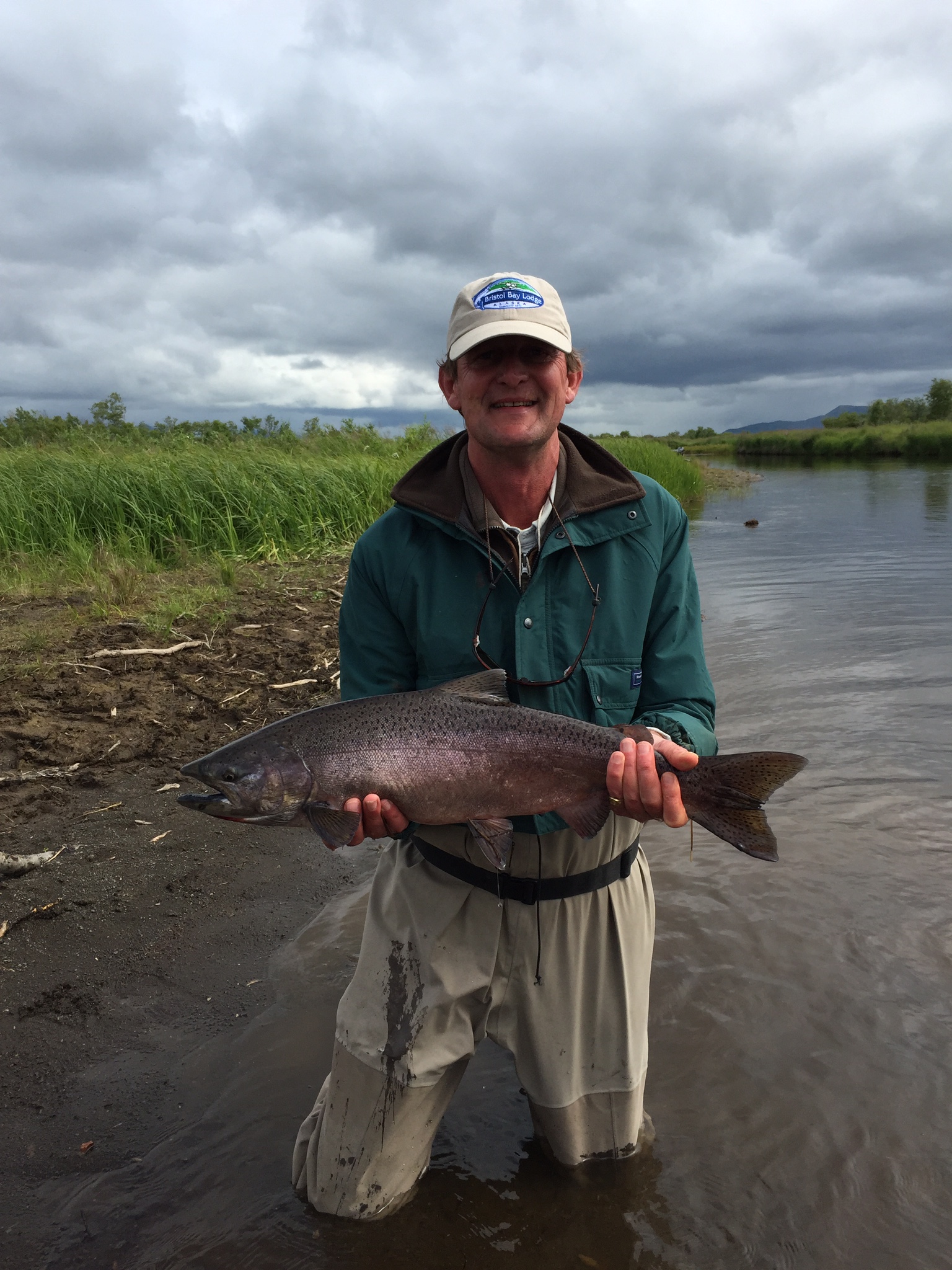 Every King caught on the fly counts.
Chum Salmon on our hosted fly fishing trips are know for smashing tackle as they fight so hard.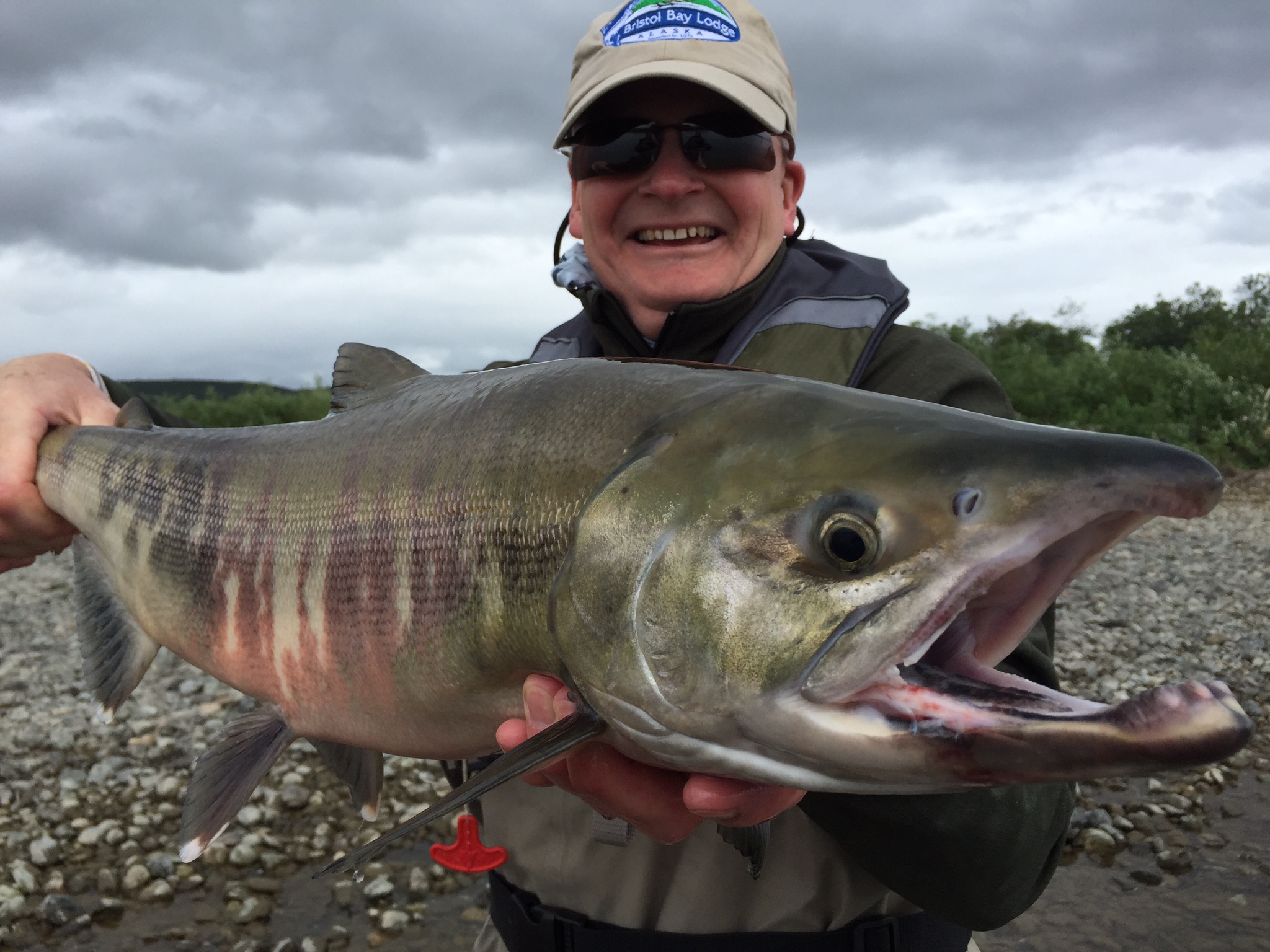 A great picture of these Chum Salmon, wow fishing for these fish is a real fun sport.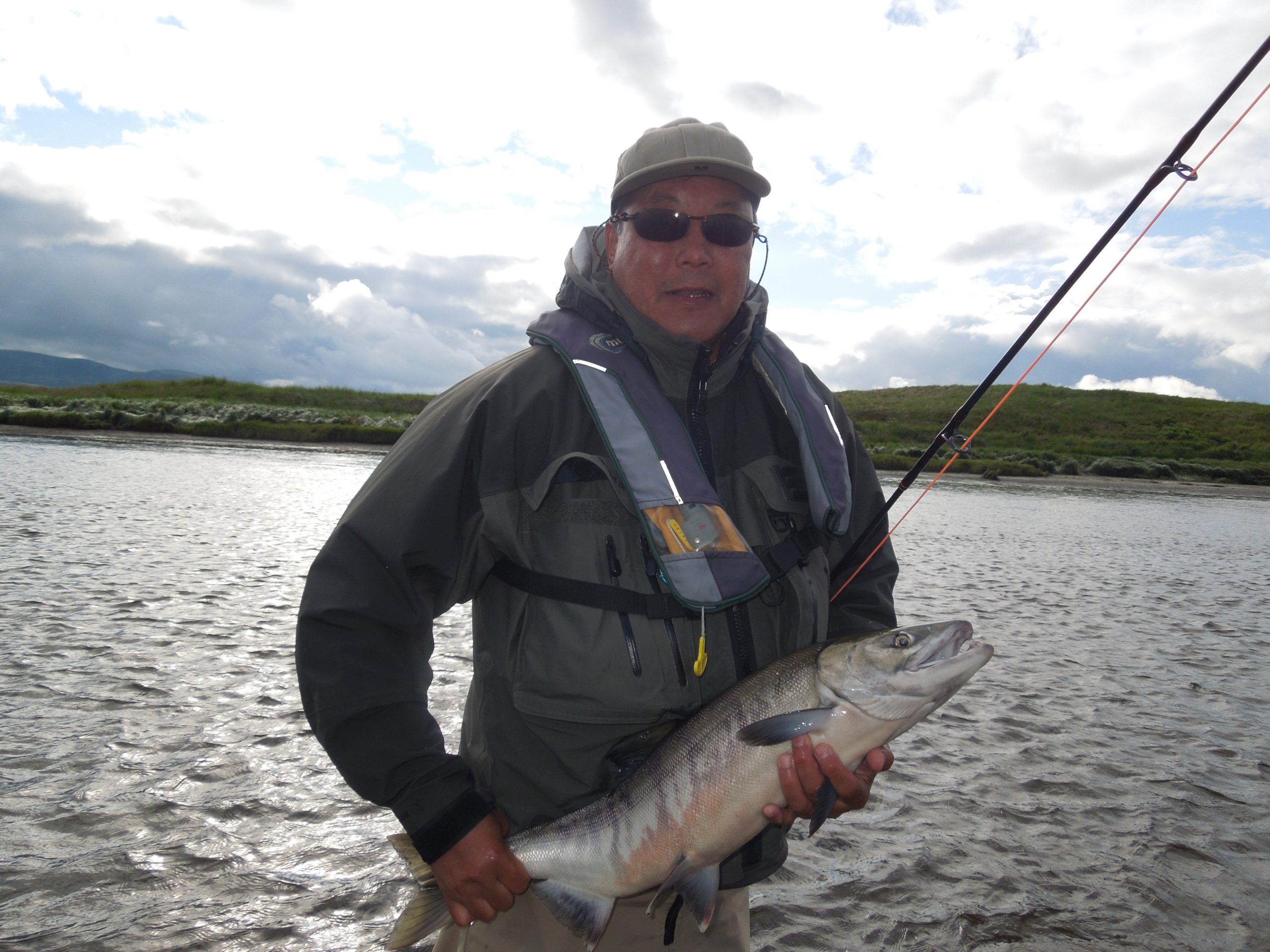 Race this time with a Chum Salmon, he could not believe after many many years chasing Atlantic's what amazing sport he had been missing.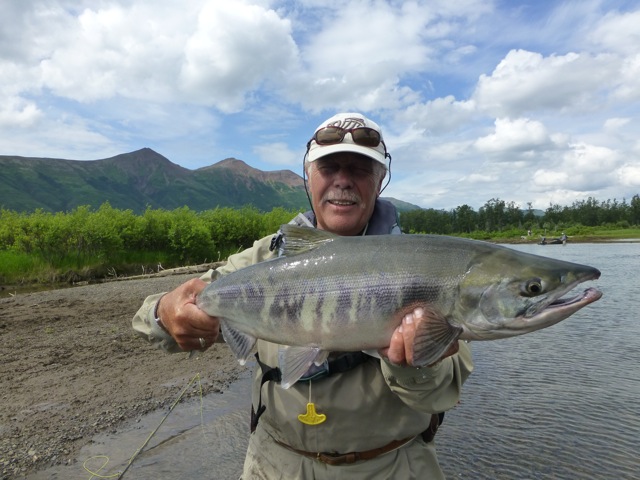 Phil with a nice size Chum, notice how the colours are duller as the fish are still fresh. The longer they are in fresh water the bolder the strips become.
If you would like to see the full trip details CLICK HERE