4 Grand Slams In A Week from Belize with people often ask for family friendly saltwater fly-fishing destinations and we cannot think of a finer resort than El Pescador in Belize. Whether it is arranging for a massage in the lodge's massage room; a private fly fishing lesson; a day of diving or snorkelling around the world famous barrier reef; a round of golf on a private island; a cave tubing adventure or a jungle river cruise to a Maya, the El Pescador resort will make the perfect Belize family holiday.
We get some great reports from our head Guides and the below one did not let us down and our anglers certainly benefited from being guided by Belize's finest. Check out the 4 Grand Slams…..
Bonefish:
Michael was the bonefish king to start the week with 25 bones right off the bat! Oksana thought this would be a great time to learn to fly fish, and with some help of the daily casting clinics and her trusty guide, she was able to cast, set the hook and land 4 bonefish on her own! Brandon put some big bonefish numbers on the board as well. These were the highlights but everyone at the lodge caught some of the tourist- friendly bonefish surrounding Ambergris Caye.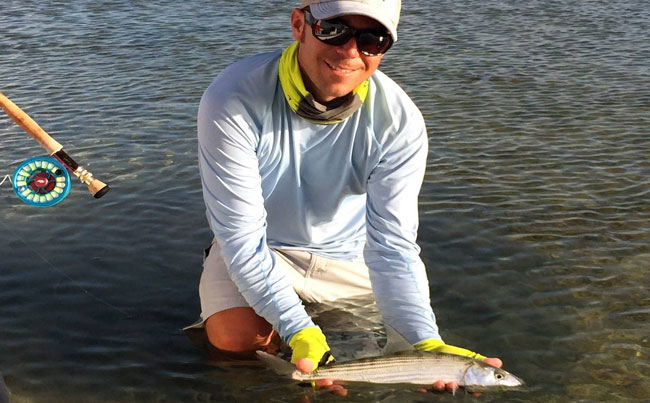 Permit:
Brandon will never use a rusty fly on a permit again! He got a great eat from a permit early in the week,but the hook broke (how painful is that?). Nabel landed a beautiful permit (actually, I haven't seen an ugly one yet). Howard (as part of his slam) & Jason landed a 25 pounder – what a solid fish! Max, John & Seth got one as part of their slams as well.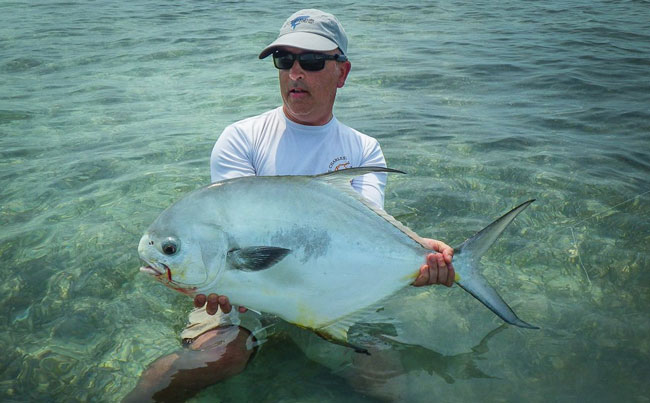 Tarpon:
Michael showed us early on that he has a way with both bonefish and tarpon as he landed the first tarpon of the week. David and John landed 4 poons in a single day! Marcus and Paul's boat had a couple big migratory tarpon on, but they were not able to get them close to the boat for a leader touch.
The process of counting a fish as landed when the leader is touched came about when we discontinued the use of lip gaffs for tarpon. To help land a fish aggressively, the guide grabs the leader to bring the fish along side the boat and then goes for grab on the tarpons lower jaw. If the leader happens to break or pull out after this initial touch it is an official catch. Many of the famous tarpon tournaments in Florida use the leader touch as their definition of a caught fish. Max , John and David all got tarpon! Jason hooked 3, landed zero near the end of the week. Don got a nice fish, Max, Howard and Zeth got fish as part of their grand slam efforts.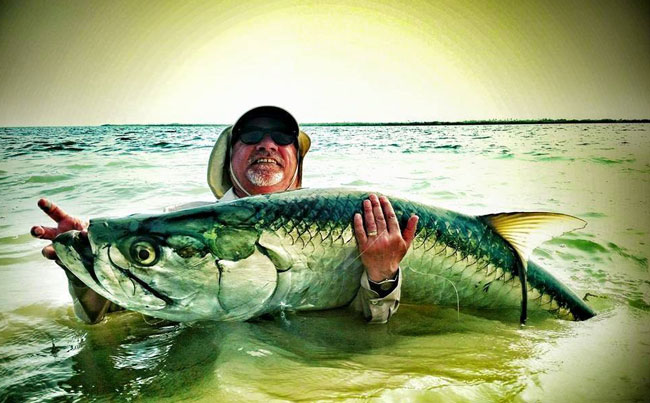 Other Species:
Snapper, Jacks, Barracudas, Shad, ladyfish, and a couple of big Snook.
Grand Slam:
4 Slams this week! Kudos go to all! Howard, Max had a grand slam… Seth and John got the job done as well! Hip, Hip Hooray! Bruce hooked up all three one day but didn't land them all!
Flies that worked:
Bonefish: Christmas Island Special, crazy Charlie, Gotcha, bunny gotcha
Permit: CI Special, Large Gotcha, Bauer crabs.
Tarpon: Orange cockroach, Cockroach, Deceivers
As you can see the end of May was a great time to be in Belize and we should start to see some more fantastic reports very soon. If you and your family are looking for that special trip that will keep the whole family happy then look no further. Simply call us on 01603 407596 or click [su_button url="https://www.sportquestholidays.com/family-fly-fishing-ambergris-caye-belize/tour-overview.html" background="#c2c4c7″ color="#0f1512″ size="1″ icon_color="#312626″]HERE[/su_button] for full details of this tour. We still have some awesome weeks available but do not delay.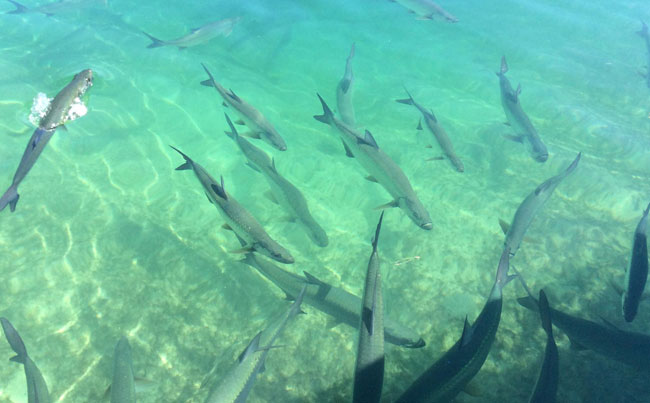 Hope to speak to you guys soon, until then tight lines
Paul