Alaska Salmon, rain, cold, salmon more rain and even more Salmon As I sit tonight and write up a little piece from the last two group weeks we have had in Alaska, there's a strange thing up in the sky, bright yellow and making everything warm. A far cry from both the miserable British summer so far in the UK and something we had little of while fishing in Alaska.
As the title suggests although the weather tried its dammed hardest to take the shine of our last two group trips in Alaska, the fishing as normal was so amazing it would take more than rain and cold conditions to wipe the smile of all the customer's faces. For every time I looked at anyone their face was beaming.
The first week headed up by Robert Sherriff, consisted with a mixture of first time customers to Bristol Bay and a couple, who had fished with us the previous year in the Autumn for the Silvers and now had returned to take on the Sockeye, Chum and the mighty Kings. The party consisted of Robert Arnold, James Arnold, Mark Bowes, John Eames, Lady Sara Haes Female, Michael Murphy, David Taylor and David Williams. Or more fondly know as BJ, The Sherriff, Trout Taylor, Sockeye Simon, Bearsy, Jimbob, Robert, Murphy and Lady Sara.
The first we got to meet Robert and his team was at Dillingham Airport, so there was the second group all revved up and rearing to go, but due to the total lack of communication while at the lodge we did not know how Roberts group had faired. The first thing that was apparent was the temperature had been very low and they had experienced so very cold days. Having said that apart from a few slow days at the beginning the Salmon had been coming in thick and fast with the fishing improving day by day. As was evident by how well the group caught as the week progressed. There were lots of stories, flying around, along with many jokes and a bit of ribbing thrown in for good measure as both parties stood around for about 1 hour. (that is one of the nice things about these trips is meeting customers from the previous week for they catch the plane back to Anchorage that you have just flown in on)
The best part about it, everyone seemed to be buzzing and with all the cameras coming out showing the new outgoing group their pictures of what was caught and by who etc (We are just awaiting on Roberts group pictures) Alas the time just flew by and before you knew it we were being called to board the vehicles for the short journey to the lake. It was then it dawned on me that I did not get time to get round to the whole departing group so the ones I missed, I am sorry as its great for me to meet as many new faces as possible.
After the short ride it was time to board the boats for the final leg of our journey the scenic boat ride down the lake to the lodge, and what's that in the sky? The sun! perhaps the weather was going to give us the second week a break, for as we arrived to the welcoming party on the dock there was nearly not a cloud in the sky.
The second group (Phil's Group) consisted of, Phillip Barker, David McPherson, Kevin Patterson, Robin Williamson, Paul Bowling, Tony Herdman, Kirk Fillinger, David Kynaston, Graham Turner, Tracey Buckenham and me, Peter Collingsworth. Or again as all more fondly known as Silver Fox, SGT Major McPherson, Mr P, Batman and Robin, Lord Bowling, Mission Impossible Herdman, Hypnotic Kirk, Gyno Graham, Lady Buckenham and little old me (and what do I get called, well that depends if you are having a good time or not as I get called all sorts but normally there's something in there about being bald) but hey isn't it nice to see that after each group trip everyone comes home with a name, for sharing the holiday with great likeminded people is as important as the actual fishing.
After checking in and all the legal paperwork it was off to our rooms, get changed as we all were off for our first afternoon fishing. As normal all the fishing is conducted in groups of 4 based on 2 anglers per guide, you then stay in your group of 4 as you fish the rotation throughout the week, fishing with different guides, rivers and beats each day and on some day's two different rivers and guides in the same day.
As this time both me and my partner Tracey were returning as paying guests, yes not a misprint, I know everyone thinks owning a fishing holiday company we can go fish the world for free, which in most part, to go and visit new destinations, checking out the facilities etc is true, however as a testament at actually how much we both enjoyed our trip the previous year and just how badly we wanted to go back, we had to pay like everyone else (Yes I know all the jokes, bet it came hard, didn't know my short arms could reach my long pockets.. lol) However this meant for the first time in 8 years I was on holiday and not working, no research and no filming, just fishing, enjoying it and taking pictures for the web and brochure… see work had to creep back in somewhere didn't it. Anyhow we were both paired up with Kevin and Graham. The other groups consisted of Phil, Tony, Kirk and Paul, then a group of three as David, Robin and David. To say that the small groups got on and had a laugh would be an understatement. Returning that first evening after just an afternoons fishing the buzz was amazing, I can remember Batman and Robin coming up to me at an alarming pace, saying why I didn't tell them, tell them what… That the fishing was this good, I did, you didn't its amazing, and we could both go home now after just an afternoon fishing and we would be happy with what we have already caught.
There you go, first afternoons fishing finished, sun still shining, everyone happy, drinks flowing, great food a few Sgt Majors songs and bed. Following morning throw back the curtains and errrrr mist, wind and rain, what happened to the sun? The answer it had packed its bags and went on holiday for the rest of the week. Having said that apart from a couple of late departures during the week as too much low cloud to fly out, the weather had little impact on the rest of the weeks fishing, for as the week progressed the amount of salmon being caught plus the numbers of Kings being landed just improved day by day.
One real nice thing about fishing at Bristol Bay lodge is after the long days fishing, battling with both fish and the elements, is the staff, for on returning there is always a welcome smile, lethal cocktails, tea, coffee and hot showers to prepare you for the evening ahead. After some delicious appetizers it's a three course meal washed down with more unlimited drinks of your choice before retiring back to your warm rooms and comfortable bed, which is even more appreciated after one of the nights at the fly out camps. This is the time when you lay back and just try to take in what you actually experienced that day, The whole experience is very hard to translate into actual words, the scenery, wildlife, flying around in Beaver sea planes, though mountains, racing up rivers in boats, just you, your guides, mother nature and salmon fishing at its best… Does life get any better than this you could ask? The answer is yes, experiencing it with fellow anglers and sharing in each others stories makes the trip seem even more worth while.
I could literately write a book on the stories and events of each person for the week, but apart from mentioning, Sgt Major being constantly promoted and demoted during the week, depending on how well he fished and sang / danced in the evenings, plus Hypnotic Kirk and his famous belly swirls, Mission Impossible Herdman flying the British flag and sticking to both walls and ceiling, Batman n Robin famous duo act, Lady Buckenham catching bigger Kings on the fly than me again, plus telling me to look at the cute bear, where, what bear, the one standing 12 feet behind you (Mmmm not so cute). Gyno Graham trials, tribulations and nightmares' about losing a huge King at the net (Good job he managed to put this right on the last day as I would not have wanted to of been one of his patients on his return to work ..Ouch) the best way to show everyone just how good the fishing was and how much both the two groups enjoyed the trips is looking at a selection of everyone's images below as pictures always tell a better story.
I would just like to say a huge thank you to everyone who travelled on both groups, some of the best anglers anyone could ever wish to travel and spend time with. Hell the last group was even so considerate that they even took the time to polish the lodge front windows on the last night. Must have been a full moon?
If you want to join in on any of our group trips back to Bristol Bay, CLICK HERE for full details. Just ask any of our previous guests as I am sure they will tell you how good it all is, and you never know next year it could be you returning with armfuls of pictures of Salmon, unlimited stories… oh and yes probably a new nickname if previous trips are anything to go on.
If you would like to see all our Salmon destinations Click Here
Kind Regards
Peter Collingsworth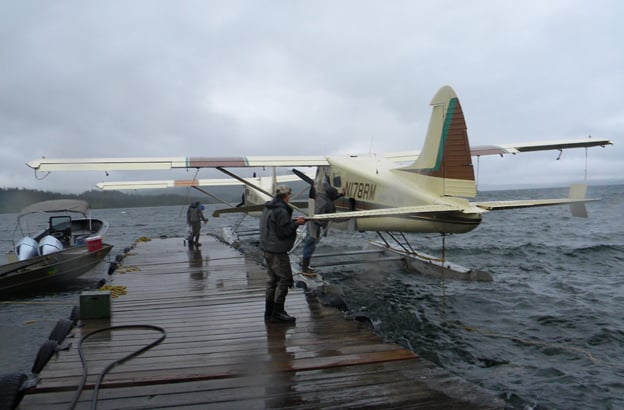 Weather not looking to good, wind and low cloud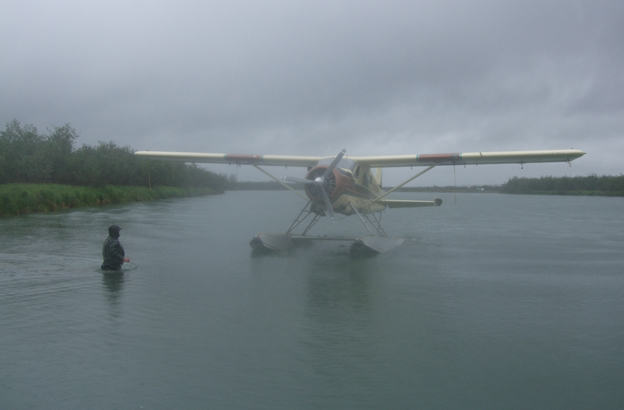 Think fog morning, its amazing how these pilots fly in this weather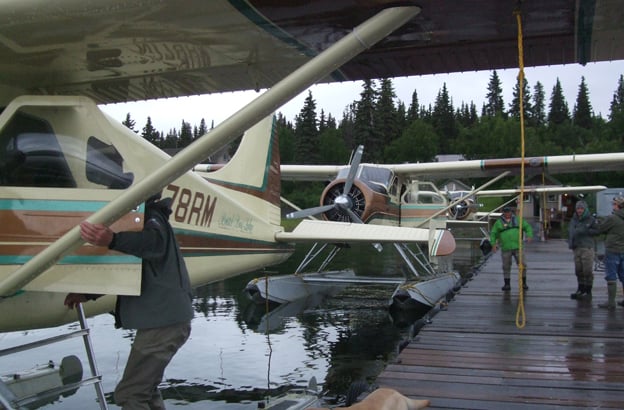 A perfect morning to be flying out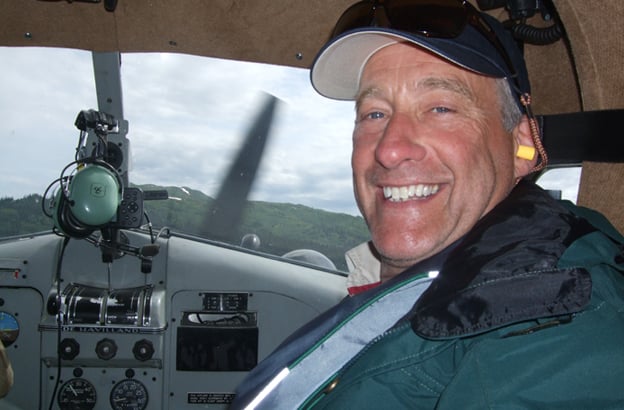 Lord Bowling sitting up the front, think his smile says it all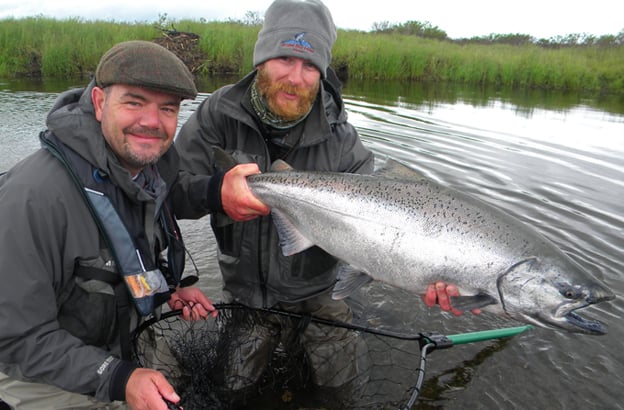 Robin with a stunning fresh King Salmon caught on the fly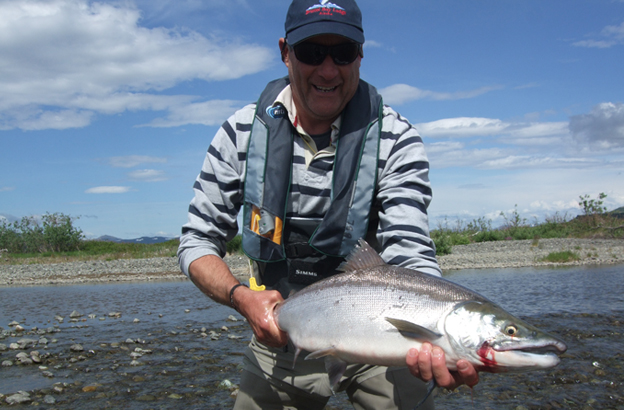 Lord Bowling with one of many many fresh Sockeye Salmon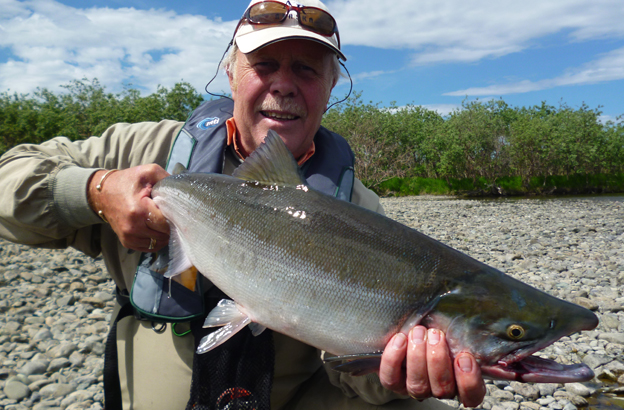 Phil with on of his many many fresh Sockeye Salmon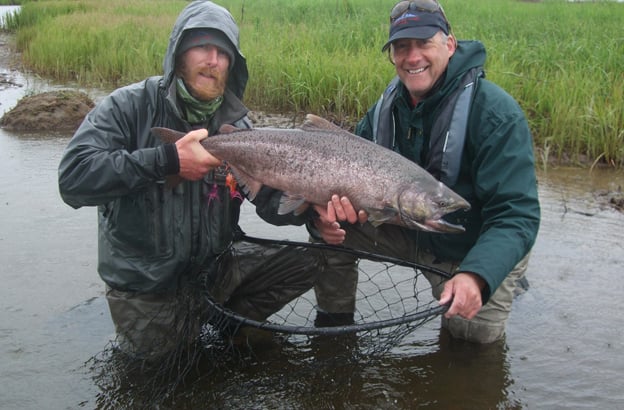 Paul looking very well happy with his first ever King Salmon on the fly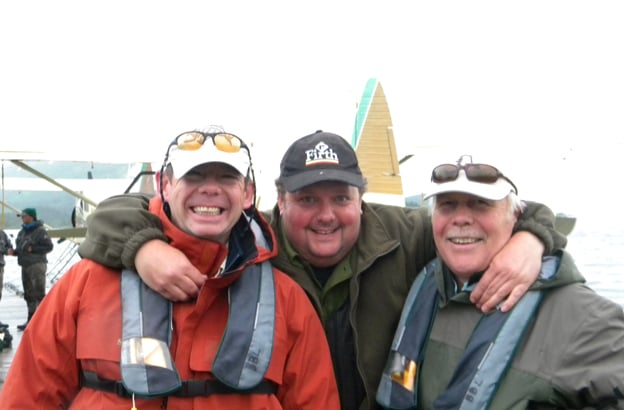 Tony, David and Phil or Mission Impossible, Batman and Silver Fox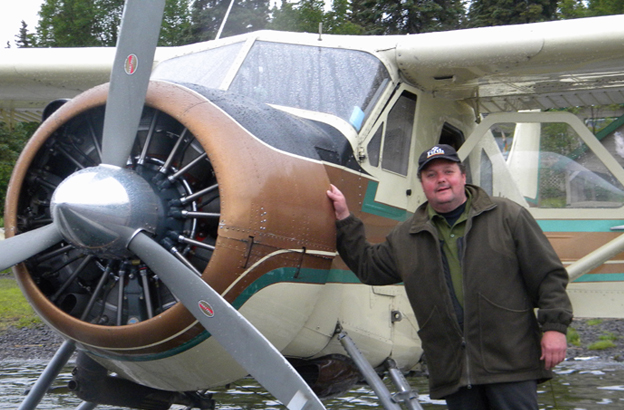 No Batman for the last time you can not fly the plane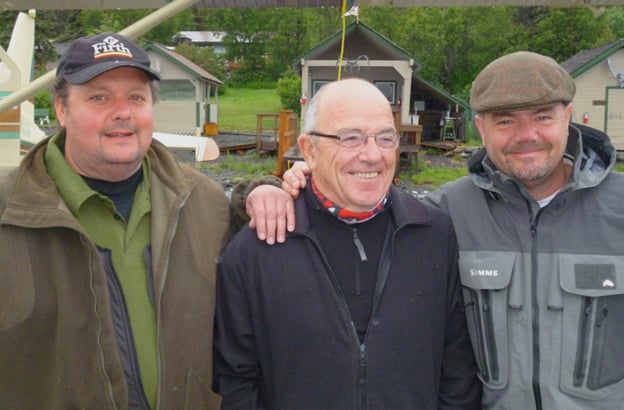 David, David and Robin sharing one of many jokes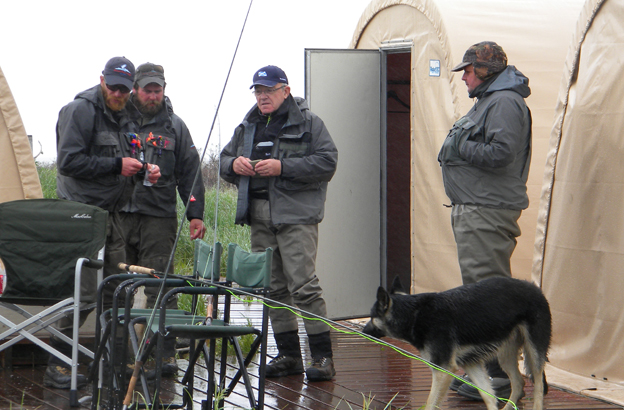 Set up at Rainbo camp, the home of the mighty King Salmon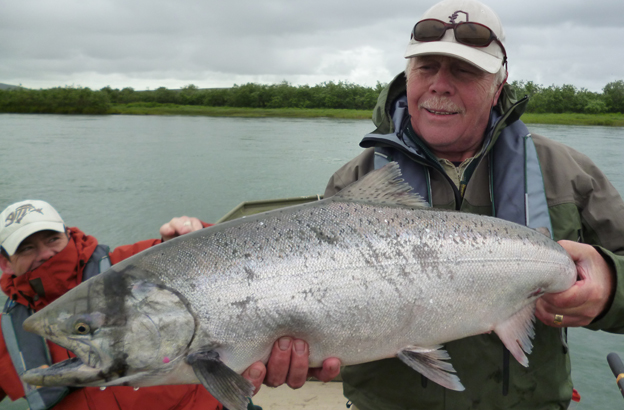 The sly old Fox slips another fresh King out, when everyone is not looking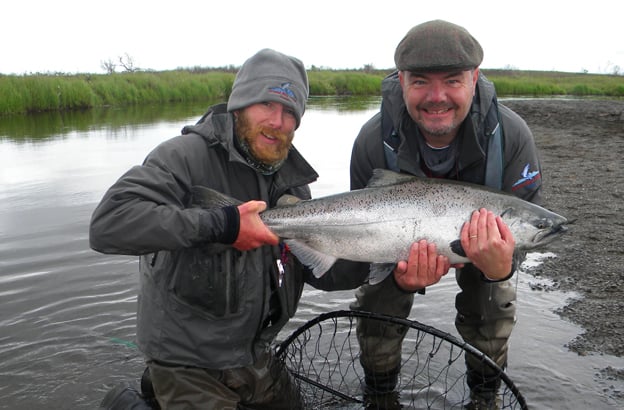 Robin loooking very happy with his first ever King Salmon on the fly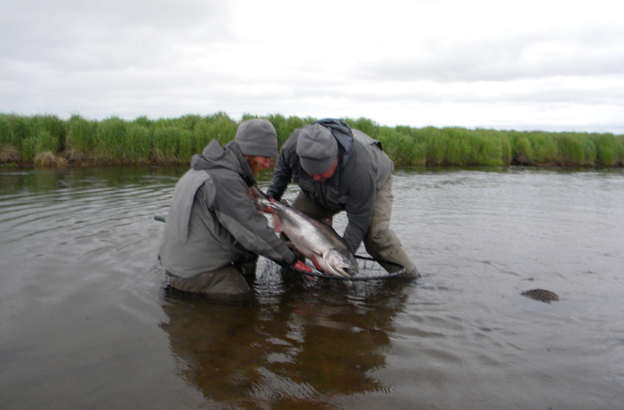 David with his King coming out of the net for pictures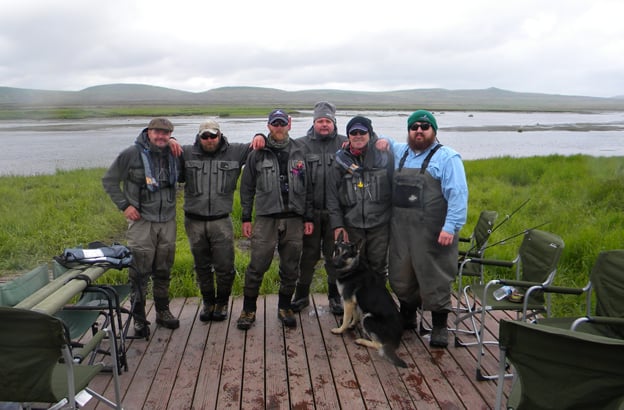 Just some of the group at Rainbo Camp Bristol Bay Alaska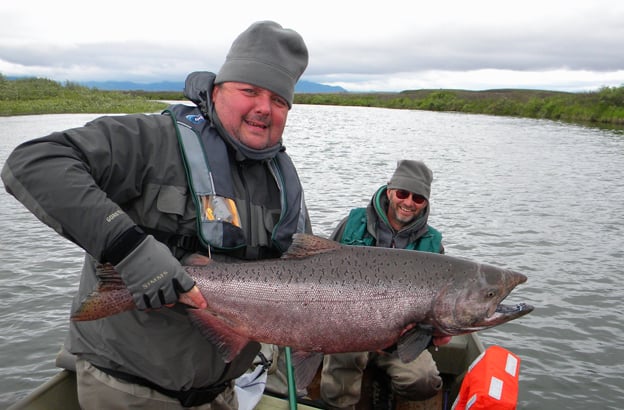 David looking very well pleased with his biggest King Salmon on the fly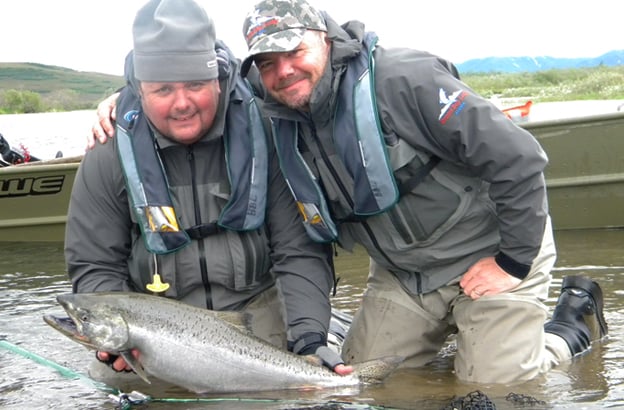 Arrr Batman n Robin with a fresh King Salmon…so sweet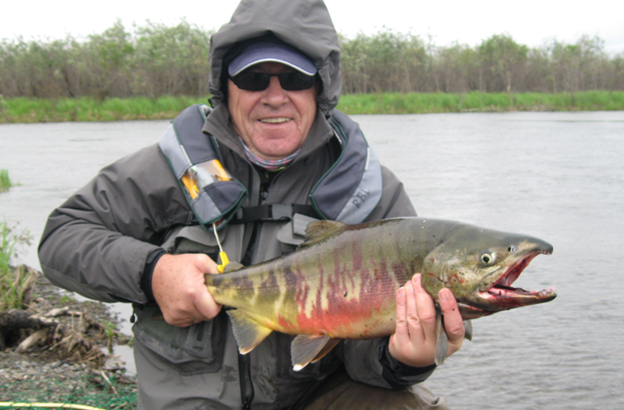 Sgt Major McPherson playing with the hard fighting Chums (Note David got his camera wet so we did not get many pictures of him)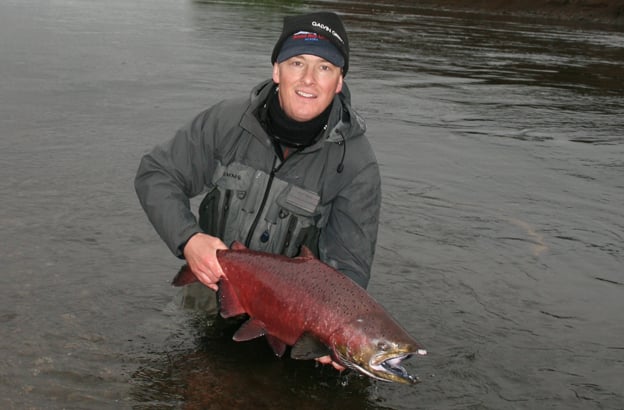 Graham with his big King on the very last day, sleep well now Graham, well done buddy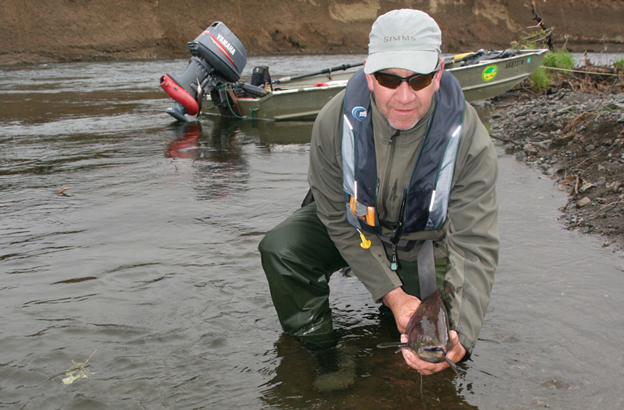 Kevin Patterson getting into the King Salmon and Birch Camp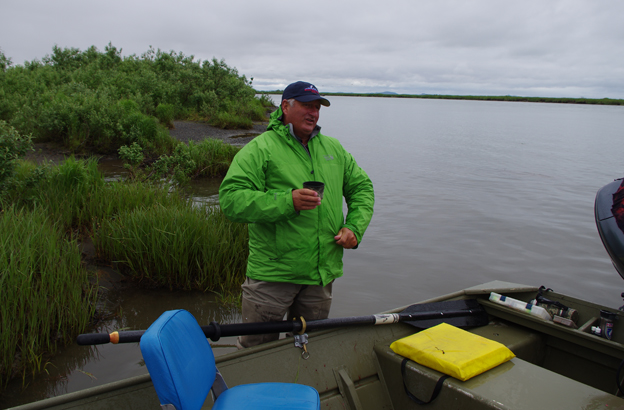 Hypnotic Kirk still talking about his belly swirls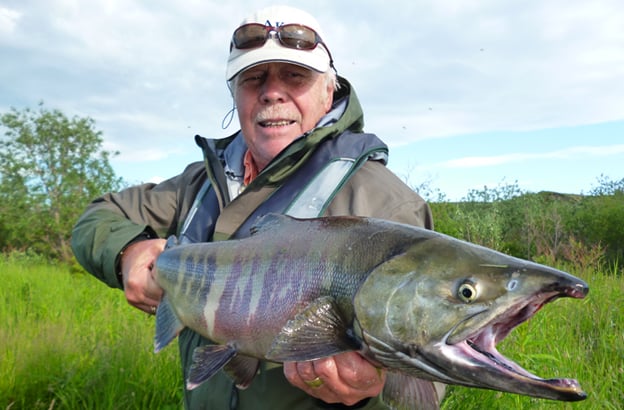 The fox slaying the Chum Salmon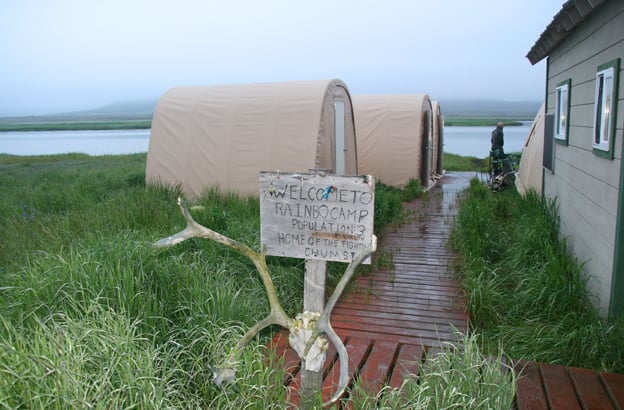 Welcome to Rainbo Camp home of the mighty King Salmon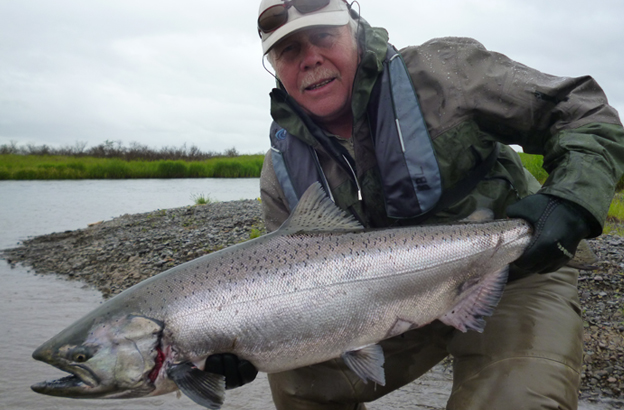 The Fox at it again slinking out another fine bright King Salmon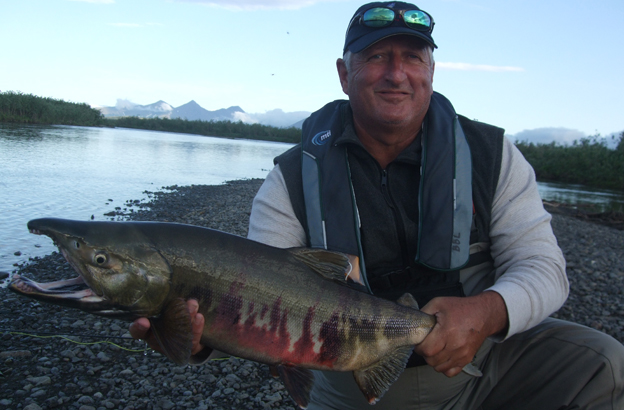 Kirk with a nice Chum Salmon, boy do these fish pull hard on a 10#, catch 20 of these a day and you know about it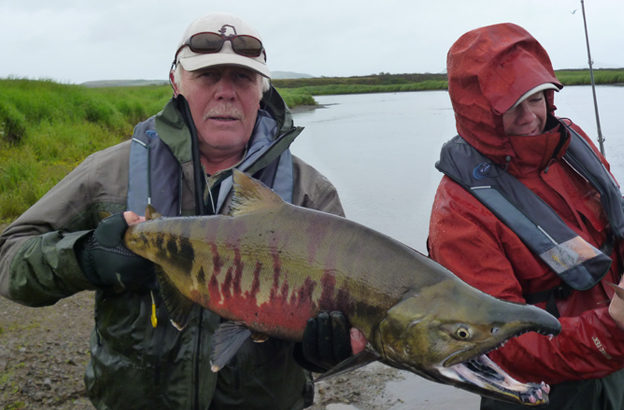 Phil enjoying a day on the Chums with a nice marked fish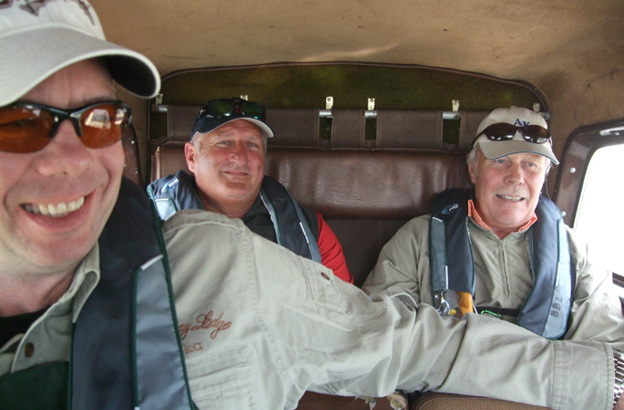 Tony, Kirk and Phil sharing jokes on one of the many fly outs to remote rivers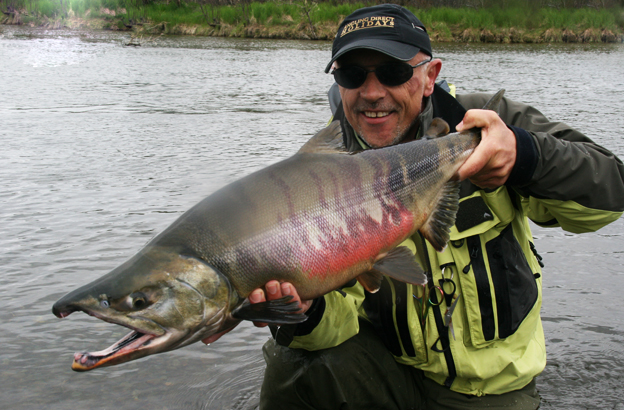 Peter with a nice Chum, one fish of 30 all in an afternoons fishing. Someone told me there would be some Kings in the same pool if I could get through the Chum.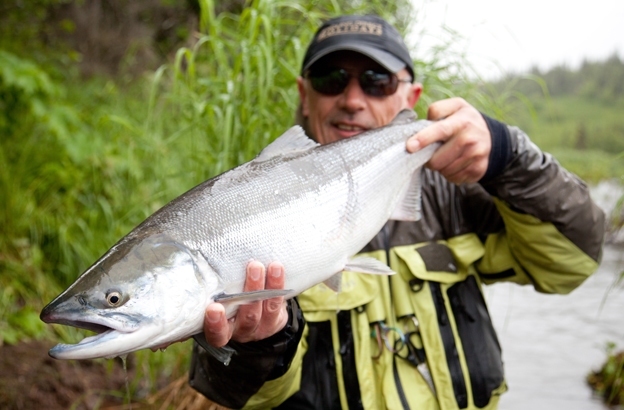 Peter with a Sockeye, these fish are so fresh and fight very well in fast flowing water…mental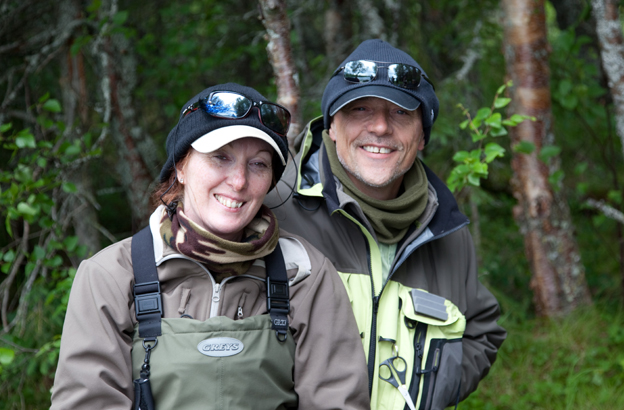 Lady Buckenham and Peter enjoying a laugh during a shore lunch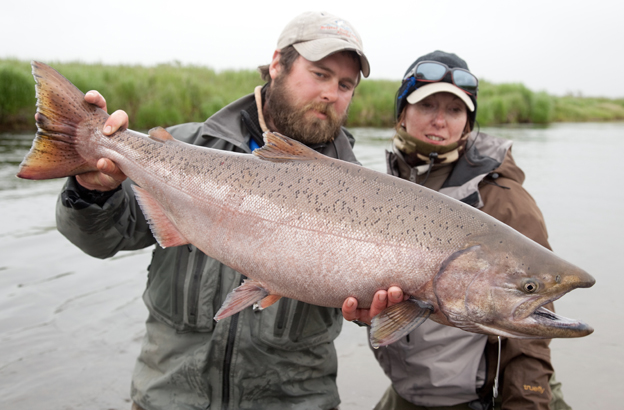 Lady Buckenham with just one of her Kings caught on the fly, not bad for only her second ever fly fishing trip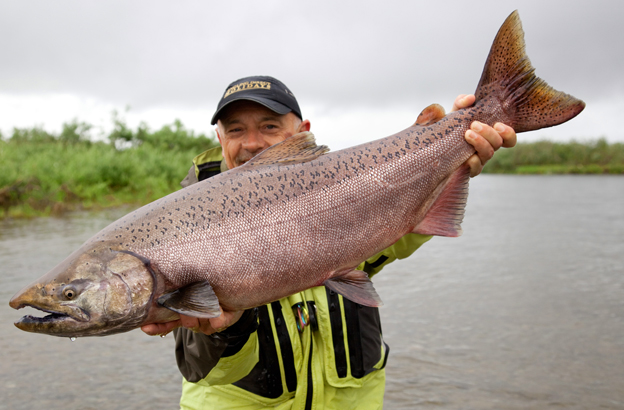 Peter with a nice King caught at Birch Camp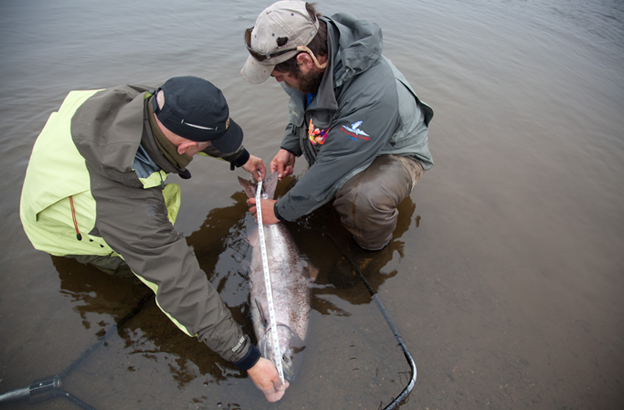 The all import measurements to work out the fish weight up on the Rainbo Camp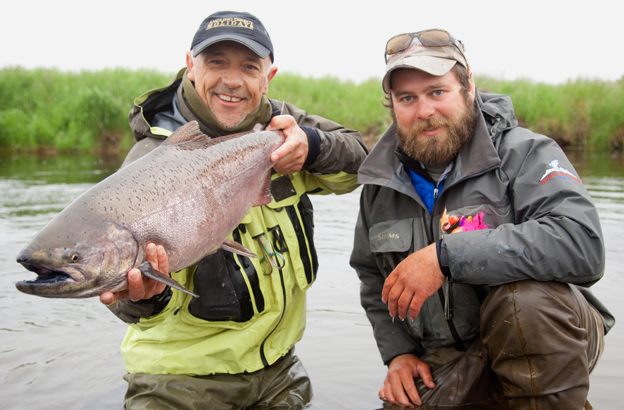 A Nice King from Rainbo that calculated to be 26lb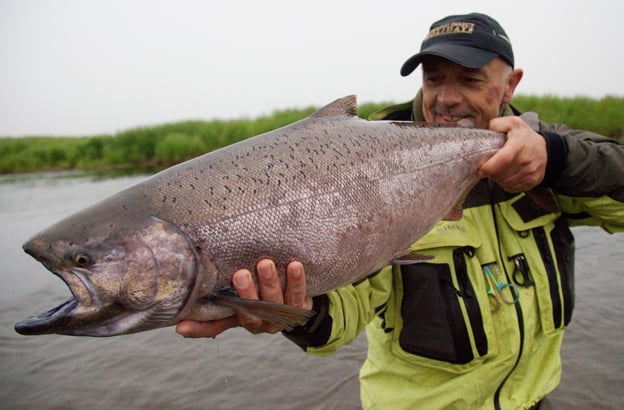 Another nice King from the Same pool at Rainbow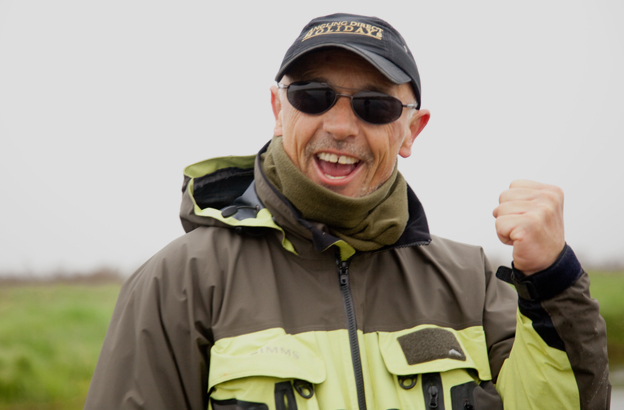 Think my face says it all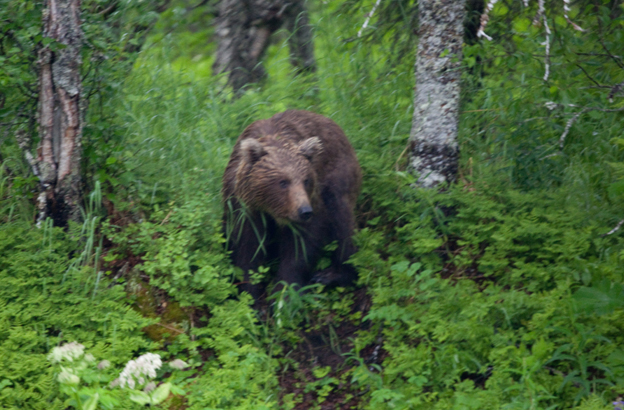 Then theres the Bear that decided to creep up behind me on the Wok, how can such a anaimal get so close to me with out hearing a thing… scary or what?