Hosted Sea Trout Fishing Report and It's only a few days since we all returned from our Sportquest Holidays group trip to Las Buitreras Lodge in Argentina. We had picked week 3 of the season, as we believed this would give the group the best opportunity to hook and land fish. This turned out to be a very wise decision for on arrival the river was in near perfect condition. As the guides picked us all up from Rio Gallegos airport they were full of excitement, informing us that the river was around +20 with a nice tea colour and water temperatures around 6-9 °C. Apparently the week before and only a few days before our arrival the river rose quickly which bought the first big run of fresh chrome sea trout. What a welcome change this was to hear, for how many times have we all arrived somewhere in the world only to be told by your guides, 'you should have been here last week!'
The short journey from the airport to the lodge was everyone's first real taste of rural Argentina and a chance to see the amazing landscape of this region. It was also a shock to many the temperature difference from Buenos Aires which was scorching hot to Rio Gallegos which was more than a few degrees cooler!. Make a mental note next time to have to hand a warm coat you can easily lay your hands on.
The Hosted Sea Trout Fishing Report and welcome at the lodge was a real nice touch, with such a friendly greeting from all the house staff and the rest of the guides, immediately making everyone feel at home.
At Las Buitreras Lodge they work on a 5-zone system, which was explained to everyone on arrival. There are 5 fishing zones each zones has numerous pools, which cover over 40km of double bank fishing. The advantage of this arrangement is that you have lots of water to fish with many pools on each session and not just one pool like you do with other destinations and rivers. Although the timings of the fishing vary subject to the time of the season you fish. During our week we fished a morning session from 7:30 until 1pm, returning to the lodge for a huge welcoming 3-course meal and unlimited amounts of free-flowing Argentinian wine. This more than assisted with our afternoon siesta until the evening session, which started around 5.30pm. We then fished through until 10:30pm again returning to the lodge for what they term as a light supper, which in reality turned out to be a gastronomic delight in itself.
| | |
| --- | --- |
| | |
| | |
| --- | --- |
| | |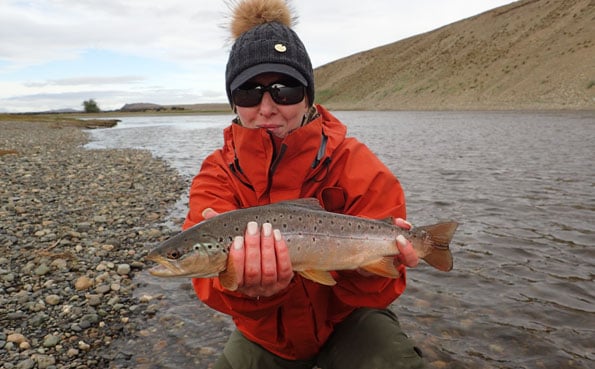 | | |
| --- | --- |
| | |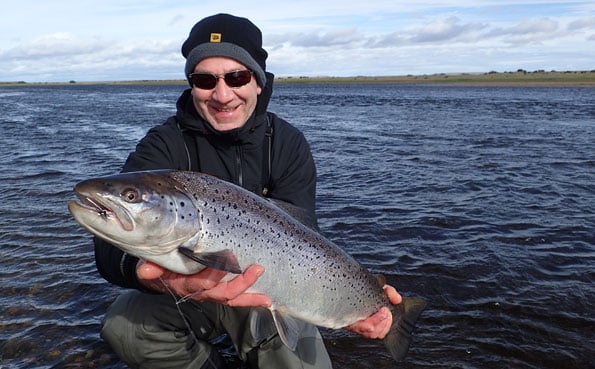 | | |
| --- | --- |
| | |
The zone system works very well as it allows every customer over the weeks fishing to fish every zone both as a morning and evening session. Plus as each guide stays with the same zone each week they are very aware where the fish are running and resting.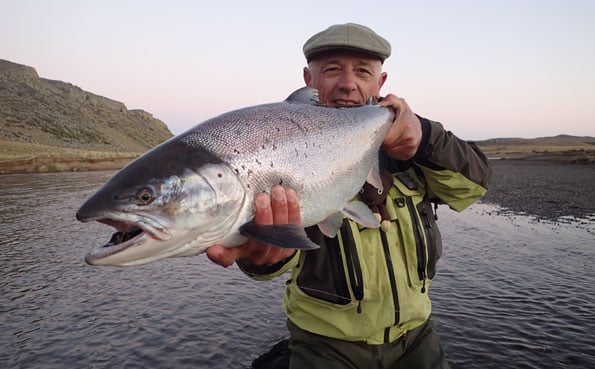 For the majority of the group this was their first experience of fishing for Sea Trout and can remember vividly our conversations as we all met at Heathrow for a beer. The topic was obviously Sea Trout but how many would anyone catch? How big would they be? The conclusion by many was, if we caught a few fish each everyone would be happy and what about a fish over 20lb? Well that would be living in dreamland.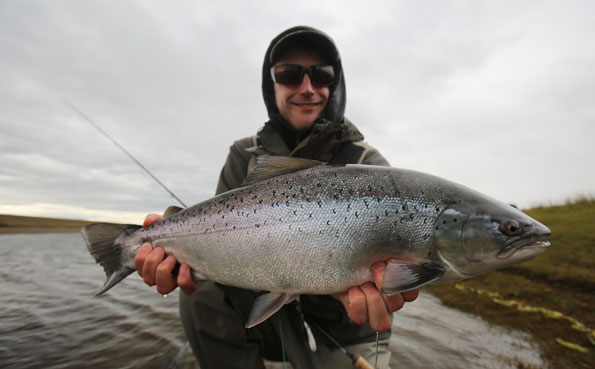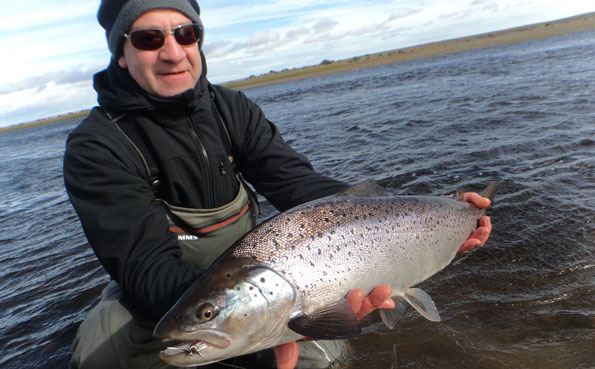 Everyone was very eager to learn all about the casting and fishing methods plus the different technics used on different pools and stretches of the water. Everyone was a quick leaner for by the end of the first day 21 Sea Trout had been landed over 4lbs (Note: Fish under 4lb are not recorded) By the second day nearly everyone had landed Sea Trout to over double figures, which is also a good testament to the guides, whose gentle instructions help everyone catch more fish.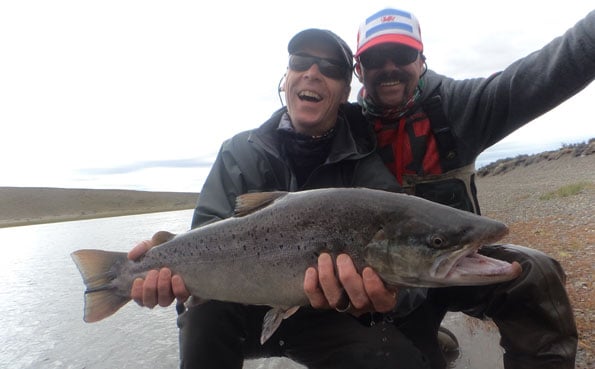 By the end of the week the group had landed an amazing 120 fish over 4lb with 6 fish over the magical 20lb mark. The biggest fish of the week went over 24lb, which fell to Lawson who was also the top rod of the week with 19 fish.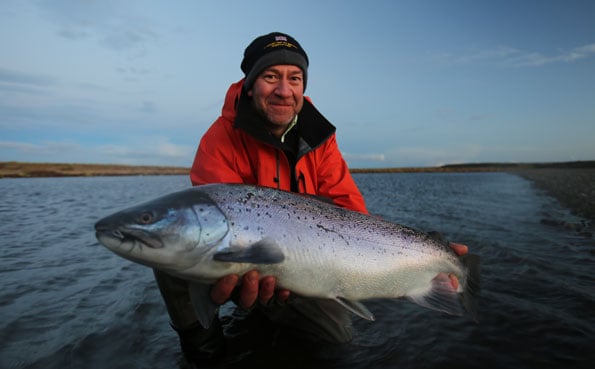 Hosted Sea Trout Fishing Report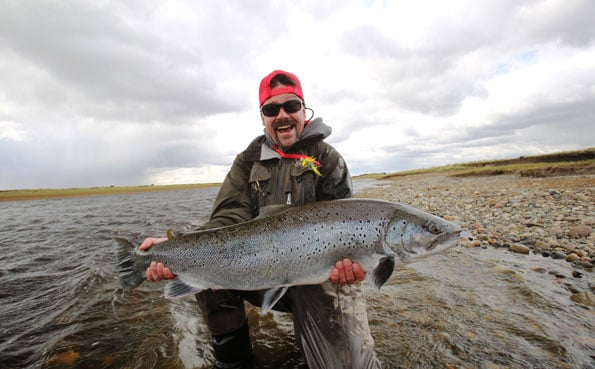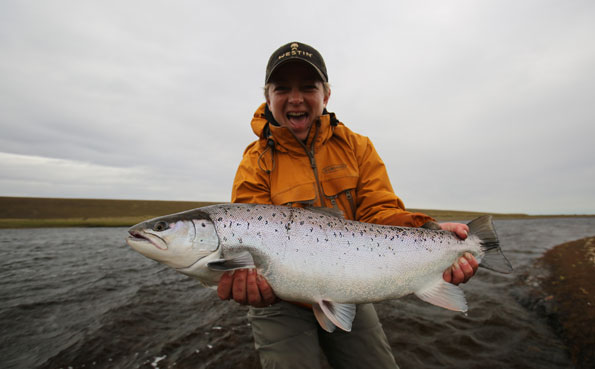 Hosted Sea Trout Fishing Report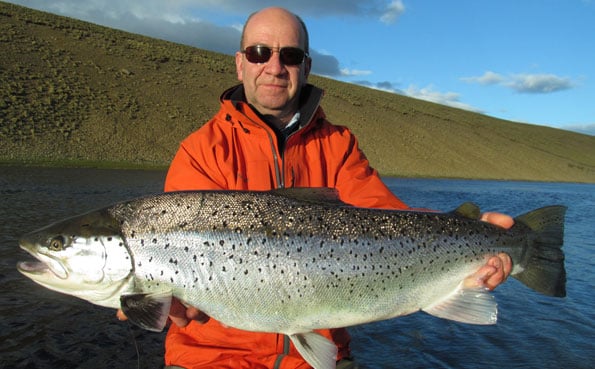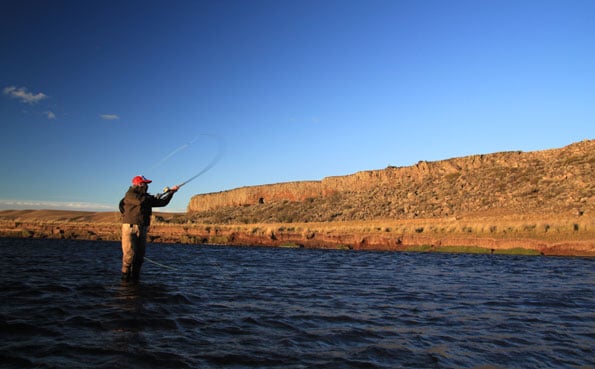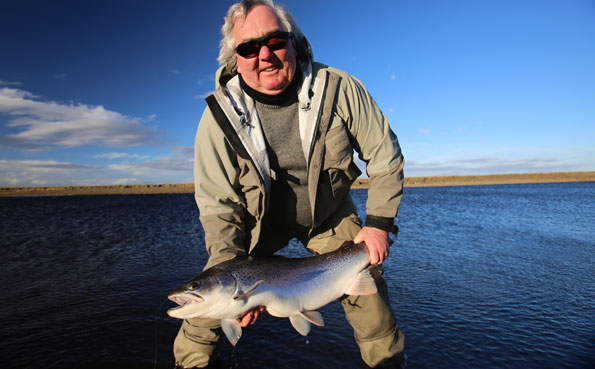 As you will see from our pictures below this is an amazing trip to which we are already planning another Sportquest Hosted week again for the 2016 season. Having been in this business for many years and having travelled the world extensively it takes a lot for me to get excitedabout a destination and operation however, on this occasion I can honestly say the complete package was just perfect, everything is run, timed and managedperfectly. Top River, top conditions, top lodge, top guides, top staff and more importantly one of the best bunch of customers to travel with Hosted Sea Trout Fishing Report.
The week also brought along many laughs for during the week it was my birthday and to fish for the very first time on my birthday and catch 3 sea trout was just that little more special. Also during the week it was Christers (The owner of Solid) and Diegos (Head guide) birthdays so there was lots to celebrate lots of balloons, lots of wine 3 birthday cakes and 120 landed sea trout to raise a glass to.
Just like to add my personal thanks to all the guides and staff at the lodge for making everyone's trip even more memorable Hosted Sea Trout Fishing Report.
If anyone would like to join in the action next year on the Sportquest Holiday weeks please feel free to contact me directly on either 0044 (0)1603 407596 or peter@sportquestholidays.com
Below is a selection of the pictures, which always tell the story far better than I ever can.
Regards
Peter Collingsworth