Our guides over in Brazil fishing the ever so popular River Amazon for Peacock Bass have been seeing heavy rain of recent but it hasn't stopped the keen anglers from reaping the rewards of a top quality protected fishery.
We have been sent the below report of the last 2.5 days and by the sounds of it the fish haven't worried about it raining as there has been 332 Peacock Bass caught in the last couple of days to a small group of anglers.
FISHING REPORT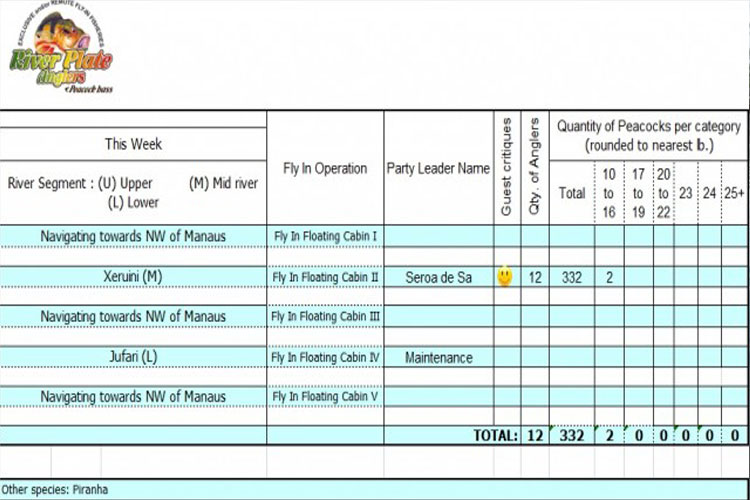 Only one group was received last weekend at the Xeruini private fishery in Dry-Zone N.West, fishing only this 2 1/2 days under very heavy rain episodes with a 332 landed peacock bass mark.
Last week´s fish-count was 3.512 among 37 anglers with two trophies above the 20lbs mark and several in the 16 to 19 lbs range.
Albeit the adverse weather, all Fly-In Floating cabins are navigating to Dry-Zone N.West and are having their scheduled maintenance program when passing by Manaus. Logistics for deployment is being adjusted according the reports of our scouts on the water level situation of the private fisheries.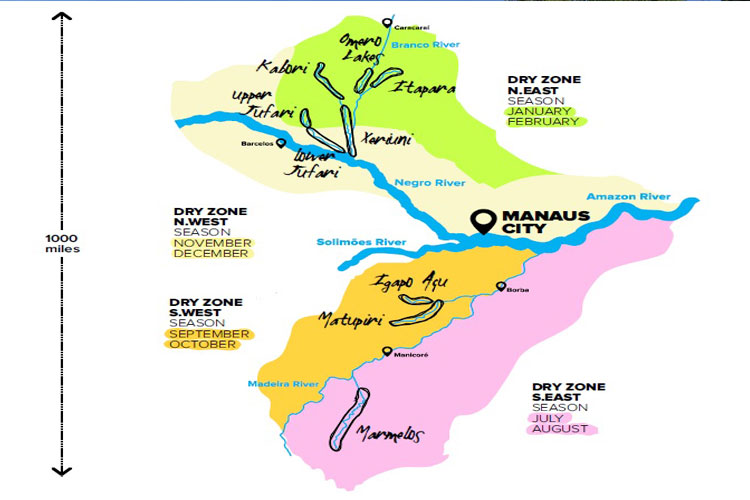 WATER LEVEL FORECAST – (AMAZON BASIN 4 DRY REGIONS)
Dry-Zone N.West: RIVERS: JUFARI, XERUINI (see map at the top). Jufari and Xeruini rivers water levels continue to be a bit too high, which is normal for this time of the season but, are very fishable for peacock bass. Water levels continue to drop quite rapidly in the main Negro channel. Last weekend anglers endured heavy rain episodes at the Xeruini, forecast for Barcelos show that although some tropical thunderstorms will be present, rainfall with not be as significant.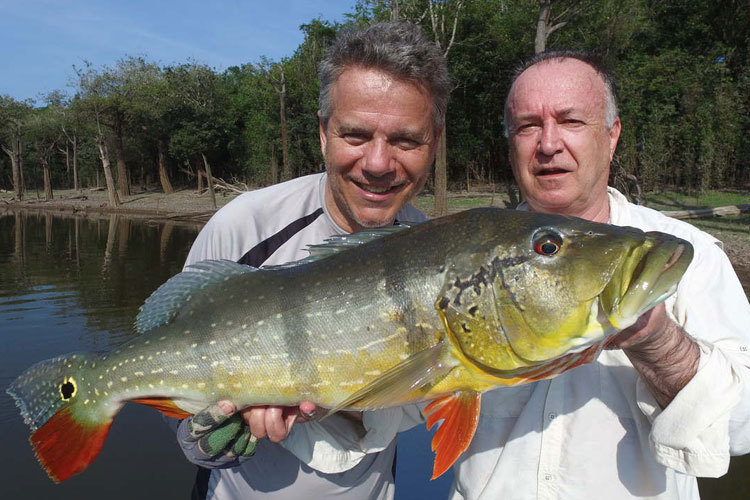 Dry-Zone N.East RIVERS: KABORI, ITAPARA (see map at the top). High levels. As forecasted last week water levels continue to be too high for peacock bass fishing which is normal for this time of the season but should be fishable in the next two or three weeks. See chart for Caracaraí below where the blue line represents actual levels, the yellow line last year´s levels and the red line historical extreme water levels.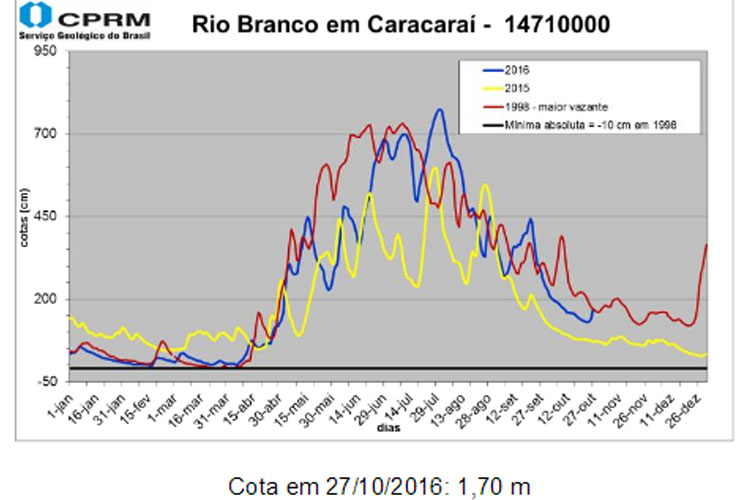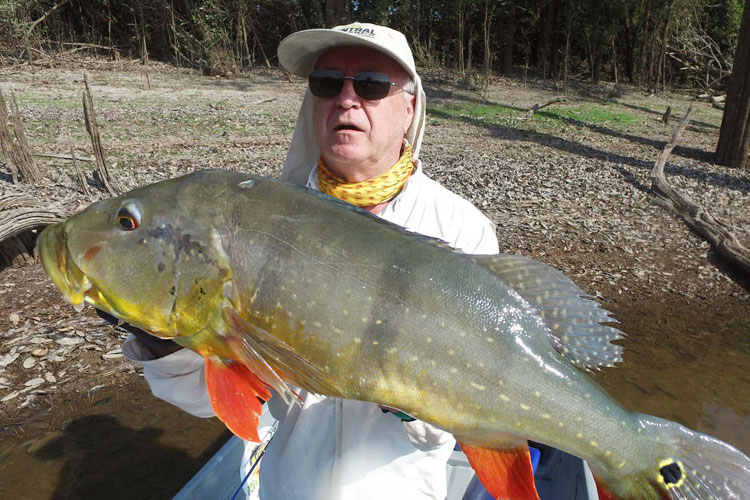 Dry-Zone S.East:   RIVERS: MARMELOS (see map at the top). Is closed down for the season (normal for this time of the season) due to the very extreme low level is the 2nd lowest in history –Not acceptable for Peacock Bass fishing. We continue to weekly update this anomally. Please, note in the "Rio Madeira" chart below, the blue line represents actual levels, the yellow line represent last year´s levels (the second registered lowest levels) and, the red line represents the historical lowest level. The blue line, today´s level, is between the last two lowest water levels ever! . And yet, Dry – Zone N.East are still a bit high for fishing This illustrates the importance of mobility within these 4 distinct Dry Zone areas.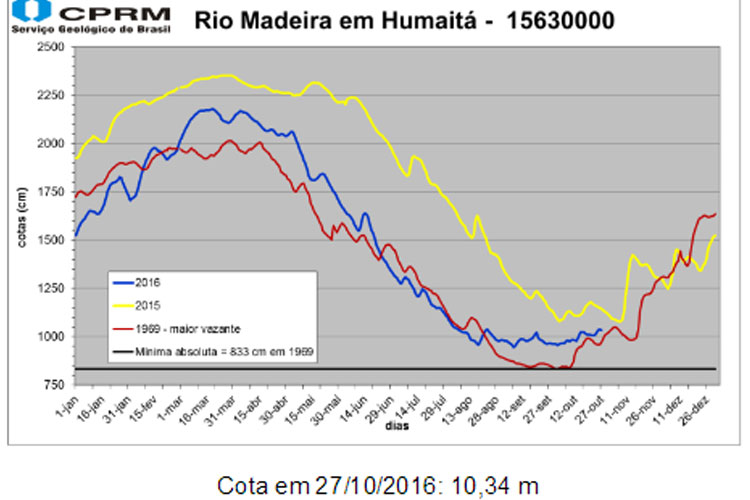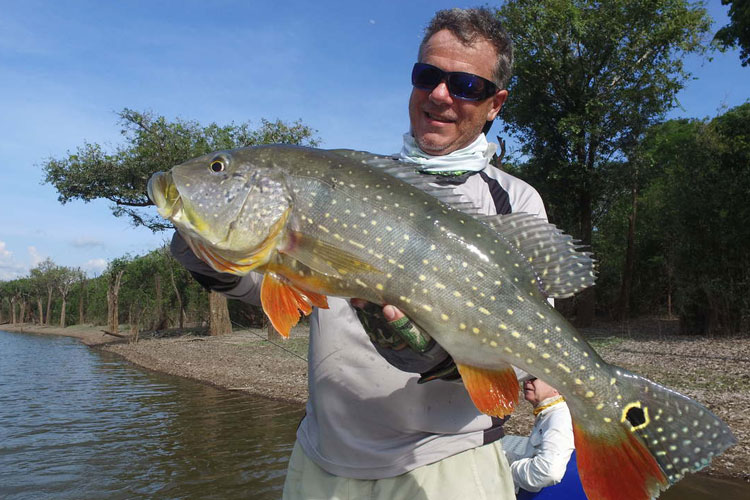 Dry-Zone S.West: RIVERS: MATUPIRI, IGAPO ACU (see map at the top). Closed down for the season. Water levels are too low and unacceptable for peacock bass fishing, which is normal for this time of the year.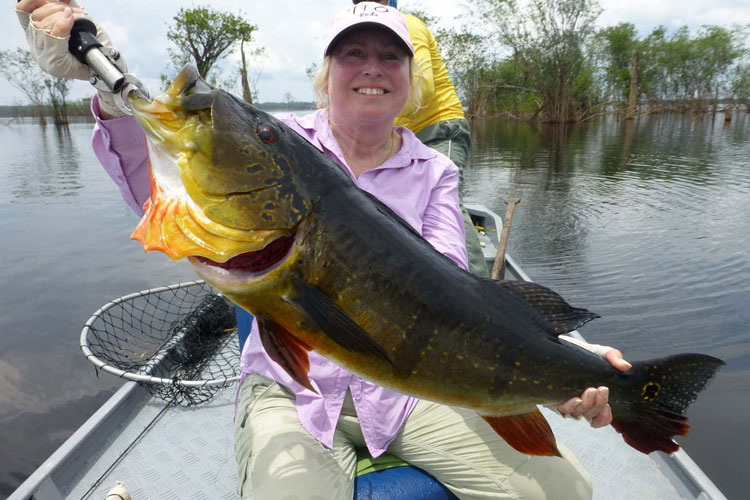 We have some fantastic weeks set aside for us for the 2017 season so if you fancy joining us on an awesome weeks fishing for some of the hardest fighting and most beautifully marked fish then call us on 01603 407596 as we can team you up with the very best guides who will put you on trophy Bass each day.
To view this amazing destination on the Amazon simply Click Here. You will find full detailed itineraries, what's included and excluded and a price in Sterling. We try to include everything in this trip so you don't have any extra charges that you were unaware of. So why not go take a look at what we can offer you and if you have questions do feel free to call our specialised team at Sportquest Holidays.
Tight Lines
Paul Stevens