Andaman Islands Red Letter Fishing Report We simply love hearing about red-letter trips especially ones like this. We all dream of red letter days and the feeling you get on such days is of complete satisfaction and an overwhelming feeling of achievement, something that money can not buy and if you try to explain it to someone who does not fish, they struggle to understand fully. Our head fishing guide over in the Andaman Islands has just sent us his report from these two very lucky anglers:
Father and son team Rene and Ryneal had seen a video of the fishing in the Andaman Islands and it became a dream for Ryneal to get a big GT on top water lure. They planned and booked a trip with Sportquest for the two of them fishing for a week on Halcyon 3.
Never having popped or jigged before this was a totally new experience for them and they had to hire all the gear they were going to use from us. We rigged up the Racepoint 150's for them as these are standard on our charters and suit all levels of anglers being tough as well as easy to cast with.
We got them into the fish from Day 1- with smaller GTs and the customary misses that accompany early starts with this type of fishing. However, Ryneal was a natural and very soon got into the act of belting out the casts and working his poppers to perfection. He could go the whole day popping and jigging.
I joined them for the days fishing on the 6th day and we headed out to a deep spot. After waiting for the tide to be running we picked the moment to start our drift. A few casts into the drift and "boom" Ryneal's popper is smashed close to the boat – setting the hook well the fight is on – it's a big GT and midway through the fight Ryneal is feeling it – after a bit of ribbing from the crew he lands his biggest GT and is exhausted – he says this is absolutely what he came for and has made his trip. A drink of water and a five minute break while we put the boat back into position and now Ryneal is casting again – again "boom" and he is on again into another big fish, he says – oh no not again!! But works his way through the fight. This time, with less need for us to motivate him to land another one. Father and son pose with big GT number 2!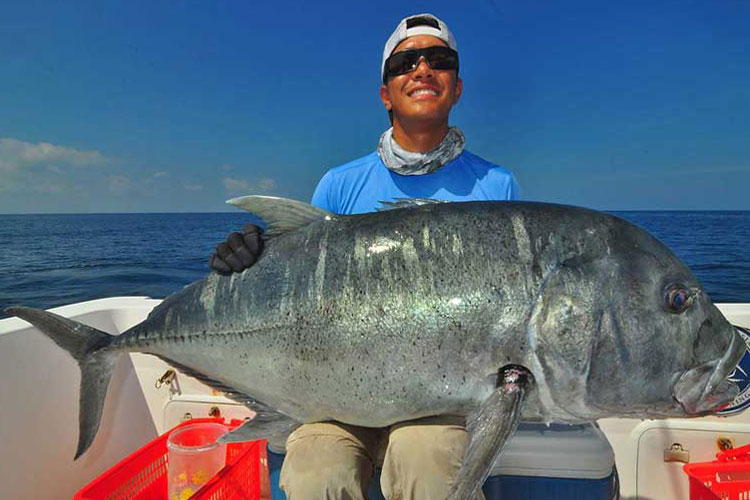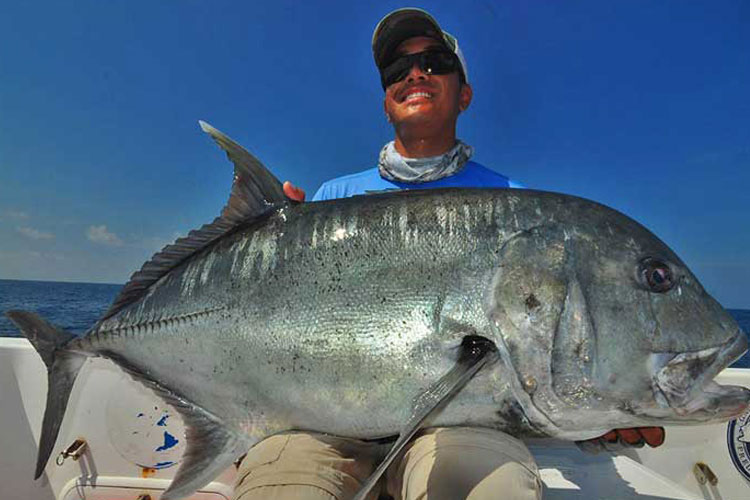 We do another drift and guess what Ryneal gets another big one! By now he is just going through the motions and lands the fish a lot easier as he uses body weight and just holds on. By now the breaks between drifts are getting longer and there is already chit chat happening about the boring so far.
We are very careful with how we manage our spots and do not like to over fish them so we moved to another spot further off, a few casts and again and Ryneal has another topwater explosion on his popper. He is now into fish 4 in a row, most anglers hope to get one or two great fish in a trip but here four in a row. An elated Ryneal and his dad Rene are over the moon with four great big GT landed on deck and released.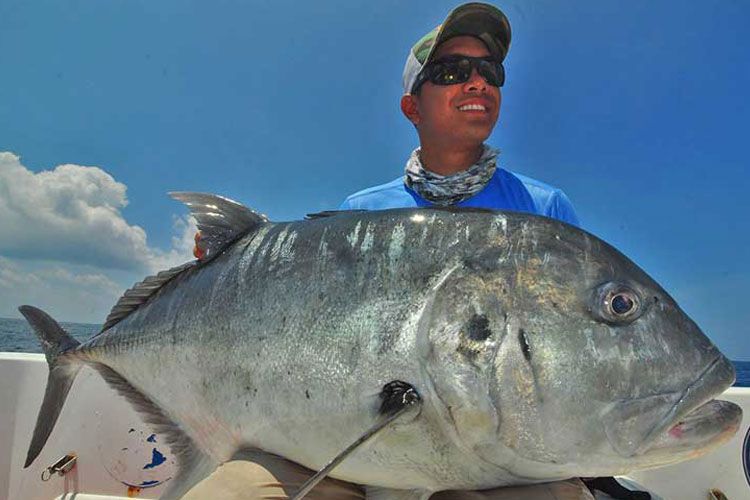 I had all the while been trying out stick bait. As the conditions were calmer I decided to try a bigger stickball that could dig in and also create a bubble trail when needed. While Ryneal was hooking into the fish all around I was also testing a Racepoint 100 that had just come in and was eager to put it through its paces. I was making the stick bait dig in when the next big GT exploded on my lure. I set the hook and put on a much pressure as the rod was rated for plus some….4 minutes later there was the biggest GT of the day on the deck. Photographs and high fives done the GT was successfully released.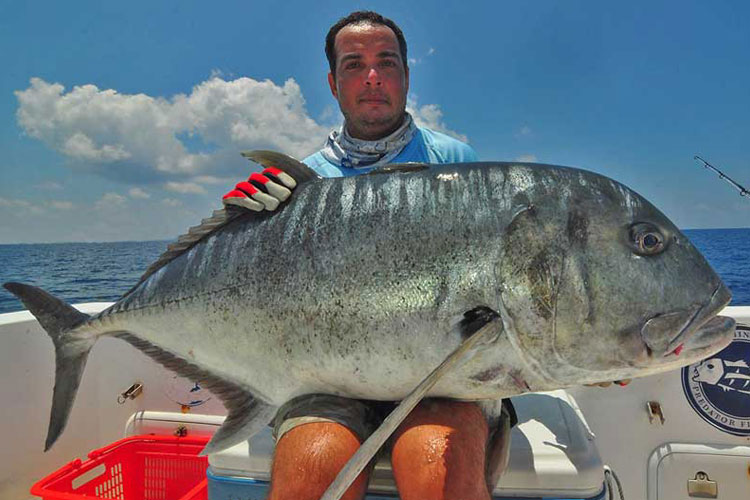 What a day and what an extraordinary trip for a first timer!!! When we get back Ryneal tells me he has the full footage from strike to landing of the big fish so wait for the YouTube video coming soon.
Species Caught: Barracuda, GT, Dogtooth, Jobfish, Twin Spot snapper, Grouper, Rainbow Runner
Rods: Saltywater Tackle Racepoint 150, Racepoint 100, Shimano Jigwrex, Shimano Backbone Trolling Rods
Reels: Shimano Stella Saragosa, TLD 20
Lures: Rapala Trolling Lures, river2sea dumbbell popper, Daiwa Meister stick bait
Hope you have enjoyed reading this report and if you fancy your chances against these brutes of a fish then simply Click Here to view this destination