A while ago we at Sportquest decided to start running 'Single Angler Weeks' which proved to be so popular for the travelling angler. We decided to run them to destinations where you needed a larger group to make it cost affective and they have gone so well.
This report has been sent to us from our fishing guides fishing out of the Andaman on such a single angler week. The guys had never met each other before and by the looks of the report, they managed to catch a few fish.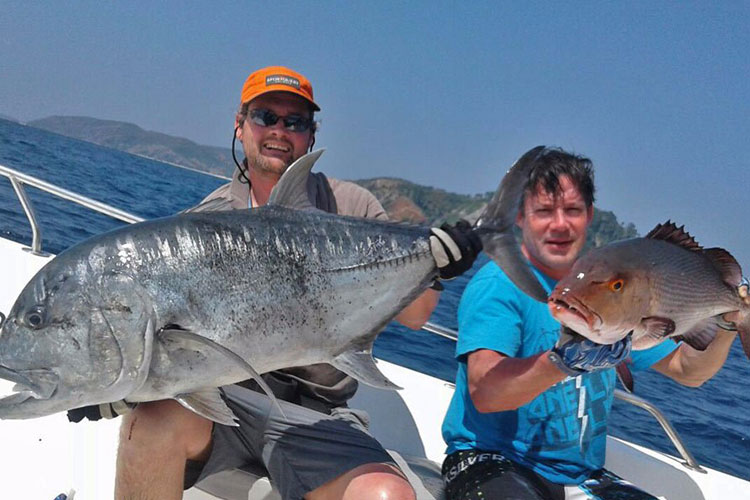 If you fancy joining any of our 'Single Angler Weeks' Click HERE to see what we have on offer and if there are any trips that you would like us to add to this section simply ask us. If you would like to speak to us about these weeks you can call on 01603 407596
FISHING REPORT
For the third week of March we were running two boats: one with single anglers Andre, Mike, Paul and Geoffrey and the other with Loic, who has fished in Kirinda before, and two friends from Dubai, Loay and Adham.
We did not have the very best tides at the beginning of the trip and the wind was non-existent as well the last few days. After discussing with the guys, as usual they were more interested in top water fishing for the week, so we decided on a plan to fish farther spots, in the hope of getting some good action.
We tried more than a few spots the first few days and even though we were a few days before the new moon it was seriously like trying to fish in a pond. With hardly any current, flat, calm and muggy, something was definitely not right. The few fish we did raise did more or less come up for a look-see only and those that did commit were in very shallow water with Paul losing a nice one to the reef's edge.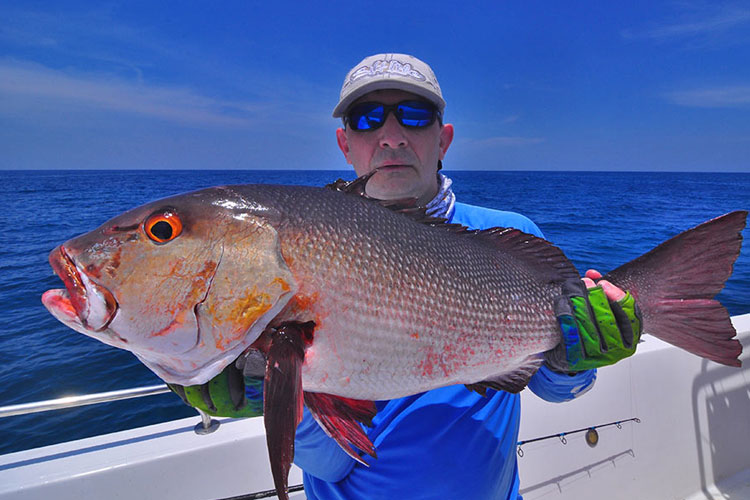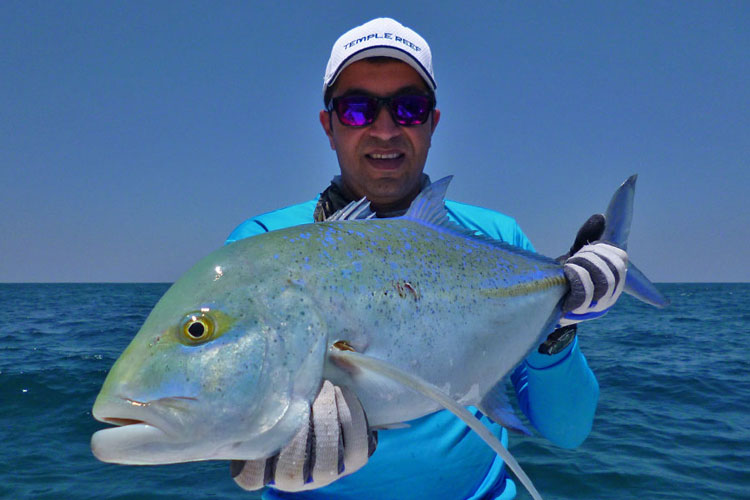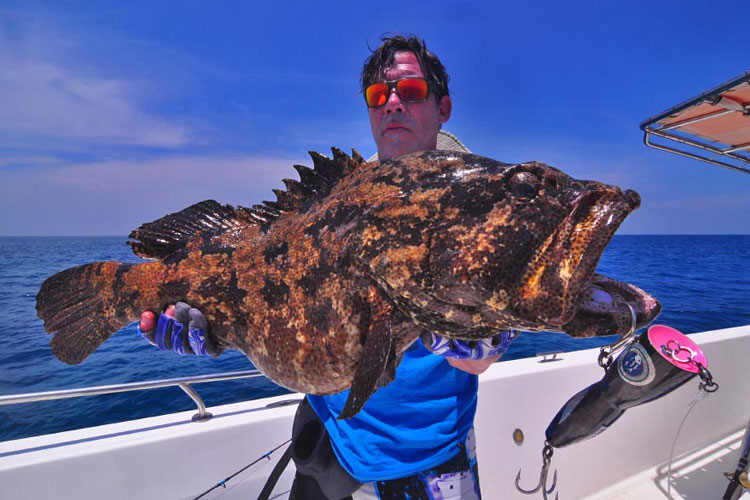 We did try jigging and were quite happy when something big hijacked a small fish on the jig in about 80 meters of water and screamed off line. It turned out to be an estimated 60-70 kilo shark perfectly hooked in the corner of the mouth, which gave Paul a workout to land.
This is where you have to keep working even in difficult conditions and the anglers on both boats, much to their credit, supported us by casting and jigging non-stop. Slowly we started to get some activity on the poppers, with a few sporadic takes and one or two really big fish committing, only to bust off, which added to the frustration. Mike ended up busting off on 3 of his favourite Cubera Poppers!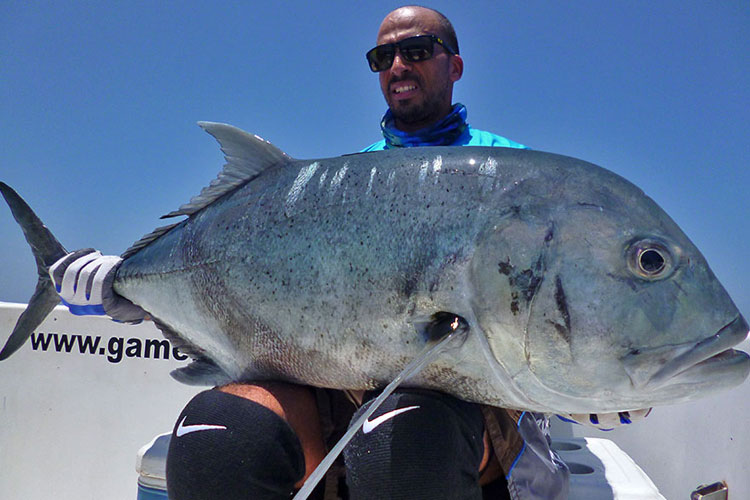 Our new poppers called the Kokari had just arrived and were due for a bit of final testing. We had a few on the boat and gave a couple to the guys to try out. Paul got a nice grouper on the Black Kokari 130. Loay had a really good fish come up on the other boat and commit, to give him a great fight. Again this was on another prototype popper from KBE in Dubai.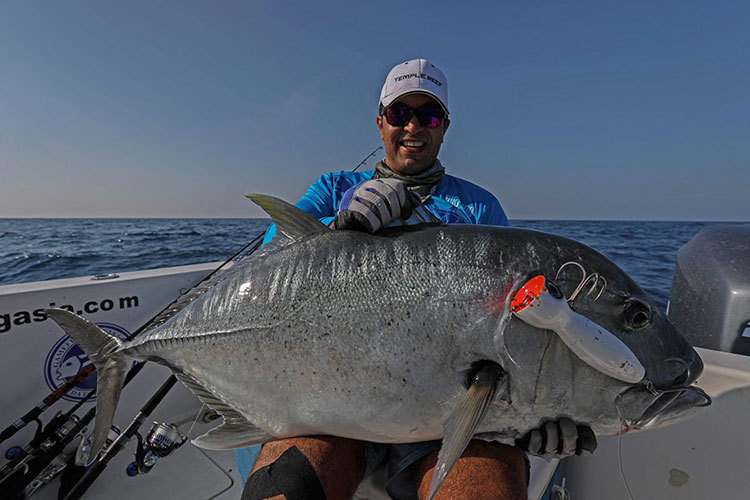 We did have a lighter moment when we on arriving at a different popping spot and convincing Andre to have a go with his Navigator stickbait, he decided to have a warm up cast – only to have it slammed, leaving a shocked Andre desperately trying to set the hook.
Luck did favour us on one occasion and we came upon a school of bait getting smashed by GTs in deeper water. There were GT everywhere busting the surface and it did not take more than a pop or two from the lures to get a savage attack. Andre got a very nice one close to the boat on his Navigator stickbait which was completely swallowed and after a really good fight he landed a very good fish over 35 kilos. Paul was the next lucky one and got into a great dark coloured GT which really fought hard and when finally boated it was a PB for Paul, estimated at over 45 kilos; a really super specimen. Loic was a relentless casting machine and kept going with the big popping chuggers and the heavy PE 12 Ripple fisher rod. He got a really big fish up to smash his lure, only for both the big hooks to straighten and the fish to get away. Adham too raised a really big GT on the G Cup HammerHead which bust his mainline; fortunately the popper floated back to the surface and we got that back.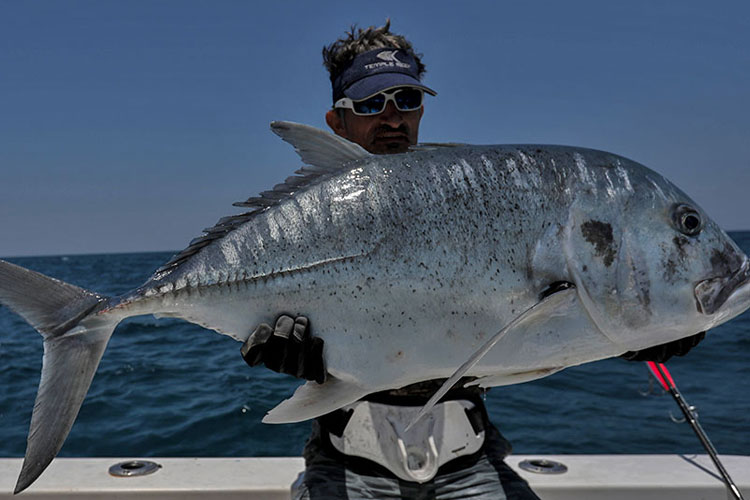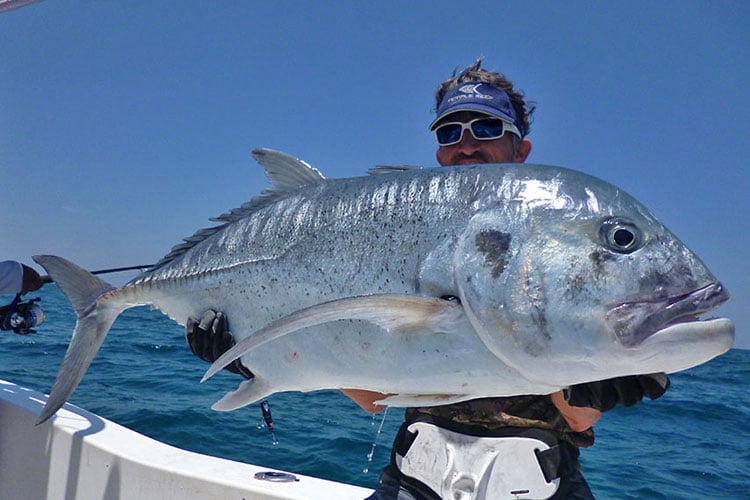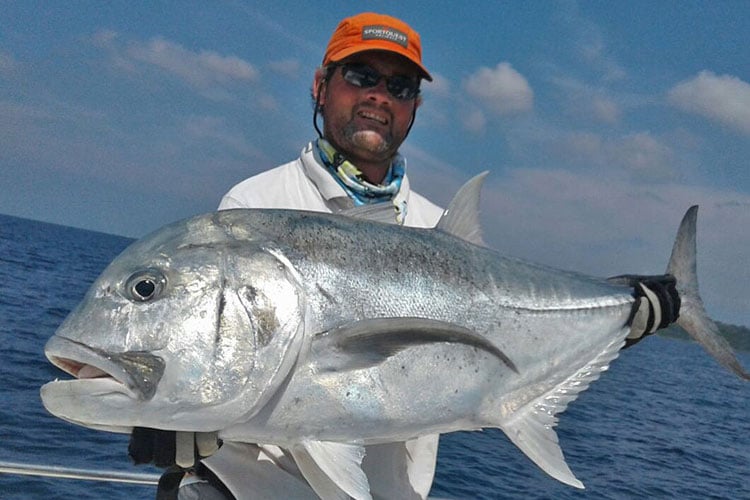 Sporadic action was the summary for this week – the fish we really not feeding actively; but this is fishing and it happens. A few good fish boated instead of being lost and the result is completely different. But that's why we keep coming back for more.
Till next time,
Tight lines
Tackle Used
Popping Rods: Ripple Fisher, KOZ Expedition, ATC, Saltywater Tackle Racepoint, Xzoga
Reels: Shimano Stella, Daiwa Saltiga
Poppers and Stickbaits: Kokari 130, Kokari 160, Napalm, Temple Reef, El Toro, Hammer Head, Halco, Patriot Design
Jigging Rods: ATC, Shimano
Jigging Reels: Shimano Saragosa, Shinamo Stella, Shimano Biomaster
Jigs: Williamson, Seven Seas, Hots
Species Caught: Dogtooth, Giant Trevally, Bohar Snapper, Tomato Grouper, Grouper, Green Jobfish, Spanish Mackerel