Arapaima on the fly anyone?
This is no ordinary fishing trip and no this is not fly fishing in manmade lakes, this is true fly fishing in Mamirauá reserve Brazil. Mamirauá was the first Sustainable Development Reserve in Brazil, legislated by the Government of Amazonas in 1996, and remains the largest arapaima reserve in the world.
This fairly new operation with our partners at Untamed Angling has set a new bench mark in fly fishing just read our report below but to give you an idea how about 66 Arapaima (All wild fish) landed in one week by JUST 3 anglers.
I will be adding all the details of this destination to our website in the coming weeks, However we are already taking bookings and names for some hosted weeks in 2019. If you are interested call me on the details at the bottom of this post.
Fishing Report
We started our Pirarucú fishing season like never before with an astonishing number of arapaima caught. We couldn't be more excited about what's to come.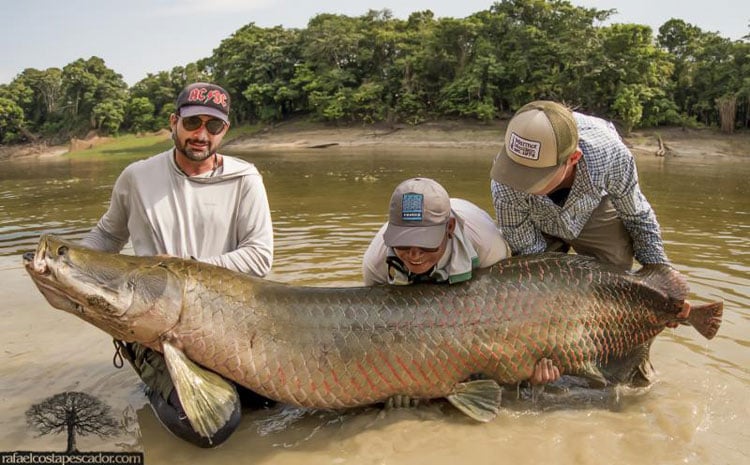 Weather:
The weather in our first two weeks was really hot with some scattered showers. Temperatures ranged between 25-35C.
River Conditions:
We started our season with really low water levels and in perfect condition for fishing. The main complex of lakes connected by the main channel was very dry, and the marginal lakes were not accessible. On the other hand, the fish were all concentrated in the main lake and feeding channels, and there were an incredible number of arapaima rolling on surface.
Fishing Conditions:
We had perfect fishing conditions in the channel with lots of active fish. The arowanas were also active but trying to hide from the big arapaima schools. Some tambaqui were spotted and caught on fly. We even had days of 20+ fish per angler!
When the temperatures dropped and there was no sun for two days, fish got lazy. We had a good sight fishing conditions for big fish in the lakes, but some fish refused flies. By the end of the week, fishing was on fire again, and anglers had excellent fishing in the mouth of jungle creeks and lagoons.
Fishing Stats:
Number of Anglers: 3
Total arapaima caught: 66
Total arowana caught: 129
The amazing giant arapaima of 210cms (83 inches or 7 feet!) estimated at 280 pounds with an epic battle. Many fish around 160 to 180cms were caught, making this the best start to a season since the very beginning of Piraruc ú project.
Thats over 190 fish on the fly between just 3 anglers, take a look at all the pictures below and let me know if you are interested….. If not you do really need to check if you still have a pulse.
Call me on 01603 407596
Regards Peter