The Halibut fishing in Norway continues to be off the scale at the minute with some very big fish being caught, we have had a report come in of a cracking Halibut caught from Vesteralen
This week has been really tough weather and we have been fighting to get out in several metre high waves and horizontal rain. Therefore the fishing has been difficult because it is very difficult to keep bottom contact and feel the fish in such waves but the guests have not given up and the reward came yesterday when the weather had calmed down.
Boat 1 with Göran Sandell planned to go west and try to reach the outermost grounds but decided to turn back due to that it was far too rough to be able to fish efficiently. They chose an area that has been good with cod in and out of an area that had delivered halibut earlier. Because of the southern wind they decided to fish outside the grove and drift on it. After they had driven for a while and began to approach Grynnan, a fish hit it on Göran's rod. At first it did not feel so big and everyone in the boat thought it was a big cod but after Göran had got it around 20 metres everyone in the boat got a shock! The fish made a dive to the bottom! His son William told everyone in the boat to wake up. Everyone in the boat knew that there was a big halibut and the fight was running!
After the halibut swam down to the bottom, Göran could barely move it and tried all he could. In the end, he began to feel that it moved from the bottom and now it was just pressing. But she did not give way that easy and after a couple of rushes, Göran gave over the rod to William who started pumping it. But it did not matter and both Lars and Marcus who were here for the first time also got to know the queen of the sea! When the fish closed broke the surface, it could quickly be secured and it was time to measure!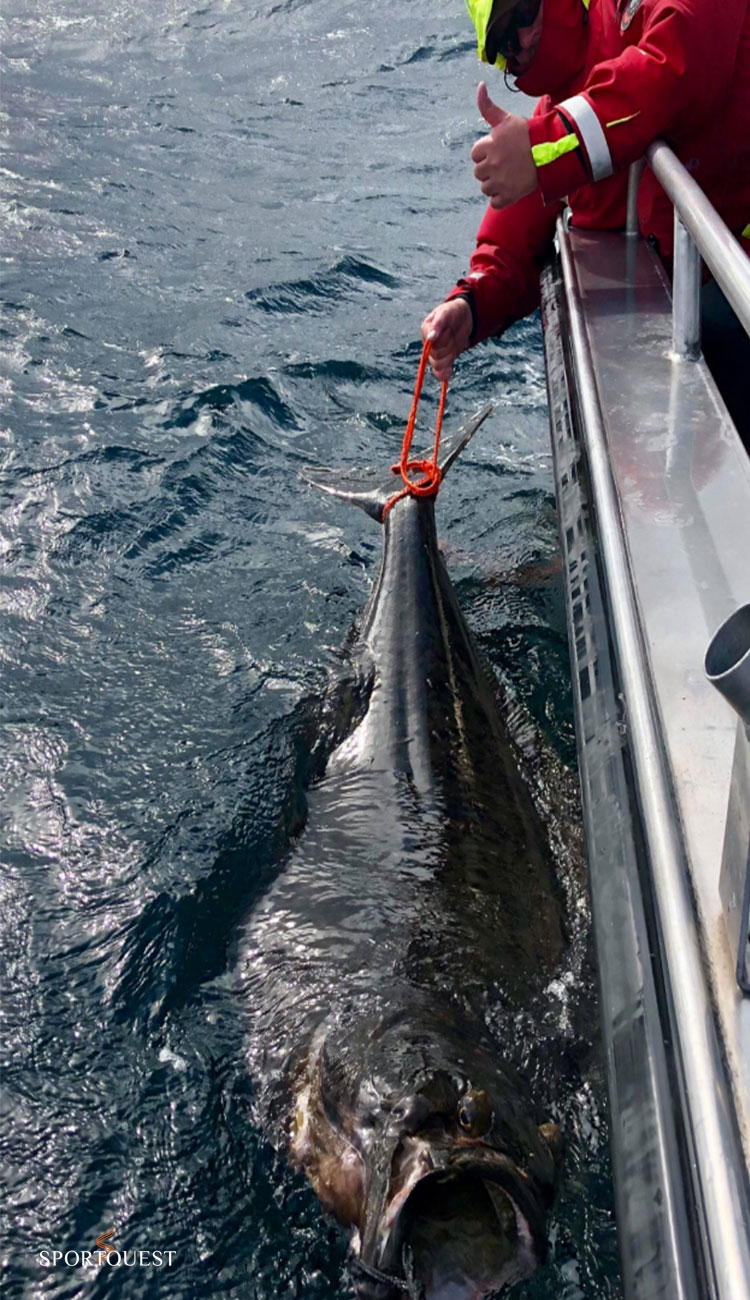 The halibut measured 177cm (176lb est) and after a couple of sneaky pictures, it once again swam in the depths! Congratulations Göran to a fantastic fish and awesome job by everyone in the boat!
Several of the other boats had steered to the west side and defied the rough weather. They had encountered the big sea and landed a number of fine fish and even a pair of sneaky cods up to 12kg had seen the inside of the boat.
Today is the last day and the guests are really tagged!
Tight lines!
Marcus Eriksson & Oscar Lundahl
What a fish, many thanks for the report guys
This destination is proving to be a big hit with our customers, why not join us over there in either 2019 or 2020 and you too could be locked in battle with the fish of your dreams
Tight Lines
Matt