Yes again like all Atlantic Salmon fishing the weather plays a huge part in the success of all anglers. Read this weeks report on both Salmon Lodge & Bonaventure and see what you are missing.
FISHING REPORT
This past weeks fishing was controlled by the weather, some days were rainy and cool while others were hot and sunny. I'll let you guess which ones were the best for fishing! The high tides associated with the full moon brought in a nice run of July salmon. It seems we're  running about two weeks behind schedule this season. Our lower pools are in great condition and holding fresh salmon, water conditions on all our rivers are better than normal for this time of the year.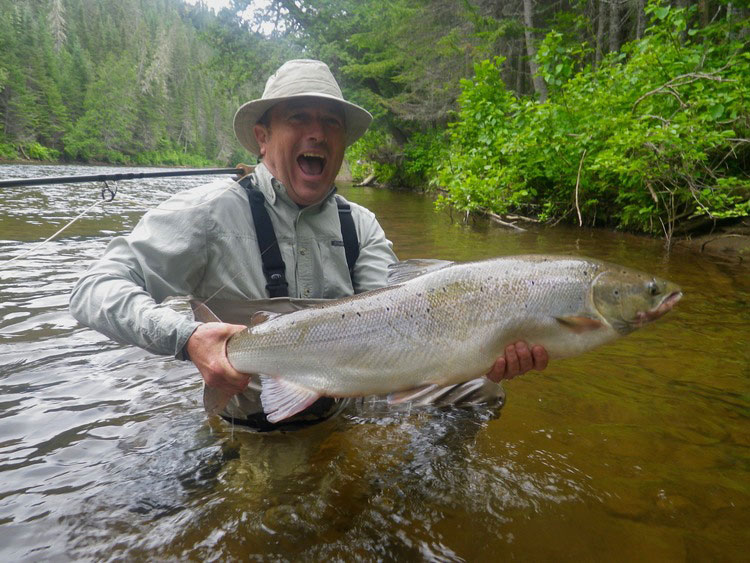 A happy angler indeed! Claude landed this beauty on the Grand Cascapedia, Congratulations Claude!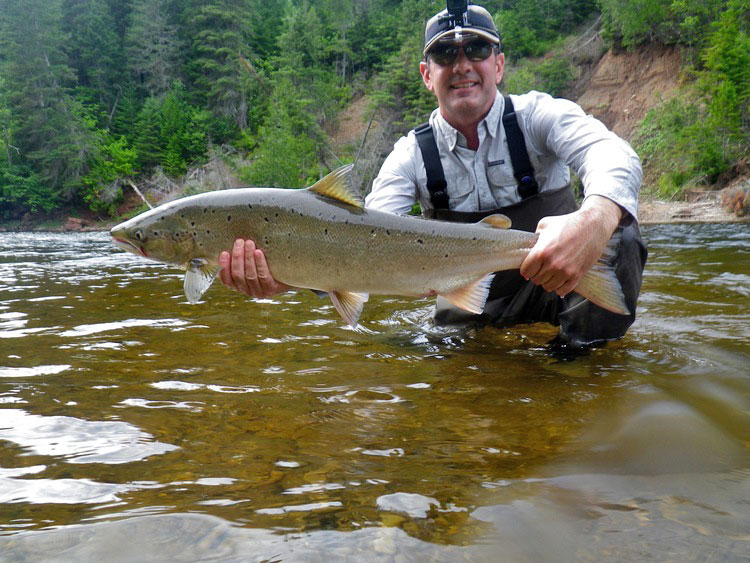 With his go-pro mounted for all the action, Stephane puts a nice one back to swim another day!
The Bonaventure's flowing at 22 cubic meters per second, just right for this time of the season and water temperatures are excellent in the 50 degree range  The Petite Cascapedia is flowing at 18 and fishing very well. The Petite saw a nice run of fresh salmon during the high July tides . Most pools on the Petit are holding fish and  water temperature are perfect. Our guides have been floating the river and  seeing some huge salmon. The Petite Cascapedia is our smallest river but the fish are big!  Fishing on the Grand Cascapedia continues the been excellent, the flow rate is at 36 after a nice bump in water levels this past week.  Like the Bony and the Petite water temperatures are perfect on the Grand Cascapedia.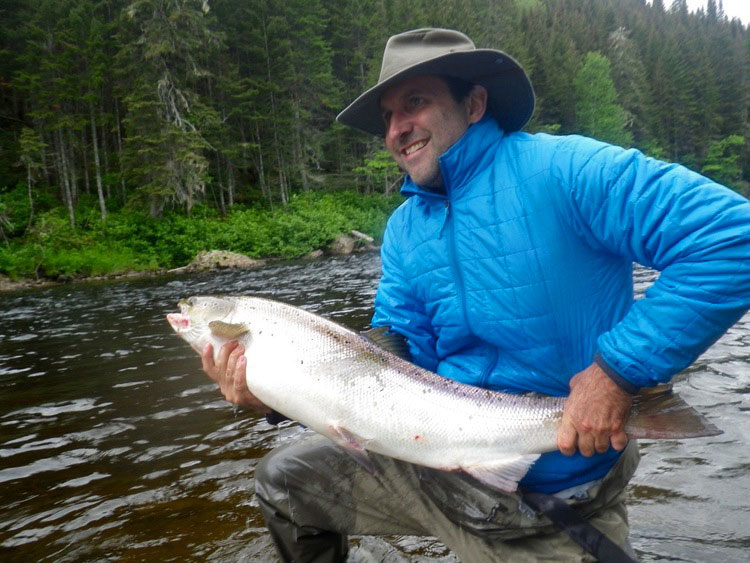 Salmon Lodge regular Patrice with a fresh run salmon, Nice one Partice!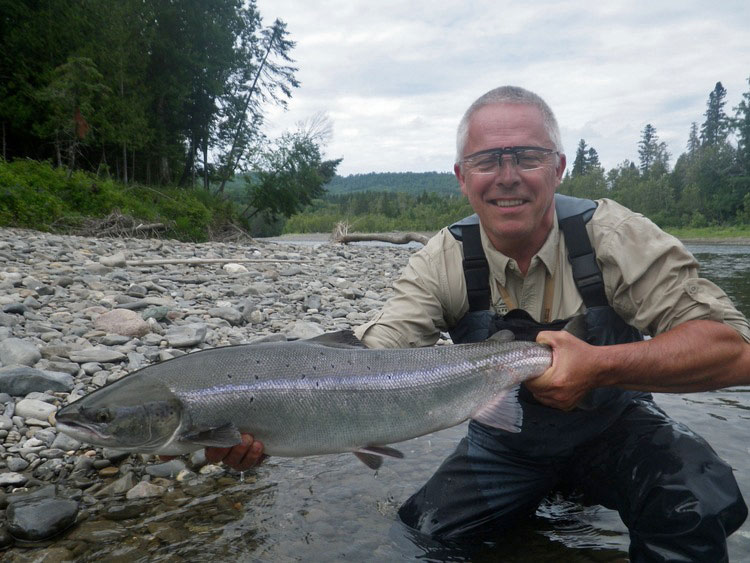 Rene lands his first Grand Cascapedia salmon, Congratulations Rene!
Flies of choice are a mixed bag, wets, dry's and small tubes are all working well.  Free floating dry's have been responsible for most of the catches this week.  Forest Green, Dark Brown and Blue Bombers  in sizes 2, 4 and 6 are working the best. In the wet fly department, the Silver Rat, Undertaker, Blue Charm, Nagli and Green Machine have been doing very well. Wet fly sizes in 6.,8 and 10 are the best choice. Medium and small tubes in various patterns are also a good choice.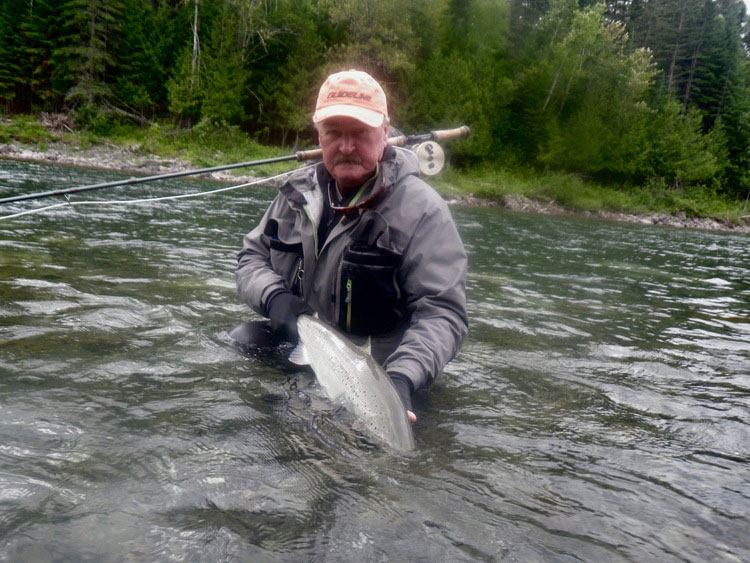 Neil Holding puts a nice one back on the Bonaventure, congratulations Neil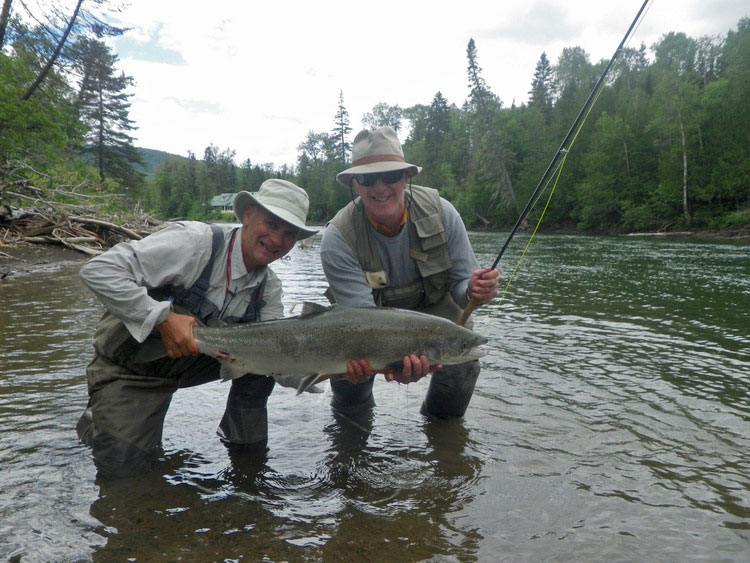 Camp Bonaventure guide Bruno (left) Lepage with angler David, wow, nice one David!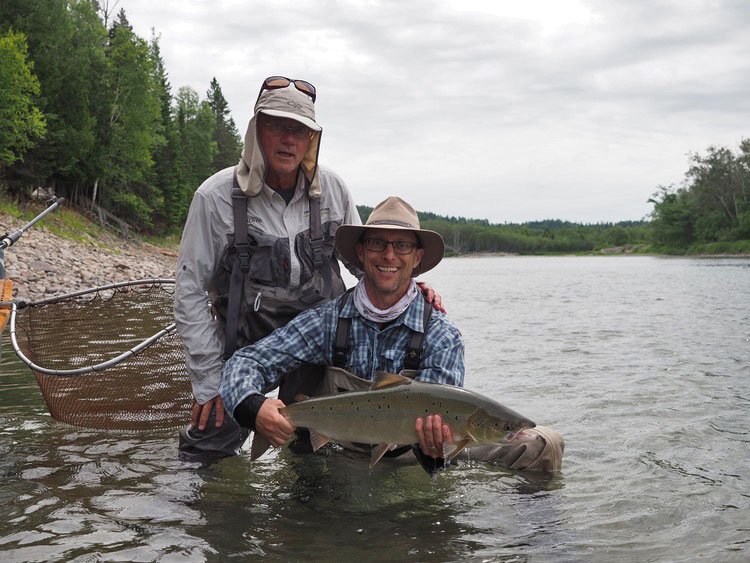 Camp Bonaventure guide Orrin Briard ( left) with angler John Ouelette, nice salmon John!
The weatherman is calling for a mixed bag for the upcoming week, with temperatures in the 70 degree range, nice for fishing! So lets all keep our fingers crossed.
Fishing at both these lodges for Atlantic Salmon is amazing, I have a very very special trip planned for 2017, where we will fish both lodges and all the rivers over a 6 days fishing period.
Check out my hosted week in 2017 Click HERE and I look forward in you joining me on the river bank.
Regards
Peter Collingsworth
Managing Director Sportquest Holidays