Camp Bonaventure Fishing & River Report June
I am pleased to report that fishing has improve considerably over the past week, the high tides combined with some much needed rain was what we needed. Thunderstorms gave a much need boost to the Grand Cascapedia and water levels are perfect for this time of year. The Bonaventure and Petite Cascapedia are still low but the rain did give them a much needed refresher, we could do with more on these rivers as the flow is still lower than average. However our guides with many years of experience are still putting our customers on fish everyday.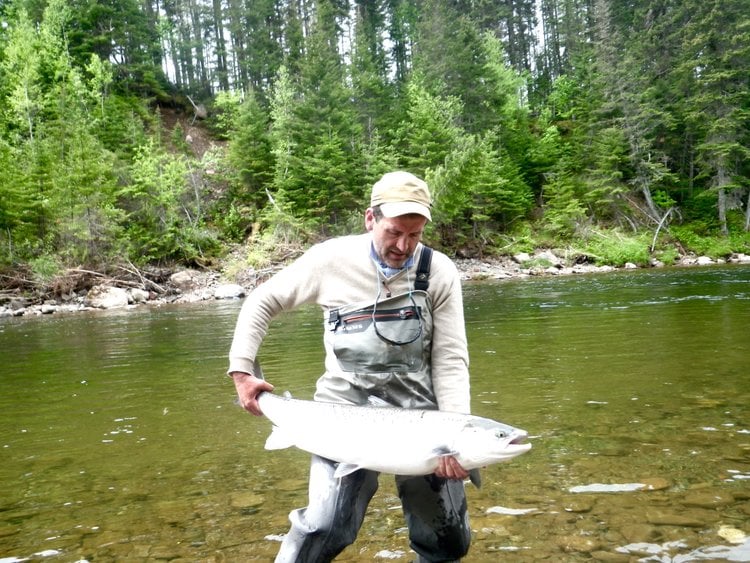 Maitland he know how to get it done!
"Time for a few more rain dances this week and then I am sure we will be back to perfect conditions, look out for next weeks reports"
The Bonaventure is flowing at 21 m3/s , normal for this time of the season is 33, The Grand Cascapedia is at 60 m3/s, while as normal is also 40 for this time of year. The Petite Cascapedia really needs water. It flow is at 15 m3/s, it should be in the 30 range.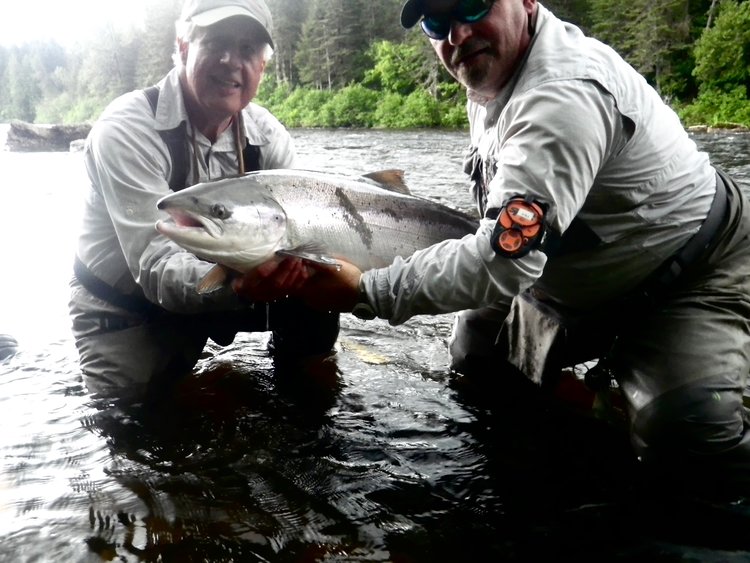 Another regular customer Jonathan (left) and master guide John with a beautiful fresh run salmon, congratulations Jon!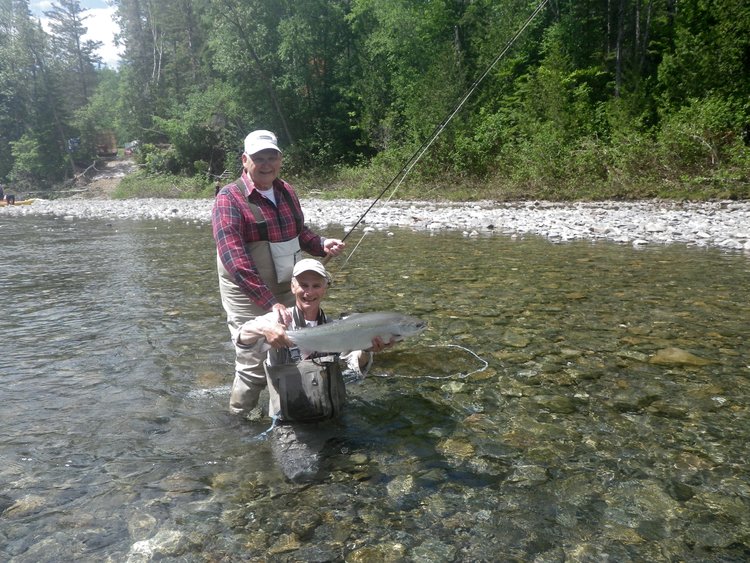 Bill with just one of his many fish for the week.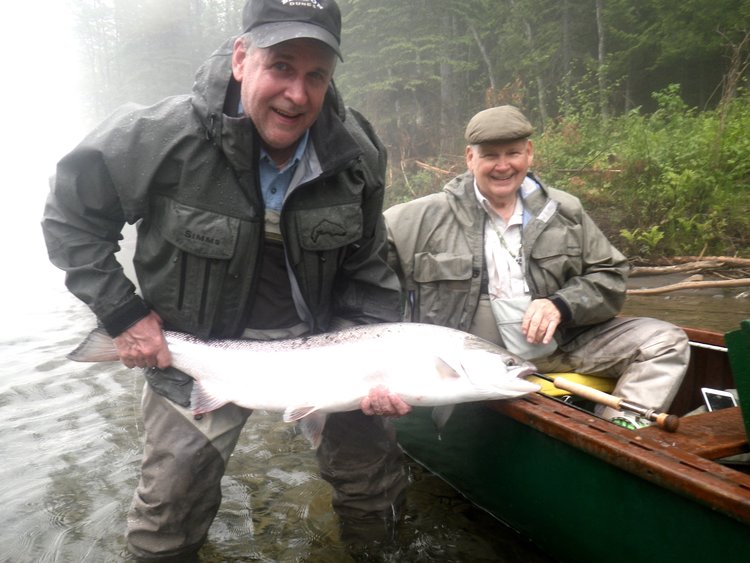 Bills son Douglas with his first Atlantic salmon, a chip of the old block! Well done Douglas.
The Grand Caccapedia continues to give us some great fishing with good numbers of nice salmon being landed, The Bony improved greatly this past week and we are now seeing and catching salmon everyday. The Petite got off to a slow start but its certainly getting better with each passing day. The new moon brought the higher tides and we did see a good number of new fish entering our rivers. Conditions should improve over the next week as rain is expected over our region.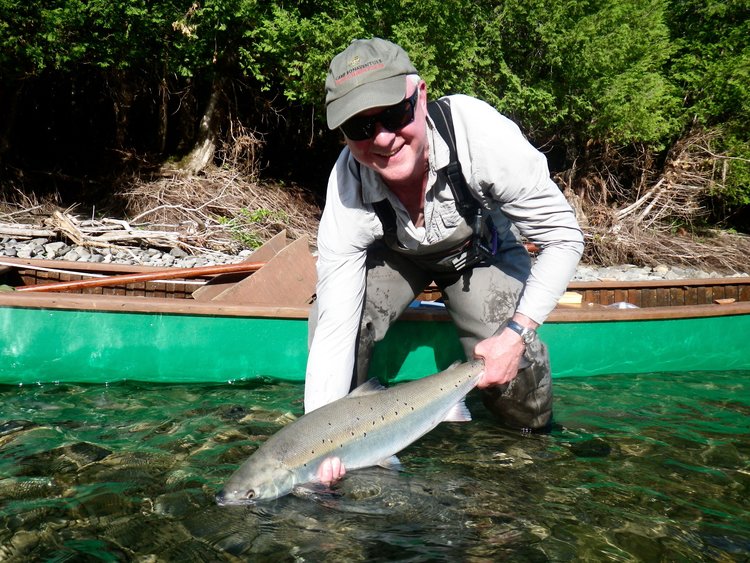 Julian with his first salmon on a free floating dry!, great job Jules
The "must have" fly's for this past were the Blue Charm, Stone Ghost and Green Highlander in Sizes 6, 8 and 10. Tube fly's continue to produce every day, especially the smaller ones and hitch tubes. Dry's were responsible for about half the salmon caught, Brown , green and Blue bombers in sizes 2, 4 and 6.
Lets hope mother nature smiles upon us this week with a good downpour.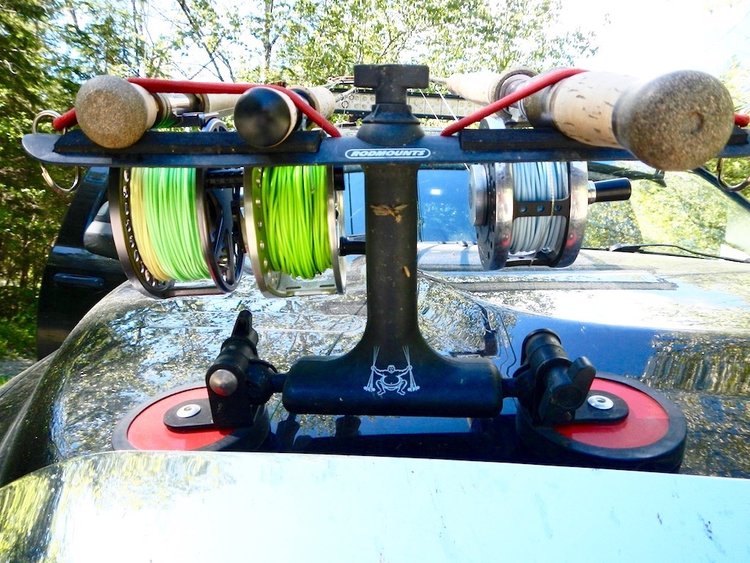 Geared up and ready to go!!!
Lets hope mother nature smiles upon us this week with a good downpour.
I hope you enjoy our weekly little river and fishing reports, so keep checking once a week for all the updates.
If you would like to join us in 2018 Click Here to see the full trip details.
Until next week
Kind Regards Peter