Can you believe that just a few weeks ago, I returned from my 14th trip to Christmas Island?
The fact that both customers and myself return year after year is a testament to the quality of this wonderful fishing destination. The abundance and diversity of species to target means there is something here to spark up any angler's enthusiasm.
Returning to this island year after year has enabled me to build up a plethora of knowledge and experience, which I love to pass on to our customers. Knowing which moon phase is best for GT's and having a deep understanding of tides, and the effects that is has on the different flats at different times of the day ensures that we are all in the right place at the right time.
Our adventure started this year with another full trip of eleven passionate anglers
Our final flight from Hawaii to Christmas Island begins to buzz with excitement as the flight crew announces our final descent to the island. It's amazing how you can always spot anglers on the flight, as they are the only ones straining their necks for the first glimpse of Christmas Island. At first it's nothing but thousands of miles of open ocean, before the Island comes into view providing the first glimpse of the reef that protects the island and the miles of stunning inland flats.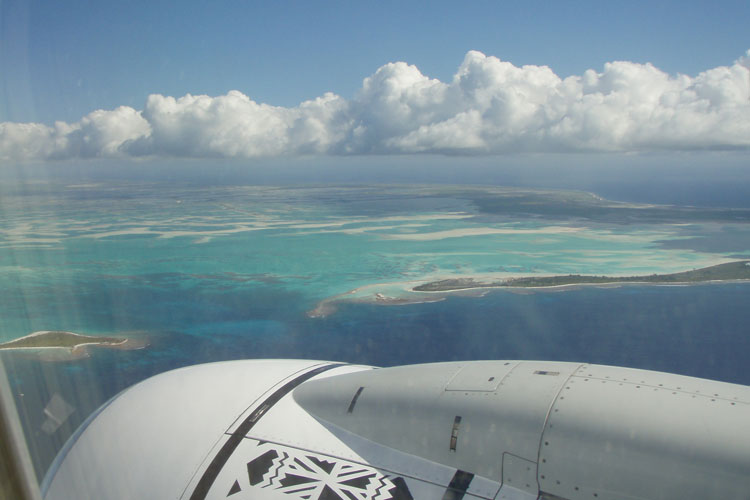 The first glimpse of Christmas Island
On landing, all customers are eager to disembark, as the excitement of months of planning, researching and saving for the trip starts to come to fruition. The remaining people on the flight, who are continuing on to Fiji, look at us all as if we are mad. For to any non-anglers flying in to Christmas Island just looks like a flat island covered in palm trees and tin shack villages. Certainly not the complete luxury and lushness of Fiji, but to us, anglers, you can keep all that, just give us a fishing rod and the opportunity to fish and that's our health spa and entertainment for the week sorted.
Again, this year I was lucky to have a great group of customers, who where a mixture of eager anglers with different goals and expectations, in both what they wished to fish for and how they wished to fish. This was the perfect mix to make for a great week.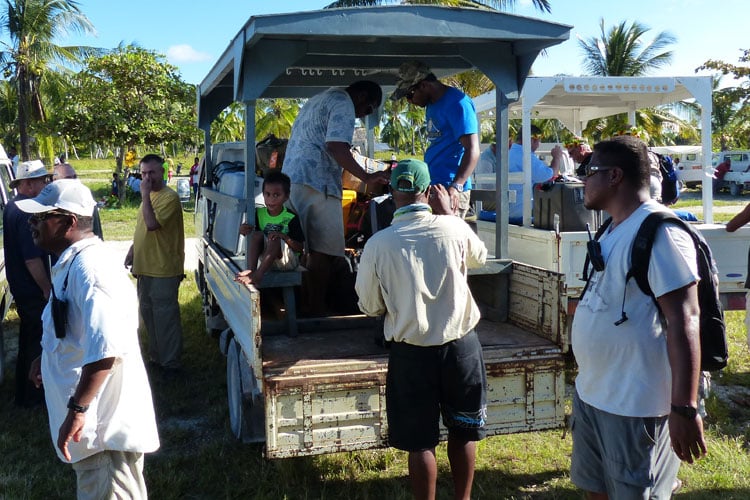 We needed two trucks and a minibus for everyone and the mountain of fishing tackle.
On driving to our accommodation, the first thing that I noticed was the sheer amount of surface water lying around and in one part flooded across the road. Talking to our head guide, I quickly found out that, due to it being an El Nino year, the island has had lots of bad weather, which for Christmas Island was very unusual. Fortunately for us our day of arrival was bright sunshine and not a cloud to be seen anywhere.
On arrival at the lodge we were assigned to our rooms so we could settle in and unpack. As you can see from the pictures, the lodge we have now used for the last couple of years has everything that us anglers could wish for. Large twin rooms, air conditioning, fully stocked fridge with both soft drinks and beers that is replenished each day. Just as good as Health Spa! The rooms also have lots of storage space for all your personal items, plus plenty of room to unpack the mountain of fishing tackle everyone brings.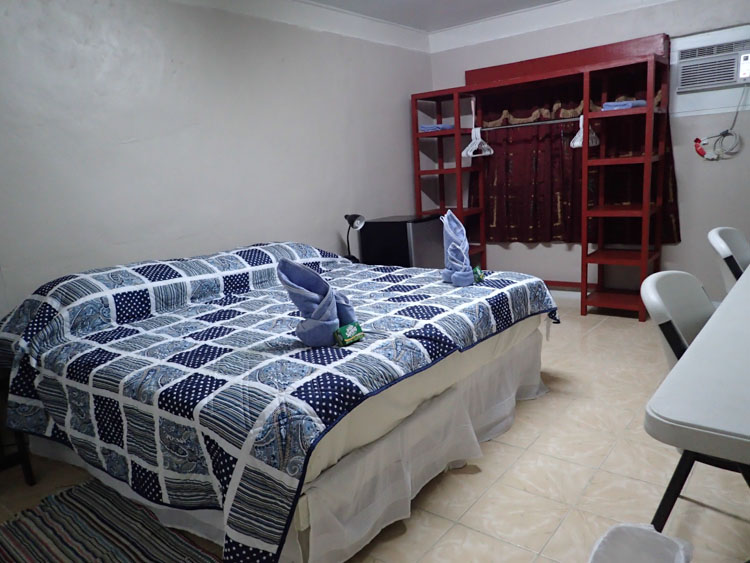 Large rooms with comfortable beds, air con and plenty of storage space.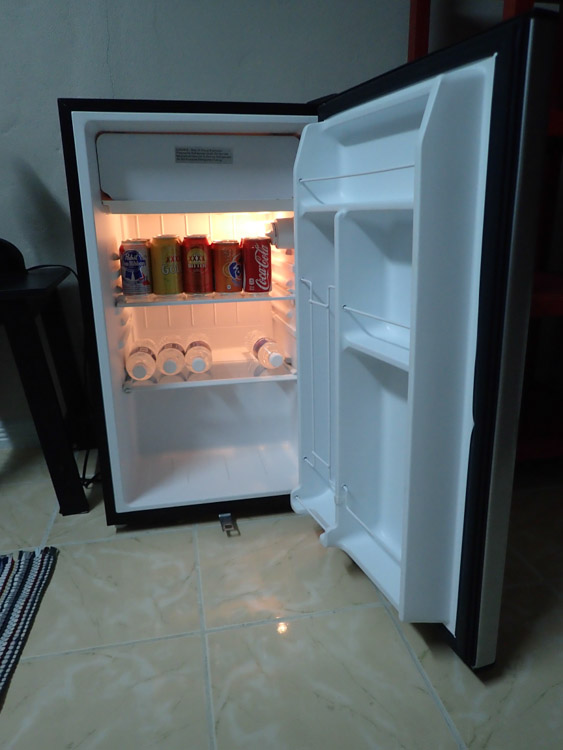 The beer fridge
Another nice touch is the rod racks outside the rooms to store your rods, with a tap and hose for each room, so you can wash down all your tackle at the end of each day with fresh water. All the rooms also have en-suite bathrooms with electric showers producing burning hot water. A real luxury from the early years, when it was only cold water showers.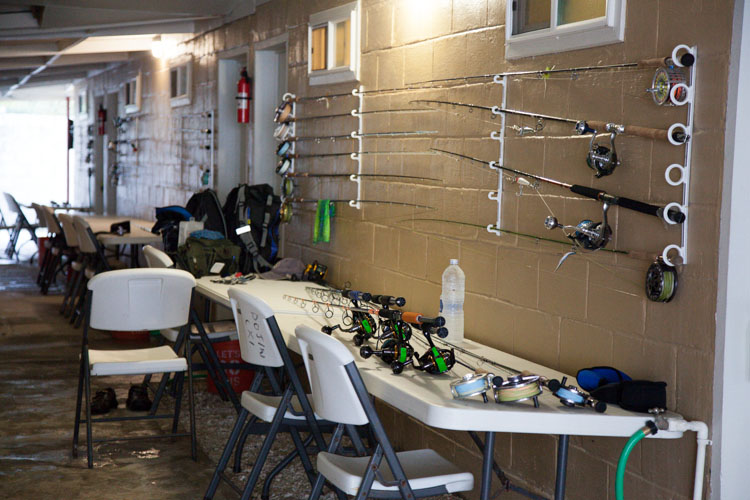 Welcome to the Sportquest tackle shop. We're ready for anything!
Tom & Martin found a better use for their clothes drying rack!
Another major improvement is the food. each night there is more food than any of us could eat and for lunch each day there are always fresh sandwiches, fruit, biscuits and even chocolate that you can put in your lunch box for the day.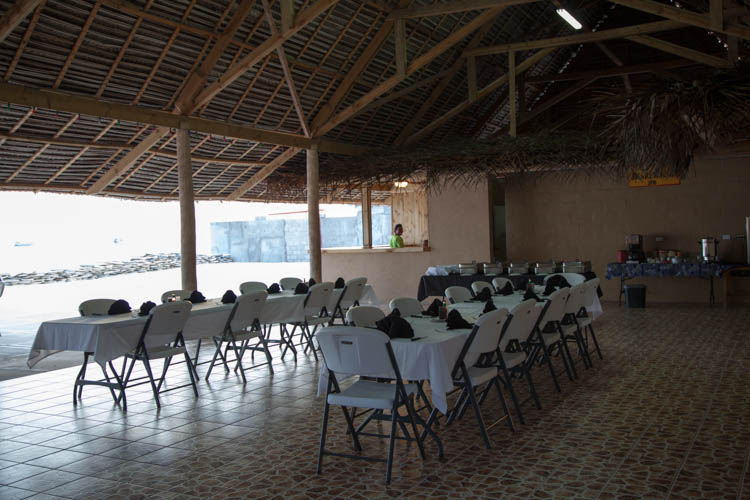 Who was expecting white linen tablecloths and linen napkins?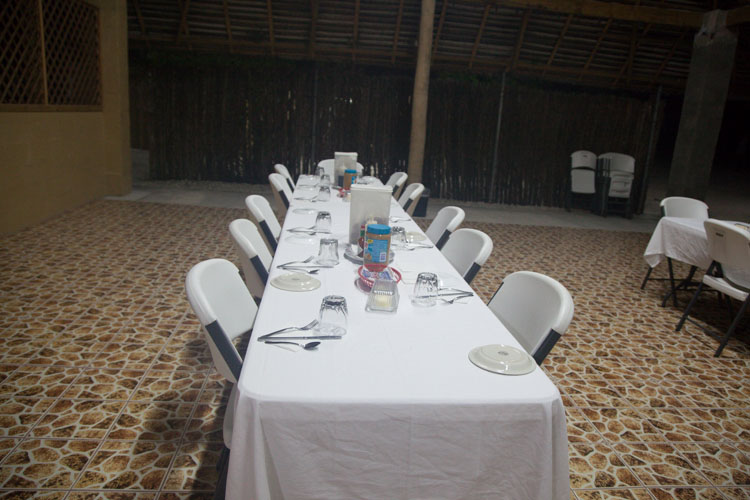 Breakfast is ready where are the customers? Notice it's still dark. We like to get everyone out by 6.30am to maximise the fishing time on the water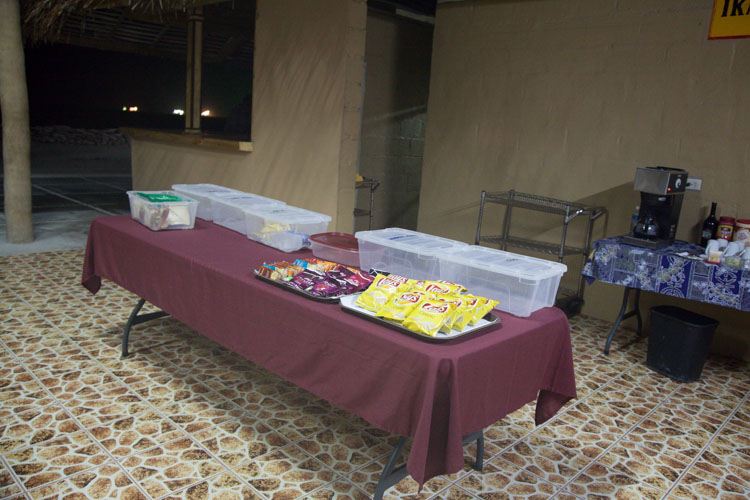 At breakfast everything is laid out so you can make up your own packed lunch. You then put it all in the coolbox with your boat name on it. Just remember to put it in the right box or you will go hungry.
My job as the host is to understand exactly what everyone's wishes are for the week, what's on their hit list, how do they wish to fish, fly fishing, trolling, lure and popper fishing or for some a complete mixture of all methods. Its everyone's holiday, so by understanding what each person wants, I can then plan the week to give everyone the best opportunity to fulfil their wishes. However, after hosting these trips plus others for many years, you soon learn that peoples wishes can also change as the week unfolds, therefore each night, once everyone has returned, I talk to everyone to see how their day went, enjoy listening to their stories and then discuss what they fancy doing the next day. This way it allows me to pair people up each day that are looking to achieve and fish the same way.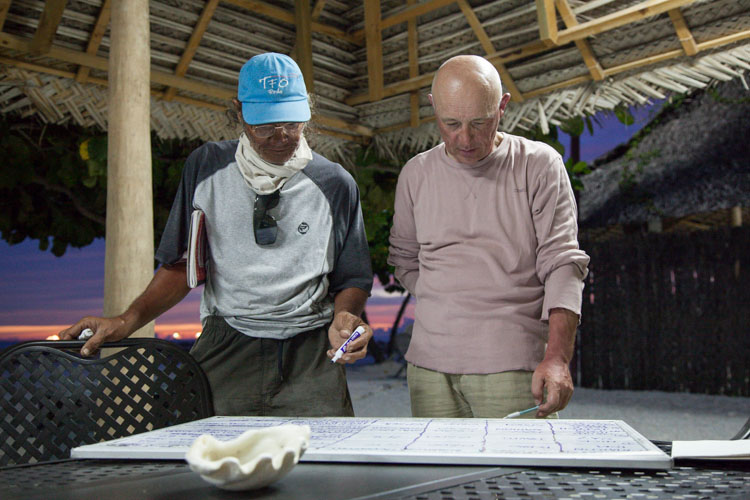 Head guide and myself working out the plan for the next day. Who is fishing with who and with what guide and what boat. Then it is also made clear to the guide exactly what you are looking to achieve.
For those who have never fished Christmas Island, it's hard to explain to people just how diverse the fishing is. It's having an understanding of this that helps people catch more fish. The fishing basically falls in to two categories, inshore and then offshore. However, the opportunities of both these opens up a whole bigger world that I have tried to explain below.
Inshore
Inshore fishing is basically in the main, fly-fishing, which is mainly done on foot wading the flats, however, motoring around the edges of the flats and casting at cruising fish, is also very effective. That way you can cover larger areas and the height advantage of being in the boat, means, you can spot approaching fish, normally GT's further afield, giving you more time for a long cast.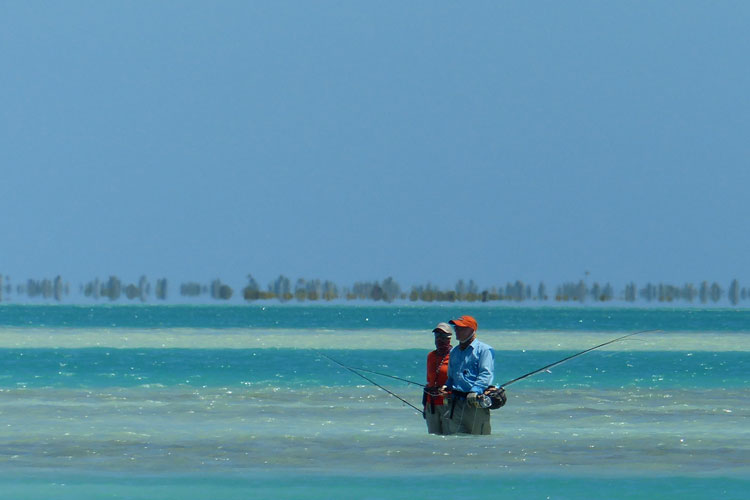 Wading the flats in medium deep water.
Wading the flats, if there is one thing I tell customers again and again is – make sure you have everything to hand and make sure everything is ready to cast. Speed and reaction time is the issue. I travel and carry 4 rods set up to cover every eventuality, 8# ready for bonefish, 10# ready for Bluefin, another 10# ready for big Triggerfish and lastly the 12# for the big boy GT"S. Over the years of fishing alone, I have come up with an effective method of being able to wade, carry and fish with all these rods on my own. However you do not need to worry, for the guides have hands like shovels and can carry all the spare rods for you. Just make sure you have the most appropriate fly rod in your hand at the time, subject to where you are wading. Thinking anglers always catch more fish.
If wading shallow water with mainly a sandy bottom carry the 8# Bonefish rod with 15lb tippet, as Bonefish are the most likely species you will come across. You will also see small triggerfish on sandy flats, but these will also take bonefish flies and are great sport on an 8#. The Bonefish fishing on Christmas is nothing short of spectacular. One of the group this year, Chris had never caught Bonefish before, so imagine, how he felt after just his first days fishing, when he landed 15. For the week, he was close to 70 Bones landed, not bad for your first Bonefish trip and considering, as the week went on, he would spend more time chasing other species.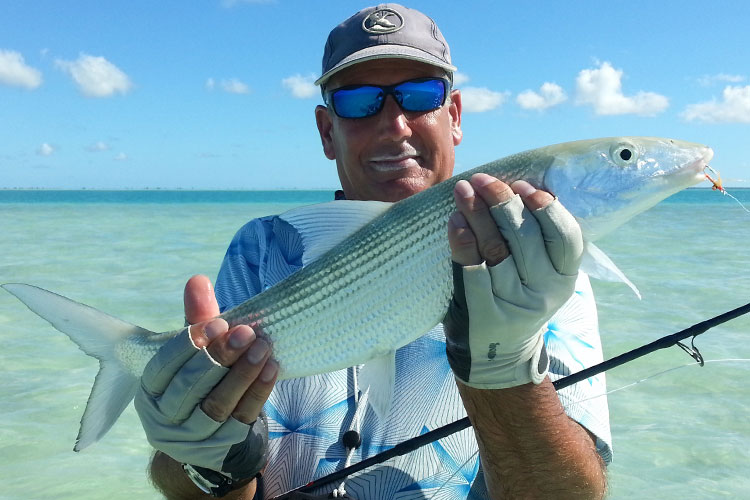 Chris with one of his many many Bonefish
If you move in to slightly deeper water, swap to a 10# rod 20lb tippet fished with a small baitfish pattern in readiness for any Bluefin Trevally, as these fish are always moving and they move fast. You do not have time to swap rods with the guides, strip line and make a cast. By the time you have done all that, the fish will have come so close that it spooks. Do not worry if you then spot Bonefish or bigger Triggerfish for these both move slowly. I have found that Bones on Christmas tend to swim and move slower than other places such as Cuba. If you see Triggerfish feeding, they will have their heads down and tails waving at you above the surface of the water. With both these fish you have time to hand your guide the 10# and take back your 8#, strip line and manoeuver in for the cast. This is a great tactic for those customers, who chose to fly fish on the first day. A total of 14 Bluefins where landed, all because everyone was ready.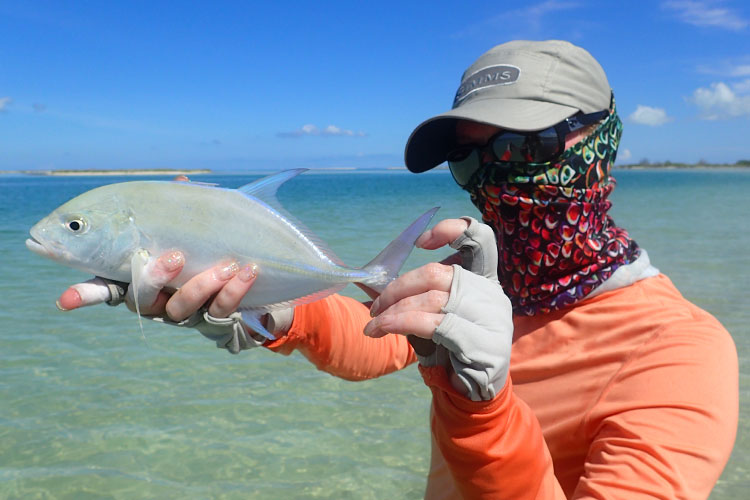 Tracey with a small Bluefin that eagerly take Bonefish flies and provide some light fun on 8# rods
Another point to consider is the location, of where you are wading on the flat. Wading close to the stag coral that runs on the edge of the flats, before the steep drop off to the channels. That connects everything together like motorways. Here you will be mainly looking for Bluefin and big Triggerfish, so carry the 10# with a small baitfish pattern. You will have plenty of time to swap to the other 10# armed with a small crab pattern, but this time 30lb tippet to fish for the big Triggers amongst the coral. This fishing is tough, they are easy to hook, but devils to land, as they often run straight to the largest coral head and cut you off.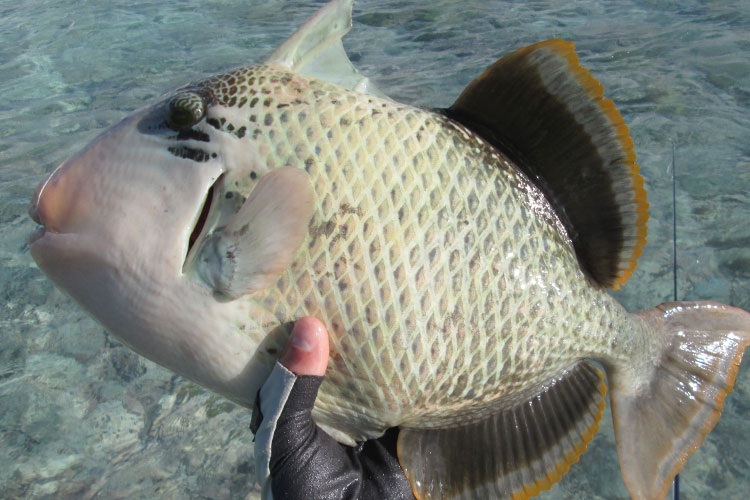 Triggerfish are great fun but can also be difficult to catch / land. We like to call them the Permit of Christmas Island.
When wading in any water that is equal to or above half way between your knees and waist, regardless, if you are close to the edge of the flats or right in the middle of them always carry your 12# and be ready to cast. You will be surprised, just how fast big GT'S can appear and disappear! Plus, these fish can be very silvery in colour and again, you will be shocked, until experienced how close a 60lb plus GT can get to you before you see it. Having everything ready will be a massive advantage, when you spot these fish, however it will not stop your knees knocking and heart pounding, as they get closer and start to charge your fly. I have never found a cure for this and, to be honest, I hope I never do. That's the real rush of fishing Christmas Island. Going through my dairy, I can see that the group landed 16 GT'S on the fly for the week using the various methods above.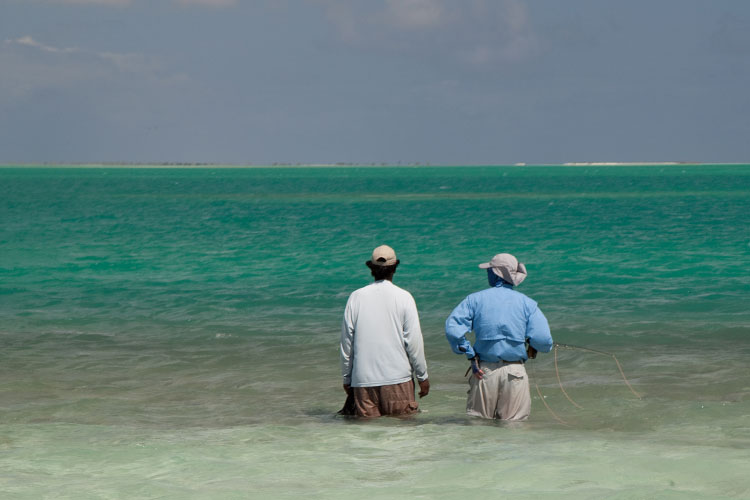 Wading deep close to the stag coral with the darker coloured water in front of the angler just before it drops off into a deep channel. This is one of my secret spots, if you put the time in and are patient, big GT'S will come around that you can cast a fly to.
There is also amazing inshore fishing inside the huge reef system, that protects Christmas Island. Many thousands of years ago it was a volcano. Basically, around the island the outer reef has built up forming shallower lagoons between the reef and the beach of the island. On certain tides this can be great fishing for all species. Bonefish tend to be dark green and very easy to spot, great for inexperienced anglers to spot. Plus, on an incoming tide, there's enough water to allow the ocean side GT's to swim through the reef to gain access and create havoc terrorizing baitfish. When fishing these areas, I always have the 12# rod locked and loaded ready to cast. Many a time I have sprinted up the beach to cut off some feeding GT's and cast my fly.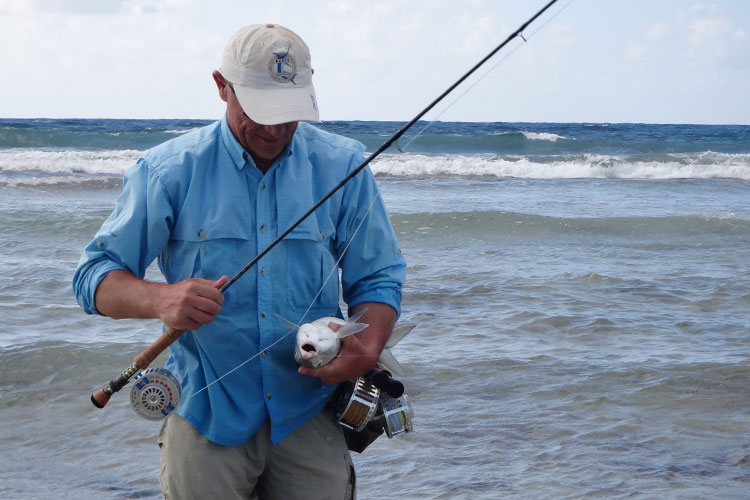 Bonefish fishing in the lagoons between the reef and the island. If you look carefully you can just see 2 reels under the fish on the rods clipped up. This quick release system allows me to carry up to 4 rods (3 clipped up and 1 in my hand) I can then quickly fish for anything that swims my way.
The above covers off the main species, but there are lots of others, like Queenfish, Parrot Fish, Grouper, Snapper, Puffer Fish, Black Tip Sharks, Sweet Lips, Golden Trevally and Striped Trevally. The best advice is – have fun and cast at anything that swims!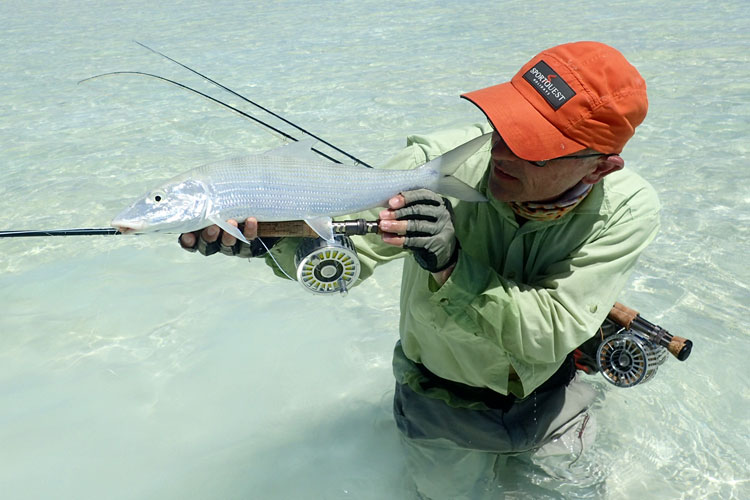 Another picture this time you can see rods clipped up ready to go, this way I can cast at anything that swims.
Offshore
The offshore fishing on Christmas is a real bonanza. It's mainly taken up with popper fishing and trolling lures, however there's also the opportunity to fly fish from the boat for Milkfish and Tuna.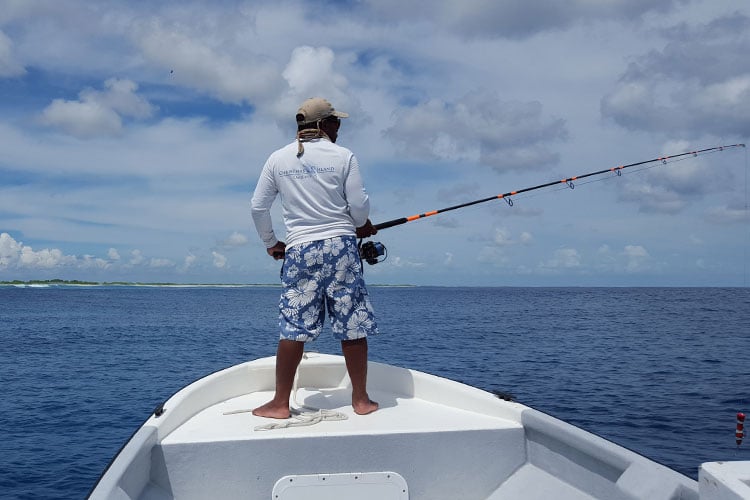 Popper fishing up the front of the boat, notice how our fibreglass boats are perfect casting platforms.
The popper fishing on Christmas has become more popular over these last few years, as more people get the message. Based on 2 anglers per boat with one casting from the front and the other casting from the rear. This is a real mans sport, casting and working effectively big poppers all day is a real challenge. Once you get tired, you end up not fishing effectively, that's why it is best to change things up a bit. The popper fishing is best the first few hours in the morning and the last few hours of the day, when there is a low light level. The catch results this year again proved this. We had two brothers (Tom & Martin) on the trip, who are some of the most dedicated and hardest working lure anglers I have come across. Each day they worked the poppers and the ocean into foam and ended up with 57 GT'S for the week approaching 80LB all on surface poppers. On top of this, they also managed to catch and land 5 close to world record size Barracuda, along with Tuna and Red Bass.
Martin with just one of his many GT'S. Both him and his brother worked extremely hard.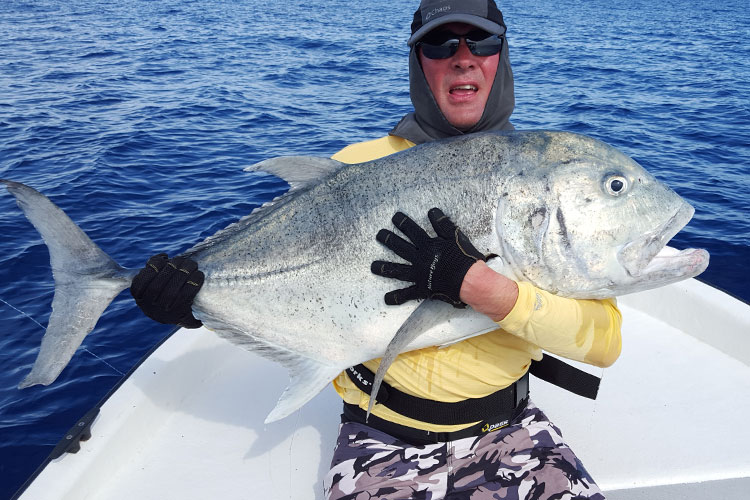 Tom with a cracking GT that put up a great powerful fight.
Trolling lures behind the boat produces so many different fish including GT's, its still an area that is relatively untouched, as Nick soon found out. On his first days fishing, mixing up the day between popper fishing and trolling, he landed 2 big Wahoo, 1 big Bluefin, 1 Yellowfin Tuna, 1 GT and the real surprise was a monster Sailfish. How is that for a mixed fishing bag?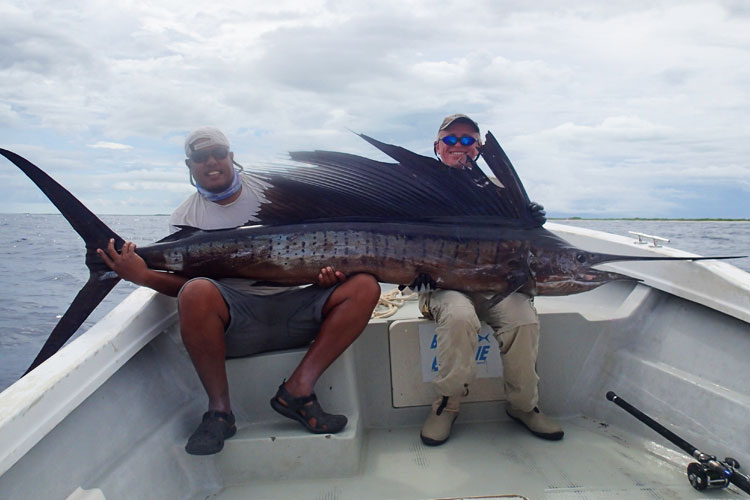 Nick with his monster Sailfish that grabbed his lure.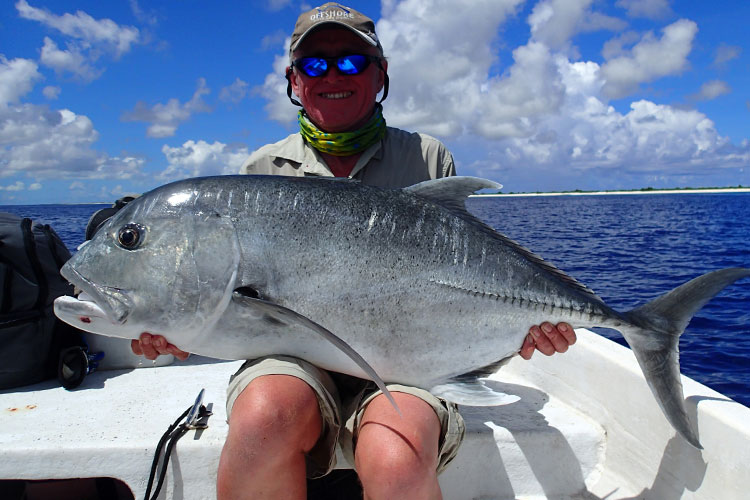 Nick, this time proving that as it gets later in the day it's better to troll to catch big GT'S when fishing offshore.
Two areas that have yet to be properly explored is speed jigging further out from the island. There are some huge seamounts with steep drop-offs that seem just right for speed jigs. Plus, as the week went by, more Sailfish were spotted and chased both – customer's lures and flies. Plus the group spotted on different days Marlin free jumping.
The other area still to be explored is trolling with big game surface lures. What we will find, only time will tell, but plans are already in place for some of the group to return with us next year to do some more exploring.
Again, this just goes to show, by mixing up the fishing and trying lots of different methods throughout the day, produces the best results. During the week, group managed to catch Sailfish, Tuna, Dorado, GT'S, Sharks, Groupers, Bass, and Barracuda.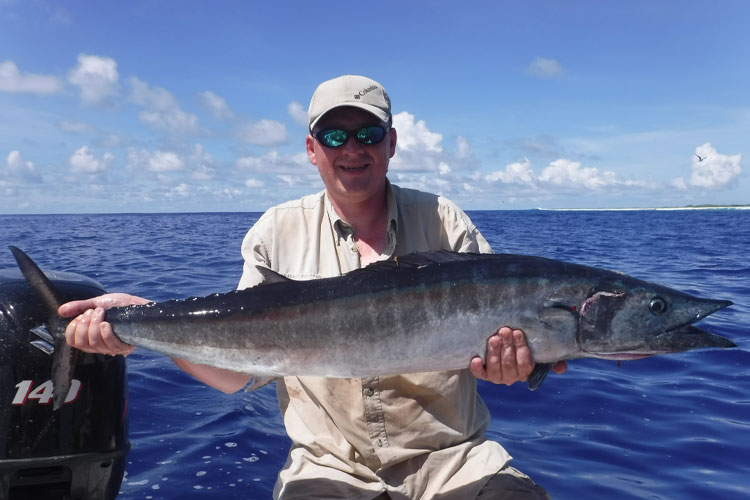 Darren with a nice Wahoo caught offshore, if you look you can see the island in the background which shows that you are not far offshore at all.
Another great fishing opportunity offshore is the fly fishing for Milkfish. With the right tides, just 5 mins off the island in strong current lines, you can find monster shoals of feeding Milkfish that range in size from 5lb to 25lb plus. Known normally as a fish of a thousand casts and very difficult to catch, over the past few trips, we have worked out, how to present a fly and more importantly – the top-secret fly design. Again, fishing for these fish is best very first thing in the morning, before the sun gets too high. You will still see the fish all day, but they are more likely to make a mistake and eat your fly in lower light levels. One morning we went out and found the fish, with less than 10 casts a fish was caught and landed. It was all too easy. We then went and spent the rest of the day fly fishing inshore.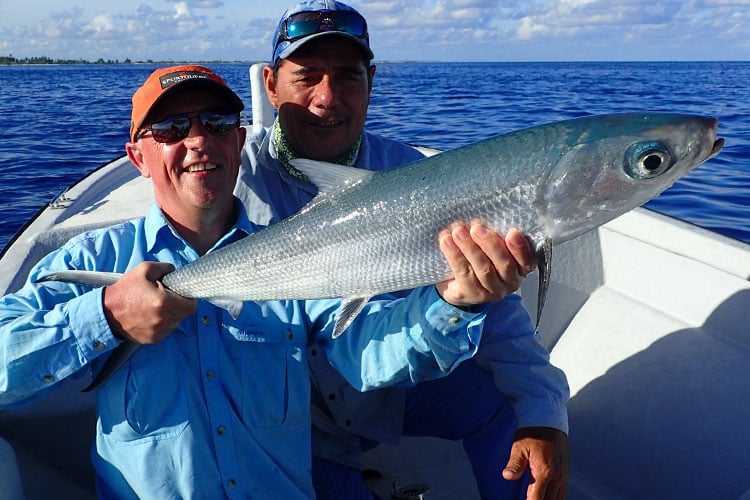 A cracking Milkfish that only took a few casts on my top secret fly. This fishing is amazing and we can fish for these fish every morning if customers wish to.
One of the advantages we have with our group trips is that we always use fiberglass boats. I have very fond memories fishing from the traditional wooded outriggers, but these boats are very slow and make a lot of noise. Using the fiberglass boats, we race from area to area, which drastically increases the amount of time you spend fishing. These boats also allow us to be flexible in our approach and what we fish for, giving us at least 10 hours fishing each day.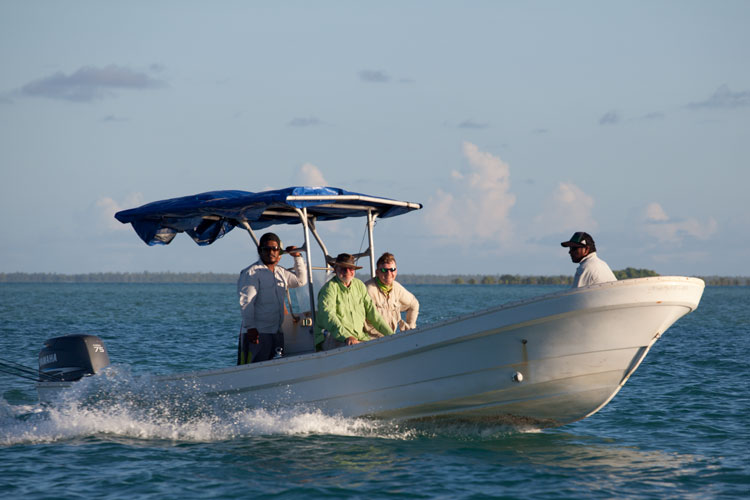 Just one of our fleet of 5 boats, gets you to the fishing in half the time.
The moral of the above is – be flexible and be ready. This way you will be amazed at both the opportunities and the catch results that you will get from a trip to Christmas Island. With this approach, our group achieved these incredible results:
223 Bonefish
16 GT'S on the fly
107 GT'S on popper & trolling
56 Bluefin Trevally
22 Queenfish
23 Yellowfin Tuna
18 Wahoo
14 Barracuda
14 Triggerfish
1 Milkfish
1 Shark
Plus other various species! Not bad at all for 6 days fishing, considering the fact, that two people took a whole day off to explore the rich Islands history and exclusive birdlife. (More about that in a later blog)
If this sounds appealing, we have just released the dates for the 2016 trips. Every year, this hosted trip is always sold out, and, I hope, after reading my blog, you will understand the reason why. So, if you are interested and willing to challenge yourself, booking now is strongly advised to avoid disappointment.
Click Here to see the full trip details.