Christmas Island is a dream destination for any saltwater fly fisherman, so you can imagine how excited I was to be asked to host the 2018 trip! However, I then looked at the number of flying hours involved and for a girl who's not a huge fan of flying this was pretty daunting, the things we do in the pursuit of fly fishing I thought, a gin or two will help with the flying jitters!
Not only does this trip take you to one of the most beautiful flats fishing destinations in the world, but you also get to spend a day in Honolulu, Hawaii! This allowed for some much-needed rest to recharge after the longest leg of our travels and time to make sure our precious bags (rods) caught up with us.
After arriving at our hotel, we all checked in and hit the hay hoping that the jet lag wouldn't interrupt our sleep too much. In the morning we all met up for breakfast where of course the topic of conversation was the hopes and targets of our week on Christmas Island, Bonefish, Trigger and of course the GT.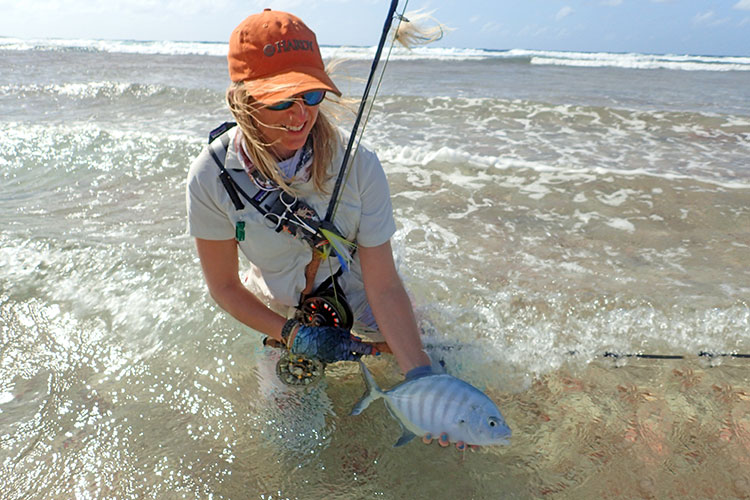 Hawaii
So how did my group wish to spend their day in Hawaii??
Wandering the streets for a spot of retail therapy…. relaxing on the beach soaking up some rays? No of course not, we were all fly fishermen! Chris and Rob had heard of the one and only fly shop in Waikiki 'Nervous Waters Fly Shop' and thought they might visit to purchase some last-minute flies. The rest of the group thought they might tag along too.
'Can I get you a Taxi'? I ask, 'We fancy a walk' they said. So with my trusty iPhone and Google Maps off I trotted like a tour guide to lead the guys to the shop, almost a 4mile walk! The owner was very helpful in giving the guys some insider advice and tips, sadly though, he had no triggerfish flies to sell at this time. However, as we were leaving, he handed me the only trigger fly he had from his own collection, an orange shrimp design with rubber legs. The rest of the guys were miffed, how did you get that' they asked…..'I just fluttered my eyelashes' I said! Peter O the only trip member who had been to CXI before was gunning for the trigger this year and had tied his own design, he was super proud to find out that his design was almost identical to 'The Trigger Fly' that I had been given. We agreed that I would now be the 'Keeper of The Fly' and we would all take turns to possess it. The first to have this honour was Jon R, who quickly lost it to a naughty puffer fish!
After a spot of lunch Jon R, Peter O and the lovely Ken accompanied me to the Waikiki aquarium where we learnt about humuhumunukunukuāpua'a the state fish of Hawaii otherwise known as the Reef Trigger and we gazed a little too long at the big GT in the largest tank! Just a little fuel to get us extra excited!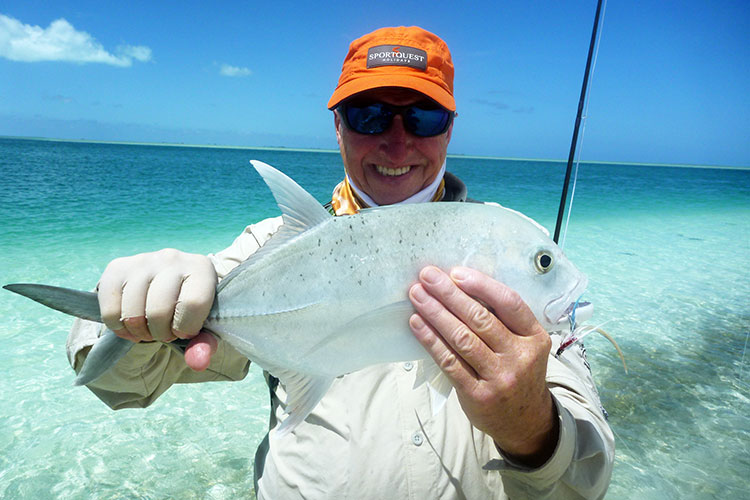 The next morning
The next morning we caught the taxi extra early to the airport, there is only the one flight onto Christmas Island a week we did not want to miss this flight!
The view from the plane as we descended onto Christmas Island has got to be the best I have ever witnessed, after almost 3 hours of just the Pacific ocean out of the window, suddenly there is a system of turquoise flats, blue lagoons and sandy peninsulas, breathtaking!
After a bumpy and windy ride (plays absolute havoc with a girls hair you know) in the back of an adapted pick up we arrived at Ikari House Lodge, our home away from home for the next week. The rooms were large, clean and comfortable, with plenty of storage space to unpack, air conditioning units and even a superb animal towel creation! In the corridor outside the rooms, there were tables for prepping gear and rod hooks to store your weapons in when you return from fishing. The lodge even offers a free daily laundry service, so you put your shirts and undies in the basket and they magically appear washed and dried when you return to your room in the evening! This is a fantastic service as it means you do not need to fill your bag with lots of clothing, thus leaving more space for rods and reels!
We all set up our rods, sat down for a much-needed supper and all retired for a shower and bed, excited for the next day on the flats.
After the early breakfast, lunches were packed into the chilli bins, guides introduced themselves to their guests for the day and off we went to meet the boats at the small harbour just a 3-minute drive from the lodge. I watched as all my excited guests zoomed off eager to cast their first fly of the trip. I spent my first day with the talented AAPGAI instructor Neil. We spent time searching the edges of deep lagoons for feeding GT, we saw our first tailing trigger of the trip and I spent some beautiful time all alone honing my Bonefish spotting eye, surrounded by turquoise flats.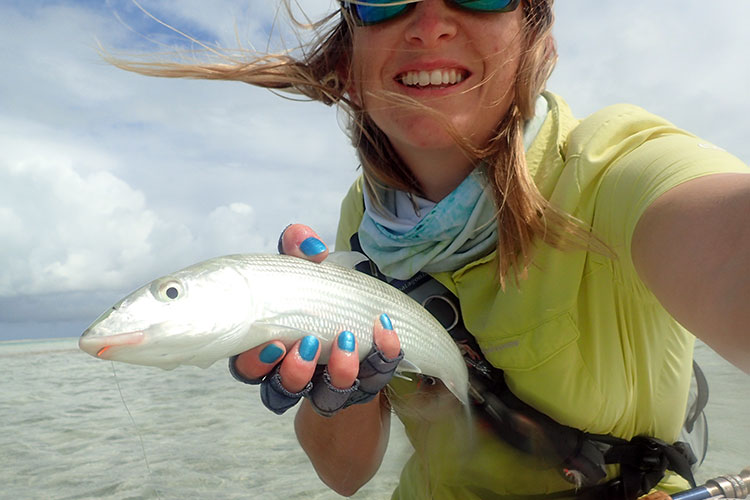 The first day
As we were heading back to the harbour I was excited to hear about the groups first day, what they had seen, what they had learned and of course what they had caught! After the rods were hosed off and a cold drink was in hand, the table buzzed about the day, fortunately, all with big grins. The day had been bright sunshine all day perfect for spotting fish, everyone had had a great day on the Bonefish with Chris catching his very first on the fly and a number of fish landed in the 5lb region. Ken was crowned the Bonefish king by catching a bag of 22 and one he was elated to share with us was on a back cast! David also declared himself Bonefish obsessed wishing to only fish for them all trip! There were also a number of Bluefin Trevally caught, and Peter O hooked a Trigger which chomped his hook clean in half! A great first day.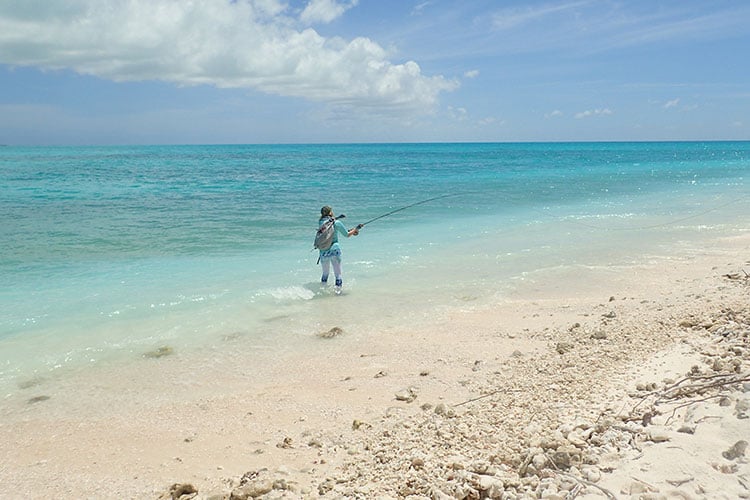 Day two
Day two was a little overcast with intermittent sunshine, making spotting fish tricky. Some of the group took a trip to the backcountry lagoons where they witnessed a huge school of big GT come in to feed near the Milkfish farm. Ken and Dave hit the lagoons and Jon S and I headed across the flats to a backcountry lake guided by the GT man Kurt. When we got there the shallows were alive with fish and before long we started seeing evidence that the GT were there, sudden splashes of water and commotion.
Whilst slowly stalking along the shallows I could see massive shoals of Milkfish all around, then a massive splash I turn around, only 3m behind me a GT had attacked the shoal and I'd not seen a thing! Kurt spotted a GT heading our way, John cast, strip, strip, strip…it followed in close and with a big splash turned away at the very last moment! Walking and stalking these big predatory fish, as tiring as it can be, was extremely enjoyable and truly exciting. Back at the lodge that evening we heard about how Ken hooked a queenfish and whilst he was playing it a GT stormed in and took the fish! Incredible stories from all.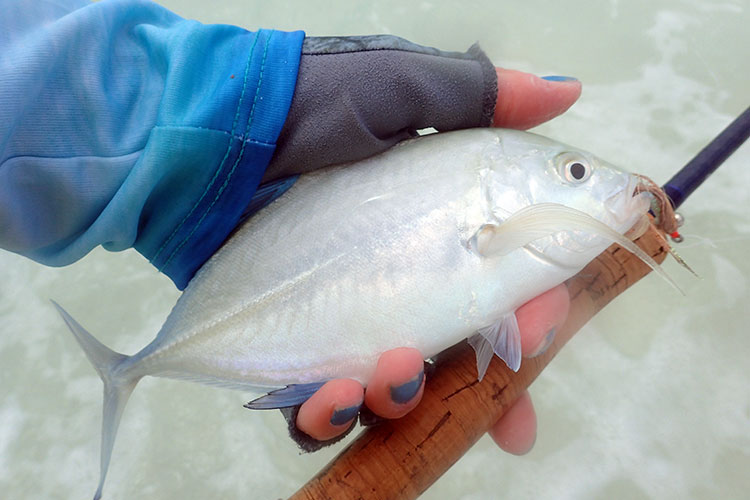 Day three
The following day was bright sunshine all day Jon S and I got our first proper experience of Triggerfish hunting! It was pretty special seeing their big tails waving at you and trying to the cast your fly close enough for them to see but not too close so they spook! In the afternoon we were treated to cook island, white sandy beaches with beautiful clear blue waters, like something from a storybook.
Jon and Kurt waded around the island to where the waves crashed onto and flowed over the rocky reef, here Jon caught the most bizarre catch of the week, a trumpet fish. We finished our day walking across a long sandy flat where we spotted many Triggers, some big Bonefish and just at the end of the day Jon reports a massive black GT came silently from nowhere and was there and gone again, way before he could react! The rest of the group had fun catching a variety of species this day, White Trevally, Codfish, Queenfish, Red Snapper and a small GT.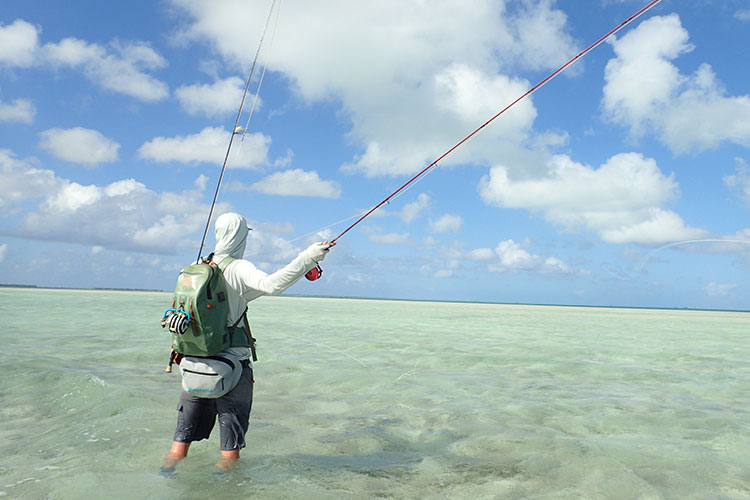 Day four
Day four I had the pleasure of fishing with Ken who can make anyone laugh even in a rain storm, and that is what happened! The day was cloudy to start with but Ken was off the blocks with a very nice sized bonefish caught on a crab fly, but as we were casting we could see the clouds rolling in. Our guide and boat driver did their best to out run the storm but eventually, we had to head back to base.
When we got back some of the others had also been rained off and were trying to dry off at the lodge. Typically, within half and hour of being back at the lodge, the sky cleared and out came the sun! Ken and I decided to grab our rods and see what we could catch down on the beach out the back of the lodge. Ken and his trusty deceiver were straight in catching some Bluefin and laughing just like John Wilson every time! I had my #12 as I had seen a pair of nice blue fin chasing around, as I was casting, a massive eruption of baitfish occurred just in front of me. I waded in deeper and cast as close as possible.
As I stripped in as fast as I could the eruption happened again. I got the end of my stripping and saw a huge GT following my fly in, turning and spraying water as it left! John S and Jon R were the only ones who braved the storm, they had gone off shore with some big lure rods in hope of some exciting interactions. They both landed GT, Jon R landing a 50lb beauty on a large popper and they also caught Barracuda, and had a follow from a Sailfish. This sounded like an extremely enjoyable way to spend part, if not all of one of the days on this trip, and for John and Jon it was very productive and worth staying out in the rain. Well done for braving the elements guys!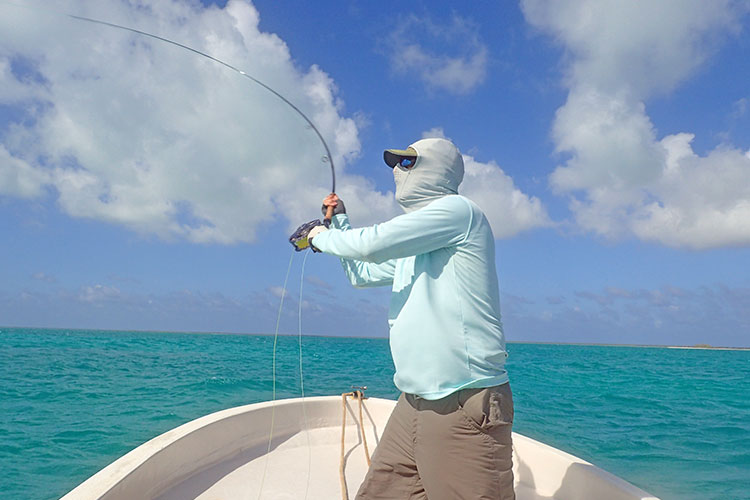 Day five
Day five Ken experienced how a Trigger can chomp a hook in half, but Peter O's persistence and commitment paid off as he landed his Trigger at last! Four of us took the 2 hour truck ride to the outer coast line known as the Korean Wreck. Here there is a rocky reef which can be waded as the tide comes in.
The group caught some beautiful green bones and some different Trevally species. John S and his guide were dropped off to fish their spot and as they came down the sand bank, they could see there were GT feeding. Quickly John was in the water and casting, the beast followed, followed and took the fly. John describes this as happening so fast, the big fish took off so quickly that he was unable to untangle the line and that he noticed just as the fish took off! Sadly the line broke, John got to feel the power of the great fish and the adrenaline rush that followed. He was left with a memory I'm sure he won't forget, but what I am also sure of that he will be back for round two one day!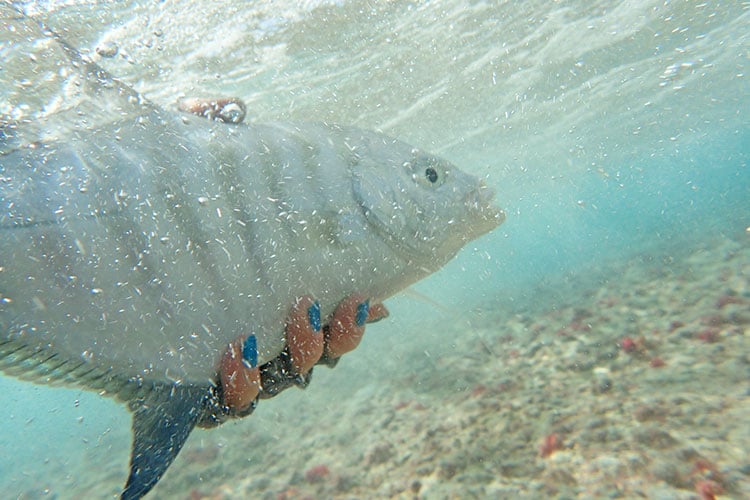 Final day
Our final day started with some intermittent sun, the whole group were staying on the lagoons and everyone was hoping for something super special. I spent the morning with the current Ikari house manager Matt hunting Triggerfish on the coral flats, I had a couple follow the fly teasingly before shooting off into the blue! In the afternoon we drifted over some shallow rocky reefs and Dave showed us how he casts his #12 double handed beach casting fly rod, he was hoping for something more substantial than a Bonefish. His stance and cast meant business and perseverance pays off as he landed a beautiful Bluefin Trevally just as the day ended!
The trip finished with over 420 fish landed and 18 different species for the week. This was a thoroughly enjoyable week, with great company, beautiful scenery and remarkable fishing. The fishing is not easy but it is most certainly rewarding when all your stars align and that special moment happens. I am looking forward to the 2019 trip already, if you are interested in joining us then please contact the Sportquest Holidays office!
You can see more information on our hosted Christmas Island trip page.