The first snow of winter has fallen at Havoysund making the temperature drop dramatically but this has not stopped the Halibut feeding though with some great fish still being caught.
New week, new possibilities. There has been an ice-cold introduction in Havøysund, where the very first snow falls have settled on the mountains. The wind has also been good, but luckily there are Southern winds who come to us …
On Friday all boats went out to see if the halibut were biting. Weather reports showed some less wind in the morning, so most people departed early before the wind had time to get up. Peter and Co in Boat 11 had gone out at 6 o'clock and had a great fishing they told us. When I met them down at the pier they told me they had 5 halibut of 100-120 cm (28 -50lb est), which is a really nice way to start a new week! In the guided boat Douglas headed west to see if the halibut were playing the game. Not long into the drift the bait fish ended, and an echo was spotted coming up against Jimmy's shad. It hit and offered a good fight! When the fish was well landed it measured 110 cm (37.9lb est). But not long after, the same thing, and again for Jimmy. The rod ended and it crashed again, another great halibut of about the same size.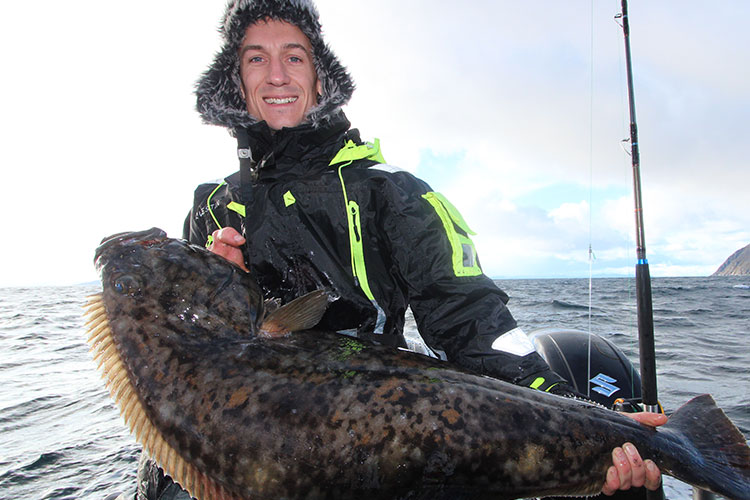 Boat 12 had received more fine halibut at 70-90 cm (8-19lb est), when they had drifted in very shallow and fished with jigs. But luck was probably the best for Mats in Boat 10, when he was going to improve his PB as he had been hunting for a long time. Boat 10 had a couple of halibut up to 120 cm (50lb est) earlier in the day, but Mat would have a dream come true. When it looked, there was a seemingly calm fish, but when you got a "snap contact" with the fish, it went straight back to the bottom, 3 times! But at last it was out of power, and the hook was carefully taken through. On the side of the boat the halibut was measured to 143 cm (88cmlb est)! A dream catch, and a big congratulations to Mats!
We sailed ourselves out early on Saturday, after the breakfast at the hotel actually. There would be less wind in the morning, then it would blow up in the afternoon. But the fishing started slowly, and it took a while before we got the first fish of 82 cm (14lb est), and then the motivation was up again in guide-boat! On the vhf we received messages about a fish, boat 9 got a beautiful halibut of 122 cm (53lb est), and boat 11 landed immediately one of 115 cm (44lb est). Kenneth in the guide boat put out his bait fish one of our last drives for the day. 1 minute into operation, the groove was straight down and all hell broke out. Kenneth jumped to take out the crotch out of the holder, and put a hard fight.
Boat 8 had planned to stay close to the camp this day and it proved to be successful! Only a few miles from the camp, they put on a couple of drifts on in the hope that something exciting would be happening. It would be a good fish. This time it was BIG! Heavy headshakes and long slow runs are all good characteristics of those who chase big flounder. After a while, they had landed a stunning 156 cm (117lb est) just outside the camp! Boat 2 was also not far from the camp as something was terrible. The guests in the boat had a swallow of fighting the fish for a total of 45 minutes, when it eventually threw the hook. We were watching movies of the fish in the evening and we were absolutely convinced that this was brutally big …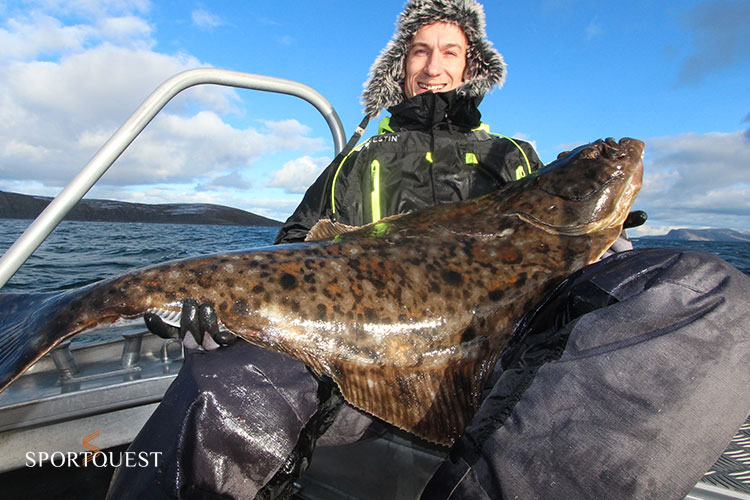 Today has been absolutely much better and more boats have driven on longer trips. It will be incredibly exciting to hear how things have happened during the evening round. The weather still looks quite ok, and it is promised better weather over the week. It will be very excited to see what appears during the week's fishing when we go into October! Stay tuned.
Tight lines // Jørgen Zwilgmeyer, Douglas Dahlberg
Thats early for the snow to be falling in Norway it still shows that even with snow on the ground the Halibut are hungry and feeding well.
If you want to travel to Havoysund and target a monster Halibut CLICK HERE and get booked up.
Tight Lines
Matt