Well that's it for my hosted trips for 2018 and what a way to finish them with a hosted trip to Crocodile Bay in Costa Rica and let's just say it lived up to its reputation of being a first-class resort with world-class fishing!
Departure
The day of departure soon came round and everyone met at Gatwick airport for our direct flight to San Jose and with introductions over it was time for a few beers before our 11.5 hour flight with British Airways.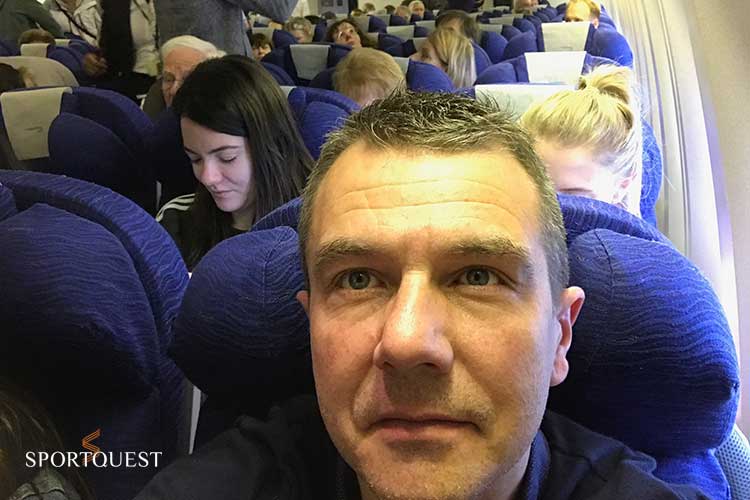 After settling in on the plane and a few movies later we found ourselves stepping off the plane it to some lovely warm weather, a little different from what we had left behind. With a quick overnight stop in San Jose in the Double Tree by Hilton, which I must say is a fantastic hotel, we soon found ourselves back at San Jose airport for our quick internal flight to the resort.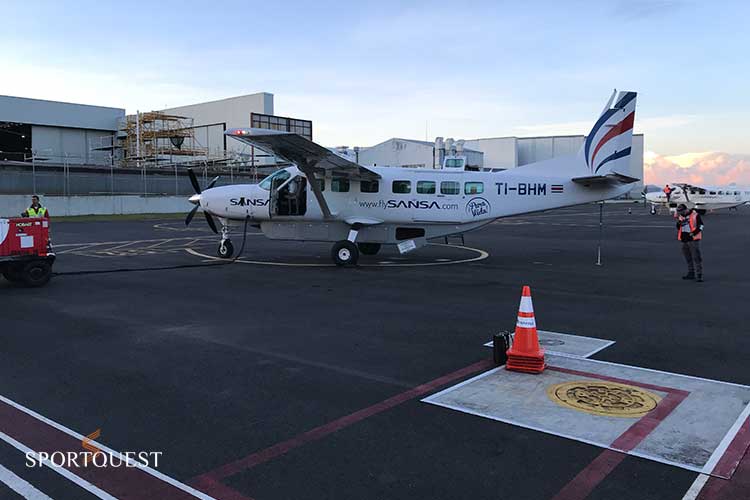 Some of the guys looked a little nervous of boarding such a small plane but I have been on this route many times and after a bumpy take off everyone soon relaxed as we flew over some of the most remote and stunning rainforests the world as to offer. This small flight only takes around 50 minutes and the views are breathtaking!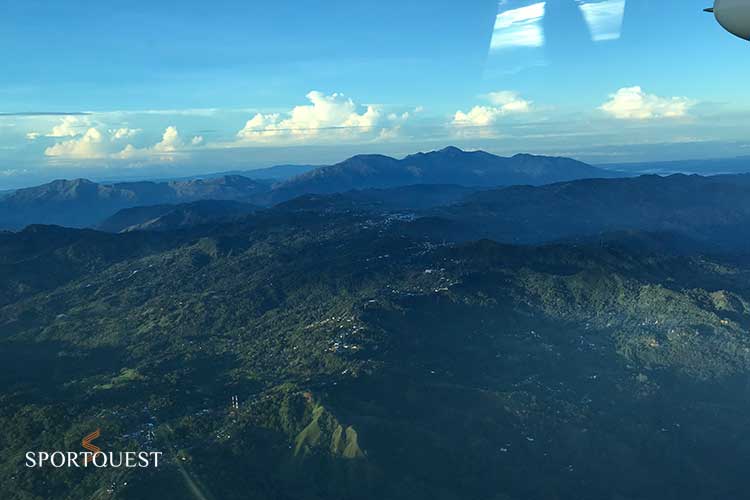 Soon we started our descent and the wonderful Crocodile Bay came into sight, which gave everybody a lift as it was still very early in the day. Once we landed at Crocodile Bay there was a small mini bus waiting to transfer us to the resort doors, we were finally there.
Day 1
The group didn't have long to settle in as it was our first days fishing. After a very quick brief from the fishing manager Alan over some very needed breakfast, we had all agreed to fish the first day inshore. With this plan hatched we very quickly dropped our bags off at the rooms, picked some essentials up and made our way down the long floating pontoon to meet our captains for the first time. We had based all fishing days on the luxury 33ft Strike boats which gives the anglers plenty of room and more importantly plenty of shade if they wanted.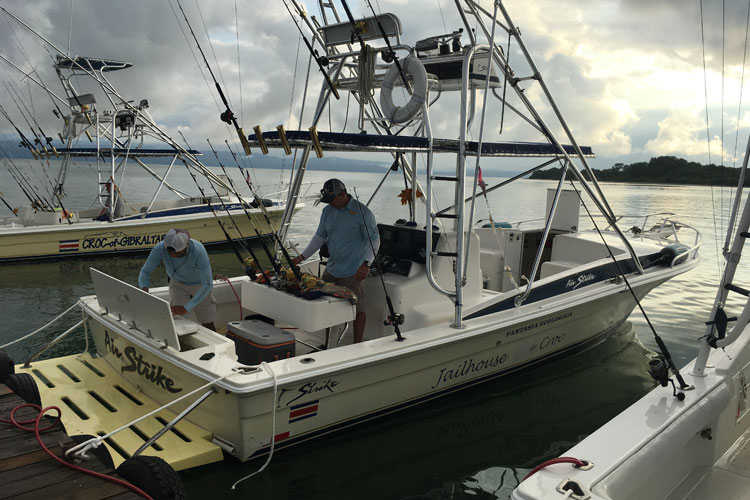 Roosters, Jacks and Snappers were the order of the day and as the day went on we could see that there were plenty of fish about and many Roosters were landed on our boat with the odd African Pompano and super hard fighting Jacks. If the rest of the week goes as well as today we all should be in for a great weeks fishing!
Day 2
The entire group decided to try their luck offshore as there were lots of Tuna and Dorado around so with them filling the waters the Marlin shouldn't be too far behind them. So after a good steam offshore out went the lures and we started to troll. As I explained to the group, the fishing for Marlin can be fairly slow sometimes but they have to be prepared, as at any moment a hell could break loose! Well unfortunately this day it never happened for the Billfish, we did catch plenty of Yellowfin Tuna which breaks the day up and also were surrounded by a mega pod of Dolphins. The group I was with today didn't let it get them down and spirits were still high

Day 3
Day 3 saw the two boats in the group decide on different approaches. One boat went offshore as they were so determined to raise a Marlin and the other boat decided to fish inshore for a chance of another Rooster. I swapped boats this day as I hadn't fished with the other group yet and I personally love fishing inshore. So with the boats going in different directions the deckhand and myself had a quick chat and hatched a plan to start off with some speed jigging and bait fishing in deeper water to try for some Amber Jacks and maybe even a Cubera snapper or two.
The morning started off well with a few good runs but no hookups then something absolutely smashed my speed jig and took lots of line. If you have never done this style of fishing, it is hard work just to work the lure then the real struggle starts when something hits the lure!! After a very spirited fight, up popped a Rooster….. I was a little confused as we were supposed to be targeting Amberjacks and who would have thought that a Rooster would have taken a speed jig at around 90 metres deep. The deckhand commented that he had never seen one caught on a jig at that depth, but fish being fish do not live by the rule book.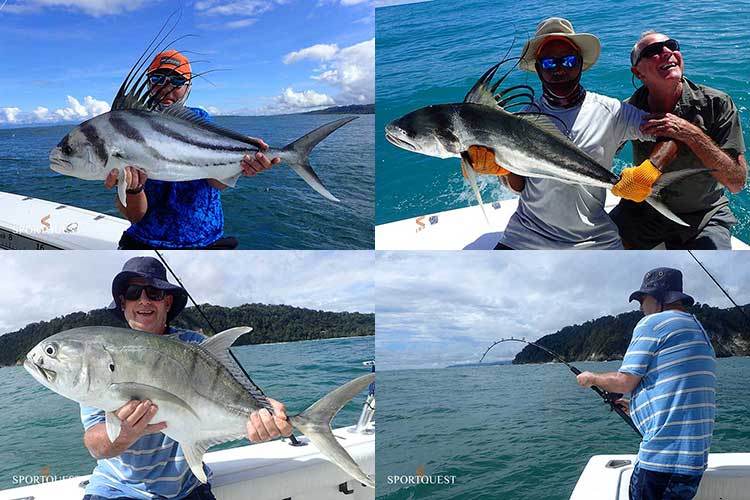 We tried a few more spots before calling it a day. Even though not that many fish were actually landed, the guys had many runs on their baits which for reasons I couldn't work out just didn't stick, but that's fishing and tomorrow is another day.
Day 4
Both boats decided to fish offshore once again in search of the elusive Marlin which had escaped our lures so far. I had decided to stay on the same boat as the previous day and spend the day offshore to see if I could help them catch the fish of their dreams. With the huge pod of Dolphins soon found the guys decided to see what Tuna were feeding before trolling for the Marlin. How many Tuna get caught is very much down to the captain and where he positions the boat. Ater getting the boat in the right position baits and lures were thrown out.

It wasn't long before the Tuna started to smash our baits and lures and John on the boat hooked something pretty strong and after a good 20 minutes a reasonable Yellowfin Tuna was boated and John looked exhausted. After a good few hours of catching 10 – 20-kilo Tuna we decided to try our luck with the Marlin, well that was the plan but the Dorado had other thoughts. We soon found a shoal of Dorado that were up for some baits and lures and these were big Bull Dorado which gave all the anglers an excellent work out as fish ranging from 20 – 60lb were landed all afternoon.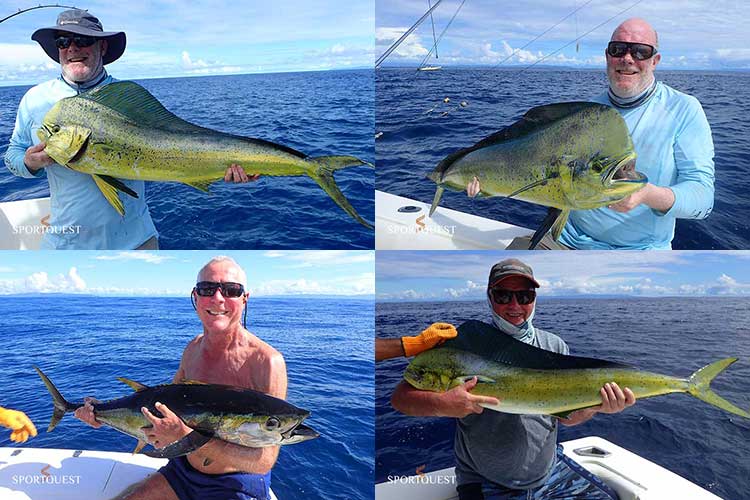 When we all got back the other boat had decided to stick to their plan and concentrate on Billfish and by the looks, on their faces, they had a good day. The managed to Raise 3 Blue Marlin and landed one, raised 2 Sailfish and landed 1 and caught lots of Dorado whilst trolling so they were all made up with the days fishing.
Day 5
This was the last days fishing. The group really wanted more Marlin. With this in mind we motored out to the blue water and out went the lures. The first lure on our boat had been placed where the deckhand wanted it and out of nowhere, a huge Blue Marlin smashed the lure within 30 seconds of the lure being in the water. The fight was on and it was Kevan's turn on the rod, so he quickly sprung into action and positioned himself at the back of the boat whilst the captain gunned the boat to set the hook. By now the fish was at least 300 metres behind the boat and with this much line out it is very difficult to keep the line tight. Kevan tried everything he could but after about 2 minutes of the fight everything fell slack and Kev's face looked distraught. Anyway, what a start to the day and we had only been fishing for 10 minutes. Out went the lures and we managed to get them all out this time.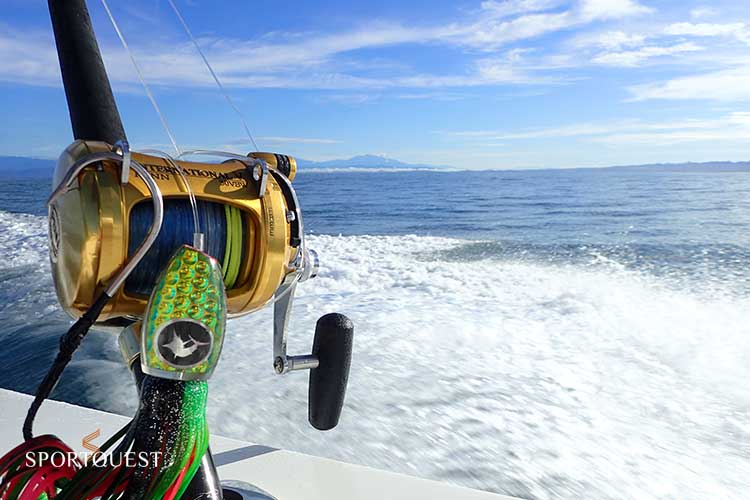 After about an hour we came across the Dolphins and Tuna but I said to the guys, let's stick to the plan and keep trolling for Marlin. The boat managed to get in front of the pod of Dolphins and it wasn't long before one of the rods burst into life with yet another Marlin trying its hardest to rid the hook, which unfortunately after only about 20 seconds, it succeeded. It felt like it wasn't going to be our day. We soon caught up with the Dolphins yet again and with only a couple of hours left of our fishing trip we all said our little fishing prayers! Would it happen? The answer was yes and it was Steve's go on the rod this time and the Marlin didn't stand a chance. The captain and deckhand done everything they could to set the hook on this one and I could see from experience that this fish wasn't going to get away.
Steve done everything right and with the quickest fight I have ever seen, Steve got his prize to the boat in just over 11 minutes…… this one wasn't getting away and Steve done an excellent job. Fish safely by the side of the boat and hook removed we set about taking some quick pictures before releasing her. A huge well done to Steve on this Marlin which is his 13th Marlin of his fishing career so a massive well done Steve.
That was that and the day soon came to an end, for us anyway. The other boat turned up at the same time as we did and they looked as excited as we were. After a quick catch up with the others, they were soon telling us of their day and it pretty much the same as the day before, 3 Marlin raised 1 landed and 1 Sailfish landed along with Tuna and Dorado.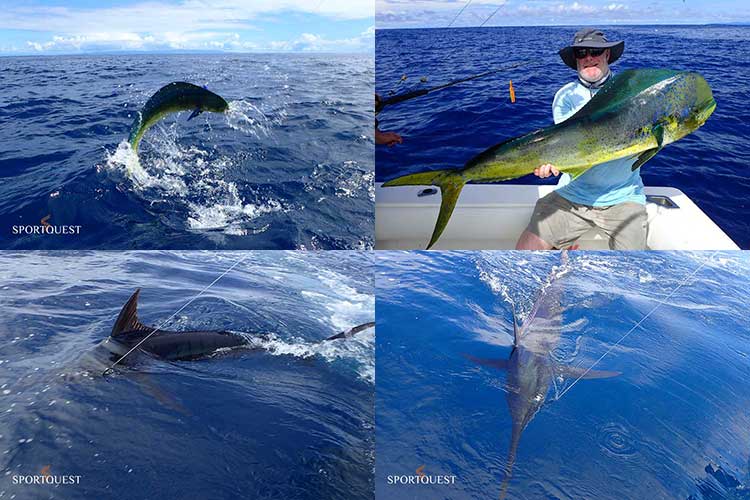 This last day was made very special for Martin on the trip, as his lovely wife had gifted him this holiday and told him to go and live his dream of catching a Marlin and guess what, on the last day of fishing his dreams came true. I would personally like to send Martin and his wife a huge congratulations on achieving his goal. I know how much it meant to him to be able to land one. He done the right thing all week and stuck to his plan and didn't get distracted and put himself on the right boats that were fishing offshore all the time. Well done Martin.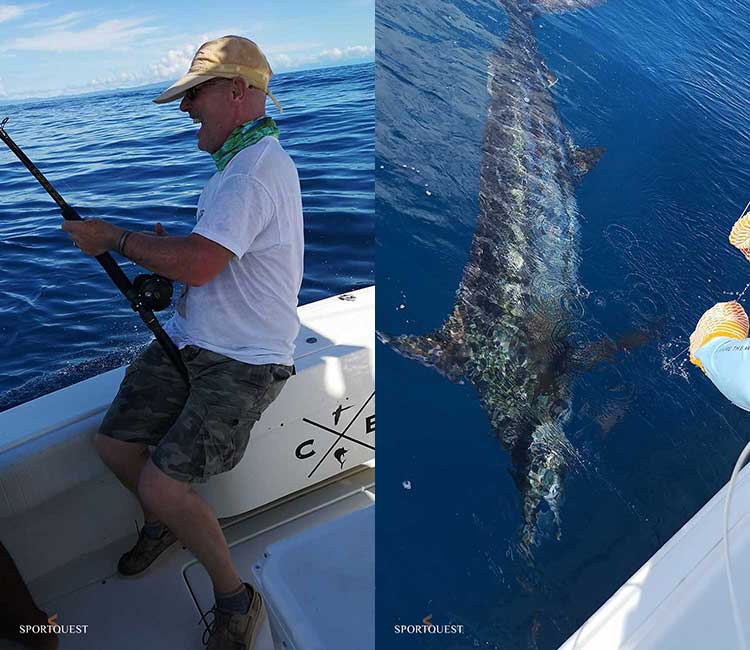 Well that's 2018 done and dusted and the next hosted trip sees me taking a group of 8 anglers out to Norway in April, a little colder than Costa Rica, but still very enjoyable.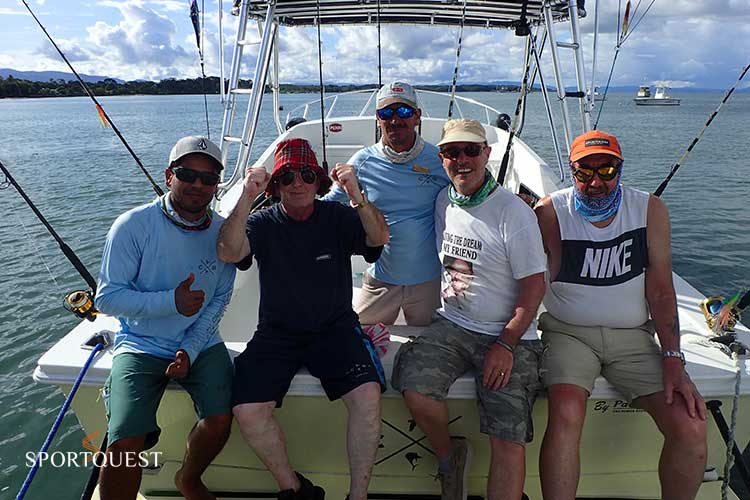 Sportquest Holidays will be releasing the dates for the next hosted Crocodile Bay 2019 fishing adventure in the new year, but if you would like to put your name down beforehand please contact us and we can make your dreams come true.
All the very best and Merry Christmas!
Tight lines, Paul
PS here is a little picture of Martin enjoying birthday celebrations whilst at the resort the night before his Marlin capture.