We have received the below report from one of our customers who is currently fishing at our Crocodile Bay destination in Costa Rica.
Hi Shipmates,
The crew are back in action, this time we are fishing at Crocodile Bay Costa Rica. It was time for a change from Key West and with the help of Sportsquest Holidays, who have organized everything for us, we are based at the fabulous Crocodile Bay resort. It is everything the brochure said it would be!
Our journey started on Tuesday with an 11 ½ hour flight from Gatwick, an overnight stay at the Hilton in San Jose then the shipmates were up wide eyed and bushy tailed for a 4.30 am pick up to take us to the airport and a 45 minute trip in a small plane. The photo shows "Tough Guy Cuda Tim "letting the side down" because he was visibly frightened, the rest of us were not concerned.
We were soon at Crocodile resort to be greeted by Alan the fishing director. How nice to be welcomed by someone who goes out of their way to accommodate us. The resort is fantastic and whether it's an Eco Tour or fishing it is just the perfect location. Wildlife abounds and the monkeys and birds are all around us.
We have 11 days of fishing so it's going to be a marathon not a sprint so we will pace ourselves. Today Tom from the Valleys (He's Welsh) and Coda Tim are having a short session fishing inshore. We posed for a team photo and left to right is – Admiral Marlow, Capt. Walter, Tom from the Valleys Cuda Tim, Crab Pott Chris and Alan Smith the fishing Director.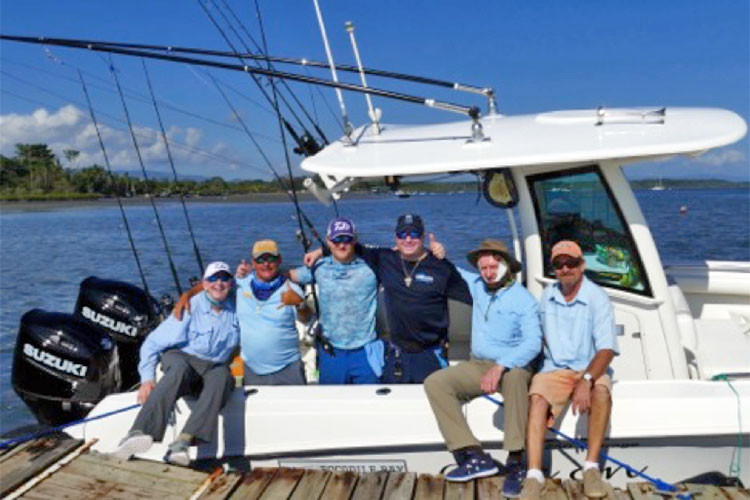 We will be fishing two to a boat every day on Custom Boston Whalers. Crab Pott Chris and myself are fishing for a couple of extra days so today was a rest day and we opted to have a play off the dock. As is now customary, we have a species target and the number to beat is 48.
We had to wait for the tide to come in; when it did the sea came alive with Baitfish and other species that lived under the dock. Cutting to the chase we had 8 species.
Tom from the Valleys and Cuda Tim had a short day fishing inshore with Capt Walter, it turned out to be pretty tough going but added another 3 species. That included a Rooster, Blue Fin Trevally and Cero Mackerel.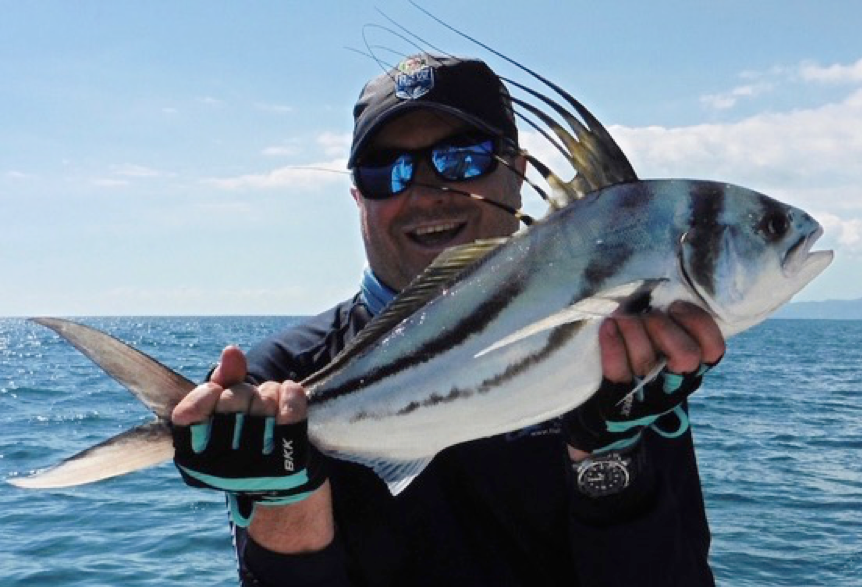 I nearly forgot to mention the weather, it's a very pleasant 30 degrees, but I guess it must also be the same back home. No snow or frost forecast, just about the same the next 10 days a very nice 30 degrees. Loads of Sun Cream on us all!
I am having problems with the shipmates regarding photographs. The angler's don't know how to hold a fish for the photo. With some Jedi training I am sure it will get better.
That gives us a total of 11 for day one so we are on target.
The food and accommodation is outstanding, tomorrow is another day and the Shipmates will be fighting fit.
Signing off,
Admiral Marlow