We love getting reports and pictures sent to us here at Sportquest Holidays from our customers and this one is an amazing piece written by Ellis who ventured to Mefjord in April 2018 , encountering some mind-blowing fishing. Make a cuppa, sit back and get lost in the world of fishing for Coalfish in Northern Norway.
As I sat and contemplated the days fishing we had just experienced in the never-ending evenings twilight listening to the melodic sound of the fjord waves broken only by the shrill call of the oyster catchers, I was in awe and amazement at my surroundings and the fishing that this unique place is blessed with.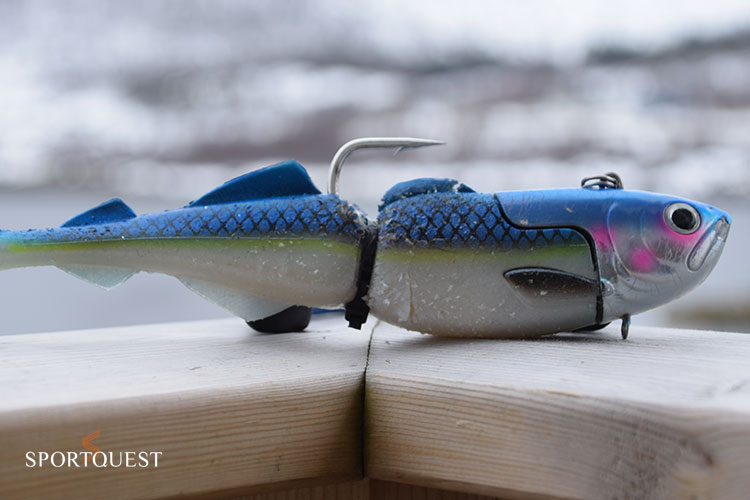 There were four in our party and our team of well-seasoned anglers had travelled to Mefjord, Norway to experience the rumoured angling delights of the raw North Sea. Tales of giant cod had excited us all before we arrived, but now they were not just tales, they were truth, in fact we were now making up our own tales of angling conquests.
Fishing two anglers to each amply spacious boat, we had started our week gunning for the mighty Skrei that could be found both inside the fjord and out in the open sea. The fishing had amazed us right from the first few drops down and once we had quickly worked out the optimum size of lure and depth of the cod shoals the action was truly limitless. In the first day alone we all broke our personal best cod, again and again and again. The halibut had proved a little slower to locate though as only one of our party hooked up first drop down! Only a small fish of around 8 lb but by day two his pb in this species was already well over 45lb! It was day three though that really made me feel that I had reached my angling nirvana.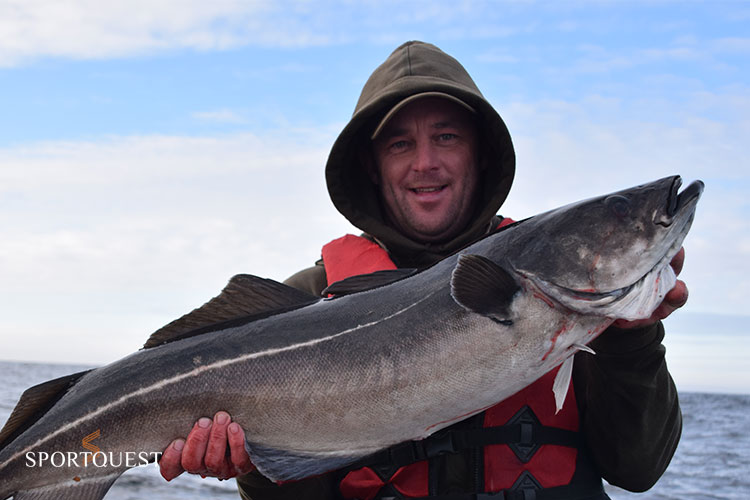 A couple of years ago I had been fortunate enough to be temporarily stuck whilst fishing on a small island in the south Atlantic with a very experienced Scandinavian angler. To pass our time when not chasing the local leviathans we would take refreshment at the only small bar on the dusty rock we were living on and talk fish. He had captivated me with tales of huge coal fish that fed avidly on and around the surface in northern Norway. I had listened intently to his tales of epic battles with these Coalies and had quizzed him on the locations that he had found these fish to frequent. Any feature that forces the water to surge was his advice. Find this and you will find the Coalies.
Yesterday evening after some much needed food to refuel after another exhausting days angling. I had studied the large chart on the filleting room wall looking for a feature that might provide the conditions he had explained. After close scrutiny of the surrounding waters out from the fjord I had located a small stack around 10 km out. The depth on top of this small pinnacle was showing at 19m with the water all around being in the mid thirty meters, it looked worth a go and fitted perfectly into the description my Scandinavian friend had described. All we had to do now was actually locate it!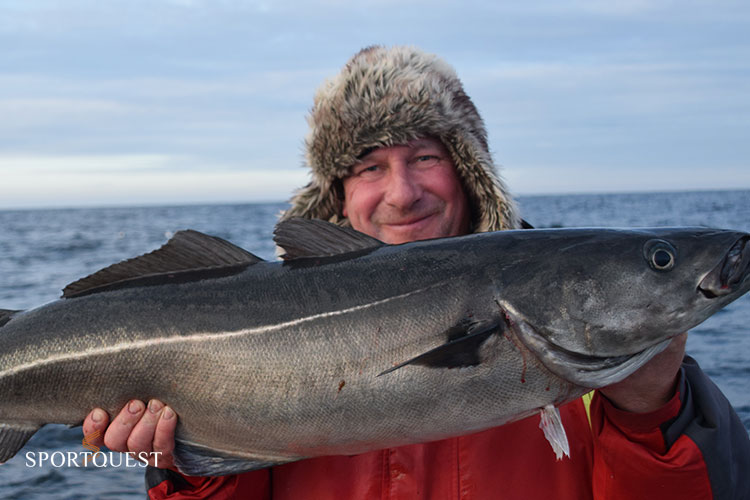 After another morning working our arms to death on the ever-present specimen cod, myself and Chris who I was sharing the boat with that day decided to look for the sea mount. The boats come supplied with a quality sonar and GPS and working on the split screen function combined with a chart we were soon circling the small but very significant feature. From the moment we started to survey the area around this under water pinnacle the screen showed almost solid fish. From fifteen meters below the boat all the way down the sides of this feature our sounder showed wall to wall fish. In disbelief of what we were seeing we decided that this must be shoals of small fish and as we were desperate for dead baits to continue our Halibut fishing a strategy of small shrimp baits and sabikis were chosen.
The action was of course instant and immediate full strings of pound to two pound Coalfish came fighting up to the boat. It was on the third or fourth drop that as I started retrieving the again full house of small Coalies that I experienced some savage knocks on the rod. Retrieving faster thinking that some Skrei had found the struggling bait fish I leant over the side peering into the crystal clear water trying to catch a glimpse of the baits coming up. As they came into view still many meters down due to the clarity of these waters, I could clearly make out the unbelievable sight of a four-foot-long Coalfish ghosting behind the ones attached to my lures. As I screamed to Chris to look at this great fish it inhaled the middle small coalfish and cleaned my trace in too.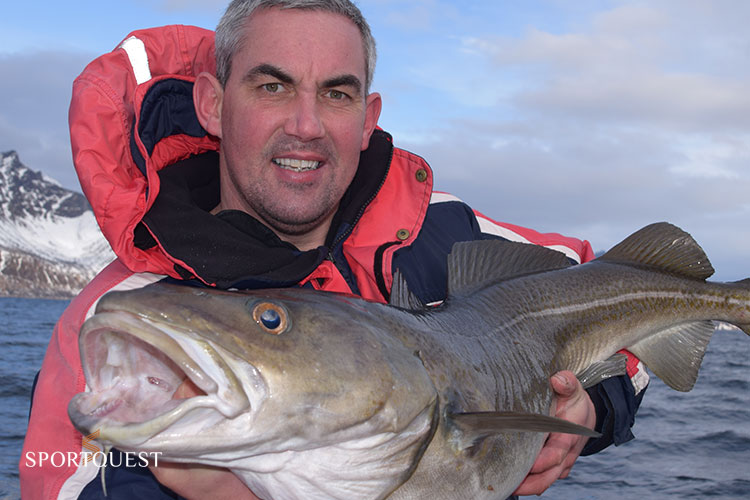 The bewilderment and disbelief of what had just happened lasted only a few seconds before the scramble to attach heavier leaders and larger lures started. A few exploratory drops down were ignored by the Coalies until the change to the smaller crazy daisy's were tried. The result then was instant and as the tide increased and the drifts sped up a few knots the action became breath-taking. Time and time again our lures would either just stop on the way down on a fast drop or would be seized just a few meters under the boat on a super-fast retrieve back up . The fishing started to take on a pace that was hard to keep up with. Motor to the top side of the pinnacle, drop out of gear and then get ready for all hell to break loose as you drifted down current. Once a lure was seized these power houses of fish would run straight to the bottom not once but two or three times a fight. All you could here was the sound of either my TLD drag racing away or the exquisite sound of Chris's 8000 Stella purring its hypnotic tune. Trophy shots were a nightmare as there simply was not a spare second when one of us was not getting ravaged by a huge Coalie. In the end a truce was called and any fish thought to be over twenty five pounds was weighed and pictured.
Over the next arm acing four hours we completed many drifts landing a staggering amount of large coalies. We lost count of the high doubles and then of the twenty pounders, at the end of play my PB now stood at just under 29lb and Chris a massive 32.8 lb.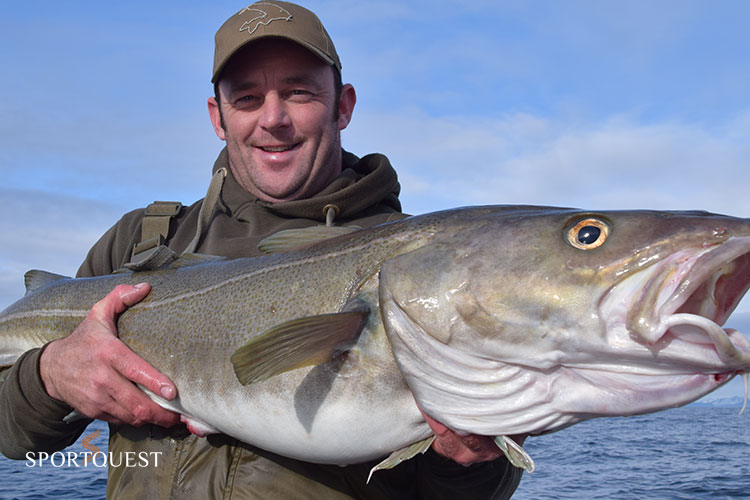 Eventually we headed in, more through exhaustion than the fading light. We were late, we were tiered and we were both covered in fish slime but we both had huge smiles. Almost too tired to speak we both new that this had just been one of the most outstanding days fishing of our lives, and we still had three more days left!
Wow Ellis what a great piece, thank you for sending this in to us and allowing us to use it, it sounds like you had the trip of a lifetime.
If you too want to experience the extraordinary fishing that Northern Norway has to offer then get involved and see what we offer HERE
Tight Lines
Matt & Paul