Deep Creek Lodge Fishing Report in July and early August see lots of action from our lodges in Canada and as normal at this peak time our customers enjoy full on action Salmon fishing.
This year from mid July, the weather conditions changed to rain and fresh air. However the Salmon seemed to appreciate the fresh water and weather being more active and aggressive towards a nice pinky fly.
Last Chinooks slightly coloured but in good shape were caught on the Kitimat, Kalum and Skeena Rivers.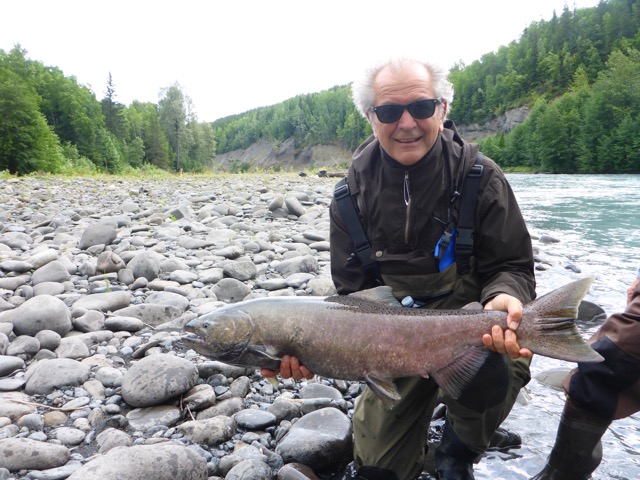 Pinks salmon showed up a little bit earlier this year probably due to the hot weather conditions. They are the beginner's choice but experienced angler using enjoy challenging them with light tackle Deep Creek Lodge Fishing Report.
The Chum salmon during this month started to enter in good numbers and of a good size in the Kitimat river around the 20 July and were very eager to grab everyones fly's.
As I have said so many times the Chum Salmon is a vastly underrated Salmon. Catching these fish between 15 and 20 pound on  7/8 fly rod will test you and your tackle to the limit. "
We have some spare rods of 2016. If you would like to come and experience this true wild salmon fishing check out the full details Click Here
I hope you have enjoyed our Deep Creek Lodge Fishing Report see you all soon
Regards Peter