Congratulations to young Mary Jane who was so proud to land her first bonefish and even prouder to receive her bonefish pin! The bonefishing was top notch all week with one boat landing more 30 bonefish in a day. With lots of sun this week, they were easy to find and pretty cooperative. Anglers from 7 to 70 years old all got a taste of bonefish fever.
Wow, the permit were happy this week (until they gat hooked that is) Over 16 permit were landed that I have record of, my guess is a few more were landed by some humble folks that did not report them for fear of seeming greedy!
The youngest of the permit masters was Walker at 11 years old, quite a feat for any age. Our permit couple of the week was Hobbie and Jenn as they landed 2 each, Jenn's Dad Jack got a well deserved permit, Chuck had a single day out but landed 2 permit, Sam got 2, Jack added 3 more, Young Nick got his first permit, and Ron rounded out the group recording another permit. The permit fishing doesn't get any better.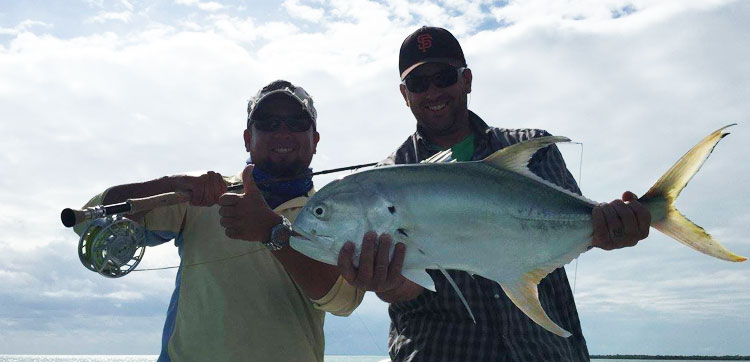 Lara and Mary visited us this week and Lara had the thrill of a 30-pound tarpon on for one afternoon, Others got some shots, some follows but just couldn't close the deal.
Grand Slam: No Slams this week because of the finicky tarpon.
Other Species: Snook, Jacks, ladyfish, snappers, cudas
Flies that worked:
Bonefish: Crazy charlie, Micro Crabs, CI Special,
Permit: Mantis shrimp, Turneffe crab olive, Camo Crab Christmas Island Special
Tarpon: White Toad
Week Summary: Permit, permit, permit! Wow!
Fish On!
If you would like more information about our El Pescador Resort or ANY of our destinations in Belize Click Here