Bonefish Many first bonefish this week, to name just a few there was one for Susanne, one for Julie and several others that were very proud of their well earned bonefish pins. El Pescador recognizes anglers on their last night with bonefish, permit, tarpon or grand slam pins based on their fishing success during their stay here at El Pescador. We are happy to say there are EL Pescador pins scattered on hats, luggage, shirts and fishing vests throughout the world!
Permit Young Nathan beat his older brother and his Dad (Adam) to the first permit of the week! Followed through with two permit later on during the week! Mike was thrilled with his first ever permit, Ben landed 3… count them 3 permit this week to put a punctuation mark on the end of the week. Even in the windy weather, permit were a little more cooperative than normal. Another one of our customers landed his first permit and it was a gorgeous 17 pound fish that ate a crab fly.
Tarpon Our tarpon heroes of the week are Adam and Richard. Adam's was a beautiful fish about 50 pounds and Richard's was just as pretty but weighed in at 10 pounds. Richard's was interesting in that he caught his tarpon on his bonefish rod, reel and fly, The fish ate a crazy Charlie and didn't wear through the 12 pound leader. That is quite a feat!
Grand Slam: No grand slams this week but there were 2 very close calls.
Other Species: 2 species of jacks, 3 kinds of snappers, snook, barracudas, and lots more!
Flies that worked:
Bonefish: The usual suspects, Christmas Island specials, gotcha and more
Permit: Christmas Island Special, Bauer crab green, mantis shrimp tan
Tarpon: Chartreuse toad, Black bunny
Week Summary: Another great permit week despite the big winds!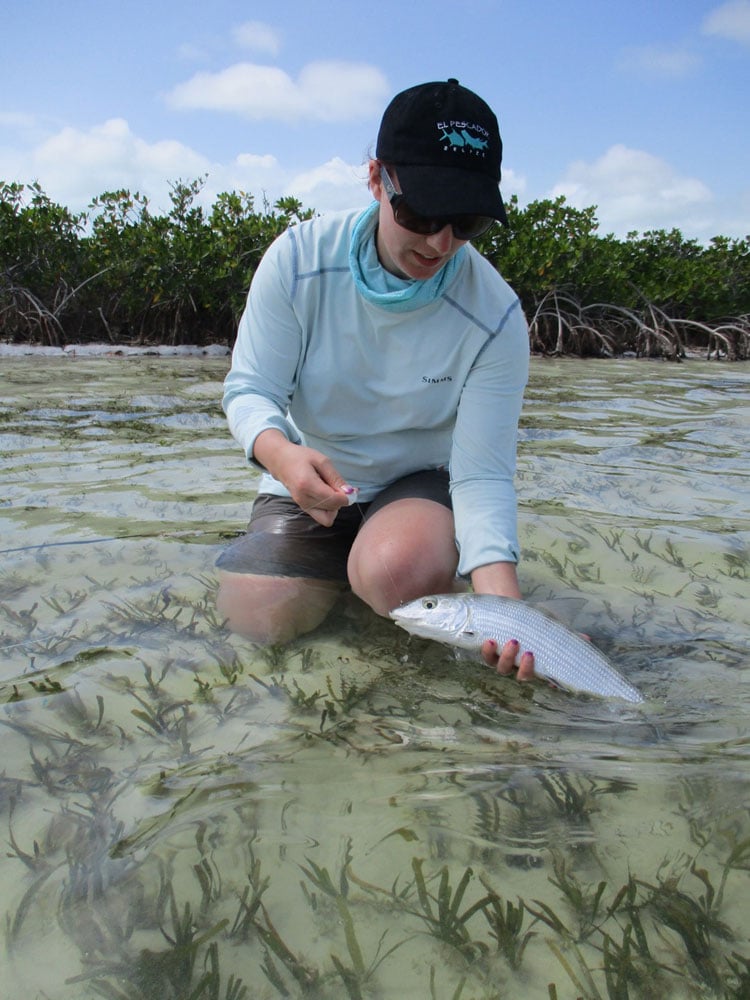 Weather: Mostly Fair weather all week
Winds: Moderate winds from 10-20 most of the week from the east
Air Temps: Highs were between 83º and 87º with lows in the mid 70's
Water Temperature: 80º F.
Barometric Pressure: 29.71 – 29.95
Moon phase: The last quarter moon was on March 31st.
Sunrise: 5:45 am   Sunset: 6:05 pm
If you would like to visit El Pescador or any of our destinations in Belize Click Here to see all destinations available.